By Mohammad Khalid, Roznama Sahafat
November 8, 2013
(Translated from Urdu by New Age Islam Edit Desk)
The graduates of Imam Ibn Taimiyah University, established by Dr. Mohammad Luquman in Bihar, do not lag behind any Institution as far as their ability is concerned rather they have proved themselves above many others in some of the fields.
After the completion of their study there, students of Ibn Taimiyah University have proved their mettle in various Islamic as well as other educational institutions. The graduates of Ibn e Taimiyah, every now and then, keep organising meetings on one or the other places. In continuation of this they organised a meeting of Taimiyah graduates in Room No. 145 of Kaveri Hostel, Jawaharlal Nehru University, New Delhi under the Presidentship of Ph. D scholar Mohammad As'ad Taimi.

The agenda of the meeting was:
1. To take stock of the educational activities of the Taimi sect
2. And to pave the way for the Taimiyah graduates to take admission in JNU.
Addressing the meeting, research scholar Sanaullah Sadique Taimi said, "The presence of so many Taimiyah graduates in JNU is a slap on the face of the people who say that Ibne Taimiyah University's educational standard is on the decline". He also threw light on the ways and means of bringing Taimiyah graduates to JNU. He advised the gathering to form a delegation which can visit the Taimiyah University and create awareness and interest in the students towards taking admissions in JNU. He advised to prepare a questionnaire based on their experiences for admission in JNU for the help of admission seekers and each one of them should try and help them individually too, in every aspect.
Maulana Jawed Israr Taimi addressed the gathering and describing the importance of learning English language, he said, "We are imparted the education of English language right from our childhood even then we are not able to speak it fluently hence we must always talk in English among ourselves to come to terms with it"
JRF holder Maulana Hifz ur Rahman Taimi said in his address that JRF test is very easy and anyone can pass it if one uses a little of one's wisdom along with the required labour. He said that books published by 'Pratiyogita Darpan' are very helpful in this regard. He further stressed on the importance of learning a little about computers as there are some questions from it as well.
Mohammad As'ad Taimi, while delivering his presidential address said, "First of all, we should establish our objectives and work hard to the best of our ability to achieve it. We should participate in almost every competitive examination held here as this is an age of competition. We should use all the facilities we have been provided in JNU to our benefit. "
Maulana Haroon Rahid Taimi, Maulana Tabrez Alam Taimi, Maulana Mehar Aalam Taimi, Maulana Mahboob Alam Taimi, Maulana Jameel Akhtar Shafique Taimi, Maulana Haroon Sajjad Taimi, Maulana Firdaus Aalam Taimi, Maulana Mahfooz Alam Taimi, Maulana Ehsan Badr Taimi, Maulana Saif ur Rahman Taimi and Rahmatullah Taimi were the other who attended the meeting and congratulated Hifz ur Rahman on his getting successful in JRF examination.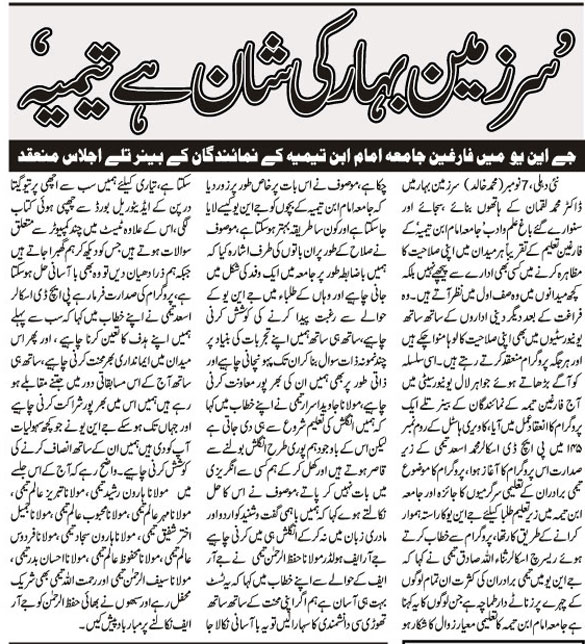 Source: Roznama Sahafat
URL: https://newageislam.com/islamic-society/mohammad-khalid,-tr-new-age-islam/the-mentor-of-abdul-wahhabb,-ibn-e-taimiyah,-is-the-glory-of-bihar,-say-imam-ibn-e-taimiyah-university-graduates-at-a-delhi-s-jawaharlal-nehru-university-hostel-meeting/d/34584