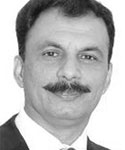 By Mohammad Ali Babakhel
May 30th, 2016
WHEN it comes to countering extremism, Pakistan's approach is primarily reactive, with diagnostic efforts largely absent. Unfortunately, extremism and terrorism have grown to such an extent that we no longer have the luxury of continuing our decades-old romance with denial.
Have we ever sought to question how our educational system might be promoting extremism? Or examined how class-based education engenders ideological and social divisions? Have our curriculums been properly scrutinised for inappropriate, extreme content, e.g — why is it that primary school students are exposed to sensitive content (such as warfare, conflict, ethnicity, sectarianism and hatred) at such an impressionable age? In a society where some teachers themselves are extremists in orientation, how is it possible to protect our youth from radicalism?
Have we considered that education can work, instead, to counter extremism and promote peace? Our curriculum design doesn't have to be within the exclusive domain of academia — assisting them can include psychologists, researchers and law-enforcement experts. Our teachers can promote valuing the environment, cultural plurality, sports and the arts, and human rights — they can teach students how to be a good human being. Unfortunately, these values are lacking in a system where books often build letter recognition fluency with examples such as 'g for gun' and't for tank'.
Reforming education is vital to countering radicalism.
The two most significant places students will adopt their values from are at home and in school. Therefore, needs assessments cannot merely be a formality, but rather an extensive periodic exercise. Future curriculums — and we at home — must ideally inculcate values of civic responsibility such as volunteerism, peace, love, rights and justice. They must adapt to changing global values, instead of being reflections of the status quo.
In Pakistan, religious, ethnic and sectarian diversity is a reality; pluralism needs to be protected. Despite this, instead of inculcating a spirit of collectivism, our current educational system pushes students into isolation and lacks esprit de corps — for no better reason than schools' unhealthy obsession with making students compete to obtain the maximum marks through unengaged rote learning.
Another major issue with teaching pedagogy in most government schools is that teaching is often based on one-way – ie only teacher – communication, hence stunting pupils' potential for learning creative and critical thinking. Undoubtedly, interactive teaching styles which engage students and allow them to express themselves will give them more ownership in their own education.
Currently, the subject of Pakistan studies taught in government schools generally focuses only on pre-Partition developments, whereas the situation and the state of our society today warrants that younger generations be exposed to and taught about post-independence events as well. Problem-solving learning provides a learning environment in which competence is fostered not primarily by teaching to impart knowledge, but through encouraging inquisitive and active learning, which encourages the construction of independent thoughts and ideas.
We need to bring positive changes into classroom environments; overcrowded and under-resourced classes cannot foster positive behaviours. Nor can fatigued or poorly trained teachers, who are not conversant with the psychological needs of their students, and more likely to do harm than good. Parents also need to be more, and better, involved.
Although one of the National Action Plan's points expres­ses a resolve to counter hate material, there is no direct reference to purging it from curriculums. Any review of NAP should ideally inc­­lu­­de quantifiable objectives for setting peace promoting curriculums; coexistence and intercommunity cooperation must be demonstrated practically.
Article 25A obliges the state to provide free and compulsory education to all children from the age of five to 16 years. From an educational perspective, the 18th Amendment poses both as a challenge as well as an opportunity which can be availed of. It empowers the provinces to design curriculums at the provincial level; provided there is sincerity of purpose, provinces can improve and monitor their educational system and rid it of extremist elements.
Until the adoption of the 1973 Constitution, curriculums remained a provincial affair. Prior to the 18th amendment, curriculum standardisation was entrusted to the Federal Bureau of Curriculum. Provinces may replicate and modify the same standardisation apparatus. Holding together and coming together are two broad categories of federations. Our circumstances warrant that, at least from curriculum designing perspective, we should opt for a 'coming-together model'. The 18th Amendment is a practical manifestation of such positive thinking.
Radicalisation, a consequence of three decades of coddling and appeasement, cannot be countered overnight — short- and long-term interventions are needed — but it is essential our textbooks inculcate empathy, love, peace, diversity, unity, harmony and inclusiveness.
Mohammad Ali Babakhel is a police officer.
Source: dawn.com/news/1261474/extremism-in-books
URL: http://www.newageislam.com/islamic-society/mohammad-ali-babakhel/extremism-in-books--it-is-essential-that-textbooks-inculcate-empathy,-love,-peace,-diversity,-unity,-harmony-and-inclusiveness/d/107469