By Matt Mccann
January 16, 2014
If Iranian youth culture was portrayed in a BBC drama, it might be called "Inside, Outside," or even "Righteous, Raucous." That is the duality present in Hossein Fatemi's "An Iranian Journey," a series that shows young people's public modesty and piety vanishing once they escape the wary gaze of authority. These youths play music, drink, smoke, commingle and enjoy other intemperate — i.e., regular — Western activities. They are online, on Facebook, and are politically engaged and simmering, craving freer speech but stifled by the ayatollah's rules.
"Naturally, whatever you prevent a human being from doing, it makes them want to do it more," said Mr. Fatemi, who is represented by Panos Pictures.
He sees his task as putting in the open what is shrouded in the dark. Whether it is alcohol consumption by Muslims or patronizing prostitutes, he seeks to photograph what is forbidden. When postelection protests in 2009 made it nearly impossible to be outside, Mr. Fatemi eagerly took to the streets and photographed as much as he could. Once the world got a sense of what was happening in the streets, Mr. Fatemi turned to photographing interiors.
In pursuing his expansive project to taboo corners, like more recent efforts to document the country's L.G.B.T. community (homosexuality is against the law), Mr. Fatemi has not been so successful. Fear prevents many, and not just L.G.B.T. Iranians, from being comfortable sharing their stories or portraits, and with good reason. Iranian watchdogs, official or self-appointed, are vigilant and aggressive.
"Since the publication of this photo series, not only himself but the photo agency Panos, they've been receiving emails from an array of organizations including government agencies, religious folks, some of the hardliners," said Ehsan, a filmmaker and friend who translated for Mr. Fatemi during a phone interview last week. Ehsan reported that Mr. Fatemi said that he hasn't received any death threats, but that persistent pressure from Iranian authorities is intimidating enough. (In an email on Wednesday evening, Ehsan said that, as of Saturday, the Panos Web site had been blocked in Iran, what he called a "consequence of his recent Iran series," adding that other "government factions" continued to warn Mr. Fatemi to take down the pictures. Ehsan, who has lived in the U.S. for 13 years, asked that his last name be removed from this story.)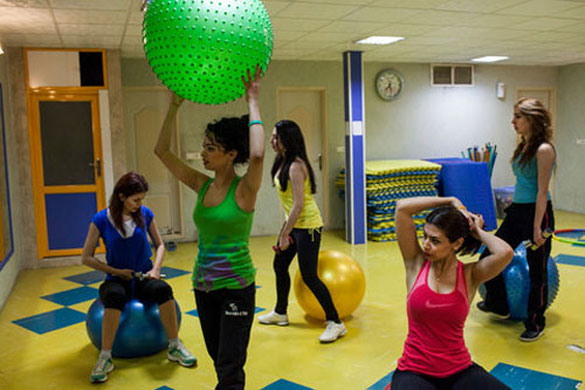 Hossein Fatemi/Panos PicturesWomen exercising in a gym
-------------
Mr. Fatemi was born in 1980, one year after the overthrow of the despised yet secular Shah and the start of the Islamic Republic that's ruled since. Almost everybody he photographed in his project has only known Iranian life under theocracy. Nevertheless, the youth of this generation, more so than their parents, Mr. Fatemi said, is well-informed about the West, global affairs and politics. They embrace American culture and influence. They're pacifists, he said, and more than anything else, they crave a more open society where freedom of expression, speech and petition are protected.
His own difficulties in Iran date to 2004, when he worked for Fars News, a government-run agency. He enjoyed steady employment and access, his credentials getting him into places that were often off-limits like mosques or other religious organizations. With that breadth, his personal project, which became "An Iranian Journey," began to take shape, and to expand.
But as his career developed, his relationship with the authorities strained. In 2009, during the so-called Green Revolution that followed in the contested re-election of Mahmoud Ahmadinejad, Mr. Fatemi could not tolerate taking editorial direction that was ideologically motivated. He quit, getting an assignment with United Press International in Afghanistan and embedding with the United States Marines.
He said the Fars Agency refused to accept his resignation and tried to undermine his work in Afghanistan, bombarding U.P.I. with hostile letters, hoping to terminate his contract. Fars accused him of being an American spy — an offense that could be punished by death. Those troubles only strengthened his resolve to photograph Iran as he saw it, regardless of whether it contradicted the official, sanitized version.
His project took him all across Iran, to big cities and tiny towns. He visited parties in private residences and got into band practice rooms where egg crates provided improvised soundproofing, lest authorities or suspicious neighbours report musicians who mimicked American rockers, down to an authentic-sounding accent.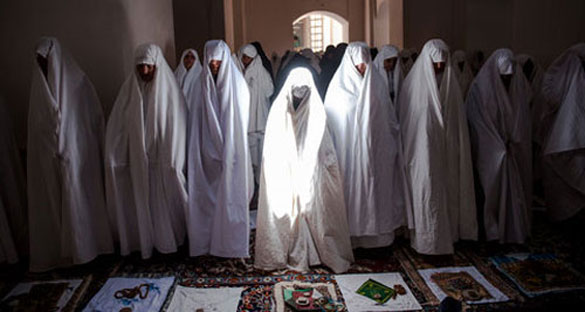 Hossein Fatemi/Panos PicturesWomen dressed in white chadors during Friday prayers. Traditionally, in the region of Varzaneh Province, white is worn to ward off evil. 2010.
---------
He also found occasions where Western influences did not prevent the faithful from practicing Islam. Once, Mr. Fatemi was meeting a woman for reasons unrelated to the project who was unveiled. Mr. Fatemi noticed a prayer rug on the floor and asked what it was.
"She said, 'It's for me.' That was surprising, but what was more surprising was that she's sitting and praying in this Western outfit that's not considered the right sort of attire for praying," Mr. Fatemi said. "I asked her about that and she said: 'I don't care if this is how I want to communicate with my God. This is how I feel that I want to do it.' "
The recent election of Hassan Rouhani, has some people thinking a slightly more moderate era was coming — at least internationally, with the relations between Iran and the United States seeming to be thawing somewhat on issues like sanctions, the Syrian calamity or other geo-political strategies. But at home, young progressives lament that not more has changed since the days of Mr. Ahmedinejad's fiery presidency.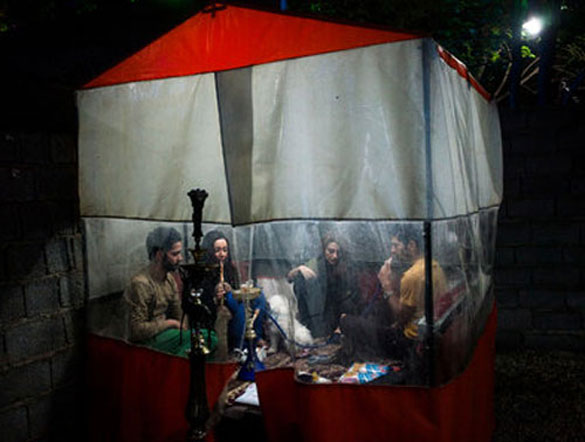 Hossein Fatemi/Panos PicturesYoung couples inside a tent smoked a hookah, an act that is banned for women in public.
----------
"The youth in Iran, they didn't want him to legalize discos and legalize booze — that's not what they were expecting," said Mr. Fatemi, speaking through Ehsan. "They just were expecting something as little as lifting some of their Internet bans or just letting them room to breathe. It seems as if the current Iranian government is just as vigilant about restricting Iranian's youth access as before."
And so this "inside/outside" narrative rests with an uneasy foot in and out of the door. Because Mr. Fatemi's photos are viewable for anybody with an Internet connection, and because sentiment in Iran is still unfriendly, Mr. Fatemi — as of this writing, staying in Chicago — said he could not go back anytime soon. "We are trying to figure out what to do," Ehsan said.
He mentioned something about trying to curate a photo show, plus a couple of upcoming assignments. Then, he said again, "Honestly, we're just trying to figure out what to do."
Source: http://lens.blogs.nytimes.com/2014/01/16/youth-in-iran-inside-and-out/?_php=true&_type=blogs&_r=0
URL: https://www.newageislam.com/islamic-society/matt-mccann/youth-in-iran--inside-and-out/d/35327