By Maria Abi-Habib
January 23, 2019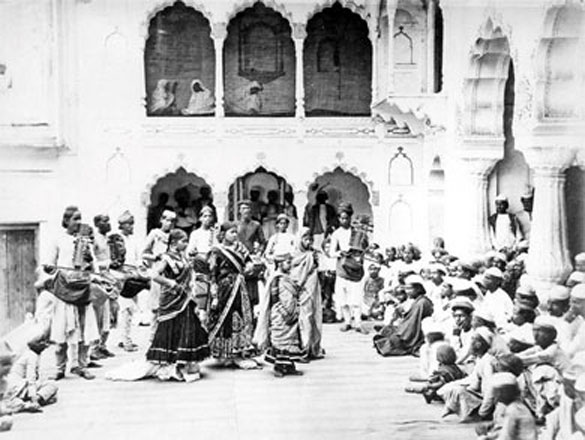 A handout photo provided by Bourne and Shepherd shows professional nautch dancers performing around 1899
Image Credit: New York Times
------
Kiran remembers the days when she shimmied confidently across rooms adorned with plush velvet pillows and fine carpets, working alongside a troupe of trained musicians and commanding the attention of Pakistan's wealthiest men.
Now, she travels with a crusty boom box and a few CDs of electronic music to dance in front of groups of ogling men who want one thing: sex.
"It used to be more about the art, the dancing and music," said Kiran, 28, who asked that her last name not be used because of safety concerns. "Now, after one or two songs, all the men think about is the bed."
Kiran is part of the dying tradition of the dancing girls of Lahore, a once famed and respected profession, with dancers employed for hundreds of years by the courts of the maharajahs to perform for royal audiences.
Through the centuries, sexual exploitation and abuse has perpetually been a risk faced by the dancers - especially for those who began performing as young teenagers, as Kiran did at age 14. And the line between pure performance and occasional prostitution was always blurry.
But the dancers were often treated with respect, seen as talented artists to be doted on by adoring audiences. A select few in the audience called them their mistresses; their status was akin to that of the geishas of Japan.
In recent decades, though, a rise in religious conservatism in Pakistan has pushed the art form largely underground.
The women no longer have a sanctioned space to dance, leaving them out of work and forcing many to turn to prostitution to make ends meet, a bitter consequence of the hard-liners pushing the art into the shadows because of their moral objections.
Working conditions have become more dangerous, and the audiences have also changed, dancers say. They once included wealthy art patrons but are now filled with men who now expect, or demand, sex as part of the performance.
The dancing style is known as "nautch," and is a sophisticated art form that arose out of the Muslim Mughal Empire and peaked in the mid-19th century. Wealthy families sent their daughters to learn dance and etiquette from master practitioners, according to historians, dancers and musicians.
"The dancers weren't just powerful artistically, but could acquire wealth and behind-the-scenes political influence, and could marry into the elite," said Katherine Butler Schofield, a senior lecturer at King's College London and a historian of Mughal Indian music.
When British rule was established in the subcontinent in 1858, the dancers faced scorn from less socially liberal colonizing powers, but the tradition held on.
With the sectarian violence that ushered in the partition of India and Pakistan after independence in 1947, many of the mostly Muslim dancers, who were spread across northern India, fled across the newly established border to Lahore, Pakistan's cultural capital.
There, the art form enjoyed a renewed heyday.
The alleyways of the Heera Mandi entertainment district, set within the crumbling walls of Lahore's old city, spilled over with dancers, musicians and children who hawked garlands of bright orange marigolds to customers.
Clients overcome with desire during a performance would wrap the garlands around their wrists and inhale deeply to calm their nerves.
If they adorned a dancer's neck with several garlands, it was a sign they would be regulars. If they desired sex, a lengthy courtship would be required, filled with gifts and attention.
Shagufta Begum, who lives in Heera Mandi, which translates as the Diamond Market, comes from a long line of nauch dancers. Her grandmother performed in the royal courts in Patiala, in northern India, before the family fled to Lahore during partition.
Begum, 65, is retired but remembers when she and her mother were treated royally.
"There was no money in the prostitution, it was all about the dancing," she recalled.
Begum had a two decade, monogamous relationship with one customer, after he courted her for months, and ended up fathering her children.
"I miss those days," she said, sipping tea from her rooftop overlooking the expanse of the famed Badshahi mosque, Pakistan's second largest. "I was a busy woman and people would come from everywhere to see me. Now I just sit here and look at the mosque."
That Lahore's once teeming entertainment district adjoined the Badshahi mosque speaks to a time of more peaceful coexistence and tolerance, when Islam and earthly pleasures mingled more easily in Pakistan.
But as Pakistan hardened its identity as an Islamic republic, the dancers ran into more difficulties and societal pressures.
"Courtesanship doesn't dovetail with the modern, more literal and conservative understanding of an Islamic republic like Pakistan," Butler Schofield said. "The dancers got driven underground, and it became a more red light thing."
The sale of alcohol was banned in Pakistan in 1977, and as religious conservatives came to power, like Gen. Zia ul-Haq in 1978, many forms of entertainment began to be perceived as sinful.
Police began restricting dancers' working hours and fining them if they loitered on the streets. The open windows that poured live music down onto the streets of Heera Mandi to entice customers were shuttered, curtains drawn for fear of fine.
By the 1990s, as Islamist groups gained more political and social power during Nawaz Sharif's terms as prime minister, the religiously fervent felt emboldened to come to Heera Mandi and harass the women, dancers and musicians say.
Kiran, whose career had barely started when the religious crackdown intensified further, raises her daughter and son as a single mother. She also provides for her three brothers and their wives.
She makes about $600 a month dancing at private parties, and can double that figure if she provides sex after the dancing ends.
Kiran used to dance at a saloon in Heera Mandi. But after the religious crackdown, the saloon shut down.
Now, like many other dancers, she waits at home to receive phone calls from men looking to entertain their friends.
"I miss the days I was in Heera Mandi," Kiran said. "It was a glamorous life, the hustle and bustle on the street, the music filling each building."
Musicians, Too, Long For The Old Days
"We were artists," said Nuravad Hussain, 67, a harmonium player who played alongside dancers over the decades. "The respect we had came from the people who heard our music and admired our art."
The best dancers, or those with the cash or connections to make the trip, now live in Dubai, catering to the large Pakistani and Indian expatriate community there that still appreciates the art form.
There were once up to 50 schools teaching classical dancing in and around Heera Mandi; now there may be only one, the Classical Dance Academy, left.
An instructor, Yassir Abbas, said the school started 35 years ago, and taught hundreds of dancers each year. On a recent day, only six were taking lessons, most flown in from Dubai.
"Most of my students have gone to Dubai, some to America," Abbas said. "The government considers it vulgar, but this is an art form and should not be misconstrued for anything else."
Abbas watched as the dancers practiced a routine.
"We're still doing everything to keep this form of art alive," he said. "Because there will be nothing left once it dies."
Source: gulfnews.com/world/asia/pakistan/vanishing-act-the-dancing-girls-of-lahore-1.61269620
URL: https://www.newageislam.com/islamic-society/the-famed-dancers-lahore-forced/d/117592