By Kuldeep Kumar
March 24, 2017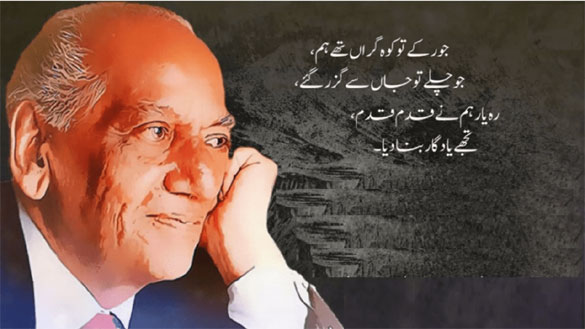 Faiz Ahmed Faiz
Who is the poet who is read, loved and quoted the most after Ghalib among speakers and writers of Hindi and Urdu? Who is the poet whose poetry is romantic as well as revolutionary at the same time? You ask any young man or woman who is interested in literature and the answer would invariably be Faiz Ahmed Faiz whose 106th birth anniversary has just passed us by on February 13. Many would find it difficult to believe that in the past five decades, Faiz has perhaps been read more in Hindi than Urdu. By the time he died in November 1984, he had become a poet of the whole world on account of his all-encompassing revolutionary humanism.
I saw Faiz for the first time in 1978 when he came to India and was accorded a huge welcome in several cities. I was studying at the Jawaharlal Nehru University where he came to address us and recited his poetry. By that time, Noorjahan, Begum Akhtar and Mehdi Hasan had sung many of his Ghazals and Nazms in their inimitable styles and we had fallen in love with them. However, much to our surprise and disappointment, we found Faiz reciting his Ghazals and Nazms in a very casual and disinterested manner as if he was reciting somebody else's poetry. He spoke very softly. When somebody requested him to recite "Gulon Mein Rang Bhare", he replied saying he had gifted this Ghazal to Mehdi Hasan and people should listen to his rendering of it.
'Messiah of Glass'
By this time, I had read a collection of his poetry titled "Sheeshon Ka Maseeha" (Messiah of Glass). Eminent Urdu poet Ali Sardar Jafri and famous writer Mulk Raj Anand had edited it while Rajkamal Prakashan had brought it out in the early 1970s. As new Ghazals and Nazms of Faiz came out subsequently, Rajkamal Prakashan entrusted the task of preparing a new collection of his works to Shamsher Bahadur Singh, a top-ranking Hindi poet who was well-versed in Urdu and Persian, and Mugheesuddin Faridi, a professor in the Delhi University's Urdu department. This book, published in November 1979, was simply called "Faiz" and contained representative selections from his poetic works as well as some of his essays and letters.
Towards the end, excerpts from what other top poets wrote about Faiz in the special number brought out on him in 1965 by Pakistani Urdu magazine 'Afkar' (Concerns) were also included. Josh Malihabadi had described him as "the sun in the sky of literature" and Firaq Gorakhpuri, never known for praising anybody too generously, had showered fulsome praise on Faiz's Nazms "Tanhai" (Loneliness) and "Raqeeb" (Rival).
In 1980, Faiz came again to India to grace Jashn-e-Faiz held in various cities, with his presence. Devi Prasad Tripathi, who had spent nearly18 months in Tihar Jail during the Emergency as he was the JNU Students' Union president, was teaching at the Political Science Department, Allahabad University. He took a leading part in organising the celebrations in Allahabad and brought three great poets together for the first time on one platform – Hindi poet Mahadevi Verma, Urdu poet Firaq Gorakhpuri and Faiz himself– at a function. It was a truly historic occasion.
In 1981, Rajkamal Prakashan brought out a bilingual edition of Faiz's selected works. Titled "Mere Dil, Mere Musafir" (My heart, my traveller), it was edited by eminent Urdu critic Muhammad Hasan. However, the definitive and comprehensive collection of Faiz's works titled "Saare Sukhan Hamare" (All My Writings) came out from the same publishing house in 1987. Well-known Hindi fiction writer Abdul Bismillah had edited it, while the best-known Indian painter M. F. Husain had made its cover illustration.
Faiz's birth centenary was celebrated with great enthusiasm in India. Janvadi Lekhak Sangh brought out a special number of its journal "Naya Path" (New Path) on him. D. P. Tripathi, presently a Rajya Sabha member, organised a function in Delhi, which was addressed by well-known British politician-writer of Pakistani origin Tariq Ali. He also brought out a special number of his journal "Think India" on Faiz.
What is the secret of Faiz's phenomenal appeal? Is he the greatest poet after Ghalib? No, certainly not. What makes him immensely popular is his revolutionary romanticism, his successful transformation of the traditional symbology of the Urdu poetry to convey myriad new meanings of love and protest. Noorjahan, Begum Akhtar, Mehdi Hasan, Iqbal Bano and Nayyara Noor were among those singers who made a significant contribution by taking Faiz's poetry to the people.
The electrifying manner in which Iqbal Bano sang his revolutionary Nazm "Hum Dekhenge" (We Shall See) at the Faiz Mela, held in Lahore to mark his first death anniversary in defiance of the Zia ul-Haq regime's ban, turned Faiz into a universal symbol of protest against tyranny.
Source: thehindu.com/society/of-love-and-protest/article17614857.ece?utm
URL: https://newageislam.com/islamic-society/faiz-ahmed-faiz-myriad-new/d/110544