By James Estrin
Nov. 4, 2015
Antonio Zambardino considers himself to be neither religious nor superstitious, but when he stumbled across an exorcism while photographing in a remote area of Indonesia he was compelled to find out more about what he had witnessed.
The exorcism, he learned, was part of an Islamic healing practice that in Indonesia also involves prayer, acupuncture, herbal remedies, cupping, chanting and hypnotherapy. Islamic healing — called al Tibb-el-Nabawi in Arabic — is based on passages from the Quran and precepts developed from the eighth century through the Middle Ages, a time when medicine in Islamic countries was more advanced than in Europe. It is often the only medical care available in remote poor areas, where it sometimes exists alongside, or is mixed with, animist beliefs. Many wealthy and educated families in cities also seek out practitioners for exorcisms.
Mr. Zambardino, 34, examined the growing popularity of the practice, particularly in Jakarta, where the number of registered clinics using these techniques has skyrocketed. It has become a very big business, with herbal remedies sold widely and attracting patients from throughout the Muslim world.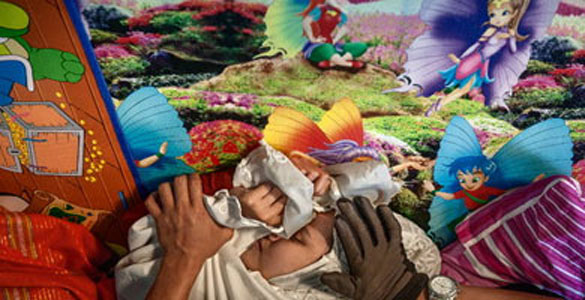 Photo: A young woman undergoing an exorcism on a colorful carpet. Credit Antonio Zambardino
---------
"People go because the clinics provide spiritual guidance along with the hope of mental and physiological recovery," he said. "They feel that in order to be fully recovered, you must realign yourself and go back to the grace of God."
Mr. Zambardino spent two months this year in different facilities in Indonesia, where he said many of the treatments he witnessed were reminiscent of Western alternative medicine. He said that, as with most medical practices, the healing process can depend on the patient's belief he will be cured.
"Many of these practitioners are really good at what they do because it's very much in the hands of the relationship that is created with the patients," he said. "It's like when a grown-up person receives baptism for the first time, and he feels washed of all his sins."
The clinics he visited resembled boardinghouses divided by gender and with communal activities, as the patients live, eat, pray and exercise together in a structured environment. Many of the clinics treated drug addicts in support groups that were similar to Alcoholics Anonymous meetings. Others were for the mentally ill.
During the exorcisms, practitioners spent hours chanting verses from the Quran to rid the patients of spirits, called Jinn, that they believe can cause illness. Mr. Zambardino found that many of the treatments seemed effective and that some clinics provided low-cost — or even free — care for the poor.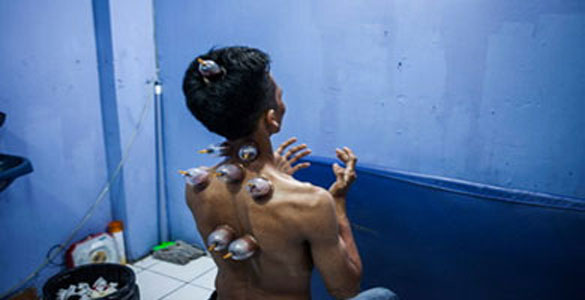 Photo: A man praying during cupping therapy in Jakarta. Credit Antonio Zambardino
---------
If a treatment failed, some practitioners recommended a consultation with doctors, but others did not, he said. In fact, many of the more seriously mentally ill patients he saw were not progressing at all and needed "proper psychiatric treatment from doctors."
He also encountered some related spiritual beliefs, such as when the father of an Islamic healer gave Mr. Zambardino a mantra to protect against bad influences or bad people while he was photographing the story. Mr. Zambardino found it impossible to repeat, so it was recorded on his iPhone. Although he finished his project, he still hasn't erased it.
Mr. Zambardino considers himself a skeptic. His mother is a psychotherapist and his father a journalist who neither baptized him nor took him to church while he was growing up in Rome. But he sees parallels between Islamic healing and Catholicism. The conversation between a healer and a patient, like the one between a priest and a penitent in confession, can be beneficial, he said
"Their beliefs are not that different from our beliefs," Mr. Zambardino said. "A meaningful conversation between two people can have a healing power."
Source: goo.gl/VjYRhp
URL: https://newageislam.com/islamic-society/james-estrin/islamic-faith--healing-in-indonesia/d/105167
New Age Islam, Islam Online, Islamic Website, Islamic Society, Islam in Indonesia, Antonio Zambardino