By Halima Athumani
November 05, 2014
Rocking her slim body back and forth, 17-year-old Aisha Mutonyi softly reads her Quran, sitting on a wooden desk in an almost empty class. Her head covered in a white scarf, she wears a light blue short-sleeved sweater and a long sleeved white shirt. I interrupt the Sumaiya Girls High School student's reading and she looks up at me with a smile. After the introductions, I ask her why it is important that she reads her Quran.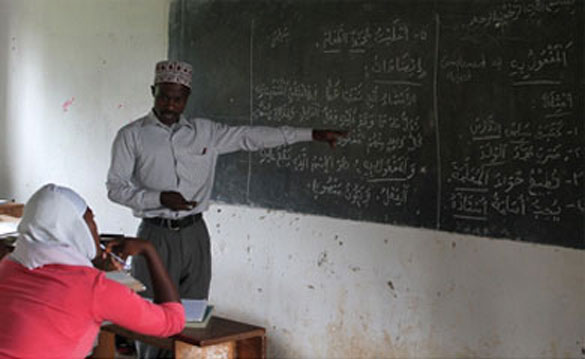 Aisha says as a girl she has learned many things from the Quran. "I have benefited how to behave in the society, how to treat different people even if a person is a Muslim or he is not or she is not, you have to treat her or him in a good way." She adds, "And in the Quran they always teach us that, we girls, we have to respect ourselves and dress up nicely in our Hijabs." Asked whether she doesn't feel hot covered all over, Aisha responds, "In the first place, I wasn't used to it and I could feel bad, but with time you get used [to it]."
Sebagala Muhammed the headmaster of Sumaiya Girls, a privately owned Muslim high school in Uganda, says they run a dual curriculum, including secular studies and Islamic theology. He says even though none of his students has graduated in Islamic studies, "We give them the basic Islamic knowledge to take them through their lives to be responsible women of tomorrow."
He argues that once you have responsible women in a locality; you have a good country, children and citizens. "So you are looking at an all-round education that shapes a responsible girl, it has not been easy but we are on course and we cannot be diverted." Muhammed insists his school knows what the girls need. "We are not enforcing it, but we are encouraging and showing them the good side in appreciating the Islamic discipline and knowledge." He believes that what brings about problems are people without fully formed religious beliefs. "It is a must that our girls learn the Quran, it is educational, because there is nothing that has been left out in the Quran."
At the Nabisunsa girls Secondary School in Kampala, I meet Shiekhat Jawhara Nakiboneka. She is the head of Quran lessons at the school. This "girls-only" school was founded by Prince Badru Kakungulu in 1954, with an aim to cultivate Muslim doctrines and way of life. The prince at the time felt that Muslim girls needed a good education in a school founded on Muslim grounds, for fear of being converted into Christianity. These doctrines continue today.
Sheikhat Jawhara, who herself has gone through Madrasa schools, believes learning the Quran nurtures the girls spiritually and gives them a purpose in life. But most of all it makes them yearn to do more for the sake of Allah. Shiekhat Jawhara says, "First of all I am exceptional. I am the only lady in this big institution who can speak Arabic and am the only teacher who teaches Arabic." She argues that those who do not study the Quran miss something. "Because when you have only one side, you can speak English, but you don't have anything to add on that."
But many worry that madrasas in sub-Saharan Africa may breed Islamic extremism and indoctrination. Both Uganda and Kenya have had suffered terrorist attacks at the hands of Islamic extremists. So, as a result, both governments keenly watch and investigate any reports of extremist teachings in Muslim schools. But Shiekhat Jawhara rejects the idea that extremist teaching happens everywhere. About the critics, she says, "They are ignorant, because in madrasas they teach us good morals, because Quran teaches us good morals."
At many of the madrasas in this region, they learn their "good morals" from Quran lessons that start early in the morning before the secular curriculum starts. They resume again after 7 p.m. During these sessions, students are taught how to read the Quran, and they learn how to write, recite, and translate, or Tafsir, in Arabic. They also learn the sayings and practices of the Holy prophet and the "oneness of Allah."
On a Friday at exactly 1 p.m. the call for prayer is made at Nabisunsa girls high. Dressed in long black prayer Hibayas, the girls walk in silently while others softly recite the Quran to the rhythm of the recording playing off the loud sound speakers in the mosque. In no time the mosque is filled to capacity with some girls left to pray outside the veranda.
The school sheikh in his summon encourages the girls to spread the word of God, be good members of the society and remember their rights as women "Oh people it's true that you have some rights in regard to your women, but they also have rights over you. If they abide by your rights, then to them belongs the right to be fair." The girls listen as he says, "Treat your women well and be kind to them." He then poses the question, "But how can we want people to respect our rights when we don't in turn respect them."
In Uganda, madrasas are not as prominent in the education system or in the social system including as they are in other parts of sub-Saharan Africa. Ofwono Opondo, a Ugandan government spokesperson, says the majority of Muslim children go to mainstream, secular schools and so far they have not had problems with Islamic institutions in Uganda.
Opondo attributes this to the fact that Uganda is multi-ethnic and multi religious. It is a country that discourages extremism, he says. "Even if you are a Muslim being taught extremism, when you come out to the community the chances of remaining an extremist is really low."
Analyst Shiekh Hamiid Byamugenzi of the Islamic University in Uganda says perhaps it is also because of the disorganized origins of the madrasa system. Arab traders from countries such as Yemen, Oman, South Sudan and Egypt haphazardly established the system and as a result, he says, the level of teaching experience and training of the sheiks is low.
Reporting on madrasas in Uganda was much easier than trying to do it in Kenya. In Kenya I approached two schools: the Nairobi Muslim Academy in South C, and the Mahadi Girls Training Institute in Pangani. The Mahadi Girls School never answered repeated requests for an interview. And at the Nairobi Muslim Academy, which sits next to a mosque, the manager angrily told me "I would never have allowed you to step into my compound had I known you are here to discuss about Madrasa."
According to him, his school was the subject of several security raids by the government. This outraged him because he was as a Kenyan of Somali origin and a former civil servant for more than 20 years. He also added that "I was stopped five times along different road blocks on suspicion I could be involved in terrorism." So to me he said angrily, "Spare me and leave my school!" And that ended my visit.
Mohammed Mwijuma Mwinyipembe is the director of quality assurance and standards in the Kenyan Ministry of Education, which oversees the all-round performance and curriculum of all of Kenya's schools. To the claim that the government had been raiding madrasas Mwinyipembe replied, "I am not aware that the government is targeting any madrasa. And for your information the government respects madrasas." His daughters, he added, go to madrasa classes and according to him, "Only those who would be carrying out unusual activities would have something to hide."
Kamwana Abdullah is the vice chairman of Supreme Council of Kenya Muslims, the umbrella body of all mosques and madrasas. He says that the effects of these sorts of raids in Kenya are apparent. Muslims feel discriminated against, profiled and targeted and this is true especially of the youth. "Madrasas are meant to impart religious morals and acceptable knowledge as exemplified by the Prophet Muhammed."
Abdullah adds, "When Muslims are denied this they feel their basic right of religion is being encroached upon and they feel the raids are a ploy to fight Islam as a religion." In the long run, according to Abdullah, Muslims will lose sympathy and trust in their government.
He argues that there ought to be a special committee comprised of the security arm of the government, professionals, especially lawyers and teachers and the main religious organizations, to vet Islamic teachers. He insists, "Raiding and closing madrasas should and ought to be done by this committee, ad hoc closure and raids will only make a bad situation worse." The rate at which girls are entering madrasas in Kenya is still low. Kenyan education official Mwinyibembe blames this low rate of education, especially for young girls, on Kenyan culture.
He stresses that the Quran obligates all Muslims to seek knowledge regardless of their gender. Many Kenyans, he said, still marry off their girls for a few thousand shillings "because 20,000 Kenya shillings, will give you how many cattle or cows?" Rather, he said, that the goal should be to educate girls, as it is in the Muslim tradition, "... if that girl becomes an advocate, an engineer, she will buy you cows every month until you die." This is true especially in the very poor areas of the North Eastern Province and the Upper East in Kenya.
So the government, along with the Muslim Supreme Council, is working to incorporate a blended Madrasa and secular curriculum, even into public schools. Kamwana Abdullah of the Supreme Council of Kenya Muslims says, "We are also working with the Cabinet Secretary of Education to ensure that the school feeding program is taken back to schools in arid and semi-arid areas."
He says they want girls to be given sanitary pads to ensure they remain in school. "When a girl becomes of age, she might spend four days in a month, in a year it becomes over 36 days and she might lose that education."
As to the question of extremism, Abdullah says that the worry over this emerged after the terrorist bombing attacks of 9/11: "The bombing of the twin towers in 2011 and President George Bush started this issue about terrorism and fighting them."
To counteract that negative image within Kenya, Abdullah said he and others are working through the Inter Religious Council, which is an interfaith group that brings together different religions in that country. Abdullah says, "We always give them the true picture of Islam and some of them are surprised."
In addition, this past February, Kenya's Ministry of Education piloted new curriculum in 50 schools in three major cities. Sheikh Abdilatif Abdulkarim, executive board member with al-Mutanda al-Islami Trust in Nairobi, was quoted as saying that failure by the government to have a unified Islamic madrasa studies curriculum has left opportunities open for extremist clerics to exploit radicalize youths. So he was pleased with the initiative saying it would help as one way to streamline Islamic studies and to deal with Islamic extremism.
Source: http://www.pri.org/stories/2014-11-05/madrasas-africa-educating-or-indoctrinating
URL: https://www.newageislam.com/islamic-society/halima-athumani/are-madrasas-in-africa-educating-or-indoctrinating?/d/100033