By Hafeez Tunio
May 10, 2014
They may appear starved to the bone, but each sentence uttered by the people of the white desert is punctuated by "Murshid Aen Allah Ji Dua Aa". Everything we have is because of our spiritual leader, and God. Such is the blind faith in the Murshid in Achhro Thar. But in reality, these Murshids have fed them nothing but a steady diet of empty promises.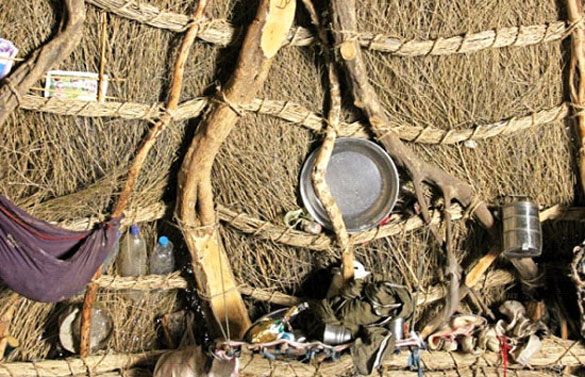 Inside a hut, where pictures of the Pir have been displayed Photo: Ayesha Mir/Express
-------
Four different spiritual Gaddis (seat of the dynasties) including Hur Jamaat (led by Pir Pagara), Ghousia Jamaat (led by PTI leader Shah Mehmood Qureshi), Sarwari Jamaat of Makhdooms of Haala and Jilani Gaddi of Pir Gul Mohammad Shah Jilani have had powerful influence in the white desert. The desert stretches from Sanghar and Khairpur to the Ghotki district in Sindh.
But responsibility does not come with honour in this case, for none of them have put in any credible effort for the development of the area. The villages of two union councils of Khipro Taluka of Sanghar district seem to be frozen in time. For most inhabitants, electricity, roads, schools and basic health centres are still a distant dream. Almost all the 141 villages in Khipro near Rajasthan in India are deprived of electricity.
Yet, the people of this area, blindfolded by reverence, get angry if anyone points out the shortcomings of their Pirs (spiritual leaders). "There has been no rain. The government has declared it a drought-hit area. The situation could have been worse, but we are surviving because of our Murshid's Dua," says Deen Muhammad Rajar, a resident of Ali Jo Tar village, with conviction.
Residents of Khipro still depend on donkeys and camels, which is their major source of transportation. Given that there are no medical facilities in the area, a majority of the people rely desperately on the Murshid or his nominated Khalifas for spiritual healing. Even their cattle are under the impact of their unshakable faith, and cows and goats can be seen wearing bunches of Taweez (amulets) around their necks.
"Out of a total of 60, I have lost half of my goats. People in our area tried the treatment of many doctors for our cattle. But the outbreak of disease was finally controlled after we got the Taweez from our Gaddi Nashin," said an elderly man, a follower of the Jilani Gaddi.
Each village in the white desert comprises 20 to 40 houses. The influence of these spiritual Gaddis in these villages is divided. But the most influential Gaddi in the entire region is the Hur Jamaat which has always swept the elections since the country came into being. PML-F MPA Waryam Faqir is one of the 16 Khalifas who run the Jamaat. Talking to The Express Tribune, he said: "We are ready to provide schools and dispensaries, but no doctor or teacher is willing to work there." Faqir avoided further comment.
The unwavering loyalty of devotees of this Jamaat can be gauged from the fact that during every election they vote for the nominees of their Murshids even without a campaign. They thus give them blind power, which is why the candidates do not even bother to visit the area to seek electoral support. "Vote Murshid Ka Hai Chahe Kuch Bhi Ho. Our vote belongs to our spiritual leader, come what may," said a villager Lal Bux Hingorja of Warseyar area.
Despite this show of unconditional support, elected representatives have not provided even the basic facilities to the people.
This phenomenon of avid following is not limited to the Muslims, and there have been spiritual leaders in local Hindus as well in the Rab Laho and Saeeda areas which are near Jaisalmer and Jodhpur, India.
According to development experts, these Murshid have deliberately suppressed the progress of their followers and have consciously confined them to desert area. "If development takes place with establishment of schools, colleges and roads, the people will start moving to the cities. If these people get educated, they will start contesting the supremacy of these leaders. How can these Pirs or Murshids afford this? " asks Zulfikar Halepoto , a development expert who works with Sindh Agriculture and Forestry Workers Coordinating Organisation (Safwco).
Halepoto pointed out that though these Pirs wield considerable power in both federal and provincial governments, they have not ever built a single road in the entire 23,000 sq kilometre area of the white desert, an area larger than Tharparkar district. "Despite having differences in opinion, there is one thing common among these religious leaders turned politicians: they know how to exploit innocent people. They get millions of rupees in the name of development schemes and misappropriate the same."
PPP MPA Makhdoom Rafique Zaman, whose family heads the Sarwari Jamaat, said they have worked in desert areas of Tharpakar district, and have facilitated schemes for availability of drinking water. He claimed they had no influence in the white desert and said that if anyone had to be held responsible for the situation, it is the Hur Jamaat.
PML-F MPA Khuda Bux Rajar, a nominee of the Hur Jamaat, defended their position. He retorted that they had built schools, dispensaries and many cemented ponds in the areas. But Rajar, who has also served as district Nazim Sanghar, failed to give a satisfactory response when asked why they have not built a single road and provided electricity to any village. "Being a district Nazim, I approved plans for an 80-kilometre-long road from Khipro to Saeeda, but some elements in the government opposed it because of the strategic location of the area."
Source: http://tribune.com.pk/story/706528/arrested-development-blind-faith/
URL: https://www.newageislam.com/islamic-society/hafeez-tunio/pirs-of-sindh--blind-faith/d/76976