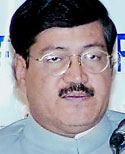 By Firoz Bakht Ahmed
23-03-2017
I not only understand but also relate to the tormenting experience of Asif Nizami and Nazim Nizami — the two representatives from the shrine of Hazrat Nizamuddin Aulia — who had gone to Pakistan on a tour to the Sufi shrines in that country to build bridges between the peoples and nations.
I, with my family, had undergone similarly harrowing circumstances in 2012. It was sheer good luck that we had come back safe and sound.
Nightmare
My honeymoon with Lahore — my dream city, a place of fun and frolic and home to world's best institutions like Aitchison College and Punjab University, eateries like Salt'n Pepper Village, Food Street and Zaiqa and water parks like Sozo Water Park, Joy Land Park and Starlet shoes — ended in a nightmare.
During my second — and perhaps last visit there — from June 4 to June 13, I found myself, with wife and three children, at the Sarwar Road Police Station, Lahore Cantonment. My experience vindicated that Pakistanis loathe Indian Muslims, terming them variously as enslaved and spies.
My children who were enthusiastic about visiting Lahore — a city about which famed Urdu writer Kashmiri Lal Zakir had said, "Jinne Lahore Nai Vekhya/Wo Te Jamiya Hi Naiee (He, who hasn't seen Lahore/ He isn't even born)" — are now absolutely Pakistan phobic.
At about 5pm on June 9, day five of our stay in Lahore, the children wanted a joyride in Joy Land Park. While we were about to enter the park, we were threatened by ISI sleuths in civil dress who had been following us from Wagha.
Without our knowledge, they diverted our three-wheeler towards the Sarwar Road Police Station in the Lahore Cantonment. In the police station, we were told that we had entered a "prohibited" area. My wife said we were tourists and there were no signposts in any case.
But our interrogators had sinister designs and began preparing papers to throw us behind the bars. Even if a tourist unknowingly goes to the amusement park, he can land into the hands of ISI rangers. During the grilling, they kept repeating that Pakistani tourists get even worst treatment at the hands of Indian agencies. My consistent denial demeaned me in their eyes.
We were staying at the prestigious 125-year-old Aitchison College from where our passports, visas, etc, were hauled in by the police. I was wondering what threat perception we posed, an enthusiastic bunch of tourists consisting of three school-going children, myself and wife.
The ISI spies had plotted impeccably to snare us — only to be later victimised as Sarabjits and Surjeets for whom neither Pakistan nor India is frankly much concerned. Our arrest documents were written and passports and other papers confiscated. Though it was a very scary and petrifying situation, we were not afraid as we had done nothing wrong.
Apology
Fortunately, college bursar Col Mehboob, a retired army man, spoke to the police assuring them of our bona fides. Even that was not enough and I had to call the editor of The Nation. It still took us five hours to get out of the dreadful and scandalous clutches of ISI officers after a written apology.
Pakistan, unfortunately, is run by ISI agents and the military. They are suspicious of all Indians. The "soft corner" for Pakistan, after this treatment, has absolutely vanished, particularly against the country's intelligence apparatus.
Bigwigs there are double-faced and can do a U-turn at the drop of a hat, a reason why that country is on the verge of disaster. They even interviewed me at the office of Nawa-e-Waqt, an Urdu daily, to get something against India but I never uttered a word against my "watan" (country).
Aggravated, they moved the ISI sleuths after me more horridly. At the police station, I could not help but wonder: the El Dorado that Quaide-Azam Mohammed Ali Jinnah created as a dreamland of Muslims after thousands of sacrifices, is not even a semblance of the dream he had spun.
Pakistan's landscape is dominated by terrorism, corruption, inflation, honour killings and sectarianism — to name just a few burning problems.
Relief
On my first day on June 4, I was faked of about 4,000 Pakistani rupees in lieu of Indian money at McLeod Road, and no amount of request or police threat worked. I thought it prudent to come out safe and sound and in one piece from his dingy underground kiosk.
On our return at the airport, I was grilled for three hours by five ISI officers, our bags were turned upside down as were cameras, children's mobiles and wallets while external hard discs were scanned. Even medicines and shaving boxes were not spared.
I heaved a sigh of relief after crossing Atari, glad to get out of the clutches of ISI megalomaniacs.
Before leaving Pakistan, I was reminded of what my grandfather, Maulana Abul Kalam Azad, told the departing co-religionists for the "promised land" in 1947:
"My dear brothers, today you are leaving our country; did you ever think what will be the outcome of this? If you go away, Muslims in India will become weak. You will be divided into two sects of liberals and fundamentals. Listen to me carefully, a Hindu can differ with your religion but they can't differ within your qaumiyat (clan), but in Pakistan you will face the difference of the clan as they'll treat you as chattel."
Pakistan is a hell for Indian Muslims! I took the risk to visit that country despite these prophetic words and paid a price.
Source: dailyo.in/politics/pakistan-indian-muslims-isi-nizammudin-saints/story/1/16326.html
URL: http://www.newageislam.com/islamic-society/firoz-bakht-ahmed/i-took-the-risk-to-visit-pakistan-and-paid-a-price/d/110501