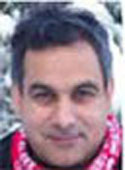 By Farooq Sulehria
August 07, 2013
Torkham is a fascinating place. Two striking features capture my attention every time I cross the Durand Line. First, the sheer artificiality and endurance of borders left behind as bitter legacy by colonialism. Second, a marked contrast between the self-styled Big Brother and its 'strategic depth'.
While utter chaos, mud and litter blot the Pakistani side, the Afghan side is rather clean, much better organised and better equipped. When one converts Pakistani rupees into Afghanis, one is further shaken out of the Big Brother syndrome. In 2006, I received ten thousand Afghanis for Rs12, 000. On this visit (in June), I was handed 5600 Afghanis for Rs10, 000.
Also, while the rude immigration staffs on the Pakistani side makes one stand in a queue outside a shabby gated office, on the Afghan side one is received by courteous Afghan officials in a modest but decently furnished room. Likewise, while the bumpy 'road' – forever under construction – from Peshawar to Torkham fully discourages potential travellers to Kabul, the smooth road to Kabul from Torkham, in contrast, doubles the joy of travelling.
After sweltering Sargodha, Kabul's breezy summer evenings offer an indescribably pleasant relief. Unlike previous years, this summer has been less dusty. This pleasant change made it possible to hold an open air concert at Kabul's Café Che on June 28. Pakistan's radical Laal band along with its Afghan counterpart, Morcha Ha (The Ants), thrilled a 200-strong audience. This cultural evening was the culmination of a two-day moot that brought together 'AfPak' progressives.
Now synonymous with puritan terror and imperialist machinations, we would do well to remember that it was Afghanistan that saw a 'revolution' which brought to power a government that brashly declared allegiance to Marxism. While Kabul's Café Che or a handful of Afghan radicals gathered on its lawns to receive Laal may sound odd to most, radicalism is not alien to Kabul.
The posters of Dr Najib all over the place make quite a statement. While Hamid Karzai and Ahmed Shah Masood's portraits annoyingly deck official buildings, Dr Najib's poster decorates mini-vans, cabs, barber shops, kiosks, and dilapidated living rooms in poor neighbourhoods.
"Why did you do up your car with Dr Najib's images?", I asked Burhanullah, a cab driver I met at Mandai. "Dr Najib was a friend of the poor", Burhanullah explained. "He is a martyr. He sacrificed his life for this country". The driver's Pashto made me remark: "I think you love him because he was a Pakhtun." "I am proud that he was Pakhtun too", Burhan replied. "But he is liked because he was poor-friendly".
During my stay in India earlier this year, I found out that – ironically – poor-friendly Najib's widow lives in Delhi and teaches at the Jawaharlal Nehru University.
While speaking to Afghan comrades is always reassuring, beyond underground leftist circles an apparent indifference marks the lives of Kabul's residents. This is because the struggle to survive keeps them too occupied to think about anything else. Amid some major developments, life remains tough. For instance, while uninterrupted electricity supply makes any Pakistani visitor envy Kabul's residents, in certain neighbourhood's people walk two kilometres downhill to fetch water. A large majority lacks access to adequate toilet facilities. Streets largely remain unpaved and schools and college campuses are as crowded as hospital wards.
Inflation, increasing unemployment, and a total lack of civic amenities further compound miseries as the population continues to swell. A town of half a million 15 years ago, Kabul now houses four million residents. In the absence of any town planning the population explosion is engendering familiar problems: ghettoisation on an ethnic basis, climatic degradation, drugs and crime, human trafficking and so on.
Despite all this, social problems or political issues hardly draw any attention. When a channel airs a talk show or news programme, the channel is switched to a Turkish soap opera. Long before they came to Pakistan, dubbed-in-Persian Turkish soap operas took Kabul by storm. Indian entertainment channels also command huge audiences in Kabul.
The only time the people of Kabul seem to tune in to Afghan channel Tolo is when Sitara-e-Afghan, a local version of 'American Idol', is aired. Beyond Kabul and a few other big towns, TV is a rarity either due to lack of access to electricity or cultural conditions.
Curious to know their mind, every time I am invited to Iftar dinners, I ask my hosts about their opinion on post-2014 Afghanistan. Most of them shrug uncaringly. "The Taliban will not return", they tell me. Whether this is wishful thinking or a well-reasoned and thought-out analysis, I fail to figure out. Like Pakistan, however, conspiracy theories abound – twisted 180 degrees in the other direction. Americans and the Taliban, I am told, are hand-in-glove. Why? "Because the Taliban insurgency legitimises US presence", these irritatingly unconvincing conspiracy theorists tell me.
Conspiracy theories notwithstanding, Afghan investors are busy investing lavishly. Construction remains a booming business. At the Afghan Chamber of Commerce, one research officer shared a promising report with me describing a flourishing economy. It is hard for me to verify claims made in the report. However, a reckless construction spree has transformed Kabul's landscape.
My host drove me to Kasaba, overlooking the Kabul airport, to show me his future apartment. Dozens of multi-storeyed blocks consisting of perhaps more than a thousand flats will be ready next year. At Sherak Saleem Karvan, another posh housing project, an apartment costs over a million US dollars. Barren, empty valleys I passed by six years ago have been transformed into middle-class townships while countless glitzy hotels and wedding halls have mushroomed all over town.
Certain small cultural changes also catch an occasional visitor's attention. While the famous blue Burqa seems to have gone out of fashion, during my stay I spotted women behind the wheels at least twice. A couple of surviving cinema houses screen Indian films but hardly attract audiences. Television or a couple of picnic spots such as the Qargha Lake remain popular recreational activities.
Another visible trend from Torkham to Jalalabad on to Kabul is the emerging network of mosques-cum-madrasas. "The government itself is encouraging this trend", Orzala Nemat told me last year. A PhD candidate at London's School of Oriental and African Studies, Ms Nemat thinks: "The Afghan government does not want Afghans to join Pakistani madrasas." Afghan madrasas can be monitored, she explains. Perhaps; in my opinion, this is a phenomenon beyond Afghan control. Like the rest of the Muslim world, petrodollars are translating into mosque-madrasa networks.
As is the case in Pakistan, the architecture and name of the mosque indicate who the donor of the mosque is. Amid all these hopes and fears, conspiracy theories and apparent disinterest, Kabul wallahs continue to rebuild their broken lives and homes – inch by inch.
Years of civil war, exile, and return to a war-ravaged country have taught them how to survive despite all odds. In short, the Kabul I come across is neither the 'graveyard of the empires' as our vernacular press claims, nor the liberated paradise the west wants us to believe it has turned into. The real Kabul remains largely unreported.
Farooq Sulehria is a freelance contributor.
Source: http://www.thenews.com.pk/Todays-News-9-194897-The-real-Kabul
URL: http://www.newageislam.com/islamic-society/farooq-sulehria/the-real-kabul/d/12923