By Faisal Darem
October 28, 2013
Every time there is a violent attack in Yemen, Islamic education teacher Hatem Mohammed tries to teach his students at Abdul Razzaq al-Sanaani Preparatory School in Sanaa concepts in Islam like tolerance and moderation.
"Teachers play an important role in educating students about the dangers of violence and groups that advocate it," he said.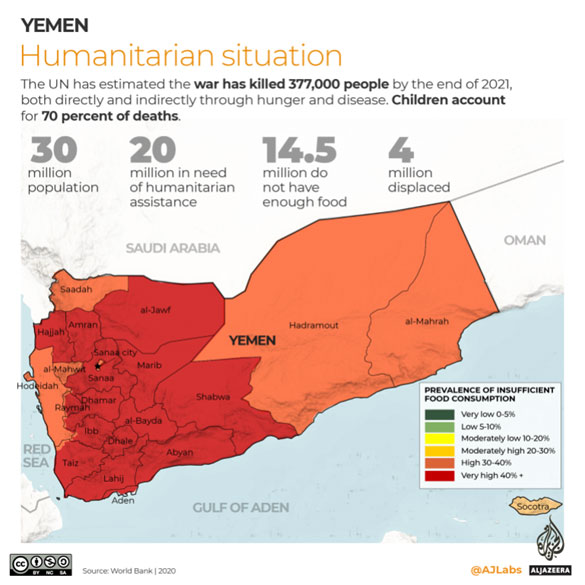 Many Yemeni educators believe the classroom plays an important role in combating extremist ideology. Above, Abdel Qader al-Ahdal teaches the Qur'an and Islamic education to students at the Kuwait High School in Sanaa. [Faisal Darem/Al-Shorfa]
---------
"I am constantly communicating this subject to the students, especially when addressing Qur'anic verses and the concepts of tolerance and moderation in Islam," he said.
Mohammed said whenever the opportunity presents itself in the curriculum, he teaches about the tragedy and damage caused by those who use violence as a means to achieve their aims.
He also devotes time in his classes to the subject when such an attack occurs, as when a suicide bomber in May 2012 killed 96 Yemeni soldiers in Sanaa's Sabeen Square.
Mohammed opens the classroom floor to students who have heard about terrorist operations that may have occurred near their homes or impacted someone they know.
Their testimonies have a "higher educational impact on their schoolmates", he said.
'Security Is the Responsibility of Every Member of the Community'
Mohammed is one of a number of Yemeni educators who believe it is crucial to raise awareness on the dangers of violence and extremism in the course of everyday class.
The awareness-raising process must start with teachers "so all the material points in one direction, towards the creation of a society that is free of extremist thought and violence", he said.
Mohammed has proposed dedicating one class period every week to raising awareness against violence and extremism in a scientific way.
These classes would be age-appropriate and take in input from specialists and psychologists, in order to isolate those malicious ideas and prevent them from spreading in the minds of the students, before extremists exploit them for their purposes," he said.
The students of social studies teacher Abed Hleis at Bilal bin Rabah School also examine violent attacks when they occur and draw lessons from them.
"With this, we help ourselves, our community and our nation avoid the scourge of terrorism, which brings disaster and tragedy to the families of those who blew themselves up as well as the families of the victims," Hleis told Al-Shorfa.
"Security, stability and achieving peace of mind for the community are the responsibility of every member of that community," he said. "The teacher and the school bear part of that responsibility, while the other part falls to the mosque, family and the media."
Hleis said his teaching techniques include comparisons "between communities that live a life of peace, safety and stability and those that live in fear and terror to the extent that when someone leaves his house, he does not know whether he will return safely to it".
Technology aids also strengthen the awareness-raising process, he said; teachers can make use of audio-visual laboratories and video, images and computers to present illustrative material.
"When a child experiences the incident and understands it through the use of audio-visual aids, he gains a greater understanding of what happened than he does when he simply listens to an account of it," Hleis said.
He called for dedicating a course within the national curriculum to the subject, beginning with the fourth grade curriculum and continuing on with courses to match the cognitive abilities of students of every age and grade level.
Students Fighting Terrorism
Raising awareness on the dangers of violence and extremism occurs through self-effort at the school level, said Adel Abdul Rahman, principal of Jeel al-Mithaq School in Sanaa province.
These local efforts include explanations of the topic by teachers and the activities of specialised student clubs, such as Islamic education, painting and art clubs, which organise events and exhibitions to combat extremism and violence, he said.
Head of Sanaa's education office Mohammed al-Fadhli addressed the need for more such efforts in the face of groups such as al-Qaeda that use violence as their primary means of achieving their goals, which include "turning youth into moving bombs".
"There is an organised effort to raise awareness against violence, terrorism and al-Qaeda that is carried out by my office in co-operation with the Office of Endowments and Guidance," he said.
Current efforts include the Morning Queue programme, through which a number of preachers and religious guides speak to students directly about the dangers of terrorism and extremist ideas, al-Fadhli said.
"There are new methods that can be followed to achieve better results and more effective awareness-raising, such as infusing these issues into main school activities via student clubs like mathematics, science and art clubs, as well as activities they engage in during the year: the school radio, quarterly bazaars, book fairs, wall magazines, class publications and the distribution of brochures and summarised educational books," he said.
"Student-to-student awareness is the most impactful type of awareness-raising [activity]," al-Fadhli said.
Source: http://al-shorfa.com/en_GB/articles/meii/features/2013/10/28/feature-01
URL: https://www.newageislam.com/islamic-society/faisal-darem/yemen-fights-terrorism-through-textbooks-and-teachers/d/14208