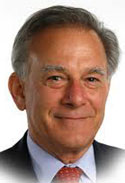 No One Has Noticed, but Muslim Fertility Is In Decline
By David Ignatius
February 11, 2013
Something startling is happening in the Muslim world – and no, I don't mean the Arab Spring or the growth of Islamic fundamentalism. According to a leading demographer, a "sea change" is producing a sharp decline in Muslim fertility rates and a "flight from marriage" among Arab women.
Nicholas Eberstadt, a scholar with the American Enterprise Institute, documented these findings in two recent papers. They tell a story that contradicts the usual picture of a continuing population explosion in Muslim lands. Population is indeed rising, but if current trends continue, the bulge won't last long.
Eberstadt's first paper was expressively titled "Fertility Decline in the Muslim World: A Veritable Sea-Change, Still Curiously Unnoticed." Using data for 49 Muslim-majority countries and territories, he found that fertility rates declined an average of 41 percent between 1975-1980 and 2005-2010, compared with a 33 percent decline for the world as a whole.
Twenty-two Muslim countries and territories had fertility declines of 50 percent or more. The sharpest drops were in Iran, Oman, the United Arab Emirates, Algeria, Bangladesh, Tunisia, Libya, Albania, Qatar and Kuwait, which all recorded declines of 60 percent or more over these three decades.
Fertility in Iran declined an astonishing 70 percent over the 30-year period, which Eberstadt says was "one of the most rapid and pronounced fertility declines ever recorded in human history." By 2000, Iran's fertility rate had fallen to two births per woman, below the level necessary to replace current population, according to Eberstadt and his co-author, Apoorva Shah.
A July 2012 Financial Times story placed the Iranian fertility rate even lower and cited a U.N. report warning that Iran's population will begin to shrink in two decades and will decline by more than 50 percent by the end of the century if current trends continue.
Big cities in the Muslim world have seen especially sharp drops. Eberstadt notes that only six states in America have lower rates than Istanbul. In Tehran and Isfahan, fertility rates are lower than those of any state in America.
Eberstadt argues that the fertility decline isn't just a result of rising incomes and economic development, though these certainly played a role. "Fertility decline over the past generation has been more rapid in the Arab states than virtually anywhere else on earth."
The CIA's World Factbook reports Muslim fertility rates slightly higher than Eberstadt's estimates, but generally below those of many sub-Saharan African, Latin American and Asian countries.
Accompanying this fertility decline is what Eberstadt calls a "flight from marriage," which he described in a paper presented last month in Doha, Qatar. His data show that in many areas of the world, men and women are getting married later or remaining unmarried. Divorce rates are also rising, especially in Europe, along with the percentage of extramarital births.
The decline of marriage in Europe is well-known but still striking: The female marriage rate fell in Germany from 0.98 to 0.59 from 1965 to 2000; it fell in France over that period from 0.99 to 0.61; in Sweden from 0.98 to 0.49; in Britain, from 1 to 0.54.
Marriage is also plummeting in Asia: In Japan, the percentage of women between 30 and 34 who have never married rose from 7.2 percent in 1970 to 26.6 percent in 2000; in Burma, it rose from 9.3 percent to 25.9 percent; in Thailand from 8.1 percent to 16.1 percent; in South Korea, from 1.4 percent to 10.7 percent.
Marriage rates in the Arab world are higher, but they're moving fast in the same direction. What's "astonishing," says Eberstadt in an email explaining his findings, is that in the Arab world, this move away from marriage "is by many measures already as far along as was Europe's in the 1980s – and it is taking place at a vastly lower level of development than the corresponding flights in Europe and developed East Asia."
"Something really big is under way – and practically no one has noticed it, even in the Arab world," argues Eberstadt.
These studies are a reminder that the big demographic trends shaping the world are mysterious, and often overlooked. The Arab world may be experiencing a youth bulge now, fuelling popular uprisings in Tunisia, Egypt and elsewhere. But as Eberstadt notes, what's ahead over the next generation will probably be declines in the number of working-age adults and rapidly aging populations.
The Arab countries are now struggling with what Eberstadt calls their "youth quake." But the coming dilemma, he notes, is "how these societies will meet the needs of their greying populations on relatively low income levels."
David Ignatius is published twice weekly by THE DAILY STAR.
Source: http://www.dailystar.com.lb/Opinion/Columnist/2013/Feb-11/205698-no-one-has-noticed-but-muslim-fertility-is-in-decline.ashx#ixzz2Kf2t0b68
URL: https://newageislam.com/islamic-society/muslim-fertility-decline/d/10379