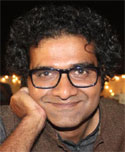 By Arshad Alam, New Age Islam
20 September 2021
Muslims Are Right to Condemn the Harassment of Muslim Woman in Bengaluru, but They Need To Ask Themselves Some Hard Questions
Main Points
• A Muslim woman is harassed in Bengaluru simply because she is in the company of a Hindu man.
• Two Muslim men have been arrested in this case of blatant moral policing.
• The incident throws up a larger question of treatment of women in Muslim society.
----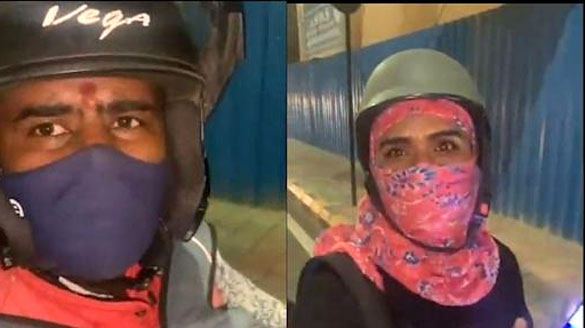 A Hindu man who was dropping his Muslim woman colleague home on his two-wheeler was stopped and assaulted by a group of Muslim men in Bengaluru. (Photo courtesy/ Yahoo News
------
A video of a Muslim woman being harassed by two Muslim men in Bengaluru has gone viral. The woman in question was riding pillion with a Hindu man, a colleague of her, which seems to have drawn the ire of Muslim vigilantes. The two men are seen repeatedly slapping the Hindu man and asking the woman why she was a travelling with an 'unrelated' male. They force her to call her husband and complain to him that he is unable to keep a 'check' on his wife. Ultimately, they force her to get off the bike and take an auto back home.
This might be reminiscent of the Taliban's Afghanistan but in India too such things have become so common that it is no longer surprising. We have seen how Hindu vigilante groups, in the name of stopping 'love jihad', have similarly misbehaved with young men and women in different parts of India. The incident in Bengaluru might be read as a reaction to such Hindu vigilantism but we know that such methods are only counter-productive in the long run.
The brunt of moral policing is almost inevitably faced by women, be they Hindu or Muslim. It is ultimately her freedom which is questioned and restricted. These men, whether Hindu or Muslim, singe the body and soul of women by appointing themselves as the guardians of community's honour.
While the police have largely turned a blind eye to such illegal moral policing, in this case they acted swiftly to arrest the two Muslim men who were responsible for the assault. This was certainly the right thing to do. But what if the religious identity of the assaulters was different and they were members of some groups perceived to be close to the government? Whether the police would have acted with similar alacrity is anybody's guess.
This however should not deter us from pointing out certain problems within the Muslim society specifically with regard to its treatment of women. During a trip to Azamgarh, one Muslim woman, who was a teacher in a school, told me that men treat women like their slippers, meaning that they were accorded no respect. If a school teacher can have such feelings, it can well be imagined what other women must be feeling. Ironically, such sentiments are there despite the fact Muslim women are making considerable strides in the field of secondary and higher education. It seems as if their greater presence within the field of education is having no corresponding effect on their social status.
What happened in Bengaluru is nothing unusual if one observes the Muslim society even casually. Moral policing is considerably higher as compared to other communities. Girls and women are asked multiple questions regarding their whereabouts while their male counterparts are given a free hand. Community members keep a keen eye on socialization patterns of Muslim girls and especial attention is paid in case they befriend someone from the opposite sex. They are specially reprimanded when they make friendships outside the community. It is not surprising that many Muslim men were appreciative of the new 'anti love-jihad' law promulgated by the Uttar Pradesh government.
Muslim girls are made to wear coverings of different kinds from a young age. This is normally justified in the name of choice but we know that it is not a fact. Rather, these garments become part of Muslim women's attire because it is perceived to be a religious command. From a humble madrasa which teaches religion to the fancy schools run by various Muslim trusts, all insist that Muslim girls should adhere to a specific religious dress code. The effect is the sexualisation of Muslim girls from a very young age which is not healthy for any society.
Simply because something was written down in the scriptures centuries ago, is it important to follow them today? The dominant interpretation of Islam clearly states that women have been placed in the custody of men making it amply clear that men are superior to women. The Islamic justification for this inequality is that man has been given the financial responsibility of women. But haven't things changed today? Muslim women are capable of running any household and as more of them go into higher education, this trend will only increase. Shouldn't the Islamic value system change to suit the needs of our changing society. Clinging to the past in the name of tradition has done enough harm to Muslims.
What happened in Bengaluru points to a deeper malaise within Muslim society. It is good to see many Muslims come out and denounce the harassment that the woman faced. But mere condemnation to sound politically correct will not do. If we do not accept that such moral policing is in fact religiously sanctioned within the community, we will not be able to address this problem.
----
Arshad Alam is a NewAgeIslam.com columnist.
URL: https://www.newageislam.com/islamic-society/muslim-moral-policing-/d/125397
New Age Islam, Islam Online, Islamic Website, African Muslim News, Arab World News, South Asia News, Indian Muslim News, World Muslim News, Women in Islam, Islamic Feminism, Arab Women, Women In Arab, Islamophobia in America, Muslim Women in West, Islam Women and Feminism