By Arshad Alam, New Age Islam
24 January 2018
The recent announcement of Uttar Pradesh Chief Minister that madrasas need to be modernized and that modern subjects should be taught within these institutions is a welcome step. However, he is certainly not the first public figure to articulate such a view. Successive governments have pretty much said the same about madrasas. Since more than two decades, we have a madrasa modernization policy and yet there is very little in terms of an evaluative study to understand how the policy has worked on the ground. There is a need to study the impact of madrasa modernization policy so as to make the policy more robust. Mere speaking in the air makes the problem worse: there is a need to know the actual status of education in these madrasas and only then can we have a debate on transforming these institutions.
What follows below is an attempt to understand how the madrasa modernization policy has worked at the ground level and what can we learn from studying the implementation of this policy to make it work better. I have looked at the career of this policy from 2010-2014 for which figures are available on different government websites. An analysis of these five years points out to fundamental problems with the implementation of this policy, something which does not figure in public discourses at all.
Broadly, there are two categories of madrasas: those supported by the state and those supported primarily through community donations. It is possible that some community funded madrasas also take grants from the government. Within the community funded madrasas, there are number of ideological orientations possible: depending on the curriculum, madrasas in this category can be classified as Deobandi, Barelwi, Ahle Hadis, etc. Their curriculum is primarily theological which means that they hardly teach any 'modern' subjects like science and mathematics. Due to immense sectarian difference, these madrasas are not organised under one umbrella. In 2006, the government tried to organise them under a Central Madrasa Board but the move was unsuccessful and subsequently abandoned. On the other hand, Madrasas supported by the state are organised under various state madrasa boards. Thus Bihar, Uttar Pradesh, Orissa etc have Madrasa Boards which oversee the functioning of these madrasas in their respective states. The curriculum of these madrasas is at par with the syllabus of different state education boards. Students enrolled in these madrasas study the government syllabus of the regular state schools, but they also study some theological subjects.
In order to improve the educational standard of madrasas, the state has intervened through various policies from time to time. The centrally sponsored Area Intensive and Madrasa Modernization Programme was the first intervention in this regard. Starting in 1993, this programme gave grants to madrasas if they introduced modern subjects in the syllabus. The programme also gave financial aid for recruiting teachers who could teach those subjects. Till 2006, 4694 madrasas were provided assistance under the Program. In 2006, this programme was transformed into Scheme for Providing Quality Education in Madrasas, (SPQEM) and became the fourth point in the PM's 15 point programme for minorities. However, the scheme was only effectively started in the year 2008-2009 by the Ministry of Human Resource Development. Some of the features of the scheme are as follows:
· To strengthen capacities in madrasas for teaching of formal subjects like science, mathematics, social sciences
· Providing science and computer labs at appropriate stage within madrasas
· Training of teachers in new pedagogical methods every two years
· Linking madrasas with National Institute of Open Schooling (NIOS). Students studying in madrasas will be able to get certification for classes 5, 8, 10, 12 which will enable them to transit to higher studies and join the national education system
The Scheme also provides for periodic reviews of the policy which will be done every two years by the government. Madrasa Boards in different states are responsible for monitoring and popularising the scheme. The scheme is fully supported by central government. During the XIth plan (2007-2012), the budget for the scheme was 325 Crores.
Progress of SPQEM (2009-2013)
Table 3.1: Number of Madrasas benefiting under SPQEM
Statewise Physical Financial in Respect of Scheme for Providing Quality Education in Madarsa

Name of State/UT

Amount Disbursed

2009- 10

2010-11

2011-12

2012-13

2013-14

Andhra Pradesh

260

Assam

1039

459.53

349.85

Bihar

55.54

Chandigarh

0.36

Chhattisgarh

811.67

229.7

721.79

432.95

Haryana

37.5

J&K

347.87

538.6

Jharkhand

497.18

Karnataka

490.17

210.58

Kerala

1490.09

776.88

7117.88

Madhya Pradesh

561.35

1343.24

1085.53

2104.42

314.94

Maharashtra

36.59

147.52

168.44

169.72

Rajasthan

547.46

71.95

392.66

335.21

Tripura

374.18

199.41

288.72

Uttar Pradesh

3190.47

3554.55

11173.35

12986.83

3540.5

Uttarakhand

188.86

34.62

493.435

460.71

Total

4623.54

10147

13953.4

18249.26

12660.63
Source: Ministry of Minority Affairs
For the data available, a total of 22862 madrasas have benefited under the scheme for the period 2009-2013. From the above table it is clear that the coverage of the scheme has increased substantially. The projected target during the XIth plan was up to 6000 (SPQEM: MHRD) madrasas so it seems that the figure of 22862 is way too high. However, the data provided is inclusive of those madrasas whose grants have been renewed in various years. Thus the actual number of madrasas covered under the scheme would be less that the total figure 22826.
The above table also makes it clear that different states have responded differently to the scheme. Thus for Bihar, we have data for only one year (2012-2013) in which only 80 madrasas availed of the scheme (SPQEM: MHRD). Also, in Jharkhand, we have data for only one year (2009-10) in which only 164 madrasas could benefit under the scheme. However, Uttar Pradesh seems to have made most from the scheme where during 2009-2013, a total of 18589 madrasas benefited from the scheme. Again, we must remember, there would be a number of madrasas within this total whose grants would have been renewed, thus making the actual spread of the scheme somewhat less. But looking at the data, what is clear is that the impact of the scheme has been uneven in terms of regional spread. Thus, according to the data available, 81% of the total madrasas which benefited from the SPQEM are located in Uttar Pradesh alone. This might suggest the lack of popularity of the scheme in other states or simply that other state madrasa boards have been laggards in promoting the scheme.
Table 3.2: Number of Teachers benefiting under SPQEM
Statewise Physical Financial in Respect of Scheme for Providing Quality Education in Madarsa

Name of State/Ut

No. of Teachers

2009-10

2010-11

2011-12

2012-13

2013-14

Andhra Pradesh

228

Assam

1458

417

Bihar

80

Chandigarh

1

Chhattisgarh

1306

609

634

547

Haryana

18

J&K

722

Jharkhand

492

Karnataka

446

133

Kerala

1444

1444

4258

Madhya Pradesh

461

1172

1728

3410

527

Maharashtra

33

99

137

248

Rajasthan

460

62

460

625

Tripura

387

315

326

Uttar Pradesh

3621

3903

11754

15969

11830

Uttarakhand

192

27

280

548

Uttar Pradesh (NIOS)

Total

4962

11382

14412

23146

18909
Source: Ministry of Minority Affairs
Looking at the figures above, a total number of 72541 teachers have availed of the benefit of the scheme. Given the fact that under the XIth plan, the estimate was to target only up to 18000 (SPQEM: MHRD) teachers all over the country, the figure of 72541 seems way too high. Since grants to teachers are made annually, the actual number of teachers who might have benefited would be less than the total figure. Nevertheless, the progress of the scheme in terms of recruiting new teachers has been substantial. Again, the geographic reach of the scheme in terms of benefits to teachers has been uneven. Thus in Bihar, for the period in which data is available (2012-13), only 80 teachers have benefited from the scheme. In Jharkhand for the period (2009-10), 492 teachers have benefited. There are no figures available for Jharkhand after this year to make any kind of assessment. The biggest gainer has been Uttar Pradesh where the scheme has benefited a total of number of 46717 teachers. Thus 64.4% of all teachers who have benefited from the scheme are located in Uttar Pradesh alone. It would be interesting to study the impact of this infusion of teachers in Uttar Pradesh on students' retention and quality of teaching. However, it seems that other state madrasa boards have failed in their mandate to popularise the scheme. It might also be possible that some of them may have benefited from the scheme, but the data has not been made available.
Table 3.3: Progress of Amount disbursed under SPQEM
State-wise Physical Financial in Respect of Scheme for Providing Quality Education in Madrasa

Name of State/UT

No. of Madrasa

2009-10

2010-11

2011-12

2012-13

2013-14

Andhra Pradesh

40

Assam

486

139

Bihar

80

Chandigarh

1

Chhattisgarh

439

255

253

258

Haryana

6

J&K

372

Jharkhand

164

Karnataka

160

48

Kerala

724

724

1462

Madhya Pradesh

329

764

1028

1920

253

Maharashtra

11

34

46

78

Rajasthan

220

21

220

209

Tripura

129

129

129

Uttar Pradesh

1356

1758

4539

6294

4642

Uttarakhand

65

9

100

159

Uttar Pradesh (NIOS)

Total

1979

5045

5934

9905

7190
Source: Ministry of Minority Affairs
The above table tells us that the amount spent on SPQEM has increased substantially. The figures available tell us that a total of 596.34 Crores have been disbursed. However, this figure includes money disbursed till 30.09.2013 which is beyond the XIth plan period (2007-2012) for which the budget was 325 Crores (MHRD). Thus till the plan period, the total amount spent on SPQEM was 287.24 Crores which is actually less than the 325 crore which was earmarked for the period. Moreover, here again we see that Uttar Pradesh gets the majority of the funds. Out of the total 287.27 Crores spent during the plan period, Uttar Pradesh alone received 179.18 Crores which is 62.3% of the total disbursement. Even if we understand that more Muslims live in Uttar as compared to other states, in terms of percentage of share in the scheme, Uttar Pradesh seems to be cornering most of the benefits from the scheme. It will be worthwhile to do an evaluative study to see the impact that these funds have had in terms of quality education in madrasas in Uttar Pradesh. The low rates of disbursal for Bihar and Jharkhand might possibly indicate that there is serious lacuna in the functioning of madrasa boards in these two states.
As stated above, there are different types of madrasas in the country. Scheme for Providing Quality Education in Madrasas should have been primarily designed for those madrasas which do not impart modern education, primarily those which are funded by the community. However, the madrasa modernization policy does not differentiate between community and state funded madrasas, thus homogenizing an otherwise heterogeneous institution. The available data therefore does not tell us how many madrasas which teach only religious subjects (Deeni madrasas) have benefited from the scheme. The MHRD does not separately categorise madrasas in terms of the curriculum they teach. Thus any madrasa which is registered for the last three years can apply for the scheme. One suspects that majority of the applying madrasas are those who are under various state boards and hence teaching government syllabus. This is a qualified guess because most of the community funded madrasas are reluctant to apply for government grants fearing that their autonomy will be compromised. This being the case, it seems that the government is undercutting its own policy by not focussing the scheme exclusively on those madrasas who teach only religious subjects.
Fig3.1: Distribution of Fund of Madrasas in Uttar Pradesh in 2013-2014
Source: calculated from data for SPQEM (2013-2014), MHRD
Fig 3.2: Distribution of Salary in Uttar Pradesh in 2013-2014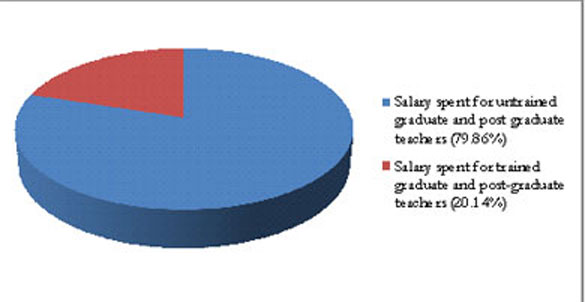 Source: calculated from data for SPQEM (2013-2014), MHRD
On the other hand, for madrasas who applying under the scheme, the primary purpose seems to be additional employment generation rather than the transformation of madrasas into modern institutions. This becomes clear when we analyse where most of the funding has gone within this scheme. Since the data from all states is not available, we have looked at the approvals for SPQEM in the state of Uttar Pradesh for the year 2013-2014 (fig 3.1). During this year, total proposals received from Uttar Pradesh were 741 out of which 459 proposals were approved. In financial terms the total approvals amounted to 1334.69 Lakhs. Disaggregating this amount we find that the major share of 68% went towards the payment of salaries for teachers hired under this scheme. From the available data it is not possible to know for which subjects these teachers were hired.
One of the objectives of the scheme is to popularise the teaching of science and maths within madrasas. However, the actual amount spent on science and maths kits amounts to only 5.26% of the total outlay. The other important objective of the scheme was to train madrasa teachers for modern pedagogy. But here also, the amount approved to be spent on their training is a meagre 1.28% of the total outlay. Moreover, even within the component of teachers' salary, most of the money has gone to recruit less qualified teachers with BA/MA degrees without B.Ed (see fig 3.2). Thus quality has been sacrificed in favour of quantity. This means that the scheme is not in consonance of its own objectives but has only become a source of additional employment generation.
One special feature of SPQEM was that it encouraged linkage of madrasas with National Institute of Open Schooling (NIOS). The idea was that through accreditation by various NIOS centres, madrasa students would be able to get certificates for classes 5, 8, 10 and 12. This linkage would enable these students to transit to higher studies and also ensure that they receive quality standards akin to the national education system.
The impact of this linkage needs to be ascertained as there is no available data which would suggest how many madrasa students have benefited from the scheme. But more fundamentally, there are problems at the level of ideas itself. The government aims through this linkage to mainstream madrasas students: to put more madrasa students into what is called mainstream education. However, the Chairman of the Madrasa Modernization Committee, in an interview given in 2008 had an altogether different conception of madrasa modernization. According to this interview, modernization of madrasas does not involve introducing modern subjects in madrasas.
In his framework, modernization means that madrasas should excel in teaching religious subjects (twocircles.net; 20th Nov 2008). It is astonishing as to how the government policy and the person in charge of implementing that policy can have such fundamentally divergent views. Also, one fails to understand what is new in the scheme of linkage with NIOS. Earlier, madrasa students who were desirous of getting into mainstream education would sit for various state madrasa board exams which would then enable them to get admission into any mainstream school or college. Despite the SPQEM announcing that its linkage with NIOS is a unique feature of this policy, it is hardly new for madrasa students.
Madrasas are important in any discussion on education of Muslims because as one standing committee report mentions, roughly 9.7% Muslim children of school going age study in madrasas (National Monitoring Committee on Minority Education Report 2013). This is nearly more than double the estimate of Sachar Committee Report which had in 2006 argued that only 4% Muslim children of school going age study in madrasas. In fact now there are 68 districts where 25% of all Muslim students are studying in madrasas (NMCME 2013). It is important to understand that this figure of 9.7% is an all India figure and that the figure in North India would be much higher.
Moreover, in north India, madrasas and regular schools form parallel systems of education, so that a child going to a madrasa will have no access to regular schooling. Since most of these madrasas are at the primary level, in effect, it will shore up the enrolment levels of Muslims but once the child moves to regular school, she will find it very hard to adjust to new educational and pedagogical context. This might be one of the reasons for higher drop out among Muslims. On the one hand, the government wants greater educational access for Muslims, on the other; it exempts madrasas from the purview of the RTE Act due to pressure from religious conservatives.
There is therefore a stark contradiction between the intention of the government and the actual working of the policy on the ground. The need for reforming madrasas has even been articulated by the National Commission of Minority Educational Institutions (NCMEI). In its report to the government, the NCMEI report recommended and suggested ways of introducing modern subjects in purely religious madrasas and argues that it would not be possible to do so without the creation of al central madrasa board (NCMEI:2010). Although the government tried building consensus around the issue of forming a madrasa board, but gave in to the opposition of religious conservatives.
The existing madrasas modernization policy (Scheme for Providing Quality Education in Madrasas /SPQEM) therefore lacks a specific focus. If the objective is the introduction of modern subjects in those madrasas which do not teach such subjects, then we do not know the impact of the scheme as the government does not categorize religious and non-religious madrasas. Treating madrasas as homogenous in policy does not reflect the ground reality as madrasas are extremely diverse in their orientation and engaging them would need a separate strategy for each category.
Furthermore, analysis of the funds spent on SPQEM reveals that most of the money has been on paying the salaries of teachers (68%), and only 5% has gone into buying science and mathematics kits, thus defeating one of the basic objectives of the scheme which was to introduce the teaching of science and mathematics in madrasas. In Uttar Pradesh (which has been the biggest recipient of SPQEM), almost 80% of the salary component has gone into hiring graduate untrained teachers. Periodic talks on modernizing madrasas without considering the loopholes in the existing policy will only reproduce the same results without any improvement in the system.
Arshad Alam is a NewAgeIslam.com columnist
URL: https://www.newageislam.com/islamic-society/modernizing-madrasa-education-evaluation/d/114044
New Age Islam, Islam Online, Islamic Website, African Muslim News, Arab World News, South Asia News, Indian Muslim News, World Muslim News, Women in Islam, Islamic Feminism, Arab Women, Women In Arab, Islamophobia in America, Muslim Women in West, Islam Women and Feminism