By Anees Jillani
South Asia Global Affairs Magazine, Karachi, October 2012
Though animal rights are included in the various law systems practiced across South Asia, few, if any, of these laws are actually enacted. Laws reflect the state of a society. However, their execution is even more important than their enactment. Pakistan to a large extent and most other South Asian nations, show a lack of interest in animal rights through their legislations on the subject and its subsequent enforcement.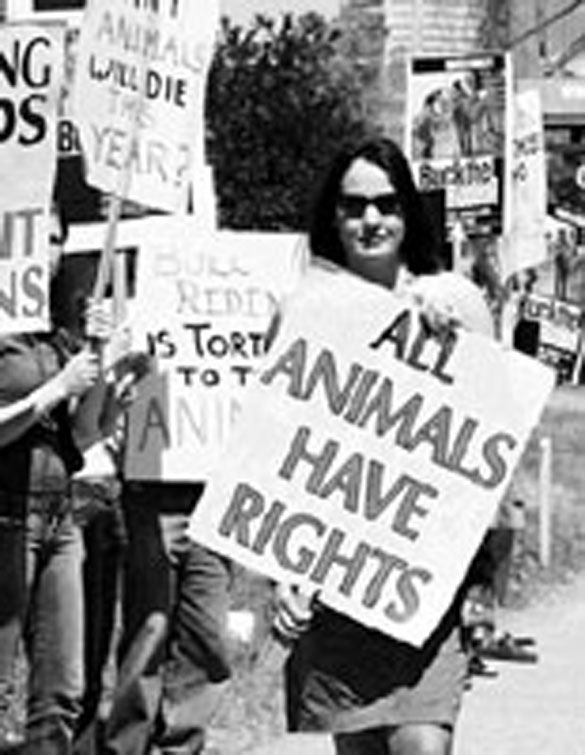 We are constantly reminded by our Indian friends that we are similar and alike in more than one way. Racially we may belong to the same stock but 65 years of separate nationhood have made us different. Or maybe these differences persisted even prior to the partition of India in 1947.
One such difference is the way animals are treated in the two countries. India constitutes a large mass, with a large segment of its population living under abject poverty. However, one often comes across stray dogs sitting comfortably on footpaths without anybody bothering them. Stray cattle, particularly cows roam freely on the streets and even the highways, with the drivers patiently waiting for them to cross. Nowadays, it is hard to find snake-charmers and folks showing monkeys and bears doing odd tricks on the streets.
Pakistan and perhaps Bangladesh have a long way to go in this respect. Cattle are considered only as a source of meat and thus devoid of any rights; dogs are considered 'unclean' and thus 'unfit' to be touched and constantly beaten around, with stray dogs not knowing where to go for food and security. But the plight of other animals is no better. Zoo animals live in miserable conditions with on-lookers poking them with sticks and throwing objects at them to get their attention. Many throw empty bags instead of giving these animals any food, which sometimes caged animals are forced to eat due to their health's detriment.
There are hardly any animal rights activists and almost no major organization is working to promote their rights. Even the international WWF (World Wildlife Fund) concentrates more on environmental issues than on aspects relating to improving the state of animal rights. The four provinces have their own Wildlife Departments but the attention is again drawn to major environmental initiatives rather than improving the plight of animals. In any event, foreign donors heavily drive such departmental initiatives. There is seldom any action undertaken on the local initiative officially explained due to paucity of funds but actually more due to lack of any vision and interest in the subject.
The colonial British often indulged in massive hunting sprees. However, they also, perhaps for the first time in the history of this part of the world, introduced the concept of animal rights. In 1890, a law titled the Prevention of Cruelty to Animals Act was introduced. It is a sad reflection on the part of the people of Pakistan and their successive governments that the same law remains on the statute books with minor modifications. The law makes cruelty to animals punishable. A first offense is punishable with one-month imprisonment or a Rs. 50 fine. Three months imprisonment or a Rs.100 fine is accorded for a subsequent offense which is committed within three years of the first one. However, it is doubtful if anybody has ever been imprisoned in Pakistan for being cruel to an animal under this Act.
As opposed to Pakistan, India replaced the 1890 Act by a new law in 1960. An Animals Welfare Board was constituted which actively continues to advise the government on various issues relating to the subject. More than 12 sets of rules have been enacted under the 1960 Act, dealing with issues ranging from performing animals to dealing with animals used in transportation.
In addition to this, a provision of the Penal Code of 1860, common to India, Pakistan and Bangladesh, deems it a criminal offense to kill, maim, or render useless any animal; an offence punishable with five years imprisonment or with a fine. Again, few if any, are likely to have been punished at least in Pakistan under this provision.
Laws reflect the state of a society. However, their execution is even more important than their enactment. Pakistan to a large extent and most other South Asian nations, show a lack of interest in animal rights through their legislations on the subject and its subsequent enforcement.
There is hardly any awareness about the rights of animals in the country. Many attribute it to Islam as a majority of Muslims regard slaughtering and subsequent eating of animals as justified on religious grounds. It is a religious obligation to sacrifice a cattle over Eid-ul-Azha which follows the pilgrimage season in Mecca. Such Muslims tend to look at animals only to feed them and in some cases to please them, if they cannot be eaten. The animals otherwise have no rights. This kind of attitude is unfortunate as the Holy Quran is silent on this issue while there are a number of sayings of the Holy Prophet that command Muslims to treat animals humanely.
However, lack of interest and awareness about animal rights cannot solely be attributed to religion as China, with a majority of its populace professing no religion is also indifferent towards the rights of its animals. The same is the case in some other South Asian countries which profess religions other than Islam. The phenomenon is thus also attributable to culture.
A daily in Pakistan succinctly summed up the issue of a lack of animal rights by writing, "It is not surprising that wildlife receives little protection in Pakistan because for a country where human rights are routinely violated, how can we expect animal rights to be protected? However, we must keep fighting for animal rights. At some point, the government and wildlife protection agencies, both local and international, will have to listen. Otherwise, we will be left with barren land as our people and wildlife are neglected and killed, receiving no respect or regard."
The people of South Asia need to wake up before it is too late. There is an urgent need to introduce reasonable laws protecting the animals and strictly enforcing them. Awareness campaigns may help but could be regarded by some as bringing in western concepts. It would be more effective to start creating awareness about animal rights amongst young children in schools.
Anees Jillani is an advocate of the Supreme Court and a member of the Washington, DC Bar. He has been writing for various publications for more than 20 years and has authored several books.
Source: SA Global Affairs: http://www.saglobalaffairs.com/special-features/1322-law-of-the-land.html
URL: https://www.newageislam.com/islamic-society/anees-jillani/pakistan--law-of-the-land-and-the-rights-of-animals/d/9709