By Aliya Abbas
11 Jun 2014
Leading Islamic seminaries, like Darul Uloom Deoband and Karnataka based Madrasa Jamat-e-Islami Hind have decided to stall Prime Minister Narendra Modi's agenda to revamp Madrasa education in India. According to news report published in The Times of India, Darul Uloom Deoband, which has been campaigning extensively against the modernisation of Madrasas across the country, has sought clarification from the Government over its 'National Madrassa Modernisation Programme'. They are giving excuses like there is no clarity over Government's programme and which Madrasa will come under its umbrella, without realising they are pushing the community into darkness without providing them with a viable option of development.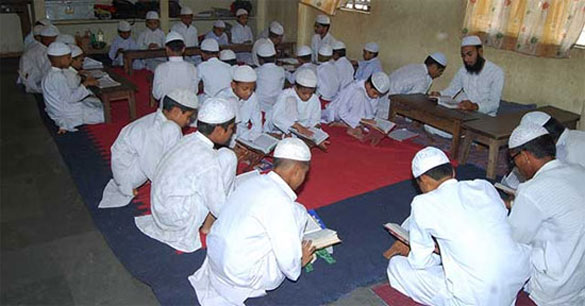 The initiative was revealed by President Pranab Mukherjee during his address to Parliament on Monday; however, the concept of modernising the Madrasas was again initiated by Narendra Modi even before he took over as the Prime Minister of the country. During his electioneering, he had assured Muslims a better life while preserving their culture. He had stated, "I want to see you with a laptop in one hand, Quran in the other." The Madrasa Modernisation Scheme was proposed in 2004 by the newly set-up national monitoring committee for minorities education, effectively formalising a 1986 Government initiative to improve the quality of education at schools.
But the way these organisations are behaving presents a grim picture for the community. Qamar Agha, an expert on Islamic studies and West Asian issues told NitiCentral, "These politico-religious organisations are dangerous not only for the community but also the nation. Instead of encouraging youth to become progressive, they are pushing the community into darkness. These groups are failing to understand the urgency of moving with time. Organisations like Deoband or any other school of religious thought has to learn to keep pace with time and welcome changes. Unfortunately, they see the community as their vote-bank." On the diktat issued by Jamat-e-Islami Hind over co-ed education, Qamar Agha said, "There is a need to educate girls first rather than bickering about co-ed education. These Ulemas have to encourage education within the community and essentially not exclusively for boys since depriving girls of education hampers progress and development of the community. A girl has a right to get educated for her own development; a woman has a right of employment for a better life."
A look at the figures reveal a huge gap between Muslims blessed with modern education and those deprived of it. This deprivation has often been the cause for being unemployable in present day job markets thus leading to various degrees of insecurities in turn fuelling multifarious social problems. Even the first Minister for Education of Independent India, Maulana Abul Kalam Azad tried to establish an All India Madrasa Board to stabilise the religious education by offering proper pay scale for teachers and a proper examination for students; but he was meted out with utmost resistance by his close aides, including Maulana Shibli Nomani and Maulana Hifz-ur-Rehman.
There is an urgent need to change the doctrine for the improvement of the state of the community, Quamar Agha said. According to the findings of a committee headed by the former Delhi High Court Judge Rajinder Sachar, the community was lagging behind in modern education and hence deprived of Government jobs. But the so-called commissioners of the community do not think this way and for their own personal interests, they are ready to sacrifice the community. The Sachar Committee also stated that only four per cent of school going Muslims attend Madrasas. This tiny section is, however, critical since it churns out Islamic preachers, clerics and imams. Several Madrasa-educated youth are not employed in the mainstream job market and remain unemployable.
Million dollar question being, why these organisations dither reforms? The answer is simple. They find the teaching of modern subjects alongside the Quran too much of a dichotomy. Sections of the Ulema and politicians belonging to the community fear this move as Government intervention which may dilute their iron grip over the community. The bigger picture is that this programme will provide Muslim youth a progressive socio-political outlook as well as help them find jobs and assimilate into the nation's success story.
These political-religious organisations not only lack the vision but also possess a narrow mindset towards reality. The common Muslims are constantly reminded about their social and economic needs and exhortations about the will of God. They are also kept in thrall to clerics and ill educated youths are only left to either choose between fanaticism or a begging bowl. But the community does not realise that such leaders play the politics of vote-bank just to acquire State patronage for themselves and their coteries. The madarsa management also makes things difficult by not accepting Government grant because they will lose their autonomy and will have to report the Government over its expenditure.
But they fail to understand that India cannot progress unless Muslims move ahead.
Aliya Abbas Journalist, at present working with Nitidigital as Features Editor
Source: http://www.niticentral.com/2014/06/11/madarsa-modernisation-masterstroke-to-address-muslim-aspiration-231451.html
URL: https://newageislam.com/islamic-society/madrasa-modernisation-masterstroke-address-muslim/d/87513