By Afrah Jamal
October 29, 2011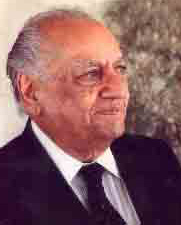 That a man forced to endure incarceration and self-exile — a man who had his patriotism questioned and his loyalties tested has been enshrined in yet another Hall of Fame is a remarkable twist of fate
"For the saddest epitaph which can be carved in memory of a vanished freedom is that it was lost because its possessors failed to stretch forth a saving hand while there was still time" — George Sutherland.
A bit of art to rebuild an ancient potter's village, a sampling of prose to challenge the established order, a simple vision used as ballast to steady a foundering ship — when all three intersect, the ripples can create an alternate timeline. Setting aside 2011 as the year of Faiz has opened a doorway of possibilities.
Several months ago an open call was issued to interpret Faiz Ahmed Faiz's poetry through visual art. A specially designed A4-sized paper was the chosen medium of expression. This ambitious project was part of the ongoing centennial celebrations to honour a legendary poet. A few weeks ago that vision took the form of 'Postcards to Faiz' and was unveiled at Frere Hall, Karachi — a city where he spent many a day.
Faiz and his collection of 'poetry with a purpose' were recalled to serve as a mentor to the new generation who brought his most memorable verses to life. There was a nobler side to this charming little proposal that went beyond ending a nation's prolonged estrangement from culture. This was reflected in the stirring speeches given by admirers, echoed in the sumptuous interpretations mounted on the panels, and witnessed in the determined faces leading the charge. The wall was not just a sentimental showcase for Faiz — it was an intervention to preserve the narrative of rationality in a polarised society.
The exhibit forged a connection between art and prose — a fusion that was to fuel a silent movement of change. Entries came from far and wide including the Fine Arts School within the local central jail. Around 150 artists (students and professionals alike from across the country and beyond the borders) came up with a compelling version of political/social transformation mined from his works. Arresting the downward drift remained the ultimate theme; the extension of a cultural lifeline to empower the disenfranchised became a valuable side effect.
The nation was entreated to join in the celebration of true genius. But this was also a contest — accompanied by a (not so) silent auction. Those who walked away with a piece of art would be assisting in the rehabilitation and reconstruction of the flood-affected village of Yarak (near D I Khan). Saving the potters was said to be in "keeping with the spirit of Faiz who touched upon the symbiotic relationship between people and culture".
While being urged to rescue one heritage from Mother Nature's wrath, extricating another from man's careless hands was also indicated as a priority. Though the display was held in Gallerie Sadequain inside the freshly reopened Frere Hall (described somewhere as the best preserved monument of the British Raj) on the eve of its 146th anniversary, the need for restoration was deeply felt all around. Faiz, as the man credited with the creation of the Pakistan National Council of the Arts (PNCA) and Lok Virsa, the National Institute of Folk and Traditional Heritage, would have shuddered at the state of neglect.
Nukta Art magazine and the Progressive Writers Association are doing their bit in fashioning a world where progressive ideas bloom and disparate voices speak in sync — a world that values culture as a necessary bulwark and a vital aspect of diplomacy. By fortifying such structures, many hope to outwait the coming storm.
Rumana Husain (founder/senior editor Nukta Art, founder-editor Aye Karachi) engaged youth from far flung areas and madrasas in the dialogue and in a few cases helped write the first chapter in their artistic education. For some it was a first visit to Frere Hall; for others a first encounter with Faiz. Such events set up a striking contrast between the wealth of talent and a dearth of understanding in the hopes of rectifying such imbalances.
The Faiz Art Award ceremony marked the end of the six-day event. Some of the art work is still available for sale with Nukta Art. That a man forced to endure incarceration and self-exile — a man who had his patriotism questioned and his loyalties tested has been enshrined in yet another Hall of Fame is a remarkable twist of fate.
Saleema Hashmi, Faiz's daughter, often wondered about Faiz's bond with his fans and family to figure out which was stronger and came to the comforting conclusion that both parties were treated on an equal footing. The connection was never lost but perhaps with time it got a little frayed. Reviving that link has been an important part of the process; redirecting the torrent of creative energy away from the fiery shores remains an ongoing struggle. The year-long celebrations are coming to a close. Whether this is acknowledged as a means to escape a waking nightmare, appraised for its enriching effect or treasured for its raw appeal, 'Postcards to Faiz' is a sweet notch on the cultural belt.
The writer is a freelance journalist.
Source: The Daily Times, Lahore
URL: http://www.newageislam.com/islamic-society/year-of-faiz,-a-true-genius-/d/5793