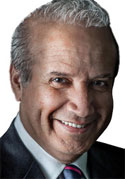 By Abdulrahman al-Rashed
1 June 2014
The Saudi king's approach to education certainly deserves appreciation. King Abdullah has once again approved an additional budget to the sector, having previously launched a scholarship program in which more than 120,000 students have travelled to study abroad.
In less than 10 years, the number of public universities has increased from seven to 27. In addition to the annual budget of the ministry of education, the king previously allocated large funds to develop the sector. The first top-up was worth 10 billion riyals (almost $3 billion). The king has now allocated another 80 billion riyals ($21 billion) extra funds to develop education. This is in addition to the education ministry's annual budget, most of which is spent on fixed wages and expenses.
The additional 80 billion riyals is a huge amount of money that aims to alter the face of education in Saudi Arabia. The education of citizens represents Saudi Arabia's real wealth in the future; if the price of a barrel of oil plummets to $1, the country's vast streets and luxurious buildings would turn ruins were it not for our collective intelligence and capability to create, develop and produce.
Fortunately, education is at the centre of King Abdullah's renaissance project. He has given this sector more interest than any other, allowing no excuse for failure.
This justifies our demand for clarifications on the nature of this new education project. How can education be elevated from its ordinary state towards changing the country's reality and future? The information I read is very general and there's not enough to judge the plan.
What I read summarizes the fields in which the allocated money will be spent. One must note that all these fields reflect the "needs of the education sector." While they are all important, they don't all develop education or students, or meet the priorities to which we aspire.
The previous 10 billion riyals were mainly spent on building schools, and no one learnt anything new. Ideas repeat themselves in this new plan, as there are just more modern buildings. Real estate projects alone cannot resolve the problems of education. Keep in mind that the world's best schools don't have luxurious buildings, and the most prominent universities have fewer buildings than ours, which look like five-star hotels. Education is a matter of qualitative content!
According to the education plan approved, 35 billion riyals will be spent on building and repairing buildings and buying land. A little more than 1 billion riyals were allocated for e-learning, the only cure capable of changing the kingdom. Another 1 billion riyals were allocated to establish and connect networks. What we want and what we urgently call for is that most of the 80 billion riyals are spent on "developing education."
No Use to Students
I am not underestimating the country's need to build new schools for one third of the five million students, or to open more kindergartens. However if students don't learn anything useful, then air conditioners and playgrounds are of no use considering there are no new and modern technologies and curricula.
Changing the status quo means developing curricula, training teachers and enabling students to learn on their own. E-learning will cover up for the lack of laboratories and libraries at schools. It will also compensate for weak teaching skills and unite the capabilities of poor towns with those of rich cities. It will also decrease the pressure of crowded classes and connect the old local educational system with the modern global educational system that's always developing. It will also bridge the gap between the young students who are more technologically developed than their teachers and enable teaching sciences, physics, chemistry and mathematics, and other subjects that are difficult to teach.
This is if we want to follow South Korea's steps and not remain a mere oil-rich country that lives off the brains and efforts of others. During the past three decades, there have been frequent accusations that graduates are unfit for the local job market. The job market blames the universities, which in turn blame the public education sector. The result is continuous failure as millions of graduates prove no good for the labour market – or rather, are 'good for nothing'.
It's time to develop. We can do so by adopting the means of modern education e-learning. Take a look at the experiences of northern European countries and their successful models. This shows what money can buy when it comes to education.
I don't think its useful wasting our time politicizing this. I think the crime against education doesn't lie in attempts to hijack it and is not linked to dilapidated buildings. It's actually worse. The crime is to neglect developing it either due to the ignorance of those in charge or due to lack of interest. This explains the deterioration of schools, curricula and teachers.
Only qualitative development can amend this. Prince Khalid Al-Faisal, Minister of Education, is a warrior on the administrative level and he's always dealt with youths during his long administrative term. So the project to develop education has excited everyone, and it's a project that is really capable of changing Saudi Arabia. Five million students will grow up and be successful and competent. The country depends on them, and not the other way around.
Abdulrahman al-Rashed is the General Manager of Al Arabiya News Channel. A veteran and internationally acclaimed journalist, he is a former editor-in-chief of the London-based leading Arab daily Asharq al-Awsat, where he still regularly writes a political column. He has also served as the editor of Asharq al-Awsat's sister publication, al-Majalla. Throughout his career, Rashed has interviewed several world leaders, with his articles garnering worldwide recognition, and he has successfully led Al Arabiya to the highly regarded, thriving and influential position it is in today.
Source: http://english.alarabiya.net/en/views/news/middle-east/2014/06/01/We-want-to-develop-not-embellish-Saudi-education.html
URL: http://www.newageislam.com/islamic-society/abdulrahman-al-rashed/we-want-to-develop-not-embellish-saudi-education/d/87369