By The Hindu Legal Correspondent
12 September 2009
School has violated constitutional guarantee: student
"Sporting beard is an indispensable part of Islam"
New Delhi: The Supreme Court on Friday permitted a Muslim student, who was sacked by a school in Madhya Pradesh for sporting a beard, to continue his studies in the same institution.
A Bench consisting of Justices B.N. Agrawal and G.S. Singhvi stayed the dismissal order passed by the Nirmala Convent Higher Secondary School, a government-recognised minority institution, on an appeal by the student, Mohammad Salim. Earlier, on March 30, a Bench headed by Justice Markandey Katju rejected the student's petition orally observing that secularism could not be overstretched and that "Talibanisation" of the country could not be permitted. Salim sought review of the plea stating the observations on "Talibanisation" caused incalculable damage to the country's image and the judiciary, besides, hurting Muslim sentiments.
Review order
Salim said the order "needs to be reviewed afresh as the core issue of a Muslim's right to sport a beard as guaranteed by Article 25 of the Constitution [right to practise and profess one's religion] was violated by the school."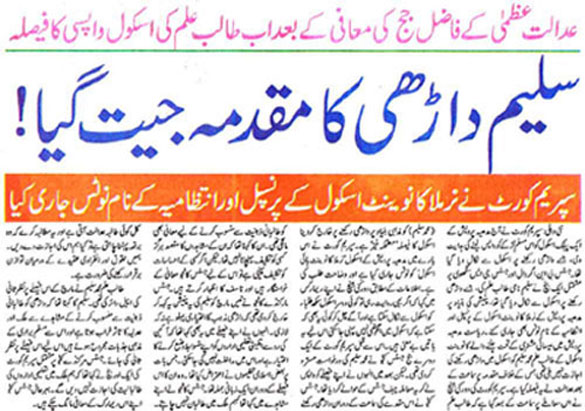 On July 6, Justices R.V. Raveendran and Katju withdrew the March 30
order and directed that the matter be placed before Chief Justice K.G. Balakrishnan for posting it before another Bench. Accordingly, the appeal was heard by Justices Agrawal and Singhvi.
Justice Singhvi asked senior counsel B.A. Khan, appearing for the petitioner, whether the student was dismissed solely for sporting a beard. When counsel said "yes," Justice Singhvi said: "In that case, tomorrow they may say that no Sikh student can be admitted. Nowadays it has become fashionable for boys to sport earrings. Will it not be allowed? It is ridiculous."
Justice Agrawal said, "They may refuse admission on the colour of the skin also."
Counsel said the boy had already lost one year.
Salim sought quashing of the school regulation requiring students to be clean shaven. Challenging a Madhya Pradesh High Court verdict which earlier dismissed his plea, he said every citizen was entitled to follow his religious principles.
Salim said sporting a beard was an indispensable part of Islam.
Source: http://www.hindu.com/2009/09/12/stories/2009091257111800.htm
URL: https://www.newageislam.com/islamic-sharia-laws/dismissal-of-muslim-student-for-sporting-beard-stayed/d/1745