By Sadia Dehlvi
Apr 24, 2013
The Dargah of Mai Sahiba at Adchini near Mehrauli is one of my favourite Sufi spaces in Delhi. Her Urs, death anniversary, was celebrated last week. Along with hundreds of devotees, I sought blessings at her threshold. Each time I visit her Dargah, I am reminded of Mai Sahiba's unwavering faith in God through all her trials and tribulations.
Bibi Zulekha, popularly called Mai Sahiba, is the mother of Hazrat Nizamuddin Auliya. During the Mongol invasions of Bukhara, her grandparents Khwaja Ali and Khwaja Arab migrated to India. They initially travelled to Lahore, later settling in Badayun, now in Uttar Pradesh.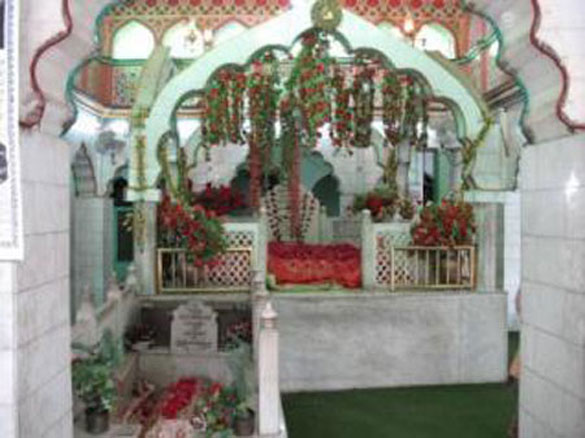 The Dargah of Mai Sahiba, mother of Hazrat Nizamuddin Auliya at Adchini near Mehrauli
---------
Khwaja Syed, Bibi Zulekha's husband, died when her son was just a few years old. She encountered great hardships while brining up her son and daughter, earning a living by weaving cloth. Devoted to her son's education, Mai Sahiba ensured he tutored under the best teachers of Badayun. When he turned 16, Mai Sahiba migrated to Delhi.
Mai Sahiba endured abject poverty, spending endless days in starvation. Whenever there was nothing to eat in the house, she would say, "Nizam! Today we are the guests of Allah". She explained to her children that God sends spiritual nourishment that's different from worldly food. She inculcated a sense of resignation and contentment in the little ones. She reminded her children of their lineage to Prophet Muhammad and reiterated that those from his family fed the hungry and clothed the naked.
A pious woman, Mai Sahiba remained completely devoted to God. Despite an elite heritage, she endured suffering, treating it as the will of the Lord. Continuous fasting took a toll on her health and, unfortunately, she did not live to see her son's glory.
Bibi Zulekha would often look at her son's feet remarking, "Nizamuddin! I see signs of a bright future for you. You will be a man of destiny some day." When the young son questioned his mother as to when that would happen, she would say, "When I am gone".
Hazrat Nizamuddin Auliya said that when his mother prayed, she appeared to be in direct communication with God. He would witness her prayers being accepted without any delay. Every month on sighting the new moon he sought the blessings of Mai Sahiba, placing his head on her feet. One new moon Mai Sahiba said, "Nizam! At whose feet shall you put your head next month?" Her tearful son asked, "In whose care will you entrust me with?" "I will let you know tomorrow," Mai Sahiba replied, directing him to go and sleep in the neighbouring house of Shaykh Najeebuddin Mutawakkil.
In the early hours of the morning, Mai Sahiba's female attendant rushed to call Nizamuddin back to the house. Mai Sahiba held her son's right hand and before breathing her last whispered, "O Allah, I entrust him to Thee."
Sadia Dehlvi is a Delhi-based writer and author of Sufism: The Heart of Islam.
Source: http://www.asianage.com/mystic-mantra/mystique-mai-sahiba-879
URL: https://www.newageislam.com/islamic-personalities/sadia-dehlvi/the-mystique-of-mai-sahiba/d/11335