By Saadat Hasan Manto
06 November 2014
Translator's Note: On the occasion of Iqbal's 137th birth anniversary, I'm presenting an original translation of Manto's heartfelt tribute to another fellow-Kashmiri rebel, someone who has become as institutionalized in contemporary Pakistan as the latter has been reviled and ignored, in the hope of stimulating interest in a better, fresher understanding of Pakistan's national poet and one of Manto's lesser-known satirical, non-fictional gems
Respected Attendees and my fellow writer friends!
For the honour of presiding over this maiden sitting of Iqbal Day which you have bestowed upon me, I should be thanking you formally, but I am not bound by the immutable laws and formalities of nature.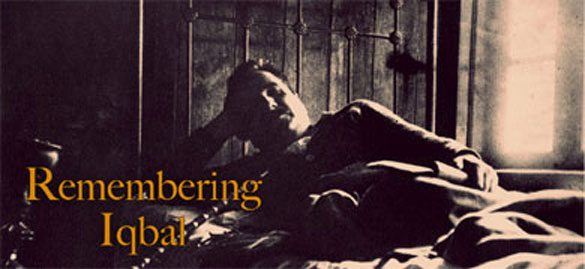 Allama Iqbal
----
However, I'm perplexed visualizing the presidential chair, for so long I have been abused and criticized and today….but what didn't the Allama Iqbal himself had to contend with? In his own time, he had to face repeated curses, in addition to charges of infidelity and heresy. When I think of this, I am somewhat relieved but the next moment I am perplexed by another conundrum which is that my love of poetry is akin to Mahatma Gandhi's love of films. Anyway, I should take advantage of this opportunity which you all have given me.
My first introduction to Iqbal's poetry was via a hotel bill. About fifteen years ago, I was totally disappointed with life and playing with it as an escape. One night, I was about to pay for the cup that cheers when on the back of the bill I detected the following lines: Live dangerously.
Perhaps it was the timely advice of a fellow drinker or the charity of the bartender. Now my predicament is that how much life may tire of me, I never tire of it and court danger at the dearest of bargains and sells it for a pittance, but God is witness, I am very content.
A further introduction to Iqbal's poetry was made at the same time. A bookseller apprehensively showed me Bal-e-Jibreel and asked me to begin by reading the poem, whose title I think is God's Commandment. Both of us read with one voice, our hearts beating:
Rise, awaken the poor of my world
Shake the doors and walls of the palaces of the rich
In those days, Iqbal was thought of as a Bolshevik meaning an agent of Russia. Today when an independent Islamic government has been established, those who repeat the same commandment of God are called communists and they repeatedly incur the law's wrath, but one should be very grateful to God that Iqbal's poetry is safe from such an evaluation.
A few days ago I heard the news that some migrant peasants in a village of western Punjab set a huge hoard of grain on fire, because the landlords had stolen it overnight to hoard their granaries. I thought that a committed artist's message should reach the people through books, paintings and songs. When an artist plucks any string of the instrument of life, the boom of its vibrations float through the air for centuries and automatically stretches itself to reach those strings which are trembling in the oppressor's hands. Otherwise how could the illiterate migrant peasants have known that many years ago from today, Iqbal had written:
The field from which the tiller cannot earn a living
Burn down every stalk of wheat that stands upon it
I am unqualified to talk about Iqbal's poetry and the complexities of its philosophy. I have nothing else to say but there are two grievances which I must express. The first grievance occurred when a self-respecting poet like Iqbal had to write odes to fictional kings. Another is cropping up now when I see the poet who declared, in Rumuz-e-Bekhudi, the heavens, earth, air, rivers, mountains and valleys, the sun, moon and stars, fruits and flowers in fact the whole universe to be Man's inheritance, his ascetic poetry being controlled by a few self-serving custodians.
Iqbal had prayed to God, "Spread the light of my vision everywhere." This prayer which issued from a humane heart will indeed be granted but upon seeing the name of this great poet affiliated with soaps, oils, hotels and laundries, sometimes I feel that the light of his vision will keep wandering for a long time in the narrow and dark lanes of ignorance.
A diamond's heart maybe cut by a flower petal
But a naïve man will be unmoved by verses soft and delicate"
[Translated by Raza Naeem. Original title of the essay was: On Iqbal Day. Raza Naeem is an academic, translator and book critic based in Lahore. He is working on a translation of Saadat Hasan Manto's nonfiction and was awarded the 2013-2014 Charles Wallace Trust Fellowship for his translation and interpretive work on Manto. }
Source: http://www.viewpointonline.net/2014/11/vp226/manto-on-iqbal
URL: https://www.newageislam.com/islamic-personalities/saadat-hasan-manto/manto-on-iqbal/d/99939