By S. Arshad, New Age Islam
27 August 2020
(On the occasion of Baba Farid's Urs)
India has been the home to thousands of Sufis who preached compassion, brotherhood, tolerance and selfless service to the society along with a complete submission to the will of God. One of the most prominent Sufis of the Indian Sub-continents who left a deep imprint not only on the religious or spiritual arena of India but also contributed to the literature and composite culture of India a lot. Baba Farid, as he is fondly and popularly known, was a disciple of Khwaja Bakhtiyar Kaki who was a disciple of Khwaja Moinuddin Chishti. Since Khwaja Bakhtiyar Kaki's life did not give him much time to carry forward the mettle of Khwaja Moinuddin Chishti, Baba Farid is credited with the promotion and propagation of the Chishtia order and traditions in the Sub-continent.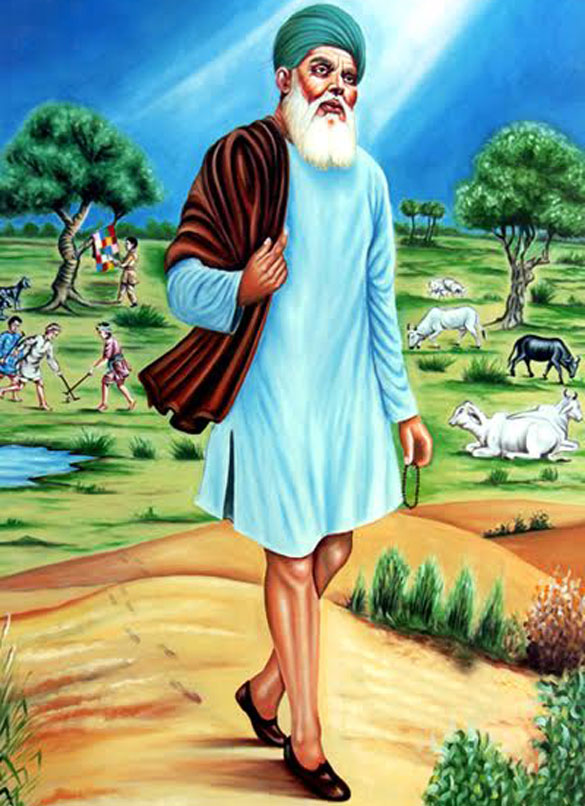 Baba Farid Ganj Shakar (RA)
----
The main teaching or message of Baba Farid was love for humanity and salvation through self-purification. To him service to the poor was the greatest form of worship to God.
Baba Farid was not only a Sufi but he also possessed great literary and poetic skills. On the issues of Sufism, he wrote a number of books. Some of them are Rahatul Qulub, Fawaidus Salikeen, Asrarul Wujud, Asrarul Awlia, Tohfatul Asrar, Tohfatul Akhyar etc. In these books, Baba Farid recorded his spiritual experiences and lessons for the spiritbual aspirants. He had the privilege of meeting great Sufis of his time like Khwaja Moinuddin Chishti, Nooruddin Mobarak, Shaikh Saadi, Allauddin Karmani, Hameeduddin Nagori and other great mystics from Bhakti cult and Nath yogi cult. His meeting with great Sufis and Yogis helped him in the formation of his spiritual and religious outlook.
Baba Farid is credited with the promotion of Punjabi language and literature. It is well known that the most of the Sufis used to deliver their spiritual and moral messages in the form of poetry in the vernacular so as to reach to the common people. Baba Farid also composed poetry in tbe Punjabi language in an age when Persian was the language of the elite. He is known as the first poet of Punjabi language and his verses have been included in the holy book of the Sikhs, Guru Granth Sahib.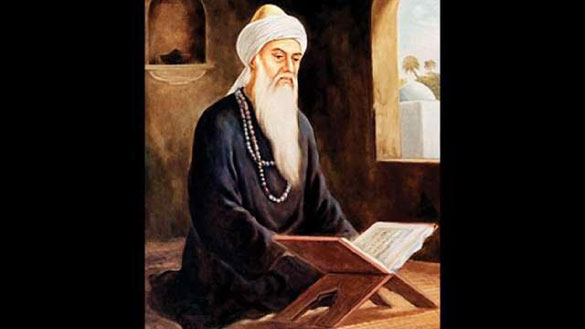 Baba Farid Ganj Shakar (RA)
----
The enormity of Baba Farid's contribution to the promotion of Sufism in India can be gauged by the fact that most of his disciples (Khalifas) and his descendants became great sufis of India spread across the country wielding great impact on the religious and spiritual thought of the common people of India. His famous disciples Khwaja Nizamuddin Awlia and Makhdoom Alauddin Sabir Kaliari have been revered by both Hindus and Muslims. While Khwaja Nizamuddin's Mazar is situated in Delhi, Hazrat Sabir Kaliari's mazar is at Kaliar Sharif in Uttarakhand. Hazrat Nizamuddin Awlia's disciple Ameer Khusrau was also a great Sufi, historian and poet of India and is considered a legend. Baba Farid's all five sons, Shaikh Naseeruddin, Shaikh Badruddin, Shaikh Shahabuddin, Shaikh Sadruddin and Shaikh Nizamuddin were also sufis in their own right. His grandson, Khwaja Kamaluddin was also a Sufi.
Their Mazars are situated in Rajasthan, Uttar Pradesh and Madhya Pradesh from where devotees get the message of communal Harmony and brotherhood. The famous Sufi Hazrat Saleem Chishti was also a descendant of Baba Farid. There are also other Sufis like Hazrat Naseeruddin Chiragh Dehlavi who are indirectly related to Baba Farid through Chishtia order.
In Baba Farid's Khanqah many Nath yogi and Hindu sadhus would regularly visit and had discussions on spiritual matters. Through these discussions, both Hindu and Muslim mystics would learn about the religious philosophy of each other. These meetings and discussions promoted tolerance, liberal religious thought and brotherhood among the Indian masses. Therefore, Baba Farid's contribution to the promotion of the "composite culture of India a lot is Baba Fariduddin Ganj Shakar."
URL: https://www.newageislam.com/islamic-personalities/s-arshad-new-age-islam/the-contribution-of-baba-farid-to-the-language-literature-and-the-composite-culture-of-india/d/122735
New Age Islam, Islam Online, Islamic Website, African Muslim News, Arab World News, South Asia News, Indian Muslim News, World Muslim News, Women in Islam, Islamic Feminism, Arab Women, Women In Arab, Islamophobia in America, Muslim Women in West, Islam Women and Feminism