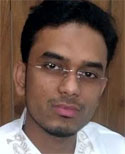 By Misbahul Huda, New Age Islam
28 May 2014
The most prominent Sufi and founder of the Chishti Order in the Indian Subcontinent Mo`īnuddīn Chishtī, (1139-1236 CE) also known as Gharīb Nawāz "Benefactor of the Poor" who introduced and established the order in the subcontinent was Born and grew up in Chishti in Sistan region of East Persia.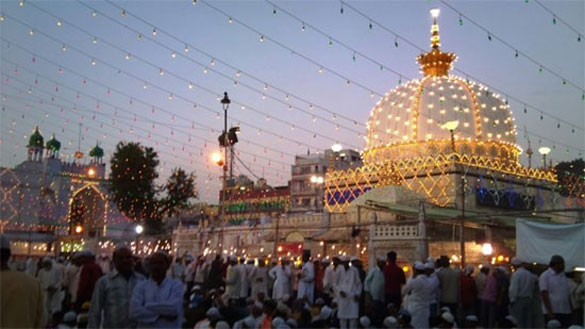 Brief Introduction of His Early Life
When he was fifteen, His parents passed away. In addition to a windmill and an orchard, He inherited from his father the highly elevated Fear of God, inner piety, cleansing of heart and spirit, devotion and dedication to achieve enlightenment and the eternal salvation in this world and the hereafter. During his childhood, teenage Mo`īnuddīn was quite different from other children and he always kept engaged himself in prayers, Glorifying God and meditation in Isolation.
The Legend goes on that, once he was watering the plants in his orchard, then a revered Sufi, Shaikh Ibrāhim Qundūzī (or Kunduzi) came to his orchard. Young Mo`īnuddīn approached him with due respect and offered fresh bunches of grapes. In return, impressed by Mo'īnuddīn lofty moral values, Sheikh Ibrāhīm Qundūzī gave him a piece of bread and asked him to eat it. Khwāja Mo`īnuddīn Chishti got enlightened and suddenly his entire world changed radically, after eating the bread. After this revolutionary changing of his heart and spirit he disposed of all his property and other belongings and distributed the money among the poor and needy. After this, Khwāja Mo`īnuddīn Chishti renounced the world and left for Bukhara in search of knowledge, as knowledge is always regarded as backbone to achieve enlightenment, higher spiritual culmination, and finally salvation.
His Instructive Journey from Mo`īnuddīn to Gharīb Nawāz [Benefactor of the Poor]
In search of religious knowledge as Hadith Sciences, Jurisprudence, theology and Qur'anic exegesis Hazrat Mo`īnuddīn Chishti visited the world renowned seminaries of Samarkand and Bukhara and acquired knowledge of all prevailing sciences and wisdom from the eminent scholars of that time. He visited almost all the great centres of Muslim and non-Muslim culture, and acquainted himself with every important trend pertaining to religious life in the Middle Ages.
During this journey of his life he met a Chishtī saint Khawaja 'Uthmān Hārūnī, and decided to join the circle of his disciples as he was deeply impressed by his spiritual eminence. Khwāja Mo`īnuddīn Chishti travelled the Middle East extensively including Mecca and Medina, along with Khawaja 'Uthmān Hārūnī. And for twenty years he accompanied him on his arduous mystic journeys and performed all sorts of Riyazat and Mujahidah (an spiritual process to attain divine enlightenment). Shaikh Mu'in'd-din narrates in front of his disciples. "I did not give myself a moment's rest from the service of my Peer-o-Murshid, and carried about his night clothes during his journeys and stoppages".
Hajj and Prophet's commandment:
When Khwāja Mo`īnuddīn Chishti accomplished all the knowledge of Shari'ah and mysticism (Shari'ah and Tariqah) and became perfect in every aspect of his material and mystical life, the divine tutor and mentor Khawaja 'Uthmān Hārūnī honoured him with his robe and took him to Hajj. Both proceeded to Makkah first and performed the Hajj, and then moved to Madina and spend a couple of the week there, so that they could get the blessings from the Prophet (pbuh)
One night when he was engaged in deep meditation ecstatically, Holy Prophet (pbuh) ordered him:
"O Mo`īnuddīn! You are a prop of our faith. Proceed to India and show the path of truth to the people there. That is why he is known as Ataye Rasul/Naib-e-Rasul." (Lieutenant of Prophet Mohammad (pbuh)
Later he initiated independent journeys and came into contact with prominent saints and Shuyookh like Shaikh Najm-u'd-din Kubra, Shaikh Najib-u'd-din 'Abdul Qahir Suhrawardi, Shaikh Abu Sa'id Tabrizi, Shaikh Mahmud Ispahani, Shaikh Nasir-u'd-din Astarabadi and Shaikh 'Abdul Wahid, and took blessings of these great personalities. During this historical journey, he visited almost all the great centers of learning in those days like Samarqand, Bukhara, Baghdad, Naishapur, Tabriz, Aush, Ispahan, Sabzawar, Mihna, Khirqan, Astarabd, Balkh and Ghaznin and eventually he turned to his final destination India. In Lahore he stayed a little longer where he performed a memorable meditation at the Shrine of a most prominent Sufi, Shaikh Ali Hajweri, then he ultimately proceeded to Ajmer. During his stay in Lahore Khwāja Mo`īnuddīn Chishti composed a couplet paying a tribute to Shaikh Hajweri, the couplet goes like:
"Ganj Bakhsh-e-Har Do Alam Mazhar-e-Noor-e-Khuda,
Naqisan Ra Peer-e-Kamil, Kamilan Ra Rahnuman"
Translation:
He is a wealth bestowing Saint in this world and hereafter and an embodiment of divine light;
A complete spiritual guide for the imperfect disciples and a leader of the perfect Saints
After fulfilling what was commanded to him by the Holy Prophet (PBUH), Khwāja Mo`īnuddīn Chishti took his last breath, his noble soul left the corporeal body on the 6th of Rajab 633 A.H./ 16th March 1236 at the age of 97. And now Ajmer city is a living epitome of his unlimited love and boundless compassion for all the human beings, where rich and poor, regardless of religion, culture, cast and creed stand side by side to pay their homage and respect to the divine soul of Khwāja Mo`īnuddīn Chishti, and thus they are blessed with the peace of mind & soul out of it.
His Peaceful Teachings, Bridging the Gap between Muslims and Other Communities
Khwāja Mo`īnuddīn Chishti (Gharib Nawaz) represented the true spirit of Islam. He did not pay attention in vain metaphysics rather he chose to strive to nourish the human ethics and behaviours with divine characteristics. According to Gharib Nawaz the rituals and ecclesiastical formalities are only a part of religion and "service of humanity" is its sole raison d'etre of existing religions. Describing the qualities which endear a man to God, Gharib Nawaz prescribed the following attributes:
Awwal Sakhawat Chun Sakhawate Dariya, Dom Shafqat Chun Shafqat-E-Aftab, Som Tawazo' Chun Tawazo'e Zameen
1. A friend of God must have affection like the sun. When the sun rises, it is beneficial to all. All persons derive heat and light from it irrespective of whether they are Muslim, Christian, Sikh, Hindu, etc.
2. A friend of God must be generous like an ocean or a river. Because providing with ocean does no discrimination whether we are good or bad or whether we are a relation or a stranger.
3. A friend of God is one who has the quality of hospitality like the earth. We are raised and cradled in its lap, and it is always spread below our feet.
When once asked about the highest devotion of God, Gharib Nawaz remarked that it was nothing but
"Dar Mandgaan Ra Fariyad Raseedan Wa Haajat-E-Baichaargaan Ra Rawa Kardan Wa Gursingaan Ra Sair Gardaneedan"
Translation:
To redress the misery of those in distress, to fulfil the needs of the helpless and to feed the hungry
Even more than 700 years after his demise, his shrine is a symbol of inter-faith love and harmony. Today deviant and extremist Islamic groups are engaged in terror and wanton killings of innocent civilians in the false pretext of spreading Islam and compelling them to change the religion on gun point. They should take lesson from Gharib Nawaz's concept of inclusive Islam and his peaceful method of preaching.
A regular contributor to New Age Islam, Misbahul Huda is an Alim and Fazil (Classical Islamic scholar) with a Sufi background. He has completed the classical Islamic sciences (Alimiat) from a renowned Sufi Islamic seminary Jamia Amjadia Rizvia Mau, (U.P) and holds degree of Fazilat (master) in Tafseer, Hadith, theology and Islamic jurisprudence from Jamia Manzar- e- Islam, Bareilly, U.P. He is currently pursuing graduation in Arabic (Hons) from Jamia Millia Islamia, New Delhi.
URL: https://www.newageislam.com/islamic-personalities/misbahul-huda,-new-age-islam/khwāja-mo%60īnuddīn-chishti-was-the-torchbearer-of-love,-compassion-and-inter-faith-harmony-in-india/d/87230