By Sajjad Rizvi
16 January 2015
After the Charlie Hebdo attacks in Paris last week, much of our discussion has focused on whether anyone has the freedom to depict Mohamed. But this is misguided in my opinion.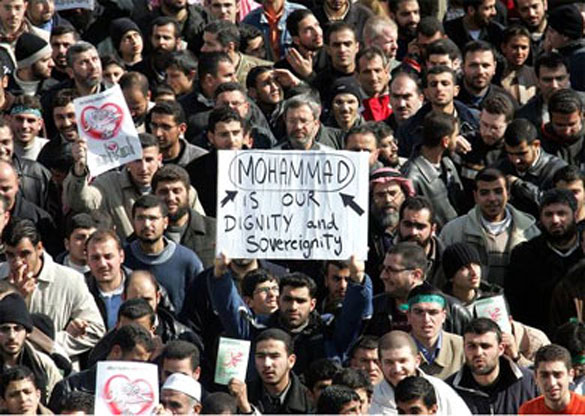 Our debate is misguided: it's not about whether you represent the Prophet, but how
--------
Back in 2006, many Muslims were angered when a right-wing Danish newspaper published a series of cartoons that portrayed the Prophet Mohamed in a negative light. At the same time, many other Muslims were rather taken by a portrait of Mohamed as a young man that was making the rounds in the markets.
That image was understood to be an old image of Mohamed on one of his early trading journeys up to Syria. It had been sketched by the Christian monk Bahira, the legendary figure of early Islam, who confirmed the prophetic status of the young man.
The contrasting responses to these two sets of images suggest that the issue is not whether one represents Muhammad, but how.
A study of the scriptures does not confirm any prohibition on images. The Quranic proscription of idolatry, the story of Abraham as a idol-breaker, and the condemnation of the Golden Calf, are all specific elements of the prohibition of images as objects of worship. But they do not prevent anyone from producing images of men — even sacred ones.
In early Islam, there is actually some positive acceptance of images. At the conquest of Mecca, when Mohamed helped destroy the idols housed in the sanctuary of the Kaaba, he preserved an icon of the Virgin and child, as well as a painting of Abraham.
Another early story shows how Muslims could be moved to devotion by encountering the image of their Prophet. In 871, a Muslim merchant to China recorded his encounter with the emperor who asked the merchants whether they could identify prophets from the pictures that he had.
At one point in the narrative, the merchant records: "I saw the picture of the Prophet Mohamed, God bless him and keep him, mounted on a camel with his companions around him on their camels, with Arab sandals on their feet and tooth sticks in waistbands, and I wept." "Ask him why he is weeping," the emperor said to the interpreter." "This is our prophet and our master, eternal peace be upon him."
Added to this is the extensive artistic heritage portraying Mohamed's nativity, his ascension to heaven and in the company of other men of God. And aside from Mohamed, Muslim cultures in the early period were also perfectly happy using coinage with human images, most famously the "standing caliph dinar".
What's clear from all of this, is that Muslim cultures were never necessarily hostile to images. So the question is: what accounts for the offence felt by some Muslims when faced with images of the Prophet?
It's not a case of him being depicted or not, but rather how he is depicted. It all hinges on whether he is being portrayed as a man of violence, of sensuality, of depravity. All of these arise out of medieval Europe's caricaturisation of Mohamed as part of their campaign against Islam.
That pejorative portrayal offends the sensibilities of those who see Mohamed as much more than just a man. In the words of a famous Arabic poem, he was an ordinary man in the same way as a ruby is an ordinary stone.
Because of this, the way many Muslim respond to images of Mohamed have less to do with a lack of creative imagination and disdain for free, artistic expression, and more to do with what they consider to be a perverted image of an exemplary man of God.
Source: http://www.independent.co.uk/voices/comment/muslims-have-embraced-images-of-the-prophet-mohamed-throughout-history--why-are-so-many-of-them-upset-now-9983412.html?icn=puff-1
URL: https://www.newageislam.com/islamic-ideology/sajjad-rizvi/muslims-have-embraced-images-of-the-prophet-mohamed-throughout-history-—-why-are-so-many-of-them-upset-now?/d/101103