By Raamish Siddiqui
30 October, 2020
Three people have been killed in a knife attack in the French city of Nice. One elderly victim, who had come to pray at the church, was "virtually beheaded", according to reports. A suspect was shot and detained shortly afterward. Thursday's grotesque incident comes barely days after the horrific killing of Samuel Paty, a teacher, by an 18-year-old Chechen-origin man in Paris on 16 October.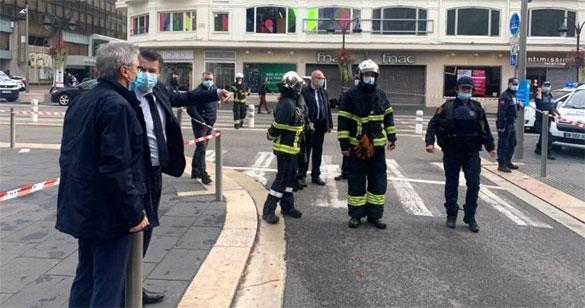 The knife attack which happened in France's Nice city Thursday has left at least 3 people dead and several injured | Twitter: @cestrosi
------
Tensions between radicals and French authorities have heightened after President Emmanuel Macron took a strong stand on tolerance and said that his country "would not give up cartoons". The reason for Paty's barbaric death was supposedly a class on freedom of expression in which he had shown the caricatures of the Prophet Muhammad published by the satirical magazine Charlie Hebdo. The cartoons were first published in 2005 by a Danish newspaper and republished by the French weekly in 2006. In the violent terror attacks in 2015, several journalists of Charlie Hebdo were murdered. This year's harrowing incidents come amidst the trial of 14 suspects in the 2015 case, and the magazine republishing the cartoons ahead of the trial.
The highly condemnable killings have brought back the debate on how such actions by violent extremists are countering the very values that Islam represents. Islam stands for peace and mercy, it has no place for perpetration of violence and murder of fellow human beings. There is a clear verse in the Quran that says: "Whoever killed a human being shall be regarded as having killed all mankind." (5:32).
Violence Is Forbidden
It is mistakenly believed that Islam prescribes capital punishment for those who commit blasphemy. Nothing can be farther from the truth. According to Islam, blasphemy is simply a case of misunderstanding. Anyone who wishes to can engage in a discussion with the person who has misunderstood and make an effort to clarify it. That is the only choice a person has. The Islamic principle in this context is fully based on 'peaceful dialogue'. God gives this injunction to the Prophet in the Quran: "So, [O Prophet] remind them: your task is only to remind, you are not over them a warden." (88:21-22)
It is said that some non-believers would use abusive language against the Prophet. But the Prophet never wanted any punishment for them. Instead, his companion, Hassan bin Sabit al-Ansari, would engage in discussions with them to clear their misunderstandings, writes Islamic scholar Maulana Wahiduddin Khan. This was the Prophetic example.
According to the Quran, man has freedom and no one can impose curbs on it. The judgement, on whether someone used or misused their freedom, is not for people to make. The Islamic way is to resort to peace and reason in all matters of life. The Prophet of Islam gave masterful advice to his companions when he said, "Do not be angry" (Sahih Bukhari 76). It is deeply hurtful that instead of adhering to this advice, Muslims keep succumbing to violence – passive or aggressive – as a result of self-inflicted paranoia. Muslim scholars and intelligentsia should come forward and condemn such acts of violence openly and highlight how negative thinking and violence are forbidden in Islam.
The Only Choice
Today, Muslims have reached a stage where they need to completely relinquish every form of violence and wake up to an intellectual renaissance. We are living in the age of democracy and scientific thinking, which has altered the face of the world. Freedom is a boon that provides opportunities, which can be availed to establish peace. As adherents of Islam, it is the duty of every Muslim to be a peaceful member of society.
The Muslim community must openly condemn any act of violence against fellow human beings. Today, more than ever, it must be borne in mind that no excuse to commit violence is good enough. Muslims must radically transform their mind-set and open their hearts to embrace everyone with love. Only then will they set the right example for future generations. This sentiment was aptly captured by famous French philosopher Voltaire who, while arguing for religious tolerance, said, "It does not require great art, or magnificently trained eloquence, to prove that Christians should tolerate each other. I, however, am going further: I say that we should regard all men as our brothers. What? The Turk my brother? The Chinaman my brother? The Jew? The Siam? Yes, without doubt; are we not all children of the same father and creatures of the same God?"
Islam believes in freedom of expression for all. It, therefore, devolves on its adherents to do whatever they can to create a world where peace and freedom of expression flourishes and constructive dialogue can be engaged in. The world has no place for extremist ideas and violent behaviour. The only way forward is for Muslims to preserve peace at all costs and shun violence at every level. This is the only choice for Muslims if they want to uphold the Islamic ideals.
-----
Raamish Siddiqui is an Islamic thinker and author of 'The True Face of Islam'. Views are personal.
Original Headline: France attacks show Muslims' self-inflicted paranoia. But Quran allows freedom of expression
Source: The Print
URL: https://www.newageislam.com/islamic-ideology/raamish-siddiqui/quran-allows-freedom-of-expression-negative-thinking-and-violence-are-forbidden-in-islam/d/123335
New Age Islam, Islam Online, Islamic Website, African Muslim News, Arab World News, South Asia News, Indian Muslim News, World Muslim News, Women in Islam, Islamic Feminism, Arab Women, Women In Arab, Islamophobia in America, Muslim Women in West, Islam Women and Feminism