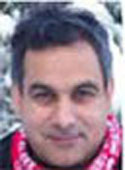 By Farooq Sulehria
29 May 2014 1
In February, after an attack on a Peshawar hotel that left scores of Shia dead, the Taliban in North Waziristan held a press conference to claim responsibility. Squatting beside the Taliban spokesperson was a notorious character from 'Kashmir Jihad'. Even if 'his beard had grown much thicker and was perhaps dyed in henna, hiding the grey', journalist Zahid Hussain was able to recognize him.
The Taliban press conference took Zahid Hussain 'down memory lane more than 18 years ago when the burly young tribesman had returned to a hero's welcome after leading a bloody, two-month siege of Charar Sharif, a 14th-century shrine in India-held Kashmir'. This episode received much publicity in the Pakistani media. It ended in the destruction of Charar Sharif.
Zahid Hussain writes, "Working on a BBC documentary on Islamic blowback we travelled with Mast Gul for days, filming his 'victory' processions in Punjab. Escorted by the top leadership of the Jamaat-i-Islami". Zahid's most 'vivid memory was a reception held for him at the Punjab University campus in Lahore. The jam-packed auditorium thundered with slogans of "jihad" as Mast Gul entered, surrounded by armed militants in camouflage jackets' (Hussain 2014).
I was a student at the Punjab University at the time. The atmosphere there was stifling for the handful of Kashmiri students who subscribed to secular struggle for a free Kashmir. The campus was studded with posters welcoming Major Mast Gul. On campus, pictures of him dressed in fatigues, holding a gun and sporting a long beard were impossible to avoid. Anthems for Kashmir Jihad radiated non-stop from the high-pitched loud speakers. Ironically, music was not tolerated at this campus strictly controlled by Islami Jamiat Talba (IJT), the student wing of Jamaat-e-Islami.
One day, feeling isolated and depressed, I visited Dr Mehdi Hasan who taught us media in his official lectures and offered us lessons in the alternative history of the country in his on-campus office.
'Don't you think political parties should not be allowed an entry to campus', I asked, referring to the preparations made for Mast Gul's reception.
'No. Jamaat has the right to hold it. But the PPP and other political parties should also be allowed to hold their meetings on the campus,' he retorted.
As the conversation proceeded, Mehdi Hasan surprised me when he ironically remarked, 'The champions of Kashmir jihad have forgotten that Maulana Maudoodi considered it Haram'.
I did not believe my ears. But it was correct that once Maulana had indeed bitterly opposed it.
Maulana Maudoodi's 'fatwa' against Kashmir Jihad:
[The details below are largely based on Aasi (1964) and Mir (1969)]
In May 1948, while addressing a meeting in Peshawar, Maulana Maudoodi claimed that participation in Kashmir Jihad was 'Na'jaiz' [illegitimate] as long as relations between India and Pakistan were governed by mutual agreements ('MoahidanaTalukat').
The Civil and Military Gazette, a Lahore-based newspaper, gave spicy coverage to this statement. A Hindu owned this newspaper and its editor was an Englishman. This gave 'patriotic' Muslims a reason to believe that there was a conspiracy behind it all. In any case, the All India Radio (AIR) picked up this debate in the Pakistani press and aired Maulana Maudoodi's statement. In the face of bitter criticism, rather than choosing to withdraw his statement, Maulana Maudoodi defended his position in an essay titled, Jang-e-Kashmir, in the Jamaat organ, Tarjuman-ul-Quran (June 1948):
The logic that our people acting in line with their conscience can participate voluntarily in a war beyond our borders even if the governments have struck [mutual] agreements is a faulty logic. You may invoke international 'Dastoor' (1) to justify your action. However, our job is not to follow any international 'Dastoor'. Being Muslims, we are supposed to follow the Quranic teachings.
He proceeded to say,
If a Muslim population, beyond our borders, is being subjected to oppression and we are called for help, we can lend help to oppressed Muslim brethren only if as a nation we have no MoahidanaTalukat (mutual agreements). However, in the case of Moahidana Talukat, we cannot commit ourselves, either in individual capacity or collective form, to any armed fight no matter how unhappy we are for the plight of our oppressed brethren.
After the Partition, when Maharaja Hari Singh of Jammu and Kashmir chose to remain independent, Pakistan decided to capture the state through a proxy 'Jihad'. Pashtoon tribes were dispatched to do the job. Officially, Pakistan was reluctant to acknowledge that it was patronising the military adventure. Maharaja Hari Singh sought India's help to stop the Pakistani invasion. New Delhi was willing to help only if Jammu and Kashmir announced accession to India. It is debatable whether or not Maharaja Hari Singh signed any accession document. While New Delhi continues to claim that Maharaja Hari Singh signed the accession document, Pakistan refuses to acknowledge its moral and legal status. Hence, Maulana Maudoodi's claim could not be sustained in view of the fact that Pakistan and India did not reach an agreement on Jammu and Kashmir. When this anomaly was pointed out, Maulana was not impressed. He invoked al-Quran.
The Holy Book says:
Indeed, those who have believed and emigrated and fought with their wealth and lives in the cause of Allah and those who gave shelter and aided - they are allies of one another. But those who believed and did not emigrate - for you there is no guardianship of them until they emigrate. And if they seek help of you for the religion, then you must help, except against a people between yourselves and whom is a treaty. And Allah is Seeing of what you do [The Spoils of War: 72](2).
Maulana Shabbir Ahmed Osmani, who enjoyed official patronage at the time due to his association with the ruling Muslim League, challenged Maulana Maudoodi. Osmani believed the Quranic verse cited by Maulana Maudoodi did not apply to the Kashmir situation. In fact he issued a proper fatwa, which was endorsed by a host of other Ulema. In a report run by Nawa-e-Waqt on November 14,1948, one can gather that other Ulema implicitly declared Maulana Maudoodi an infidel.
Ironically, the rag that viciously devastated Maulana Maudoodi and Jamaat-e-Islami was the Lahore-based daily Nawa-e-Waqt. In an amusing editorial, it was remarked that:
'Pakistan is the only strange country in the world where one party (Jamaat-e-Islami) is refusing loyalty to the country and the state in the name of religion while the other (Communist Party) is doing the same in the name of literature' (August 8, 1948).
According to Muslim League stalwart, Nawab Mamdoot, Maulana would have been jailed for creating an embarrassing situation for the government, had Chaudhry Mohammad Ali not intervened. Also, mullahs were inciting people from the pulpit, to take Maulana to task.
The anti-climax:
Eventually the Jamaat and its pragmatic Amir capitulated. The beauty of Sharia lies in its elasticity and plasticity. It can be moulded any which way. A somersault move was justified in the following manner:
The statements by Amir Jamaat-e-Islami with regard to a Sharai Maslah [interpretation of a question in line with Sharia] were issued when officially the position of Pakistani state , regarding presence of Pakistani armies inside Kashmir, had not been stated. Now, following the correspondence on September 7 between the Government of Pakistan and the UN Commission on Kashmir, and the statement issued by Pakistan's foreign minister on September 8, the fact has been largely established. Also, the Government of India has been informed about it. Therefore, the position according to Sharia is not what it was before…After the revelation, Amir Jamaat-e-Islami and Majlis-e-Shura unanimously agree that despite Moahidana Talukat '[mutual agreements](3), it is jaiz [legitimate) for Pakistan to militarily participate in Kashmir jihad.
By 1964, Maulana Maudoodi claimed that he never declared 'Kashmir Jihad' as Najaez!
The rest, as they say, is history!
Notes:
1. The word Dastoor can be translated as 'practice' or constitution. It seems, Maulana used it in the sense of practice.
2. Translation from: http://quran.com/8.
3. "Mutual agreements" is not the exact translation. However, in my view the essence of the term 'MoahidanaTalukat' was 'diplomatic relations.
Bibliography:
Aasi, Mumtaz Ali (1964) Moulana Maudoodi or Jamaat-e-Islami: Aik Jaiza. Lahore: Maktaba Jadeed Press
Hussain, Zahid (2014) From Jihad to Terrorism. Daily Dawn. February 12. Accessed on 19.5.2014: http://www.dawn.com/news/1086501
Mir, Safdar (1969) Mododiat or Mojoda Siasai Kashmakash. Lahore: Al-Bayan
Source: http://www.viewpointonline.net/2014/05/vp203/when-jamaat-e-islami-declared-jihad-e-kashmir-as-haram
URL: http://www.newageislam.com/islamic-ideology/farooq-sulehria/when-jamaat-e-islami-declared-jihad-e-kashmir-as-haram/d/87350