New Age Islam News Bureau
14 June 2022
• Anita Karim Makes Pakistan Proud At Female Mixed Martial Arts Competition at Bangkok
• 28-Old Woman Serves As Turkey's First Motorcycle Emergency Paramedic
• YouTube Videos Are Targeting Muslims, Women in India, NYU Stern Centre Study Says
• Daesh Bride Shamima Begum 'Fears She Will Be Executed' As She Faces Trial In Syria
• Egypt's Senate Tourism Committee Issues Regulations Related To 'Burkini's Swimwear
• In Hottest City on Earth Mothers Bear Brunt Of Climate Change in Jacobabad, Pakistan
• 3 Kerala Women Sold To Kuwaiti Families, Rescued
• 'Women Farmers Are Inherently More Passionate'
• From Marvel to the Grammys: The Education of Pakistani Women Taking The World By Storm
• PM Announces Women University for Karachi
Compiled by New Age Islam News Bureau
URL: https://newageislam.com/islam-women-feminism/roshanara-begum-muslim-woman-lyricist/d/127246
--------
Roshanara Begum, the First Muslim Woman Lyricist of Tamil Cinema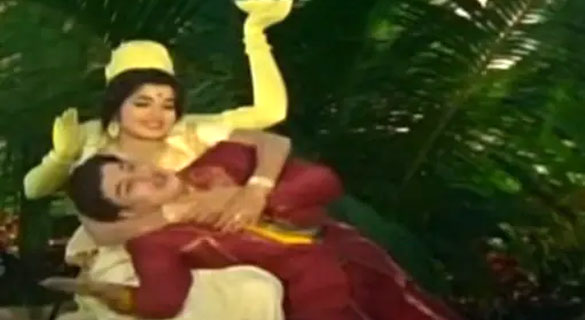 Roshanara Begum who studied in St. Francis Convent, Coimbatore was gifted even when she was young.
----
JUNE 13, 2022
Just a mention of the song Kunguma Pottin Mangalam will take patrons of the classic age of Tamil cinema into a nostalgic drive. The song, which came out way back in 1968, was picturised on two of the biggest stars of the Tamil industry, both of whom would later go on to become Chief Ministers of the state. If that is not a dead giveaway altogether, we are talking about MG Ramachandran and Jayalalitha on whom the song was picturised. It was from the movie Kudiyiruntha Kovil, which was a remake of the Hindi film China Town. However, do you know that one of the contributors to the song Kunguma Pottin Mangalam was the first Muslim female lyricist in Tamil cinema?
Yes, the lyrics of the evergreen song were written by Roshanara Begum, which sadly, remains the only cinematic achievement she ever made. She made her entry into the entertainment industry at a time when Muslim women were still forbidden from doing so. Things were different back then, and for a Muslim woman, from a conservative background, writing lyrics for a film song was historic.
Roshanara Begum who studied in St. Francis Convent, Coimbatore was gifted even when she was young. Having formally learnt music, she used to win awards at school. Even though her family followed strict Islamic traditions, her father Sheikh Mustafa recognised her daughter's potential and realised she was meant for bigger things.
He decided to support his daughter. Fortunately, Sheikh Mustafa was friends with composer MS Viswanathan, who used to frequent their house in Coimbatore. MS Viswanathan requested the producer of Kudiyirundha Koyil to give the young woman a chance and the result was the beautiful lyrics of the song Kunguma Pottin Mangalam.
However, unfortunately, this was both Roshanara Begum's first and last project. Roshanara Begum's name got lost somewhere in the sands of time but the song will always remind us of her achievement.
Source: News18
https://www.news18.com/news/movies/roshanara-begum-the-first-muslim-woman-lyricist-of-tamil-cinema-5362201.html
--------
Anita Karim Makes Pakistan Proud At Female Mixed Martial Arts Competition at Bangkok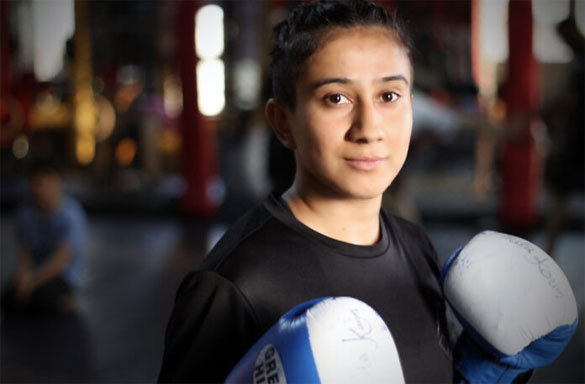 Pakistan's first-ever female mixed martial arts (MMA) fighter Anita Karim
----
June 13, 2022
Pakistan's first-ever female mixed martial arts (MMA) fighter Anita Karim unanimously won the fight against her Australian opponent under the banner of Fairtex Fight Promotion at Lumpinee Stadium, Bangkok.
According to media reports, the 25-year-old fighter from Hunza beat Uyen Ha in all three rounds of the bantamweight fight.
Anita's proud brother Uloomi Karim took to social media to share his sister's unique achievement. He said that his sister is the only Pakistani martial arts fighter who has fought at the prestigious Lumpinee Stadium.
"Anita Karim getting another W after putting on a clinic today at Fairtex Fight Promotion in Bangkok, Thailand. P.s. Anita is the only female Pakistani (and one of the VERY FEW women in the WORLD) to have fought at the world-famous Lumpinee Stadium!," he wrote.
"Another one, Alhumdulillah All praises to the Almighty and a big thank you to everyone who showed love and support. Huge shoutout to my team @fairtexofficial for the knowledge and for pushing me every single day to get better! #teamfightfortress #anitakarim," Anita Karim wrote on her Twitter handle with a video clip of her fight.
Last year while talking to media, Anita expressed how proud she was to be the country's only woman MMA fighter.
"It is quite usual, to be honest. I belong to a family of Taekwondo black belt holders and to an area where the women do all the toughest work. The bodies of the women in our region are trained to do hard work. From an early age, we carry a lot of load on our backs and climb up the hills. A woman carries around 20 to 30 kilogrammes of wood, crop and other necessities for many kilometres. This makes our muscles adapted to hard work," she said.
Anita Karim rose to fame after defeating Indonesian opponent Gita Suharsono in One Warrior Series (OWS) back in 2019. She is also known as the 'arm collector'.
Anita joined MMA when she was 20-year-old. She moved to Islamabad to join her brother's academy and aimed to become the first professional women MMA fighter in Pakistan. It only took Anita two months to get her grip on the sport and make it to the international ring.
Ehtisham, while talking to media, said that Anita was tough since the beginning. "When we brought her to the gym, she passed all the tests and was comfortable with all the techniques other male fighters learn," he said. "Since the beginning, she had a spark in her and that is why we decided to train her for professional MMA fights."
According to Anita, it is not tough to pursue MMA full time, but the real challenge is social pressure. "The time I decided to go for MMA, I called up my father and told him that I am going to cut my hair and take a break from studies to train for MMA fights. My mother and father were reluctant to allow me, but when they saw the passion I had for MMA, they relented," she said. "The real hurdle began after that."
"The time I cut my hair and dedicated myself completely to the MMA, people back home started talking about how I'm not doing the type of work that 'normal' women do. They criticised me a lot on my appearance and [for] the path that I took. Unfortunately, this is why many female fighters give up; just because they face pressure from the society. I was lucky that I had a supportive brother, and he asked me to ignore everything and just focus on my training and ambition."
Source: Pakistan Today
https://www.pakistantoday.com.pk/2022/06/13/anita-karim-makes-pakistan-proud-at-mma-competition/
--------
28-old woman serves as Turkey's first motorcycle emergency paramedic
June 14 2022
Sabiha Sözer, 28-years-old, serves as Turkey's first and only motorcycle emergency paramedic in the northwestern province of Eskişehir.
The local authority in charge of the ambulance services in the province launched this department with 12 personnel less than a month ago to provide medical assistance in a much faster way or in cases where ambulances cannot reach the emergency scenes due to traffic jam or narrow roads.
The response time of the motorcycle emergency paramedic unit could be as short as 3 minutes and one member of the unit is Sabiha Sözer.
"Since the service was launched 20 days ago, we have responded to 170 emergency cases," Sözer said, who has been working as a medical technician.
"We have all the necessary equipment on our motorcycles that an ambulance has. The only difference is that we move around on two wheels," she said, explaining the effectiveness of the service they provide.
Sözer noted that traffic is a real problem in Eskişehir which may cause problems for regular ambulances. "But we can arrive at the scene much faster than an ambulance."
However, she admits having problems on the roads. "There are some motorists that do not know who we are, and they do not clear the road for us."
Sözer rides motorcycles when off duty. "I am proud of what I am doing. Especially since I am doing two things I love the most at the same time: Working as a paramedic and riding a motorcycle."
Source: Hurriyet Daily News
https://www.hurriyetdailynews.com/28-old-woman-serves-as-turkeys-first-motorcycle-emergency-paramedic-174541
--------
YouTube Videos Are Targeting Muslims, Women In India, NYU Stern Centre Study Says
Jun 13, 2022
Influencers backing India's ruling Hindu nationalist party have used YouTube videos to spread conspiracy theories and hateful content targeting Muslims and women in the biggest market for the platform by user base, according to a report by the NYU Stern Centre for Business and Human Rights.
The NYU Stern Centre report highlighted the case of India to press Alphabet Inc.'s Google-owned video platform to look at its recommendations to boost content moderation and disclose information on how algorithms recommend and remove content.
India has more than 450 million YouTube users, nearly double the size of the platform's US base. The videos have helped fuel a conspiracy theory that Muslims spread Covid as a form of "jihad', or holy war, according to the report titled "A Platform 'Weaponized': How YouTube Spreads Harmful Content – And What Can Be Done About It."
The report also cited examples of rivalries between street rival vendors turning violent after a YouTube video campaign that singled out Muslims as well as anti-Muslim rhetoric often blending with at online attacks on women.
"A spate of misogynistic rants by nationalistic Indian YouTube influencers have made such invective popular on the platform," the report said. "The diatribes, many of which include physical threats, are often delivered as selfie videos."
A YouTube spokesperson said the recommendations detailed by the report were priorities for the platform though greater algorithmic transparency makes it harder to protect its systems.
"We work to provide ongoing insights into how recommendations work, through blog posts, videos, interviews and more," the spokesperson said.
Requests for comments from Prime Minister Narendra Modi's Bharatiya Janata Party and India's Interior Ministry also remained unanswered.
Intensified hostility
With over 1.3 billion people and growing Internet use, India is an important and profitable jurisdiction for social media companies. However popular support for the Hindu nationalist agenda of Modi's BJP puts big tech companies in a spot when it comes to balancing free speech with curbs on hateful content.
While the report noted that religious divides existed in India long before YouTube came to the picture, "widespread social media use has intensified the hostility."
The report comes amid an ongoing controversy in India where two ex-BJP officials made derogatory remarks against Islam and Prophet Muhammad on a news channel and on social media, dragging New Delhi into a diplomatic spat with several Middle Eastern trading partners. It has also led to sporadic religious clashes in several parts of India.
The police have arrested a YouTuber from insurgency-prone northern region of Kashmir for allegedly uploading a video that showed beheading an effigy of one of the suspended officials, local media reported, reflecting the challenges of curbing hate messages on the platform.
Speaking at World Economic Forum in Davos last month, YouTube's Chief Executive Officer Susan Wojcicki said the platform faced a test in keeping ahead of people creating misinformation and making sure it understood what they are. She said YouTube missed only about 10 to 12 content-violating videos per 100,000 views of videos on the platform, citing the company's latest research.
Source: Times Of India
https://timesofindia.indiatimes.com/india/youtube-videos-are-targeting-muslims-women-in-india-study-says/articleshow/92180228.cms
--------
Daesh Bride Shamima Begum 'Fears She Will Be Executed' As She Faces Trial In Syria
June 13, 2022
LONDON: Daesh bride Shamima Begum Fears she will be executed after being told she is to stand trial for terror offenses, reports have stated.
Begum, who fled the UK at the age of 15 to join Daesh, was stripped of her citizenship in February 2021 and has been unable to return to the country.
Officials in Rojava – a self-governing region in north-eastern Syria run by Kurdish forces – claim to have abolished the death penalty, but Begum still fears she could be executed.
Speaking to the Mail on Sunday from Al-Roj prison camp in Syria, she said: "No, no, I don't want that, that can't happen. I don't want to be tried in Syria."
Now 22, Begum said she has reformed her ways since she joined the terrorist group in 2015.
She added: "I was an angel, you can ask my mum, I was an angel.
"I did not like my primary school because I faced some racism there, not constantly, but at a young age one thing is enough.
"Not bullied, but little comments and stuff and favoritism with teachers to white kids over non-white kids."
Begum also claimed that she had been groomed online before leaving the UK with her friends, Amira Abase and Kadiza Sultana.
In 2019, she was found nine months pregnant and said she had previously lost two children.
A source said that Begum does not have faith in the justice system in Rojova.
They said: "Begum has convinced herself she'll pay the ultimate price if she is tried and found guilty of terrorism offenses in Syria.
"She's very frightened and concerned. She's been told she will be put on trial in Rojava, probably as one of a group of women accused of terrorist offenses."
The source said that her trial is likely to take place in September or October.
"Rojava authorities don't advocate the death penalty but that has failed to convince her she won't escape such a punishment," the source said.
"And even if she does, she's facing a life jail sentence."
Tasnime Akunjee, a solicitor who has previously acted for Begum, said: "I feel her fears are justified. The justice system there is somewhat meagre."
Source: Arab News
https://www.arabnews.com/node/2102686/middle-east
--------
Egypt's Senate Tourism Committee issues regulations related to 'burkini's swimwear
June 13, 2022
The Culture, Tourism and Antiquities Committee of the Egyptian Senate instructed sharing a circular to resorts regarding the rules and regulations for swimming pools to personal freedoms guaranteed by the Egyptian constitution, including wearing burkini (modest swimwear) by hijabi women in Egypt.
This came during the committee's meeting on Monday to discuss a proposal to ban the wearing of the burkini at some resorts, submitted by MP Ahmed al-Kenawy.
The committee stated it would receive all complaints from citizens during the summer season in this regard and would move to resolve it in cooperation with the concerned authorities at the Ministry of Tourism, the New Urban Communities Authority and the Tourism Development Authority.
Senator Imad Eddin Hussein explained: "It is necessary to achieve balance, apply regulations and laws, and confront extremism in all its forms so that we do not witness extremism similar to that of ISIS, for example."
"The decisive factor here is the application of the law and the establishment of general controls that are consistent with the constitution, law, and health and environmental protocols."
A representative of the Tourism Development Authority Alaa Abdel Shafy said that the issue of wearing a burkini or bikini is one that is up to personal freedom – so long as it does not harm others.
Some contracts signed between resorts and tourism development companies stipulate that a certain uniform be worn in swimming pools, he noted.
Source: Egypt Independent
https://www.egyptindependent.com/egypts-senate-tourism-committee-issues-regulations-related-to-burkinis-swimwear/
--------
In Hottest City on Earth Mothers Bear Brunt Of Climate Change in Jacobabad, Pakistan
Jun 14, 2022
JACOBABAD: Heavily pregnant Sonari toils under the burning sun in fields dotted with bright yellow melons in Jacobabad, which last month became the hottest city on Earth.
Her 17-year-old neighbour Waderi, who gave birth a few weeks ago, is back working in temperatures that can exceed 50 Celsius (122 Fahrenheit), with her newborn lying on a blanket in the shade nearby so she can feed him when he cries.
"When the heat is coming and we're pregnant, we feel stressed," said Sonari, who is in her mid-20s.
These women in southern Pakistan and millions like them around the world are at the searing edge of climate change.
Pregnant women exposed to heat for prolonged periods of time have a higher risk of suffering complications, an analysis of 70 studies conducted since the mid-1990s on the issue found.
For every 1 degree Celsius in temperature rise, the number of stillbirths and premature deliveries increases by about 5%, according to the meta-analysis Global Consortium on Climate and Health Education at Columbia University, which was carried out by several research institutions globally and published in the British Medical Journal in September 2020.
Cecilia Sorensen, director of the Global Consortium on Climate and Health Education at Columbia University, said the unfolding impact of global warming on the health of women was "highly underdocumented", partly because extreme heat tended to exacerbate other conditions.
"We're not associating health impacts on women and often times it's because we're not collecting data on it," she said. "And often women in poverty are not seeking medical care."
"Heat is a super big deal for pregnant women."
Women are especially vulnerable to rising temperatures in poor countries on the frontlines of climate change because many have little choice but to work through their pregnancies and soon after giving birth, according to interviews with more than a dozen female residents in the Jacobabad area as well as half a dozen development and human rights experts.
Further adding to the risks, women in socially conservative Pakistan - and many other places - typically cook the family meals over hot stoves or open fires, often in cramped rooms with no ventilation or cooling.
"If you're inside cooking next to a hot open fire you have that burden of that heat in addition to the ambient heat which makes things that much more dangerous," Sorensen added.
Extreme humid heat events
South Asia has suffered unseasonably hot temperatures in recent months. An extreme heatwave that scorched Pakistan and India in April was 30 times more likely to happen due to climate change, according to scientists at World Weather Attribution, an international research collaboration. Global temperatures have risen by about 1.2 degrees Celsius above pre-industrial levels.
As temperatures continue rising, extreme heatwaves are only expected to increase.
Jacobabad's roughly 200,000 residents are well aware of their reputation as one of the world's hottest cities.
"If we go to hell, we'll take a blanket," is a common joke told in the area.
Few places are more punishing. Last month, temperatures hit 51 Celsius (124 Fahrenheit) on May 14, which local meteorological officials was highly unusual for that time of year. Tropical rains can also conspire with warm winds from the Arabian Sea to drive up humidity later in the year.
The more humid it is, the harder it is for people to cool down via sweating. Such conditions are measured by "wet bulb temperatures," taken by a thermometer wrapped in a wet cloth. Wet bulb temperatures of 35C or higher are considered the limit to human survival.
Jacobabad has crossed that threshold at least twice since 2010, according to regional weather data. And, globally, such "extreme humid heat events" have more than doubled in frequency in the last four decades, according to a May 2020 study in the journal Science.
Sonari, who is in her 20s, and Waderi work alongside about a dozen other women, several of them pregnant, in the melon fields about 10 km from Jacobabad's centre.
They begin work each day at 6 a.m. with a short afternoon break for housework and cooking before returning to the field to work until sundown. They describe leg pains, fainting episodes and discomfort while breastfeeding.
"It feels like no one sees them, no one cares about them," aid worker Liza Khan said more broadly about the plight facing many women in Jacobabad and the wider Sindh region which straddles the border of Pakistan and India.
Khan's phone rings constantly as she drives to one of three heatstroke response centres she has helped set up in recent weeks as part of her work with a non-profit group called the Community Development Foundation.
With a finance degree, Khan has lived in cooler cities across Pakistan but returned to her hometown because she wanted to be a voice for women in the conservative area.
"Nowadays I'm working 24/7," said the 22-year-old, adding that her organization was finding the impact of extreme heat increasingly intertwining with other social and health issues affecting women.
The frontless of suffering
The harsh conditions facing many women were brought into tragic focus on May 14, the day temperatures in Jacobabad hit 51 C, making it the world's hottest city at that time.
Nazia, a young mother of five, was preparing lunch for her visiting cousins. But with no air conditioning or fan in her kitchen, she collapsed and was taken to a nearby hospital, where she was pronounced dead from a suspected heat stroke
District health officials did not answer requests for comment about Jacobabad's record of heat-related deaths in recent years, or more specifically about Nazia's case.
Her body was taken the following day to her ancestral village to be buried and her children, the youngest a one-year old who was still breastfeeding, regularly cry for their mother, a relative said.
Widespread poverty and frequent power cuts mean many people can't afford or use air conditioning or at times even a fan to cool down.
Potential strategies recommended by experts include providing clean-energy stoves to replace open-fire cooking, offering women's medical and social services during early morning or evening hours when it is cooler and replacing tin roofs with cooler material in white to reflect solar radiation away from the home.
Climate Change Minister Sherry Rehman told Reuters that women were likely bear the brunt of rising temperatures as they continued to scorch the country, adding that climate change policies in the future needed to address the specific needs of women.
"A megatrend like climate change ... poses a significant threat to the well-being of unempowered women in rural areas and urban slums," she added. "Pakistani women, especially on the margins, will be impacted the most."
Some in Jacobabad find it galling that Pakistan is responsible for just a fraction of the greenhouse gases released in the industrial era and now warming the atmosphere.
"We are not contributing to the worsening, but we are on the frontlines as far as suffering is concerned," said Hafeez Siyal, the city's deputy commissioner.
No water, no power, we pray
In a residential neighbourhood of the city, a donkey-drawn cart stacked with blue plastic jerrycans stops near the entrance to warren-like lanes leading to a cluster of homes. The cart's driver runs back and forth delivering 20-litre containers of water from one of a few dozen private pumps around the city.
Most residents of Jacobabad rely on such water deliveries, which can cost between a fifth and an eighth of a household's meagre income. Still, it's often not enough, and some families are forced to ration.
For young mother Razia, the sound of her six-month-old Tamanna crying in the afternoon heat was enough to persuade her to pour some of her precious water over the baby. She then sat Tamanna in front of a fan, and the child was visibly calmer, playing with her mother's scarf.
Local officials said water shortages were partly due to electricity cuts, which mean water cannot be filtered and sent via pipes throughout the city. There are also severe water shortages across Sindh, with climate change minister Rehman flagging shortfalls of up to 60% of what is needed in the province's key dams and canals.
Rubina, Razia's neighbour, fried onions and okra over an open fire, explaining she usually felt dizzy in the heat and tried to soak herself in water each time she cooked to prevent herself from fainting.
There was not always enough water to do so, though.
"Most of the time, it ends before it's time to buy more and we must wait," Rubina said as she closely supervised her children and grandchildren sharing a cup of water. "On the hot days with no water, no electricity we wake up and the only thing we do is pray to God."
Source: Times Of India
https://timesofindia.indiatimes.com/world/pakistan/in-hottest-city-on-earth-mothers-bear-brunt-of-climate-change/articleshow/92196194.cms
--------
3 Kerala women sold to Kuwaiti families, rescued
14th June 2022
By Ajay Kanth
KOCHI: Three women from Kerala, who were sold to Kuwaiti families by a human trafficking racket for a price of Rs 10 lakh each, were rescued and brought back to the state, thanks to timely intervention by a group of Malayalis in the Gulf country.
M K Gassali, a Dubai-based Kannur native who is the kingpin of the racket, allegedly demanded a ransom of Rs three lakh to release the women when their families approached him. Then the husband of one of the women approached the Malayali group and sent its members whatsapp videos and voice clips featuring the torture the trio were facing. The collective approached the Kuwaiti authorities forcing Gassali to release them.
Police said the racket had pasted notices at public spaces including in Kochi and Kollam inviting applications for the job of babysitters in Kuwait. The women approached the racket after seeing the posters and fell for the offer because the recruitment was free and no money was collected from them even for visa processing and air ticket. The husband of one of the victims said at the time of recruitment his wife was promised a monthly salary of Rs 60,000.
To bypass Indian regulations, the racket took the women to Sharjah on a visit visa and later shifted them to Kuwait by road, police said. In Kuwait, they were sold to rich Arab families for `10 lakh each. The victims realised, to their horror, a few days later that they were trapped. They were subjected to torture by their new 'owners'. Thankfully, they had their phones with them, and hence they could contact their families back home and inform them about their fate.
Racketeers demanded Rs 3-lakh ransom, threatened to sell them to IS, says plaint
On receiving the messages, the husband of one of the victims lodged a complaint with the police and the Ministry of Home Affairs through a Kochi-based lawyer, Nishin George V B.He also approached the Malayali group in Kuwait who ensured the release of the three women. After returning home, his wife lodged another complaint with the Kochi police, who registered a case against Gassali and another person Ajumon A R, 35, of Pathanapuram in Kollam who acted as local recruiter for Gassali. In the complaint, the woman submitted that the racket members demanded Rs 3 lakh ransom and threatened to sell them to Islamic State camps in Syria if their families failed to pay the amount. While one woman hailed from Kollam, two were from Ernakulam.
"We have launched a detailed probe. Though Ajumon tried to secure an anticipatory bail from Ernakulam Sessions Court, the court on June 4 denied him bail following our strong objecttion," said a police officer.
"As per the statement of the rescued persons, more women are trapped in Kuwait. There was a Hindi-speaking woman who was locked up along with them in a room. When the Malayali organisation intervened, she was shifted to another place by the racket. They don't know what happened to her," lawyer Nishin George said.
Source: New Indian Express
https://www.newindianexpress.com/states/kerala/2
--------
'Women farmers are inherently more passionate'
by Sushmita Bose
10 Jun 2022
"Farming is not new to our nation. Sheikh Zayed, the founder of the nation, had this great saying: 'Give me agriculture and I will give you civilisation.'
Although our initial studies had made out a strong case of existing farms and new ones in the horizon, we would often encounter expressions of disbelief even from people born here.
Yes, there was a time when, with the hyper active growth and urbanisation, the UAE had started importing almost 90 per cent of its requirements for food. Our responsible and conscious leadership soon realised the importance of food security.
The most amplified example of its importance came during the pandemic when even the most developed nations' supermarkets witnessed empty shelves due to the disruptions in supply chain.
Local farming is now an integral part of the UAE's future vision. Consequently, we now see a huge growth in farms adapting all kind of farming methods: vertical, horizontal, greenhouses alongside aquaculture and hydroponics.
Technology today is an enabler and, notwithstanding the climatic challenges, you can grow anything anywhere. Fish farming in Dubai's backyard is an epic example of how you can simulate the Atlantic and Pacific Oceans side by side to harvest some of the best varieties of fish like salmon and hamachi right here!
As part of our sustainability mission, we like to work and encourage women farmers as we believe they are inherently more passionate. And their consciousness towards environment and sustainability is a common binding ethos.
Also, realise it's not manual work anymore — most of it is adopting and adapting farm tech in which the women are way ahead from the men.
Our slogan of 'buy local sell local' to help the local economy is now at the forefront of sustainability and the food security mission. We have taken the transparency to the level of giving a real-time view of carbon emissions saved when buying through our platform. Reducing food waste by using freshly harvested produce are all steps towards UAE's net zero mission.
Overall, farmers here are different from elsewhere, and far more conscious of the local limitations and do every bit to optimise and contribute."
Source: Khaleej Times
https://www.khaleejtimes.com/long-reads/women-farmers-are-inherently-more-passionate
--------
From Marvel to the Grammys: The Education Of Pakistani Women Taking The World By Storm
Thira Mohamad
13 JUN 2022
Brown girls are taking over the world, and they're just getting started. Kamala Khan's onscreen debut struck a firestorm of approval from critics and pop culture fans, especially among girls and women from Pakistan and those in the diaspora who've had to suffer a slew of Hollywood misrepresentation.
Iman Vellani's electric portrayal of the titular character is far from the only trailblazing win that Pakistani women have been claiming at the global stage. From the Grammys to iconic speeches at the United Nations, meet some of the most influential women from Pakistan that are commanding the world's attention with a lethal dose of intellect, talent, and charm, with a solid education at some of the world's best universities.
4 women from Pakistan who are making waves at the global stage
Malala Yousafzai
Youngest Nobel Prize Winner. Oxford graduate. Activist extraordinaire. Malala Yousafzai is a name that needs no introduction. The firebrand poster girl for gender equality is the modern day beacon of hope for girls who are forcibly denied schooling due to patriarchal violence.
At just 15 years old, her remarkable story of surviving an assassination attempt after getting shot in the head by the Taliban elicited an outpouring of worldwide support and ire against her aggressors. The life-changing event turned out to be the catalyst for her to win the Nobel Prize two years later.
Based in Birmingham since 2013, Malala was able to continue her education at Edgbaston High School for Girls, before entering Lady Margaret Hall at Oxford University to major in Politics, Philosophy, and Economics (PPE) and successfully graduating in 2020.
Arooj Aftab
If this is your first time seeing her name, do yourself a favour by tuning in to her songs, and let her meditative voice serenade you. Aftab's hit single "Mohabbat" from the album "Vulture Prince" earned her the Best Global Music Performance Award at the Grammys in 2022, a historic first-ever win from a Pakistani artist. The song drew rave reviews from various critics; even Barack Obama picked it as one of his top summer tracks in 2021.
Her genre-defying blend of reimagined poetic Urdu verses with elements of jazz fusions has deep roots in her Pakistani heritage. It's also a product of her education at the prestigious Berklee College of Music in Boston, where she won a scholarship to pursue a degree in music production and engineering.
Speaking of her music, which has transcended cultural and linguistic barriers, Aftab's ode to grief through her latest album was a form of catharsis for her own loss following her brother's death. "If there's something that I can do to hold people through the collective grief process, then why not?" she told The Guardian in an interview.
Fatima Bhutto
Coming from a prominent political dynasty in Pakistan, Fatima Bhutto is one of her country's most recognisable writers who came into international prominence when she published her non-fiction book "A Song Of Blood And Sword," a memoir detailing her family's tragic legacy.
The author of seven books, Bhutto was educated at Barnard College for her undergraduate degree, where she majored in Middle Eastern languages and cultures. "Writing is a form of reckoning for me, a way of witnessing and remembering [that which] power would have us [forget]," the writer quipped when speaking to her alma mater.
Bhutto would later go on to complete her Master's degree in South Asian studies at the School of Oriental and African Studies (SOAS) in London, where her dissertation focused on Pakistan's resistance movement.
The writer-journalist continues to courageously pen her views on current affairs and criticisms of corruption in Pakistan, and has contributed to various media outlets such as The Guardian, The New Statesman, and Foreign Policy.
Aliza Ayaz
The star student is one of the most prominent women from Pakistan who has wowed the world with her dedication to climate activism. After Malala, she is the only Pakistani student to have been appointed as the United Nations youth ambassador for Sustainable Development Goal 13 (SDG13), a feat she achieved in 2020.
A graduate of the University College London (UCL) specialising in global health and epidemiology, Ayaz was responsible for establishing the university's Climate Action Society, which became a full-fledged non-profit that now works closely with the UN and the British government. She was previously the joint winner of the UCL's Student Award for Outstanding Commitment to Sustainability in 2019.
"I think the coolest element was being able to attract and retain Generation Z – a generation that is so busy doing job applications, socialising and finding its own feet to an idea that was associated with an 'environment frenzy'," she told UCL of her win. She has delivered prominent speeches internationally, including at the UN and at UK parliamentary events.
Source: Study International
https://www.studyinternational.com/news/education-of-women-from-pakistan/
--------
PM announces Women University for Karachi
June 14, 2022
According to details, the federal government in collaboration with the Sindh government will establish Women University in Karachi. The provincial government will bear expenses for the land requirement and other matters.
Sindh govt has also proposed names of three colleges for converting them into women university. The colleges include Khatoon-e-Pakistan Girls College, APWA Girls College and Govt Girls College North Nazimabad.
During his recent visit to Karachi, Prime Minister Muhammad Shehbaz Sharif stressed upon timely completion of important development projects like Karachi Circular Railway, K-4 and announced establishment of a new university.
The prime minister also visited MQM-P head office to meet the leadership of MQM.
During the meeting, they assured to work closely with the federal government for the welfare of the residents, the development and progress of the province, particularly in Karachi.
The meeting was attended by convenor MQM Dr Khalid Maqbool Siddiqui, senior deputy convenor Aamir Khan, Syed Aminul Haq, Dr Faroogh Naseem and Kanwar Jameel. Members of the National Assembly Shahid Khaqan Abbasi, Marriyum Aurangzeb, Maulana Asad Mahmood, Ahsan Iqbal and others were present during the meeting. Sinch Chief Minister Syed Murad Ali Shah also attended the meeting. The prime minister appreciated the coalition parties' resolve for the public welfare.
Source: Pak Observer
https://pakobserver.net/pm-announces-women-university-for-karachi/
--------
URL: https://newageislam.com/islam-women-feminism/roshanara-begum-muslim-woman-lyricist/d/127246
New Age Islam Islam Online, Islamic Website, African Muslim News, Arab World News, South Asia News, Indian Muslim News, World Muslim News, Women in Islam, Islamic Feminism, Arab Women, Women In Arab, Islamophobia in America, Muslim Women in West, Islam Women and Feminism