By Rauf Parekh
August 30, 2015
ISMAT Chughtai (1915-1991), one of Urdu's most accomplished fiction writers, epitomised the 20th-century women writers of Urdu: enlightened, bold, iconoclastic, progressive and feminist.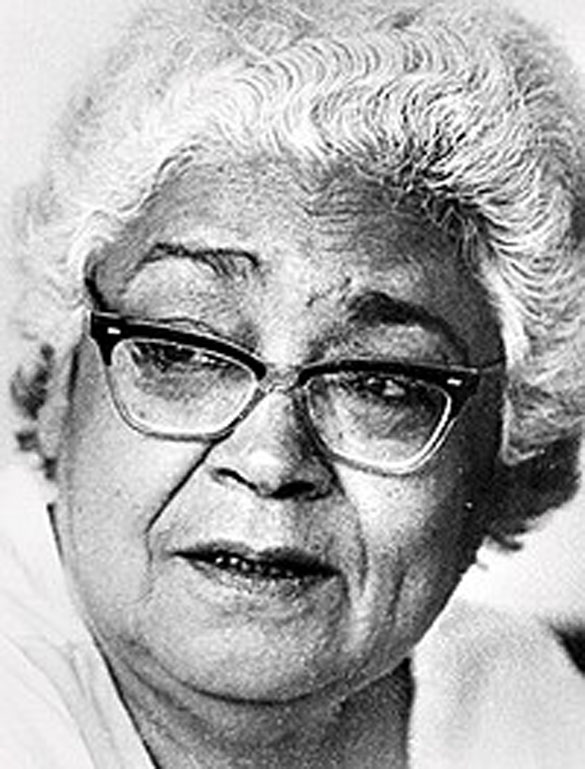 Chughtai penned her early pieces in the late 1930s but was not much known in the literary circles until 1942, the year 'Lihaaf' was published. Urdu literature of that era showed a marked tendency towards Marxism and Realism. The idea of feminism in its true sense and spirit had not quite arrived in the subcontinent in the 1940s, but much of what she wrote, with a touch of progressivism, was about the social, psychological and sexual problems faced by women. Traditional feminine sensibility of the 18th and 19th centuries demanded women to be virtuous, modest and obedient. Chughtai stressed that real feminine emotions and sensitivities are hardly ever understood in an orthodox, male-dominated society such as India's. Never before in the history of Urdu fiction were such thoughts expressed so articulately and vividly as did Chughtai in her writings.
In 1942 she emerged on the literary scene with a bang as her short story 'Lihaaf' appeared in Adab-i-Latif, a literary magazine published from Lahore. Its central theme was female homosexuality. Themes related to sensuality have never been a rarity in Urdu literature, especially in classical poetry, and a few Urdu Masnavis (longish poems, often narrating a romance) are known for being too explicit. Male homosexuality had not been a taboo subject in Urdu poetry but somehow female homosexuality was not approved of, except for Rekhti, a genre of classical Urdu poetry that depicted female homosexuality, mostly in implicit and symbolic terms. In the subcontinent's conservative society these covert and occasionally overt expressions of sensuality were thought to be offensive but were quietly smiled upon.
'Lihaaf' sent tremors across the subcontinent and Chughtai had to bear with scathing criticism for it. 'Lihaaf' is about two women, one of whom is deprived of her husband's love and the other is the maid servant. It is strange that 'Chai ki pyali', Muhammad Hasan Askari's short story that had covert gestures to female homosexuality, published in the January 1942 issue of Adabi Duniya (Lahore), and later included in the collection of his short stories titled Jazeeray, did not invoke as much criticism as did 'Lihaaf'; neither did Rekhtis written by the male poets. In fact, Askari's story was not taken much notice of, for reasons not known. On the contrary, Chughtai's story was considered more offensive, perhaps because of her gender. 'Lihaaf' brought Chughtai much notoriety and she was even summoned by a court for the alleged 'obscenity'. Ironically, it was exactly this kind of attitude of a male-dominated society that Chughtai used to scoff at.
Many of Chughtai's short stories revolve around the odds faced by women. Oppressed women fighting it out on their own fascinated Chughtai. In most of her short stories she points a finger at society for unjust treatment of women. Though she did write about the problems of women from underprivileged classes too, it was women from middle-class families she was truly interested in portraying. Describing UP's middle or lower middle-class Muslim women and homes in a parlance peculiar to the milieu was her forte. Here, Chughtai excelled, since it was the environment she was brought up in and had personal experience of.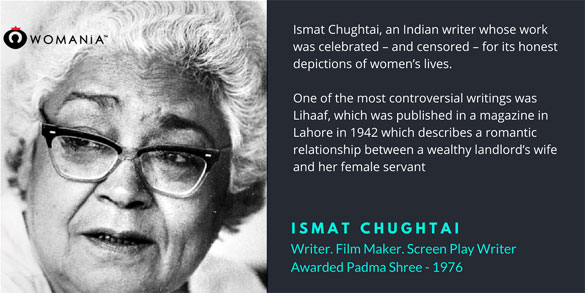 But Chughtai's exposure to trade unionism and political activism, unlike Rashid Jahan, a progressive female writer and a contemporary of Chughtai's, was rather limited. She could possibly not have been as well-versed in Marxist philosophy either, as some of her contemporary progressives were. This is one of the reasons why she, at times, sounds shallow when she tries her hand at depicting economic issues at length. Considering her leftist leanings and close association with the Progressive Writers Association, her short stories, based purely on class conflict and Marxist themes, are not as many as one would have expected.
Chughtai's flowing and spontaneous style, occasionally peppered with satirical or witty remarks, makes reading a delight. Writing idiomatic and colloquial Urdu in a seemingly effortless manner is something she is known for. Her mastery over presenting women's parlance or expressions peculiar to native speakers of Urdu, especially women from UP, is a domain in which Chughtai is unrivalled by any male or female fiction writer. In this regard, only Qurratulain Hyder is a close second, but that too only occasionally.
This indeed can be traced to the locale in which Chughtai grew up. She was born on Aug 21, 1915, in Badaun, UP, but Agra was her ancestral hometown (her date of birth is often quoted as Aug 15 and place of birth as Agra, but, according to some researchers, Aug 21 and Badaun are more likely to be correct). She was brought up in Jodhpur, Agra and Aligarh since her father, a civil servant, was posted at different places and the family had to move quite often. From among her nine siblings, wrote Chughtai in Naqoosh (Lahore) describing her early life, her elder sisters got married when Chughtai was quite young and she spent more time in her childhood playing in the company of her brothers. This, according to her own account, turned her into a girl fond of playing hockey, football and Gilli Danda. In other words, she had become a tomboy, which was quite shocking to some women of Agra where the family had moved after her father's retirement. It was equally embarrassing for her mother, wrote Chughtai, but the "culprits were my brothers". This formative phase played a role in carving out her personality, which was marked with boldness, courage and outspokenness.
Despite fierce resistance from some of her relatives, Chughtai did her BA in 1938 from Isabella Thoburn College, Lucknow, and obtained a degree in teacher training from Aligarh the next year. In 1941, she was appointed the superintendent of Municipal Girls School, Bombay (now Mumbai). She married Shahid Lateef, a film director and scriptwriter from Mumbai, in 1942. By the time Chughtai began writing, her brother Mirza Azeem Baig Chughtai (1895-1941) had become an established novelist and humorist of Urdu. Though her brother had an influence on her, she was most inspired by Rashid Jahan and Saadat Hasan Manto. The other influence was, of course, some Western writers such as Sigmund Freud, G.B. Shaw and D.H. Lawrence. Later, she settled in Bombay and wrote dialogues for movies as well as scripts for movies in collaboration with her husband.
With a number of collections of short stories to her credit, such as 'Kalyaan', 'Choten', 'Do Haath', 'Aik Baat' 'Chhui Mui' and 'Thori Si Pagal', Chughtai is ranked among Urdu's most influential short-story writers of the latter half of the 20th century but she was not as successful in novels. Her novel Terhi Lakeer is, indeed, counted among the best Urdu novels, but her other novels, such as Ziddi, Masooma, Saudai and Dil Ki Dunya, could not impress the critics much, though they are not without their own merits.
Some of her other books, such as Dozakhi, are collections of plays, short stories and essays. In plays, too, Chughtai could not make her mark and her plays can pose some difficulties to those who want to stage them. According to Patras Bokhari, the famous humorist who was a fine connoisseur of drama too, she simply did not know how to separate scenes and acts. Yahan Se Wahan Tak includes miscellany, such as her brief memoirs, an account of her journey to Pakistan in 1976, and a few short stories. But Dozakhi, her pen-sketch of her brother Azeem Baig, written a few days after his death, is one of the best pen-sketches ever written in Urdu. It is humorous and saddening, sentimental and analytical, all at the same time.
Chughtai died in Mumbai on Oct 24, 1991. But controversy chased the writer even after her death: she was cremated, which, according to some relatives of hers, was her will. But some contradicted this and it remains a mystery what her real will was. Chughtai is relevant even today. No study of the Urdu short story, feminism in Urdu literature or Progressive philosophy in Urdu literature can truly be called complete unless her works are taken into account.
Original Headline: Ismat Chughtai: her life, thought and art
Source: The Dawn, Pakistan
URL: https://www.newageislam.com/islam-women-and-feminism/rauf-parekh/enlightened-bold-iconoclastic-progressive-and-feminist--ismat-chughtai/d/124153
New Age Islam
,
Islam Online
,
Islamic Website
,
African Muslim News
,
Arab World News
,
South Asia News
,
Indian Muslim News
,
World Muslim News
,
Women in Islam
,
Islamic Feminism
,
Arab Women
,
Women In Arab
,
Islamophobia in America
,
Muslim Women in West
,
Islam Women and Feminism