New Age Islam News Bureau
29 July 2022
• Islamabad Police Train Women In Self-Defense
• Nelly Attar, Who Scaled The World's Second Highest Mountain K2, Urges Pakistani, Arab Women To Follow Their Dreams
• Saudi Female Beekeeper Wins Gold Medal in Prestigious Global Honey Competition
• Muslim Women Speak Out Against Abuse in the US; One in Four Women Are Victims of Intimate Partner Violence
• An Egyptian Woman's Brutal Killing Sparks Renewed Hijab Debate
• A New Era of Female Leadership in Saudi Business
Compiled by New Age Islam News Bureau
URL: https://newageislam.com/islam-women-feminism/pakistan-hindu-dsp-manisha-ropeta/d/127600
--------
Manisha Ropeta Becomes Pakistan's First Hindu Woman DSP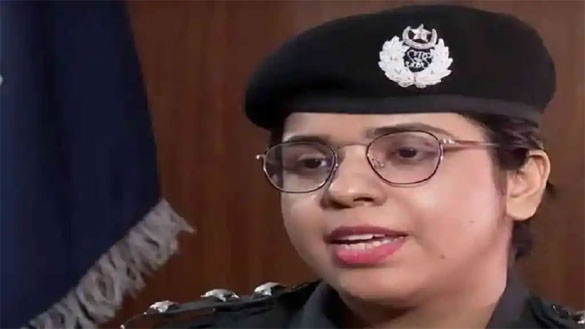 Manisha Ropeta
----
July 29, 2022
Manisha Ropeta is making heads turn not only because she is among the few female officers in authoritative positions in Sindh Police but also for the fact that the 26-year-old is the first woman from the minority Hindu community in Pakistan to become a Deputy Superintendent of Police.
In Pakistan's male-dominated society and culture, it is difficult for women to join professions considered "manly" such as the police force.
"From childhood, I and my sisters have seen the same old system of patriarchy where girls are told if they want to get educated and work it can only be as teachers or doctors," Ropeta from Sindh's Jacobabad area says.
Belonging to a middle-class family from Jacobabad in interior Sindh province, Ropeta says she wants to end this sentiment that girls from good families shouldn't have anything to do with the police or district courts.
"Women are the most oppressed and the target of many crimes in our society and I joined the police because I feel we need 'protector' women in our society," she says.
Ropeta, who is currently under training, will be posted in the crime-prone area of Lyari.
She feels that working as a senior police officer really empowers women and gives them authority.
"I want to lead a feminisation drive and encourage gender equality in the police force. I myself have always been very inspired and attracted to the police work," the DSP says.
Her three other sisters are all doctors and her youngest brother is also studying medicine.
Asked what prompted her to choose a different profession, Ropeta says she had failed by one mark to clear her MBBS entrance examinations. "I then told my family I was taking a degree in physical therapy but at the same time I prepared for the Sindh Public Services Commission examinations and I passed that getting 16th position among 468 candidates." Ropeta's father was a trader in Jacobabad. He passed away when she was 13 after which her mother brought her children to Karachi and raised them.
She admits though it is not easy to be in a senior position in Sindh Police and to get on field training in a place like Lyari, her colleagues, superiors and juniors treat her with respect for her views and hard work.
Ropeta recalls that in her hometown it was not a usual practice for girls to pursue higher education and even when her relatives came to know she was joining the police force they said she wouldn't last for long as it is a tough profession.
"So far I have proven them wrong," she says.
Ropeta is hopeful of playing a big role in portraying a better image of the police whom many people still don't trust and thus don't report crimes.
Source: Indian Express
https://indianexpress.com/article/pakistan/manisha-ropeta-becomes-pakistans-first-hindu-woman-dsp-8058040/
--------
Islamabad Police Train Women in Self-Defense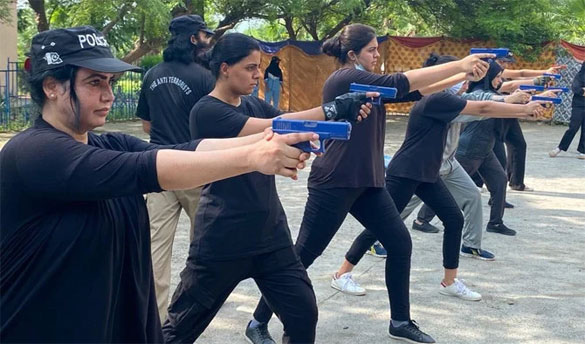 Participants of a self-defense course organized by the Islamabad Police learn to handle weapons on July 26, 2022. (AN Photo)
----
Saima Shabbir
July 28, 2022
ISLAMABAD: More than two dozen students have enrolled in a self-defense course launched by Islamabad police earlier this month, with most participants saying last year's headline-grabbing murder of the daughter of a Pakistani diplomat was the reason they had decided to join the program.
The beheaded body of Noor Mukadam, 27, was found in Islamabad on July 20, 2021. Police charged Zahir Jaffer with the murder, the victim's childhood friend who comes from one of Pakistan's wealthiest families.
The case dominated headlines unlike any other recent crime against women in Pakistan. Jaffer was sentenced to death this February.
Investigators said that Jaffer lured Mukadam, the daughter of Pakistan's former envoy to South Korea, to his home, held her there for two days and then brutally murdered her.
Participants at the two-week self-defense course, which began on July 18 and promises to introduce trainees to small arms, firing practice and unarmed combat, said that Mukadam's brutal killing had drawn them to the training.
"I thought about Noor Mukadam when I heard about the self-defense course organized by the police and decided to learn how to protect myself in difficult situations," Sineen Jan, a student from Islamabad, told Arab News.
In May 2021, Islamabad police established a gender protection unit to handle cases of harassment and violence against women. The special police division has since registered 547 cases of gender-based violence, 164 complaints of harassment and 116 threats of abuse toward women.
Hundreds of women are killed in Pakistan each year and thousands more are victims of brutal violence, but few cases receive sustained media attention and only a small fraction of perpetrators are punished.
Maria Mahmood, a senior superintendent of police supervising the course, said that the aim of the program was to equip women with essential skills to help them handle difficult and threatening situations.
A majority of participants of the program, she added, were aged between 18 and 30 years.
"As police officials, we are responsible for public safety and security," Mahmood said.
"We are trying to provide an opportunity to people to get some training where women and girls can come and learn about self-defense since it will not only boost their confidence but also give them an idea of how to handle challenging situations."
Incidents such as the Mukadam murder have raised awareness among women, she said, and many now wanted to learn self-defense skills.
"With women occupying more public spaces, they are required to step out of their comfort zone for work, education and other day-to-day needs," she said.
"When they are out of their homes, they can confront situations where they need to protect themselves."
The self-defense course, Mahmood hoped, would also bridge the gap between Pakistani women and police and create a greater level of trust between them.
"Several cases of gender-based violence have been reported to the police during the last few months," the policewoman said.
"That is why we are trying our best to have a mechanism to address this issue where women and girls are not afraid of coming to the police to report incidents threatening their safety."
Jan, the student from Islamabad, said that in just a few days of training the women had "learned quite a lot about how to defend ourselves in public."
She added that the program, which cost 20,000 Pakistani rupees ($84) per person, also included swimming, horse riding, archery and physical training lessons.
Sana Khalid Khan, a lawyer from Islamabad, said that the course had improved her physical strength and instilled a sense of empowerment by giving her a better understanding of legal procedures related to the safety of women in Pakistan.
"Women are not mentally strong and don't know how to address many problems," she said.
"This course particularly enables us to cope with these challenges."
Fatima Nawaz, a student from Islamabad, said that women needed to learn to defend themselves instead of waiting for others to come to their rescue.
"I believe that police can defend us, but there are times when they cannot be reached, so we have to equip ourselves and know how to fight for our protection," she told Arab News.
"Things have changed after the Noor Mukadam murder case," she said.
"People are more aware now that crime can happen anywhere and it is not confined to any specific place or scenario."
Source: Arab News
https://www.arabnews.com/node/2131611/world
--------
Nelly Attar, Who Scaled The World's Second Highest Mountain K2, Urges Pakistani, Arab Women To Follow Their Dreams
July 28, 2022
ISLAMABAD:
The first Arab woman Nelly Attar, who scaled the world's second highest mountain K2, has urged Pakistani and Arab women to pursue their dreams, saying "if you have a dream then go and make it a reality".
"They [women] can do it, regardless of the challenges that they're faced with, regardless of the limitations, they can do it. Nothing, and no one should stop you. If you have a vision, if you have a dream, go and achieve that dream. Don't use your circumstances as an excuse, use them as your reason to go forward," Arab News quoted her as saying.
Attar, who summited K2 last week, left her career as a mental health professional in 2017 to focus on sports and mountain expeditions. In 2020, the Muslim Women Network named her "One of the Top Influential Women in Sports," while Sports 360 in 2019 called her the "Female Fitness Influencer of the Year Across the GCC."
Attar successfully climbed Mount Everest in 2019 and scaled 15 other peaks around the world before setting her sights on K2.
Sharing her experience on Instagram of summiting the second highest mountain of the world K2, she said, "We started our summit the attempt from camp 4 (7,900m) at 10pm. We planned on moving early to avoid traffic contrary to what we thought, most teams had started already.
"Then we kicked off with the trail of light leading the way. The team broke apart, and we each tried to navigate through the traffic as fast as possible. A tough ascent made it even harder and riskier. Through the shoulder, bottleneck, traverse and blue ice to the summit whilst cutting traffic."
She said more than five hours later, our team amazingly managed to reunite on the summit. "The best part was that we had the summit to ourselves and we finally descended back to the city," she said.
She thanked the team for the encouragement and support over the last 5 weeks. "We did it team. K2 you certainly live up to your reputation, what a savage," she said.
Pakistani climber Samina Baig and Iran's Afsaneh Hesamifard became the first women from their respective countries to achieve the same feat.
At 8,611 metres (28,251 feet) high, K2 was known as the 'Savage Mountain' for its difficult terrain and treacherous weather, making it one of the most difficult mountains to summit in the world.
Source: Tribune Pakistan
https://tribune.com.pk/story/2368341/nelly-attar-urges-pakistani-arab-women-to-follow-their-dreams
--------
Saudi female beekeeper wins gold medal in prestigious global honey competition
NADA HAMEED
July 28, 2022
JEDDAH: A female Saudi beekeeper is tasting sweet success on the international stage after winning a gold medal for her honey in a prestigious global competition.
Businesswoman Norah Shawi Al-Shimmari, from the Hail region, scooped the accolade for best-quality talah (acacia) honey in the world at the London Honey Awards.
It was the first time the enterprising apiarist had taken part in the awards scheme, and she told Arab News: "Winning was one of my biggest wishes for this year. I could not believe it at first, to win is a wonderful feeling.
"It gave me a great boost to keep the good work up and participate in more competitions."
The annual London Honey Awards competitions aim to inform honey-growers, producers, beekeepers, processors, and retailers, who distribute their standardized products legally, to preserve and ameliorate the quality of their branded items by promoting high-quality honey products in all aspects of its use and consumption.
Al-Shimmari is the only female honey farmer in Hail and is known in the Kingdom as "the beekeeper of the north."
She and two other award winners were recently honored for their achievements by Hail Deputy Gov. Prince Faisal bin Fahd bin Muqrin.
It was while exhibiting at an event in Riyadh that she was urged to enter the London Honey Awards. "I was highly encouraged by one of my beekeeper colleagues, and I am so grateful for him and his recommendation and all the help he offered."
Al-Shimmari runs her business from Al-Khita village, on the outskirts of the city of Hail, and moves her hives on a daily basis to different locations in the area to allow her bees access to colorful and nectar-rich athel, sidr, and acacia flowers.
Acacias are distinguished by their small, often fragrant yellow, and occasionally white, flowers, that have many pollen-producing stamens and a fuzzy appearance.
To win her award, Al-Shimmari's honey was laboratory checked for humidity levels, sucrose and glucose content, texture, and other factors. Samples were then evaluated by a jury panel, with each judge conducting an organoleptic taste analysis and marking the product based on criteria such as appearance, odor, and flavor.
Up against competitors from around the world including the UK, China, Saudi Arabia, and other Middle Eastern countries, she said: "The competition was huge, and my winning was a surprise and a shock.
"Beekeeping is about persistence and being eager to produce distinguished honey. However, my goals do not stop here. I would like to walk a steady journey; I am still dreaming of more success and achievements. This is just the beginning. I want to see my products everywhere worldwide."
Al-Shimmari has been in the honey trade for more than five years producing 11 different products, and she recently launched a skincare line made of organic honey and honeycomb materials.
Last year, she was the only woman among 33 beekeepers who took part in the Hail Honey Festival. The event helps apiarists market their products, while increasing investment opportunities.
Source: Arab News
https://www.arabnews.com/node/2131436/saudi-arabia
--------
Muslim Women Speak Out Against Abuse in the US; One in Four Women Are Victims of Intimate Partner Violence
By Zainab Iqbal
28 July 2022
Khadija* was making pancakes. She had just poured the batter into the skillet when she got a phone call from her friend.
"Are you ok?" was the first thing her friend asked her.
Khadija was confused. There was no salaam, no 'How are you?'
"Uh yes. Why?" she asked.
And that's when she found out about Sania Khan.
Khan was a 29-year-old South Asian Muslim photographer. Earlier this year, she had gotten a divorce from her husband and documented it all on TikTok.
In one of her videos, she wrote: "The first few months of any divorce journey is the darkest. It's full of anxiety, sleepless nights, wondering if you're doing the right thing, thinking Allah abandoned you, and feeling hopeless. You are not a failure because your marriage did not work out. Be gentle with your heart during this stage. Time does heal all things and it will get better."
But for Khan, things failed to get better. On 18 July, her ex-husband Raheel Ahmad drove 11 hours from Georgia to Chicago where Khan had an apartment. When his family found out he was missing, they called the police for a wellness check-in at Khan's house, where they believed he might have gone.
When the police arrived, they found both of them unresponsive with gunshot wounds to their heads. Both were dead. According to reports, Ahmad had shot and killed Khan before killing himself.
Not even 24 hours later, 20-year-old Alwiya Mohamed in Milwaukee was shot and killed by her husband who then killed himself. Their one-year-old son was home with them at the time.
Khajida would later find out that a couple of weeks before Khan's murder, Sadia Manzoor's estranged husband came to her apartment in Houston and shot and killed Manzoor, their four-year-old daughter and her mother before turning the gun on himself.
When Khadija found out, she had a panic attack. She hadn't had one of those in ages. Her breathing was restricted, she began to sweat and it felt like her heart was going to thump right out of her chest, she said. For her, it all felt too real.
Holding the culprits accountable
In 2015, Khadija escaped an abusive marriage. It had begun with small things: her husband wouldn't allow her to see her family, he would take the money she earned, he would sell her jewellery. And then he began to punch the walls.
If he was upset, he'd begin to yell at her until she backed up into a wall that he would punch. She remembers the first time it was near her left ear. Sometimes he'd throw stuff, but it wouldn't touch her. Not yet, at least. Until one day, he punched her. It was right in the stomach as she stood in the middle of their bedroom in their tiny apartment in New York.
From then on, his fists always landed on her body - her neck, her chest, her shoulders.
The night before she left him, she and her husband had had a fight. She told him he was cruel and the marriage was over. He punched her. But little did he know, it would be the last punch. She told him she wanted a divorce. He didn't want to give it to her. So early in the morning, she packed her bags and never looked back.
While Khadija thought she could find strength in those close to her, most of her family didn't believe her. Her ex-husband's family blamed her for their marital breakdown and the community was silent.
Khadija said she didn't go to the police because she was undocumented and afraid. She didn't go to court because she didn't have any money. She had her little sister though, who believed her and took her far away to a different state.
So years later, when she heard the story of Khan, Mohamed and Manzoor, her heart could not take it.
"It could have been me," she told Middle East Eye, her voice barely a whisper. "It could still be me."
Domestic violence is rife in the US. One in four women are victims of intimate partner violence, according to the National Intimate Partner and Sexual Violence Survey (NISVS). In the Muslim community, where there is the stigma that comes with both domestic violence and divorce, the rates are also high.
In a study of 190 Muslims seeking mental health counselling in Northern Virginia in 2011, 41 percent experienced domestic violence in the form of verbal, emotional, physical, and sexual abuse.
But despite these statistics, community members are often hesitant to become involved in domestic violence cases.
Is divorce worse than murder?
Denise Berte, the director of Peaceful Families Project, a national NGO focusing on and documenting domestic violence in Muslim communities, said someone recently asked her what she would have done if Khan had come into her office. To which she answered: "I would not have done anything differently."
Khan did everything right, she said. She left an abusive marriage. She got a divorce. She informed her family and friends. She moved 700 miles away. The problem was not her, she said. The problem was the man.
"We really need to look at what we are teaching Muslim men about what their role is and what is both accepted and not accepted in Islam. All of these were practising Muslim men. All of these were Muslim men who went out and got a firearm. All of these were men who not only killed their partners but killed themselves. We need to look at what these men are doing and prevent it," she said. "What are our mother-in-laws telling their sons? What is his sister saying?"
According to Berte, the community needs to come together and talk about why it seems like the idea of divorce is worse than the act of murder and suicide.
"This is not a religious tradition at all. This is the cultural manifestation and twisting of our religious traditions. There is this twisted narrative of what it means to be the head of your household. And it seems abuse and control are adapted within that role, which is not at all what our faith teaches."
She explained that the problem right now is not the victims, but the perpetrators.
"The victims are of a wide variety of experiences, of education, of action, of protection of all of these kinds of things," she said. "Our job is always to protect victims when they seek help. And we continue to do that in the best way that we can. But we do all of that and it doesn't make a difference."
"What we need to focus on is what is wrong with potential perpetrators. What is wrong with this role of male household leaders. Why does anyone think this is ok?"
Whose responsibility is it?
When it comes to men abusing their wives or, in cases like these, murdering them, the key is prevention, and prevention begins from a young age.
Mona Kafeel is the executive director at the Texas Muslim Women's Foundation, an organisation that caters to Muslim women (though they take women and men from all faiths) who have gone through domestic violence and other forms of abuse. The organisation offers crisis shelters, transitional housing, imam training, and provides community education.
When Kafeel heard about Khan, she said she sort of blamed herself for not doing enough. She said she wishes she had educated more people. That she could have met Khan somehow. That she could have done more. But the truth is, she realised, that it is not only up to her to create change - it's up to everyone in the community.
She explained that when there is a man in the community or in someone's family that has been accused of being an abuser, then he needs to be held accountable by whoever has heard about it.
"The responsibility can't be placed just on women. It's too big of a problem for all of us to ignore or say that only this group should take care of it. Each one of us has a responsibility to make a cultural change," she said. "It is up to the man's family to hold him responsible. How are we raising our boys? It is up to imams to be educated. It is up to us to raise awareness."
According to Ustadha Zainab bint Younus, a community activist based in Canada, preventing something horrific like this from happening is a multi-prong solution that requires every person in society to be involved. Which is one of the reasons why she, and other women from the Female Scholarship Network - a group of over 100 female Islamic scholars and teachers across the world - got together and wrote a statement to condemn the "disease of domestic violence that has permeated the Muslim ummah for far too long".
According to Younus, women's families should be the first source of support. Once they find out their daughter or sister is being abused, they need to come to their defence; they need to hold the abuser accountable.
Next, the community should be alerted to the abuse. Younus explained that the abuser should not be able to move on and remarry and hurt someone else. She said that imams and community leaders need to warn women and the families of men who have been involved in abuse.
She explained a hadith- a story of the Prophet Muhammad - when a woman came to him asking about who to marry between two men. The Prophet told her one was rich but his stick never left his shoulder, meaning he was abusive. And one was poor and had no wealth. He told her to marry another man altogether.
"A lot of people think 'You don't know if he'll do it again' or 'it's not our business; or 'what a man does in his marriage is his private business'. But that's absolutely not true," she said.
She said people often step back from warning other people about an abusive man because they fear they are committing a sin by backbiting. But that is also not true, she explained.
"There are actually several exceptions and one of the major exceptions is protecting other Muslims from the harm of another person. And that's especially important in matters of marriage. If you know a guy is abusive, and you know that a woman would like to marry him and she doesn't know that, then you are actually obliged to inform her and her family so that she doesn't go into that marriage."
It's the responsibility of the entire community, she said. Families need to protect their women and humans need to protect each other.
"There's a massive disconnect between what Islamic ethics calls for and unfortunately what our reality is, and it really requires all of us to work together to be able to stop these men from reoffending."
Source: Middle East Eye
https://www.middleeasteye.net/news/problem-men-domestic-violence-experts-and-muslim-survivors-speak-out
--------
An Egyptian Woman's Brutal Killing Sparks Renewed Hijab Debate
JULY 28, 2022
by Hany Ghoraba
Egyptians were shocked last month by the brutal stabbing murder of a college student, Naira Ashraf, in front of Mansoura University's gates. The killer was a spurned suitor, who has since been sentenced to death.
In response, some Islamist clerics made little comment about the nature of the attack, or why a man would feel that murder is an acceptable reaction to rejection. Instead, they blamed the victim, arguing that Ashraf was killed because she didn't wear a hijab. Islamists consider the hijab to be a requirement for Muslim women.
"The hijab […] aims to preserve [women's] feminine nature," read a 2017 statement from Egypt's Al Azhar, the world's most influential center on Sunni Islam.
Al Azhar's former Islamic Studies dean, Mabrouk Atteya, reiterated that view in the wake of Ashraf's murder. He called on women to wear heavy clothes and cover themselves to avoid getting killed or raped.
"For a girl that goes out of her house, she must be veiled and dressed loosely, your life is precious to you, if you want to go out, wear pants and do not show your hair, fear for your life," said Atteya.
After a backlash, Atteya said he was shutting down his social media accounts. But he was far from alone. Convicted terrorists, such as Gama'a Islamiyya's leader Assem Abdel-Maged, also attacked the murder victim and her supporters.
The National Council for Egyptian Women filed a complaint against Atteya with Egypt's attorney general.
"These words cannot be stated from a man of religion. What has been said is contempt for women and incitement to violence and murder against her, which is a crime punishable by law," said council leader Maya Morsi.
"How can a man in general, besides being a religious man, make such statements on the crime that claimed the victim of a Mansoura University student?" wrote Egyptian politician and former MP Mohamed Abu Hamed. "It is a cover that encourages and justifies committing crimes in all its forms against women."
Al Azhar didn't condemn Atteya's statements. Instead, it issued a statement saying that clerics should behave in a manner befitting Al Azhar clerics. It asked the public to distinguish between personal views of one of its clerics and the institution.
Recent Al Azhar pronouncements, however, show it hasn't moved away from its 2017 declaration about the hijab.
Before this month's El al-Adha celebrations, an Al Azhar affiliate issued a list of "prohibitions." Among them: women should not go out during the holiday without wearing a hijab.
"The hijab is a matter of life and death for Al Azhar. It was never about the 'piece of cloth' that is worn on the heads of Egyptian women, but it is a political statement by Islamists," Egyptian author and women's rights advocate Sherin Helal told the Investigative Project on Terrorism.
According to a 2017 study, 60 percent of Egyptian men admitted having harassed a women or girl in their lives.
Such cases are increasing, which led the parliament to issue a law last year increasing criminal penalties to up to four years in prison. Fines were increased ten-fold.
Even before this latest controversy, there were signs more Egyptian girls and women were choosing to remove their hijabs.
More recently, Egyptian social media reaction to the Ashraf killing, and the Islamist response, prompted trending hashtags on why the hijab must be removed, and support for opposing Al Azhar.
For years, Al Azhar has cast hijab wearing as mandatory for Muslim women. But defying the company line, Al Azhar scholar Saad El Din al-Helali confirmed that there is nothing in the Koran to justify a hijab mandate. He cited examples of women who didn't wear the hijab and made pilgrimages during the time of Islam's Prophet Muhammad.
But Helali seems to be an outlier.
The hijab has become a symbol of Islamism in Egypt. Islamist websites promote slogans such as, "My Hijab is my virtue." Some Muslim Brotherhood elements even tried to claim that "prices will stop increasing when women wear [the] hijab."
Despite being ousted officially from power, Islamists still wield significant social influence. Ashraf's murder, and the attempt to make it about her unveiled appearance, may be a turning point. But the odds of significant change are high.
"The Egyptian society is witnessing an intellectual movement, and moving towards a more progressive thought in face of the the outdated fatwas and lame religious discourse," Helal said, "and in my opinion, this movement will not allow any forms of archaic religious discourse to prevail."
Source: Algemeiner
https://www.algemeiner.com/2022/07/28/an-egyptian-womans-brutal-killing-sparks-renewed-hijab-debate/
--------
A new era of female leadership in Saudi business
NOELLE AL-JAWEINI & GIUSEPPE NETTI
July 29, 2022
In 2019, Alison Rose became the first woman appointed as CEO of Royal Bank of Scotland, one of the UK's biggest banks. Another development quickly followed this news: Jane Fraser would take the role of Citigroup CEO, becoming the first woman to head a major US bank.
This milestone was both a moment of celebration for the global financial and banking sector, and optimism for the young women inspired as they embark on their careers.
While there are many notable female pioneers in the sector, the stories of Alison Rose and Jane Fraser resonate strongly with women at all levels in finance. Their ascent also connects with women beyond banking because of the high visibility of these roles.
However, the appointments also remind us of something we already know too well; women are still underrepresented in the global financial sector. According to Deloitte research, the proportion of women in leadership roles within financial services firms is projected to grow to 28 percent by 2030, still well below parity.
In 2020, Bloomberg launched "A Fair Share," a gender equality initiative explicitly aimed at the Gulf's financial sector to correct this imbalance and increase women's mobility in finance. The program advocates for gender parity by engaging with various market participants and stakeholders.
The initiative recognizes that if the financial sector is to meet the rapidly evolving needs of the economy, it must draw on the capabilities, commitment, and creativity of both genders. The aim is to help build a robust pipeline of talent to ensure the industry can meet future opportunities and challenges.
Empowering women is not just about giving them jobs. It involves putting women in the front and center of priority sectors of the economy and affording them opportunities to make a difference and inspire others to follow.
Supported by ambitious plans to diversify Saudi Arabia's economy by unlocking new industries and providing new opportunities for its citizens, the Kingdom actively encourages women to take on leadership roles across various industries.
The Saudi Tadawul Group is an excellent example of an organizational culture that encourages all employees to strive for excellence regardless of gender.
Female employees represent 26 percent of the group's total employee base, with women holding many strategic roles, including the Chairperson Sarah Al-Suhaimi. In addition, mentorship and training initiatives inspire women at all stages of their careers, including a new partnership with Princess Nourah bint Abdulrahman University to provide training and employment support to female graduates.
This inclusive culture is steadily being adopted across the Kingdom's listed companies. As a market and a convener of many entities, the Saudi Exchange actively encourages listed companies to empower female employees and increase their representation across all levels.
The stock exchange was the first Saudi company to sign the UN's Women's Empowerment Principles, which helped ensure women play a leading role in capital markets and publicly listed companies.
In parallel, throughout the Gulf region, the finance sector is changing, and many of the developments are spearheaded by young women.
These women are starting conversations and embarking on new opportunities that could go a long way to address the challenges of gender inequality and accelerate inclusive and sustainable growth across the financial system in the region and beyond.
• Noelle Al-Jaweini is Chief of Cash Markets at Saudi Exchange, and A Fair Share Advisory Board Member.
• Giuseppe Netti is Regional Head of Middle East and Africa – Financial Products, Bloomberg L.P. and chair of A Fair Share Advisory Board.
Source: Arab News
https://www.arabnews.com/node/2131711
--------
URL: https://newageislam.com/islam-women-feminism/pakistan-hindu-dsp-manisha-ropeta/d/127600
New Age Islam Islam Online, Islamic Website, African Muslim News, Arab World News, South Asia News, Indian Muslim News, World Muslim News, Women in Islam, Islamic Feminism, Arab Women, Women In Arab, Islamophobia in America, Muslim Women in West, Islam Women and Feminism