New Age Islam News Bureau
15 May 2019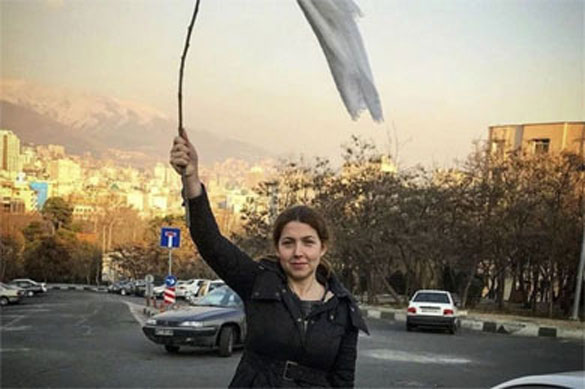 An Iranian policewoman (L) warns a young woman about her clothing and hair during a crackdown to enforce Islamic dress code in Tehran 22 April 2007. Iran has issued more than a thousand warnings and arrested dozens in a new drive aimed at forcing women whose dress is deemed inappropriate to adhere to Islamic dress rules, officials said today. The nationwide drive -- an annual pre-summer crackdown given greater prominence this year -- is aimed primarily at women whose coats are seen as too tight, trousers excessively short or hejabs (headscarves) overly loose. (AFP/-)
------
• 2 Pakistani Muslim Women, Living In India for 24 Years, Get Indian Citizenship; Thank PM Modi
• MoU between UN Women and Women Parliamentary Caucus Signed For Legislation to End Child Marriages in Khyber Pakhtunkhwa
• Maid in the Middle East: Bangladeshi Domestic Workers Recall Ramadan Abroad
• Students Clash over Hijab at Tehran University
• French Woman Placed Under Investigation on Terrorism Charges: Report
Compiled by New Age Islam News Bureau
URL: https://www.newageislam.com/islam-women-feminism/women-malaysia-reprimanded-wearing-inappropriate/d/118605
--------
Women in M'sia Reprimanded For Wearing 'Inappropriate Clothing' During Ramadan
May 15, 2019
The holy month of Ramadan started last Sunday (May 5). Since then, 39 women have been reprimanded for "dressing inappropriately" according to several agencies.
The Kelantan's Islamic Affairs and Religious Department (JAHEAIK), Kota Baru Municipal Council (MPKB), state Welfare Department and the Malaysian police conducted an operation on May 13 reprimanding women for wearing "inappropriate clothing" and "sexy attire" in public.
The women who were singled out were then instructed to attend counselling sessions and warned not to repeat their clothing mistake, according to a report by the Malay Mail.
Responding to the sartorial notice, the Sisters in Islam (SIS) released a statement saying, "Not only does this practice humiliate and degrade the value of women, but the compulsive need to control what women wear also implies that she is mentally, physically and spiritually defective and a danger to the moral order of society."
Additionally, the Sisters in Islam argued that the JAHEAIK is biased against women. The SIS questioned why men who failed to maintain their modesty by lowering their gaze were not reprimanded by the JAHEAIK.
"This discrimination unfairly suggests that women are exclusively to be blamed for social and moral ills within the community."
The Sisters in Islam also condemned the widespread shaming of women on social media for their clothing choices. Netizens have criticised Malay Muslim female celebrities and politicians for dressing inappropriately or for not wearing the tudung.
Women's rights activist Ivy Josiah added that policing women's choice of clothing is an "unnecessary obsession" that derails from the more important work of fighting and preventing violence against women and children.
Sisters in Islam communications manager Majidah Hashim stated that "In a country that embraces modernity like Malaysia, it is the responsibility of the government to ensure that the rights of all its citizens to justice, equality, freedom and dignity be upheld at all times and not be trampled by states' overzealousness in policing what women choose to wear."/TISG
http://theindependent.sg/women-in-msia-reprimanded-for-wearing-inappropriate-clothing-during-ramadan/
--------
2 Pakistani Muslim Women, Living In India for 24 Years, Get Indian Citizenship; Thank PM Modi
May 14, 2019
After 24 years of struggle, Nida and Mahrukh Naseem, born in Pakistan's Karachi and living in India since 1995, were finally granted Indian citizenship on March 23, 2019. The two women - Nida and Mahrukh Naseem - on Tuesday thanked Prime Minister Narendra Modi for granting them Indian citizenship and said they will never forget the date.
"I want to thank PM Modi. When we went to the PMO, the people heard us and asked us to go back home and that it was now their responsibility to get them Indian citizenship," Nida Naseem said.
Nida and Mahrukh Naseem's parents got married in 1989. Mahrukh was born in 1991 and Nida was born in 1995. Their father is an Indian citizen, while their mother was a Pakistani citizen. Their mother was granted Indian citizenship in 2007. However, the two women, who have been living in India for the last 24 years, continued to face problems.
Their father, Naseem Akhtar, made a number of appeals and sent applications for 24 years but did not get any help. When PM Modi opened a 'mini PMO' in Varanasi after winning the Lok Sabha seat in 2014, Naseem Akhtar appealed there for help.
In 2019, the government finally announced that the two women will be granted Indian citizenship. Both the sisters have thanked PM Narendra Modi for his help.
Speaking to a media channel, Mahrukh Naseem said, "Since my mother was a Pakistani, we faced issues related to our nationality. PM Modi won from Varanasi and he heard our matter really well. He did not ask us to come another time but took instant action. We finally received our citizenship certificate on March 23."
Nida Naseem said, "I never felt like an outsider here. But any legal work would require us to write our nationality and we had to write 'Pakistani'. It was really problematic for me in the sense that I was living in India, I studied here but my nationality was Pakistani. After PM Modi came to power, we had a hope that our work will be done. We cannot forget March 23. We were so happy."
In April, PM Modi's personal intervention had led to the rescue of an Indian Muslim woman who had been held captive and tortured in Somalia by her in-laws since July 2018. The 31-year-old woman, Afreen Begum, was rescued from her captivity at Mogadishu in Somalia on March 28.
https://www.indiatoday.in/india/story/two-karachi-women-living-in-india-for-24-years-get-indian-citizenship-thank-pm-modi-1524946-2019-05-14
--------
MoU between UN Women and Women Parliamentary Caucus Signed For Legislation to End Child Marriages in Khyber Pakhtunkhwa
Kalbe Ali
May 15, 2019
ISLAMABAD: The UN Women and Women Parliamentary Caucus (WPC) Khyber Pakhtunkhwa Assembly has signed an MoU to raise awareness and policy advocacy for legislation to end child marriages and women trafficking in the province, including the new districts of former Fata.
Signed by UN Women Pakistan Country Representative Jamshed Kazi and WPC Chairperson Maliha Asgher Ali Khan, the MoU focuses on joint efforts for promulgation and implementation of pro-women laws with the first and foremost efforts on awareness-raising and advocacy for legislations.
The UN Women will support WPC on gender research, drafting gender sensitive laws, developing position papers, resolutions, declarations and reports.
Besides, both the bodies will work together for capacity building of local government representatives, WPC members, parliamentarians and political parties to understand better the challenges faced to advance gender equality and undertake concerted efforts to overcome those challenges.
The women MPAs lauded the beginning of joint efforts aimed at upgrading the status of women in KP.
"The partnership will help us build capacities of various government entities and the community in general and advance gender equality agenda of the provincial government," said Maliha Khan, a PTI MPA.
Jamshed Kazi said UN Women and WPC would be drafting and promoting gender sensitive laws for KP.
"The Child Marriage Restraint Act of KP is an important legislation that we will prioritise to jointly review and advocate for child marriage remains prevalent in Pakistan and is a grave violation of fundamental human rights," he said.
He added that research indicated that 21 per cent of girls were married before the age of 18 and three per cent before 15. These important facts have made this a key direction for us to focus on the areas of human rights in Pakistan.
"Our vision and mission is ideally aligned to together undertake important initiatives to improve the situation of women and girls' rights and empowerment in KP," he said.
UN Women has worked with WPC in the past to finalise the KP Women Empowerment Policy Framework and mainstream gender concerns in two draft bills of Internal Human Trafficking Bill and Home-Based Workers Bill.
The UN Women is the United Nations organisation dedicated to gender equality and the empowerment of women.
It supports the federal and provincial governments to attain gender equality and works closely with the government, civil society and other stakeholders to design laws, policies, programmes and frameworks needed to achieve women's empowerment and to protect the social, economical and legal rights of women, girls and excluded groups.
The Women Parliamentary Caucus- KP has been established with an objective to strengthen the voice of women legislators in the provincial assembly through a united platform and put in joint efforts for debate and legislation on pro-women laws in the provincial assembly.
Other members of the WPC-KP are Ayesha Bano, general secretary, Dr Sumaira Shams and Humera Khatoon, members.
https://www.dawn.com/news/1482269/mou-signed-for-legislation-to-end-child-marriages-in-kp
--------
Maid in the Middle East: Bangladeshi Domestic Workers Recall Ramadan Abroad
May 14, 2019
DHAKA: Alo Begum was aged just 16 when she boarded a plane to begin a new life in Lebanon caring for a woman 44 years her senior.
The Bangladeshi teenager's family had hit upon hard times and a move abroad offered better job prospects. But rather than being a hardship, Begum's new career became a labor of love.
She forged an almost instant bond with her new Lebanese employer, Shahira Lakij, which lasted through eight Ramadans and created memories she will never forget.
Lakij was suffering from cancer, but the illness didn't stop her from taking it in turns with Begum to learn about each other's customs and traditions. And it was their mutual love for a staple Bangladeshi breakfast treat – deep-fried puff pastries – that cemented their relationship.
"Among the Bangle dishes, Shahira liked the mughlai paratha the most. It's a special preparation of a savory pastry which is made with a combination of flour and eggs. I taught her how to cook that," Begum, now 25, told Arab News, as she recalled some of the things she missed most about Ramadan spent in Lebanon.
Around 500,000 Bangladeshi women are currently employed as domestic workers in the Middle East, with the South Asian country being one of the biggest sources for migrant workers around the world.
For Begum, her first experience of working in a foreign country was daunting. She started her employment in 2010 and said to begin with it was an uphill task, each day being a learning experience.
"Everything was new for me – whether it was kitchen appliances, washroom fittings or home cleaning materials ... but because of Shahira, I got acquainted with the new form of urban life. She was so kind," said Begum, from the city of Barishal in south-central Bangladesh, 246 km from the capital Dhaka.
Begum was the youngest of three siblings. Her father was a farmer and her mother a housewife. She decided to move to Lebanon when the family's financial situation took a turn for the worse – a decision she would never regret.
"I spent around eight years with the (Shahira's) family. They were so good that Shahira would celebrate my birthday with cake, chocolate and other gifts. I still remember the day she died – it was one day before my birthday," said Begum.
She tries to keep that bond alive by cooking her favorite Lebanese dishes for her own family in Bangladesh.
"Shahira was physically weak from the cancer and could not stand for a long time in the kitchen. She would guide me step by step and that's how I learnt to make Lebanese dishes such as kusa, orarish, kassi bil zeish, kassi bil samad, shistao, lubi bil lakhme, and zuenih bil foron," she said, adding that kassi bil samad was now a family favorite, a fish which her husband loved to eat.
Drawing comparisons to the Ramadan spent in Lebanon with those observed in Bangladesh, Begum said there were several cultural differences, but one stood out. "Arabs love to get together after the Taraweeh prayer, and it continues until suhoor in the early morning. But in Bangladesh people usually go to bed around 10 p.m.," she said.
Begum returned home more than a year ago after Lakij died, but said she still misses her old friend and keeps in touch with her family.
"Since I got married last year and started my own family, I can't go to Lebanon right now. Otherwise, I would love to go back once again," Begum added.
Another Bangladeshi housemaid, Lucky Akter, 24, recently returned from Jordan after two years caring for two children from a family based in the city of Akaba. Akter's employer, Ehab Maita, was a civil engineer, while his wife Habil was a police officer.
"The family's youngest son, Sunny, was born just six months after I arrived. Laila, their daughter, was only three then," Akter told Arab News. "Sunny was so attached to me that he called me mom. Habil calls me almost every day and I talk with the kids. They used to cry on the phone and asked me to go back again."
Although another Bangladeshi housemaid did the cooking, Akter learned to make a number of Jordanian dishes, such as magmura and lithue, and occasionally served Bangladeshi cuisine for the Maita family.
"I prepared lentil and tomato sauce for them in a Bangladeshi style. They liked it so much that Habil learnt the cooking process from me," added Akter. "I miss the kids and the employer family a lot. They loved me and Bangladeshi culture.
"After returning home I sent them several videos of my area, which they liked, and they have promised to visit Bangladesh when the opportunity arises."
Akter's husband Jakir Moral, 26, will soon be the one leaving home to work abroad. He goes to Dubai this month leaving Akter behind in Bangladesh to care for their 7-year-old daughter.
Domestic worker, Jesmin Islam, has been back in Bangladesh for a year after spending two years working in Riyadh.
The 35-year-old, from Madaripur district, which is around 200 km from Dhaka, was employed by Tarek Rahman and his wife Huda as a domestic aid.
"In the beginning, it was not easy to understand the employer's language and culture, but after several months I managed to learn the language and preparations of Arabian food with the help of the employer's wife," Islam told Arab News.
Within a short time, she was able to cook Arabian dishes such as sarba, zerish, khyasap and oragaina. "I liked the zerish most during my days in Saudi Arabia and even after returning home I prepared this food several times for my children," added Islam.
She said zerish tasted similar to a Bangladeshi dessert called payesh which is made of rice, milk and sugar. Zerish is also prepared with rice and milk, and a kind of milk shake.
The Rahman family had three daughters and one son, and Islam developed a good relationship with the eldest daughter Ruba, 20. Islam is a widow with two school-aged children and has hopes of working for the Rahman family again.
Bangladeshis have been working as housemaids in the Middle East since 2002, and according to Shameem Ahmed Chowdhury Noman, secretary general of the Bangladesh Association of International Recruiting Agencies (BAIRA), around 500,000 women from the nation are currently employed as domestic workers in Middle Eastern countries. In all, around 2 million Bangladeshi migrants are employed in the region, he said.
Migrant workers provide the second-largest revenue stream for Bangladesh after garment exporting, last year pumping an estimated $13.5 billion into the economy.
http://www.arabnews.com/node/1496981/middle-east
--------
Students Clash over Hijab at Tehran University
May 14, 2019
Clashes erupted between Iranian students at Tehran University on Monday during a demonstration against the enforcement of wearing hijab or Islamic veil, media reports said.
"A number of students gathered... claiming that morality police and security forces had entered the university" to warn students against failing to observe compulsory hijab laws, the semi-official ISNA news agency reported.
The agency reported that a vice president in charge of cultural affairs at the university had attempted to speak to the students but was "physically prevented" from doing so.
The vice president, Majid Sarsangi, denied any police or security forces had entered the university grounds.
But he said "two groups of students with opposing thoughts and ideals unfortunately clashed with each other while we tried to calm down the enraged students."
ISNA published parts of a statement issued by the students protesting enforcement methods that said female students faced "severe checks when entering the university".
"The imposition of one type of attire on students... is a direct violation of their human rights," it added.
Fars news agency, which is close to ultra-conservatives, said scuffles broke out between the protesters and other students who supported the enforcement of hijab when demonstrators began marching in the grounds and shouting what it called "law-breaking slogans".
They "were shouting slogans against attire laws and observance of hijab," Ali Tolouie, the head of Tehran University Student Basij Organisation, told Fars, adding the protesters' statement "shows they are against Islam itself".
There were no reports of any casualties or arrests.
Following the 1979 Islamic revolution compulsory hijab was enforced throughout Iran with women forced to dress modestly and cover themselves with the Islamic veil.
Every year with the advent of the holy Islamic month of Ramadan authorities strictly enforce the mandatory Islamic dress code.
There have been a number of protests, mostly by women over the years, with the latest major protests being the "Dokhtaran-e enghelab", or the Girls of Revolution Street.
That particular protest began after an Iranian woman stood on a pillar box on Enghelab Avenue in December 2017 without the mandatory long coat and raised her white veil on a stick, an act that was copied by women in different cities in spite of arrests that followed.
https://www.thejakartapost.com/news/2019/05/14/students-clash-over-hijab-at-tehran-university.html
--------
French Woman Placed Under Investigation on Terrorism Charges: Report
2019-05-13
PARIS, May 13 (Xinhua) -- A French woman was put under formal investigation by magistrates last week on charges of belonging to a terrorist cell, local news channel reported on Monday.
A female national from Moroccan origin had expressed, on social media, her willingness to carry out a suicide attack and had been on a list of volunteers who wanted to act, new channel BFMTV reported, citing a judicial source.
The 27-year-old suspect was arrested on May 6 after being expelled from Turkey and was convicted for "criminal conspiracy in relation to a terrorist company", it added.
She joined fighters in the conflict zones in Syria in 2014 and surrendered to Turkish authorities in October 2018.
A wave of attacks, claimed by the Islamic State, had broken the calm several times in France. The bloodiest terror attack took place in Paris in November 2015, when a series of explosions and shootings left 130 people dead.
http://www.xinhuanet.com/english/2019-05/13/c_138055283.htm
--------
URL: https://www.newageislam.com/islam-women-feminism/women-malaysia-reprimanded-wearing-inappropriate/d/118605
New Age Islam, Islam Online, Islamic Website, African Muslim News, Arab World News, South Asia News, Indian Muslim News, World Muslim News, Women in Islam, Islamic Feminism, Arab Women, Women In Arab, Islamophobia in America, Muslim Women in West, Islam Women and Feminism