New Age Islam News Bureau
5 Jun 2016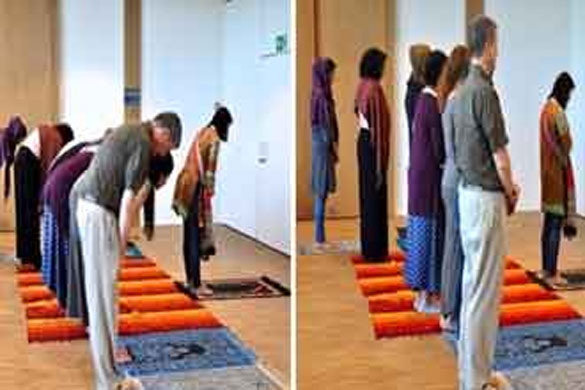 Photo: The Friday prayer led by a woman at the House of Religions in Bern on May 27, 2016. (MEMRI/Facebook)
-----------
• ISIS Publicly Burn Alive 19 Kurdish Women for Rejecting Sex Slavery – Report
• Bangladesh Top Cop's Wife Shot Dead In Suspected Militant Attack
• Triple Talaq Raked Up To Defame Islam, Says Muslim Board Member
• Designers Celebrate with Their Arab Clients The Start Of Ramadan Month… With A Twist
Compiled by New Age Islam News Bureau
URL: https://newageislam.com/islam-women-feminism/woman-leads-friday-prayers-swiss/d/107536
-----------
Woman Leads Friday Prayers in Swiss Mosque, Sparks Uproar
By Times of Israel staff June 4, 2016
The incident has brought into focus the issue of women's religious rights within Islamic society.
According to a report by the Middle East Media Research Institute (MEMRI), the May 27 Friday prayers at the House of Religions in Bern were led by Halima Gosai Hussain, the British chairperson of the Inclusive Mosque Initiative (IMI), preceded by a call to prayer also performed by a woman.
The images of the mixed prayer service were posted on Facebook and Twitter late last month by Elham Manea, a Yemeni liberal activist residing in Switzerland. Manea herself delivered the Friday sermon.
According to MEMRI, in her sermon, Manea "called upon Muslim men and women to reject the claims of Muslim clerics that a woman may not serve as prayer leader and that men and women may not pray side by side in mosques," and "urged women not to wait passively for change to come but to demand it and bring it about themselves."
"The time has come to challenge our assumptions about women's role in a house of God and in society," Manea said in her sermon, according to a MEMRI translation.
"Where, how, and when a woman is asked to pray mirror her social status in her community. A mosque in which you only see men praying is a mirror of a patriarchal society where men control the public space… Therefore, a woman demanding to pray in the same space where men are praying is not demanding something trivial. She is demanding a change in that social order, and of her place in it," she said.
After the online backlash, Manea wrote an article in which she asked what all the fuss was about.
"What have we done? I ask you, both men and women, by Allah, where do all these anger, curses, threats and hurtful words come from? Just what have we done?" she wrote.
By Allah, I love you even though you are cursing me, because I understand that your responses are motivated by [your] fear for our religion. You think that we want to harm our religion. Yes, this is our religion just as it is yours. And that is why I ask you to listen to me, without fear and without doubting my intentions."
Manea criticized the more strict interpretation of Islam, Wahhabism, as practiced in Saudi Arabia, which seems to dominate among followers of the Muslim faith in recent years, and blamed it for the crackdown on women's rights and women's place in Islam, and for the exponentially less tolerant approach to religion, culture, sexuality and so on.
"In the 1970s we [Muslims] used to do this in Malaysia, Mali and Switzerland. We used to pray together. But the wave of religious extremism that reached us from the heart of the [Saudi] Al-Najd region wiped out our religious practices and the role music played in them," she said.
"This is extremism that tells us that a woman is not a human being, but is [the embodiment of] shameful sexuality, merchandise [to be used] for pleasure, and who may be married off at the age of nine. This is extremism that tells us that music, our cultural heritage, the oud and its spirituality, are evil things and part of devil-worship. This is extremism that tells us to hate, exclude [the other] and oppose pluralism in faith. This is an extremism that has turned the archaic approach of religious scholars into an idol that we worship instead of Allah," she concluded.
timesofisrael.com/woman-leads-friday-prayers-in-swiss-mosque-sparks-uproar/
-------
ISIS Publicly Burn Alive 19 Kurdish Women for Rejecting Sex Slavery – Report
5 Jun, 2016 11:24
Fighters of the terrorist group Islamic State have publicly executed 19 Kurdish women, local activists in Mosul reported. They were burned alive in iron cages in one of the city squares, sources told Kurdish ARA News agency.
The women, who belonged to the Kurdish Yezidi minority, were executed on Thursday, according to witnesses in Mosul, the Iraqi stronghold of IS (formerly known as ISIS).
"They were punished for refusing to have sex with IS militants," local media activist Abdullah al-Malla told ARA News.
Hundreds of local residents witnessed the brutal execution, but could not do anything about it, he added.
IS, an Iraq, Syria and Libya-based terrorist group, adheres to what it believes to be a pure version of Islam. They justify their numerous crimes, including cruel forms of capital punishment, by the tenets of the religion.
Sunni Muslims living in territories under their control are forced to live by IS rules or be expelled or killed. Ethnic and religious minorities are being harshly persecuted. The Yezidis, an ethnic group that has its own synthetic religion and are considered devil-worshipers by extremist Muslims, are among those suffering under IS.
Thousands of Kurdish women captured by IS fighters were forced to become sex slaves to the militants. Those who managed to escape or were freed said that the women are raped, traded around, often denied food or rest and otherwise mistreated. IS leadership produced manuals for their men on what they should and should not be doing to their captives.
rt.com/news/345467-isis-burns-kurdish-women/
-------
Bangladesh Top Cop's Wife Shot Dead In Suspected Militant Attack
PTI | Jun 5, 2016, 12.51 PM IST
DHAKA: The wife of a top Bangladeshi police officer who carried out several raids against militants was stabbed and shot dead today by three bike-borne assailants in front of her minor son in the port city of Chittagong, the latest attack by suspected extremists, police said.
Mahmuda Aktar, 33, was targeted by the gunmen at around 6:45 AM (local time) while she was on her way to drop her first-grader son to a nearby bus stop for school in Chittagong, about 275 kilometres from here.
She was the wife of Superintendent of Police Babul Aktar, now posted at the police headquarters in Dhaka.
Babul has led several raids on militant hideouts and investigated several terror-related cases as the additional deputy commissioner with the Detective Branch in Chittagong.
Babul, who was promoted in April, played a key role in nabbing top militants and busting their hideouts in the southern coastal district.
It was his investigations which led to the busting of a hideout of banned outfit Jama'atul Mujahideen Bangladesh (JMB) and arrest of its military wing chief Mohamed Javed in October last year.
"Since Babul Aktar was in counter-terrorism, we suspect that militants are behind the murder of his wife," Detective Branch Deputy Commissioner Moktar Ahmed was quoted by bdnews24 as saying.
Quoting witnesses, Chittagong metro police's Deputy Commissioner Paritosh Ghose said that three bike-borne attackers ambushed Mahmuda in front of her six-year-old son.
The boy said that the attackers first took him away and then one of them stabbed his mother with a knife before shooting her.
Police said that Mahmuda was shot in the head.
"We found three live ammunition and a used casing on the spot. The bullet hit her on the left side of the head," said Police Bureau of Investigation's Additional Superintendent Bashir Ahmed. She is survived by a four-year-old daughter.
There have been systematic assaults in Bangladesh in recent months specially targeting minorities, secular bloggers, intellectuals and foreigners.
In the recent attacks, a liberal professor was brutally hacked to death in April by machete-wielding ISIS militants who slit his throat near his home in Rajshahi city.
timesofindia.indiatimes.com/world/south-asia/Bangladesh-top-cops-wife-shot-dead-in-suspected-militant-attack/articleshow/52601289.cms
-------
Triple Talaq Raked Up To Defame Islam, Says Muslim Board Member
HT Correspondent, Hindustan Times, Lucknow | Updated: Jun 04, 2016
An executive member of the All India Muslim Personal Law Board (AIMPLB) on Saturday claimed that triple talaq was not an issue for Muslim women and that it was being raked up just to defame Islam.
Addressing an all-Muslim women conference in Lucknow, Dr Asma Zehra said, "Islam has given equal rights to women and men. Muslims are happy with their personal laws."
Commenting on a section of Muslim women who were raising their voice against triple talaq, Zehra said, "Such women are not aware of personal laws of Muslims and they have nothing to do with Islam. These disgruntled elements are defaming Islam.h She said rather than raking up this issue, people should talk about the evils of female foeticide."
Terming the surveys in favour of abolishing triple talaq dubious, Zehra said, "Divorce is a problem in big cities and metros and is prominent among younger generation. This is not the case in small towns."
Zehra also spoke of atrocities on women of other religions, without naming their faith.
Women belonging to other religions are being burnt and subjected to humiliation just for dowry, but this does not happen in the Muslim community. In Islam, women have equal rights just like men,she added. On the controversy about triple talaq messages being sent by WhatsApp and SMSes, Zehra said, "At least the woman has a proof in the form of WhatsApp message or an SMS that she has been divorced. This proof will help her in charting out a new course in life. But in other religions, women are just being abandoned by their husbands. For such women, there is no help forthcoming."
On the question of triple talaq being abolished in some Islamic countries, including Pakistan and Bangladesh, Zehra said,"We are not concerned about what is happening in other countries. India is a secular and democratic country and the constitution grants equal freedom to all the religions." She said that Muslim women would not tolerate any change in Muslim personal laws. Maulana Khalid Rasheed Farangi Mahli, the Imam of Eidgah, said, "Triple talaq in one go is justified in Islam."
hindustantimes.com/india-news/triple-talaq-raked-up-to-defame-islam-says-muslim-board-member/story-HTaf8fRDUTVf2pt8kvoa5O.html
-------
Designers Celebrate with Their Arab Clients The Start Of Ramadan Month… With A Twist
Jamilah Halfishi
London: Several Western designer houses are clashing in their trials to attract the Arab client before the start of the Ramadan month, but fail to understand Arab's shopping needs, and only look at these clients' capacities to spend large amounts of money on daring accessories and expensive products.
In Great Britain and every year during this period, designers get prepared for Arab clients by offering new products and getting rid of the old, before their arrival in the summer.
There are some designer houses that understand, or at least understand the culture of their Arab client whose need for shopping increases during the month of Ramadan due to women's need for elegant clothes and accessories when attending all the Iftar invitations and the family entertainment evenings.
These houses are now targeting the client in his own ground, by offering a unique collection specially designed for the month of Ramadan. Such attempts witness an acceptable success, because the designs often respect the eastern milieu and the Ramadan spirit, and at the same time, offer women new choices, instead of providing designs that only look at financial profits.
In other terms, many Arab women saw nothing different in the abayas designed by Dolce & Gabbana from the ones already made by Arab designers. The mistake of Dolce & Gabbana was their interest in iconic pieces with deep cultural meanings, that could only be understood by people living in this region or orientalists who had spend years studying Arab culture.
Such mistake drove Burberry fashion house to take a totally different policy by using a more simple language in dealing with the Arab client. The British fashion house decided to celebrate the opening of its immense shop in the U.A.E. last April with its traditional iconic trench-coat, by photographing leading Arab figures, wearing it, each in its own way.
Burberry also offered a unique collection ahead of the month of Ramadan, without referring to the abayas or caftans to reach Arab women's wardrobe, but, instead, it kept its style as a British designer brand by respecting the Arab environment and the spiritual milieu of Ramadan.
Burberry Creative Director Christopher Bailey suggested a collection of long evening dresses, in addition to silk scarfs, stone embellished sandals, and expensive leather handbags, all designed in London and produced in Italy in small quantities.
In the month of Ramadan, Burberry and other designer houses discovered the increase of selling in the region. Therefore, some of these brands knew how to please their clients by offering modern styles that could be appreciated by Arab women rather than using traditional Arab pieces to reach Arab clients' pockets.
english.aawsat.com/2016/06/article55351961/designers-celebrate-arab-clients-start-ramadan-month-twist
URL: https://newageislam.com/islam-women-feminism/woman-leads-friday-prayers-swiss/d/107536
New Age Islam, Islam Online, Islamic Website, African Muslim News, Arab World News, South Asia News, Indian Muslim News, World Muslim News, Womens in Islam, Islamic Feminism, Arab Women, Womens In Arab, Islamphobia in America, Muslim Women in West, Islam Women and Feminism