New Age Islam News Bureau
21 Jul 2012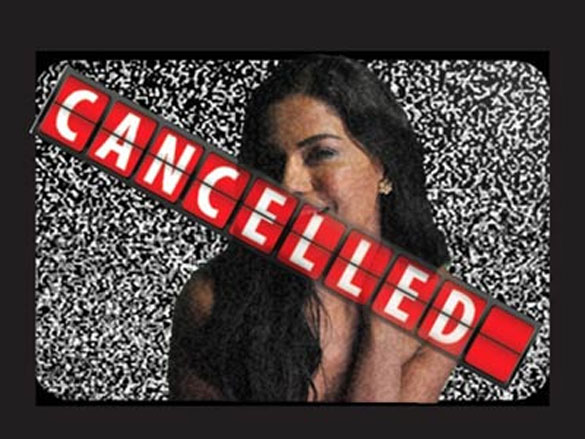 • Veena Malik's Ramazan Show Called off after Public Outrage
• British Pakistani Mother Denies Murdering Daughter for "Defying Her Parents'
• Terror Grips Brave Woman, Who Sent Her Unholy Cleric Suitor Behind Bars
• After 18 Years, A Woman Judge Takes Oath in Peshawar HC
• Iran Based Human Rights Defender Suffers Added Prison Time
• British Pakistani Woman Jailed For 8 Years over Bomb Plot
• Afghan Girls Given English and Computer Lessons
• Afghanistan Girl Gets a New Jaw, a New Life
• Malaysia Looking To End "Baby Dumping" In Sabah
• Asma Opposes Frequent Use of Contempt Law
• For Indonesian Graphology Expert, Handwriting Offers Window to the Soul
• Iranian female karate fighter snatches gold at AFK tourney
• Iranian women come to Boulder for climbing and cultural exchange
• Palestinian-American Belly Dancer Survives First SYTYCD Votes
Compiled by New Age Islam News Bureau
Photo: Veena Malik's Ramazan show called off after public outrage
URL: https://newageislam.com/islam-women-feminism/veena-malik's-ramazan-show-called/d/8001
-----------
Veena Malik's Ramazan show called off after public outrage
July 20, 2012
The idea of the controversial Veena Malik repenting for her sins on national television did not settle well with the awaam. From internet petitions calling for the Pakistan Electronic Media Regulatory Authority (Pemra) to ban the show, which had been scheduled to air during the holy month, to comments on social media forums, the anger was hot and unrestricted.
The furor and resentment around the show finally made the production team rethink their decision to air it. "Hero TV is for the awaam. If the awaam does not want to see Veena Malik on this Ramazan show, then we will cancel it," said a member of the team, adding that they respect the wishes of the populace.
A YouTube user by the name Hamza Imran uploaded a video of his reaction to Veena's Ramazan promo. Cursing heavily, he appeals to viewers:
"Can you imagine Veena Malik, who not so long ago stripped half naked with an ISI tattoo on her? She hasn't got any right to be entering Pakistan, let alone being on a TV show that has such religion significance," he says, holding his head, clearly appalled. He also adds that he has uploaded his video to "spread the message" to the show's producers for its cancellation. "I'm not just going to be Facebooking or liking things online because that's not going to make a difference. I want people to email Hero TV and send them hate messages and ask them to stop this. She's a disgrace of a person. How dare she?"
Amidst the hue and cry around this controversial show, a few questions come to light. If Hero TV was "heroic" enough to take such an audacious stance (by inviting the notorious Veena on their sets) in the first place, why didn't they simply stick to their guns and see it through? Some commentors suggest that it is a publicity ploy to garner attention for a channel that receives none at all. "What depths will the media plunge to next in the ratings game? Is there any hope for an informed, progressive and responsible media?" asks one irked commenter on The Express Tribune website.
A Pemra official told us that he was just as baffled. "What do media owners want?" he asked, requesting anonymity. "Could they not find anyone else? If they want ratings, can't they get scholars with good reputations instead of fuelling extremism by bringing such controversial figures on TV?" he asked, adding that Veena and other televangelists are "hypocrites".
http://tribune.com.pk/story/410977/veena-maliks-ramazan-show-called-off-after-public-outrage/
-----------
British Pakistani Mother Denies Murdering Daughter for "Defying Her Parents'
By Asif Mehmood
21 July 2012
CHESTER: A British Pakistani mother accused of suffocating to death her daughter, Shafilea Ahmed, for "defying her parents' strict Pakistani culture" has denied playing any part in the killing.
Farzana, 49, said her husband Iftikhar, who allegedly held a plastic bag on the 17-year-old's mouth until she stopped breathing, had been violent towards their daughter in the past. She had assured her eldest daughter that there was no arranged wedding waiting for her in Pakistan, Farzana told a jury at Chester Crown Court yesterday.
She offered her evidence in her native Punjabi, which was translated for the court by an interpreter. She told the jury about how she was brought up in a village in northeastern Pakistan until she was married by arrangement to Iftikhar, now 52, her first cousin, and that it was her husband who decided to move to Britain.
She insisted that it was her husband, a taxi driver, who made all decisions in the household matters – contradicting the evidence from her youngest daughter earlier this week that it was her mother who was in control.
Farzana and her husband both deny murdering Shafilea at the family home in Warrington, Cheshire, on September 11, 2003. They allegedly killed their daughter because they believed the sixth form college student had ashamed the family by hankering after a western lifestyle and refusing an arranged marriage with a distant relative.
However, Farzana changed her defence statement during the trial to suggest that she had come downstairs that night to see her husband beating Shafilea.
In the witness box, she said she knew little about her daughter knowing any boys beyond one incident where her husband intercepted a phone call from a male on Shafilea's phone. She said he grabbed the phone and asked "Who are you?" Then, she said, her husband slapped Shafilea twice. Mukhtar Hussain, QC, for her defence, asked, "What effect did that have on Shafilea?" "Shafilea became scared," she replied. She told the court that she knew nothing about any arrangment to marry Shafilea to the son of a distant relative in Pakistan. She also said she overheard one side of a conversation her husband was having with a man called Abdul Razak in Pakistan who wanted his son to marry Shafilea. She said her husband told him that "they were students, they are too young". There was no subsequent discussion over what she had overheard, she said.
Farzana said that in February the family had planned to travel to Pakistan to visit her mother who had not seen the children for ten years and attend some family weddings. The trip had been postponed when Shafilea went missing for some days, she said. On her return to the family home, she said, she asked Shafilea why she had run away. The girl replied that she feared she was about to be married off in Pakistan, she said.
http://www.dailytimes.com.pk/default.asp?page=2012\07\21\story_21-7-2012_pg7_13
-----------
Terror Grips Brave Woman, Who Sent Her Unholy Cleric Suitor Behind Bars
Mohammad Asghar
19 July 2012
RAWALPINDI, July 18: It is ironic. The mother of five who sent her unholy cleric suitor from Talagang behind bars on Monday, is now living in fear for her brave act.
While Qari MSAC may be cooling his heels is Adiala Jail waiting for his appearance in a court on Friday, his desire-turned-tormentor, Ms SS sits at home, with her five children and mother-in-law, terrified of the Qari's present friends and former comrades in the banned militant religious group he once belonged to.
After all he had arrived at her house for "the date" on Sunday night accompanied by men on two motorcycles who vanished after he was trapped inside and handed over to Saddar Bairooni police.
It was the police who dug out the Qari's frightening past but are allegedly not bothered about her safety. Neighbours feel more for her as her husband has been languishing in jail on robbery charges for a year. The neighbours frequently inquire after the family.
"When he made his first call to me, I was shocked. I wondered how he got my cellphone number and asked him who he was," Ms SS told Dawn in an interview on Wednesday.
"Though he never gave his real name during the two months he kept pestering me for a meeting in some hotel or garden, once he did let me know that he got my number through my children who went to a mosque near my house to learn Quran," she said.
First she thought the caller was someone within the wider family.
"But when he fell for the trap I conceived with my mother-in-law and landed at my house, I was shocked to find a cleric looking at me. But I kept my cool," she said.
Qari MSAC had wanted to arrive at 2am for "the date" but agreed to change it to before midnight when told 2am would be too late an hour. "After I had seated him in a room, he wanted me to sit close to him but I excused myself to fetch a glass of water for him." And she went out – only to lock the door from outside on the hard-travelled suitor.
A signal then went out to her mother-in-law and brother who had been posted on the watch with the neighbours, who included two policemen. Arrest and remand in jail followed for Qari MSAC.
It became a date with trouble for him but not embarrassment. "I had come to meet somebody else, not the woman," police quoted him protesting during his initial interrogation.
Saddar Bairooni police also said "prominent businessmen and friends from Talagang" visited the Qari in his lockup, not believing that the religious man would have involved himself in any dirty business.
On the other hand, Ms SS' mother-in-law is furious at the police for booking the Qari from Talagang for making obnoxious calls and intruding a house, not "attempted rape" that she is convinced was on his mind.
She also alleges that police sent her son (husband of Ms SS) to rot in jail on false charges because the family could not meet their demand for Rs200,000 to let him go free.
http://dawn.com/2012/07/19/terror-grips-brave-woman/
-----------
After 18 Years, A Woman Judge Takes Oath in Peshawar HC
By Umer Farooq
July 21, 2012
PESHAWAR: After a gap of 18 years, a woman was appointed as an additional judge at the Peshawar High Court for only the second time in the court's history.
Besides Justice Irshad Qaisar, three other additional judges took oath on Friday, raising the number of PHC judges from 9 to 13. The new members gave oath to Chief Justice Dost Muhammad Khan.
Although a total of nine names had been recommended, only four were confirmed. Seven seats still remain vacant.
The newly inducted judges include former Khyber-Pakhtunkhwa (K-P) advocate general Justice Asadullah Khan Chamkani, former K-P bar council member Justice Roohul Amin and former district and sessions judge (Dera Ismail Khan) Akhunzada Shahjahan.
The first woman judge at the PHC was Justice Khalida Rashid who took oath in 1994.
Profile of Justice Qaisar
Justice Irshad Qaisar was born in Peshawar on June 15, 1954, and completed her schooling in Peshawar.
Full report at:
http://tribune.com.pk/story/411149/after-18-years-a-woman-judge-enters-phc/
-----------
Iran Based Human Rights Defender Suffers Added Prison Time
July16, 2012
Iran based human rights defender Ms. Mansoureh Behkish, who is well known in the region for her work in fighting against the death penalty as well as being one of the head organizers for the Mourning Mothers, known also as the Mothers of Laleh Park, has now been sentenced on her latest appeal ruling which has added six months in prison to her sentence.
The Mourning Mothers, known in Iran as the Madaran-e Azardar, are women whose family members have been considered by many advocates and activists to be "prisoners of conscience." They have also been considered by many working for human rights inside and outside of Iran to be those who have been killed, executed, detained or disappeared in the context of political violence since 1981. Over the last three decades the Mothers have publicly called for a government acknowledgement of Iran's secret political executions. They have also formally asked for the locations of the burial places of the victims. In the aftermath of the post-election violence in June 2009, the Mothers of Laleh organized silent public protests each Saturday evening in Tehran's Laleh Park, calling for human rights and the release of all political prisoners, as well as the abolition of the death penalty.
Full report at:
http://womennewsnetwork.net/2012/07/16/mourning-mothers-iran-added-prison-time/
-----------
British Pakistani woman jailed for 8 years over bomb plot
By Asif Mehmood
21 July 2012
LONDON: A British Pakistani woman hairdresser, charged for helping her husband in a bomb plot against the Jewish community in Manchester, was jailed on Friday for eight years.
Shaista Khan, 38, born in Pakistan, became a fanatic within weeks of marrying car cleaner, a converted Muslim, Muhammad Khan, 33.
The couple planned to build a DIY bomb using chapati flour, hairdressing chemicals and a set of Christmas tree lights to launch a terror attack on the Jewish communities in Manchester.
According to the crown prosecution service, they also carried out reconnaissance missions on possible targets, including a synagogue. Moreover, Shaista used her home-based hairdressing business called 'Sassy Hair Studio' as a front to seek targets as part of a "personal jihad".
Shaista, who pleaded not guilty, was convicted of three terrorism offences at Manchester Crown Court on Thursday. Her husband had earlier admitted a terror charge.
The court heard that Shaista and her husband started reading and listening to al Qaeda-inspired propaganda after their wedding. The plot to bomb the Jewish community fell apart when police were called to a domestic incident — and Shaista's brother told them Khan was a "home-grown terrorist". Police raided their house and found DIY bomb-making gear, including ground-up fire lighters, safety goggles, a funnel, needles and syringes, electrical wires, Christmas tree lights, bulbs and a battery.
Full report at:
http://www.dailytimes.com.pk/default.asp?page=2012\07\21\story_21-7-2012_pg7_5
-----------
Afghan Girls Given English and Computer Lessons
08 Jul 2012
A British-funded scheme to give computer and English classes to Afghan girls is expanding throughout Helmand province, apparently capitalising on hints of a shift in the Taliban's draconian policy on girls' education.
Colleges teaching the courses, plus skills such as tailoring and embroidery, are opening across the province this summer, in areas which only a year ago were known more for bitter fighting than education.
Perhaps what is even more extraordinary is that these lessons are being held with the knowledge and acceptance of the Taliban.
Mercy Corps, the charity which runs the vocational colleges with the backing of £5 million of British money, knows from local leaders that the Taliban are fully aware of the scheme.
During their hard line Islamic government of the 1990s, Taliban leaders were notorious for forbidding girls' education.
Full report at:
http://www.telegraph.co.uk/news/worldnews/asia/afghanistan/9384863/Afghan-girls-given-English-and-computer-lessons.html
-----------
Afghanistan Girl Gets a New Jaw, a New Life
July 20, 2012
Complicated surgery offers her a chance to chew, yawn and laugh
By Tracy Jones
It's 8 a.m. Thursday, and Husna is just hours away from everything she's ever wanted.
Before she's wheeled into the operating room at Wolfson Children's Hospital, she hugs her American host family and holds her translator's hand. She smiles as much as her lips will allow.
"I happy," she says.
Husna, 9, is from Afghanistan. She was born with syngnathia, a condition where her upper and lower jaw are fused. She's never been able to chew. She's only eaten soft foods and weighs 49 pounds because of her limited diet.
She's never yawned. Laughing is difficult.
Her doctors have never seen a case this complex on someone her age, and have never come across a documented surgery of this extent. Her surgeons' plan was to remove two of Husna's ribs. That bone and cartilage would build Husna a new jaw.
It requires an incision from the base of one earlobe that stretches across the top of her skull to the bottom of the other lobe. It's likely the nerves and vessels are jumbled, said Steven Mantegari, a Jacksonville oral and maxillofacial surgeon, and since she can't open her mouth, anaesthesia was going to be tricky.
Full report at:
http://jacksonville.com/news/health-and-fitness/2012-07-20/story/jacksonville-surgeons-give-afghanistan-girl-new-jaw-new#ixzz21FUMLkpo
-----------
Malaysia Looking To End "Baby Dumping" In Sabah
21 July 2012
KUALA LUMPUR: The Malaysia government is to launch a new campaign in September against "baby dumping" entitled "baby hatch" to reduce the number of parents dropping their newborns off onto the state government in Sabah.
Sabah Women and Children's Hospital Head of Obstetric and Gynecology Department Soon Ruey said at a press conference that the service would "initially be available at the Women and Children's Hospital as well as Queen Elizabeth Hospital 1 before expanding the service to other districts in the state.
"Although the occurrence of baby-dumping incidents in Sabah is not high, we feel this service is important if we can save at least one or two lives.
"We don't expect to receive a baby immediately after the service is made available. But it will be there in case a mother doesn't want to keep her baby rather than abandoning it somewhere else," he told reporters after the launch of a women's awareness campaign organized by Sabah Wanita.
Full report at:
http://www.bikyamasr.com/73417/malaysia-looking-to-end-baby-dumping-in-sabah/
-----------
Asma Opposes Frequent Use of Contempt Law
21 July 2012
LAHORE, July 20: Supreme Court Bar Association's former president Ms Asma Jahangir has said frequent use of contempt of court law may expose the courts to more criticism.
She was talking to media persons at South Asia Free Media Association office on Friday about changes made to contempt of court law and likely removal of dual nationality bar on parliamentarians.
The eminent lawyer and rights activist said the courts should show restraint and avoid frequent use of contempt law, saying, "This will make the judiciary more prone to public criticism," she added.
Ms Jahangir went on to say that under the same law the restored judiciary sent sitting judges and a prime minister home. She further said that the changes to the law had diminished its efficacy.
Full report at:
http://dawn.com/2012/07/21/asma-opposes-frequent-use-of-contempt-law-2/
-----------
For Indonesian Graphology Expert, Handwriting Offers Window to the Soul
Sylviana Hamdani | July 20, 2012
Something about the middle-aged woman seated unperturbed in the middle of a bustling bookstore on a Sunday afternoon was unusual. Dressed in light gray tunic and amber-hued hijab, she was moving the palms of her hands over a piece of paper. Her bespectacled eyes seemed to perceive something that our normal eyes could not.
"You have to utilize all of your potential and use it to move up in your career," she said to the client seated before her. "Be more assertive."
Like a trained puppy, the client nodded his head and took in all of her words.
The speaker was Indonesian graphology expert Kusuma Prabandari. That Sunday earlier this month, she was being hosted by writing supplies maker Faber-Castell at Gramedia Bookstore in Matraman, Central Jakarta, to analyze peoples' handwriting.
"With the advance of technology, fewer people write by hand these days," said Fransiska Remila, Faber-Castell's Indonesia brand manager.
"However, handwriting is still something unique and important to each individual. By analyzing it, we can learn of our strengths and weaknesses and improve them for a better life."
Full report at:
http://www.thejakartaglobe.com/lifeandtimes/for-indonesian-graphology-expert-handwriting-offers-window-to-the-soul/531223
-----------
Iranian female karate fighter snatches gold at AFK tourney
07/20/2012
Iran's female karate athlete Nasrin Dousti has won the gold medal in the women's -50kg weight class of the 11th Asian Karatedo Federation (AKF) Senior Championship in Tashkent, Uzbekistan.
The Iranian sportswoman overpowered her Uzbek rival 6-1 in her first match on Monday. She defeated her Malaysian and South Korean opponents 4-1 and 3-0 in the second and third competitions respectively as she cruised to the final match.
Dousti could triumph over her Japanese rival 10-3 in the final and grab the gold medal in the women's -50kg weight category. On Sunday, Iranian junior karate fighters brought home a gold medal in the men's kata category of the 12th AKF Junior & Cadet Championship.
The Iranian outfit, comprising Moein Barkam, Seyyed Behrouz Hosseini-Nasab and Esmail Nakhaie, routed the Saudi team in the final match and snatched the gold medal. The 12th Asian Karatedo Federation (AKF) Junior & Cadet Championship and the 11th AKF Senior Championship kicked off in the Uzbek capital on July 17, and will wrap up on July 17.
According to the National Karate Federation of Uzbekistan, over 1000 athletes, coaches and sports officials from more than 30 nations and regions contest in the tournament.
http://www.iransportspress.com/other-sports/10953-iran-female-karate-fighter-snatches-gold-at-afk-tourney.html
-----------
Iranian women come to Boulder for climbing and cultural exchange
By Chris Weidner
07/17/2012
Imagine sheer, snow-plastered walls of alpine granite; a volcano with perfect symmetry whose summit soars more than 18,000 feet above the sea; and a man-made park designed for ice climbing competitions.
It doesn't exactly sound like Iran, does it?
Well, it is. And that says nothing of Iran's sand dunes, urban traffic and beach resorts.
Last summer, I was fortunate enough to visit Iran as one of 13 Americans involved in an ongoing climbing and cultural exchange between the American Alpine Club and the Alpine Club of Iran. I wasn't exactly sure what to expect, but big, icy mountains certainly weren't on the list. I mean, isn't Iran a desert?!
Even more shocking to me than the diversity of the landscape were the generosity and sincerity of the Iranian people. Complete strangers had never treated me so graciously. Many went so far as to thank me personally -- in excellent English, I might add -- for visiting their country.
Full report at:
http://www.dailycamera.com/news/ci_21096596
-----------
Palestinian-American Belly Dancer Survives First SYTYCD Votes
21 July 2012
Palestinian-American Janelle Issis through to the top 16 on SYTYCD.
Palestinian-American Janelle Issis is Fox's So You Think You Can Dance's first belly dancer. On Wednesday evening, she survived the first votes from America and will compete in next week's top 16 performances.
For the belly dancer, it marks a new high for Arab-American women on the show. Belly dancing, which had never featured previously on the program, has seen a boost from the Palestinian-American Issis, who hails from Alabama.
She will be up against much next week, after judges criticized her and partner Daraien Kujawa's lyrical hip-hop performance choreographed by Christopher Scott.
Still, the Palestinian decent woman continues to show she can move into other genres and has succeeded in winning over the judges throughout the show. She began her journey in Atlanta, during the auditions, being sent straight to Las Vegas week, where she wowed and convinced judges she was ready to make the top 20 and battle for American votes.
http://www.bikyamasr.com/73398/palestinian-american-bellydancer-janelle-issis-survives-first-sytycd-votes/
-----------
URL: https://newageislam.com/islam-women-feminism/veena-malik's-ramazan-show-called/d/8001