Age Islam News Bureau
11 Aug 2019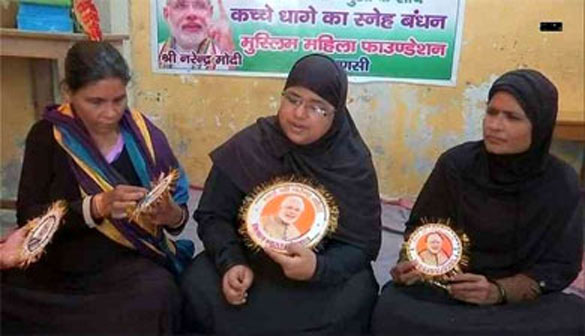 The women sent hand-made rakhis to Modi and called him their elder brother who protected them from the "evil" practice. (File photo: ANI)
-----
• Varanasi: Muslim Women Send Rakhis to Elder Brother Modi
• Trump Tells Advisers Tel Aviv Should Bar US Muslim Lawmakers From Israel
• Are Women Better Ultra-Endurance Athletes Than Men?
Compiled by New Age Islam News Bureau
URL: https://www.newageislam.com/islam-women-feminism/varanasi-muslim-women-send-rakhis/d/119447
-----
Varanasi: Muslim women send rakhis to elder brother Modi
August 11, 2019
A few Muslim women from the Lok Sabha constituency of Prime Minister Narendra Modi, Varanasi, have sent hand-made rakhis to him for Raksha Bandhan as they say that the PM is like their elder brother.
This is in response to the passing of the Triple Talaq Bill which criminalises the practice of Triple Talaq, or instant divorce among Muslims.
The women sent hand-made 'rakhis' to Modi and called him their elder brother who protected them from the evil practice of triple talaq.
Huma Bano of Rampura said, "It was only because of Modi that triple talaq is criminalized. He is like an elder brother of all the Muslim women in the country. We have made rakhis for our brother."
However, the Indian Union Muslim League (IUML) called it a "propaganda".
"The Muslim subsidiary of the RSS is carrying out such activities. They have hired Muslims to do this. This is done under the pressure of people in power. It's the government's propaganda," said State President of the IUML Matin Khan while talking to IANS.
(With IANS inputs)
https://www.thestatesman.com/india/varanasi-muslim-women-send-rakhis-to-elder-brother-modi-1502787794.html
-------
Trump tells advisers Tel Aviv should bar US Muslim lawmakers from Israel
Sun Aug 11, 2019
US President Donald Trump has reportedly told his advisers that Israeli Prime Minister Benjamin Netanyahu should use the regime's anti-boycott law to prevent Muslim congresswomen Ilhan Omar and Rashida Tlaib from entering the occupied Palestinian territory.
US-based Axios news outlet cited three sources familiar with Trump's private remarks as saying on Saturday that the American president had told advisers, including senior administration officials, that the Israeli regime should bar Omar and Tlaib's entry because the two lawmakers support the boycott Israel movement.
According to the report, the White House, however, has denied offering such advice to the Israeli regime with Press Secretary Stephanie Grisham saying, "The Israeli government can do what they want. It's fake news."
The Israeli parliament passed a law in 2017, requiring the interior minister to block foreign nationals from entering the occupied territory if they have supported boycotting the Zionist regime.
Trump's move came days after the US House of Representatives overwhelmingly passed a resolution last week to condemn the Boycott, Divestment and Sanctions, or BDS movement, which Omar and Tlaib support.
The resolution claims that the global movement to boycott Israel over its policies toward Palestinians "promotes principles of collective guilt, mass punishment and group isolation, which are destructive of prospects for progress towards peace."
Both Omar and Tlaib voted against the resolution.
Israeli ambassador to the US Ron Dermer reportedly said last month that the regime would not bar the congresswomen from entering Israel.
"Out of respect for the US Congress and the great alliance between Israel and America, we would not deny entry to any member of Congress into Israel," he said as quoted in a report by Israeli daily Haaretz.
The two Muslim lawmakers are due to arrive in Israeli on August 18, according to the report, which noted that the timing could change.
https://www.presstv.com/Detail/2019/08/11/603212/US-President-Donald-Trump-Muslim-lawmakers-Ilhan-Omar-Rashida-Tlaib-Israeli-regime
CK Birla Hospital for Women plans Rs 1,000 crore investment to add 14 hospitals by 2025-end
BusinessToday.In, August 11, 2019
CK Birla Hospital for Women plans to add nearly 14 more hospitals under the brand across India with an investment of around Rs 1,000 crore by 2025 end, its founder Avanti Birla said. The Gurugram-based hospital has one 75-bed multispeciality hospital which that focuses on women healthcare in the city.
"We are looking to add around 14 hospitals by the end of 2025 across the country. The investment on this would be up to Rs 1,000 crore. All these hospitals will be in the similar format of our Gurugram hospital," Birla told PTI.
All 14 hospitals will have nearly 75-80 beds each. The company will have an overall bed count of 1,400 to 1,500 in total, she said.
Talking about the possible locations for the new hospitals, Birla stated, "These hospitals will be in metros, tier 1 cities and smaller cities that we are evaluating."
Regarding the company's plans to finance the expansion, Birla told the news agency, "We are looking at different sources of funding. Right now we are primarily privately funded, but going forward it will be a mix of funding from the group, internal accruals and we will also tap external sources."
Highlighting that India has a huge demand for healthcare and bridging the gap between demand and supply is a challenge, she said that all healthcare providers are making efforts in that direction.
About the need for the hospitals for women, Birla said, "There is a huge need in India for hospitals focusing on women as they are under-served and that is what driving us to set up these hospitals."
"There is a distinct focus on providing quality healthcare for women and the whole clinical and service proposition is built around that. Having built what is good for women also serves the men as well," said Akshat Seth, COO, CK Birla Hospital for Women.
The hospitals seek to deliver global standards of clinical excellence, he added.
CK Birla Hospital for Women is part of the C K Birla Group. The Group has interests across technology, automotive, infrastructure, home and building, healthcare and education.
https://www.businesstoday.in/current/corporate/ck-birla-hospital-for-women-invest-rs-1000-crore-women-healthcare-add-14-hospitals-2025-end/story/371839.html
-----
Are women better ultra-endurance athletes than men?
By Sophie Williams
BBC News 11 August 2019
Through thunderstorms, scorching heat and icy rain, Fiona Kolbinger cycled 2,485 miles (3,999km) in a little more than 10 days over some of Europe's most demanding terrain.
In doing so, the German cyclist became the first woman to win the Transcontinental Race this week. That in itself was remarkable: it was the first time she had formally competed in an ultra-cycling event.
But what was all the more remarkable was the fact she finished the brutal journey from Bulgaria to France a full 10 hours ahead of her closest opponent.
"I am so, so surprised to win," she said. "When I was coming into the race I thought that maybe I could go for the women's podium, but I never thought I could win the whole race."
Perhaps she should not have been so surprised: her result is one of a number of wins racked up by female ultra-endurance athletes in recent years.
In January, British ultra-runner Jasmin Paris became the first woman to win the 268-mile Montane Spine Race in the UK, finishing the course in 83 hours, 12 minutes and 23 seconds, smashing the course record by 12 hours. And that included time to breastfeed her baby along the way.
And in May, British junior doctor Katie Wright beat 40 men and six other women to win the Riverhead Backyard ReLaps Ultra-marathon in New Zealand, running almost non-stop for 30 hours.
Is this a sign women are better at ultra-endurance events? And if so, why?
In general, women have a greater distribution of slow twitch muscle fibres, said Dr Nicholas Tiller, a senior lecturer in applied physiology at Sheffield Hallam University. These muscle fibres are more resistant to fatigue and more suited to endurance.
He said that men still tended to have bigger muscles and greater maximal capacities like strength and aerobic power, which is why women generally can't compete with men over shorter distances like a marathon.
This year's marathon was won by Eliud Eliud Kipchoge who finished the course in two hours, two minutes and 38 seconds. Brigid Kosgei, who won the women's race, took 16 minutes longer.
"One of the reasons why women tend to be able to compete with men and sometimes outperform them, is that the greater maximal capacities exhibited by men aren't as important in an ultra-endurance event," Dr Tiller, who is also an ultra-marathon runner, said.
He said that in ultra-endurance races, athletes are never working close to their maximum capacity. It is much more about peripheral conditioning, oxygen efficiency and mental toughness.
While women don't outperform men in endurance sport, ultra-endurance sports are much more closely contested, he said. "Ultra-marathons are the great equaliser," Dr Tiller said, "because there are no other sports where men and women can compete side by side in terms of physicality."
The "longer the distance, the less of a gap between men and women," says Fiona Oakes, an ultra-marathon runner and holder of four world records.
"Certainly from when I've done races, women manage themselves in a completely different way," she told the BBC. She became aware of this while completing a marathon at the North Pole.
"It's a completely different psyche that the women have," she said. "During the North Pole race, a lot of the men tended to zoom off very quickly. Particularly in that race, it's imperative that you start at the pace you're going to finish in because if you don't and you slow down in the race, you're going to get hypothermia."
One of the reasons women could be performing well at ultra-endurance events is how they deal with emotions, said Dr Carla Meijen, a senior lecturer in applied sport psychology at St Mary's University in Twickenham.
She said: "When we think about ultra-endurance events, one of the things that's quite prevalent is emotions because you get fatigue, sleep deprivation and tiredness and that causes things like confusion and less helpful emotional responses.
"Typically females use more emotion-focused coping so they focus more on how to reframe what they are feeling than males in general. That might be a reason why they may be more suited to those more ultra-endurance events."
When Jasmin Paris won the Montane Spine Race, she rested for only seven of the 83 hours, during which she had to sleep, eat and organise her kit. On the final section of the race, she started to hallucinate, thinking she could see animals appearing out of every rock. She kept forgetting what she was doing before remembering that she was taking part in the race.
In 2017, American ultra-marathon runner Courtney Dauwalter won the 238-mile MOAB race in under 58 hours. She did this on just 21 minutes' sleep.
In a separate 100 mile ultra-endurance race, she ran the final 12 miles in total blindness. It took five hours for her sight to completely return.
She told Trail Runner that she continued running, falling many times and finished the race with a bleeding gash on her head.
"I didn't fully process what was happening. In the moment, I was just thinking 'I'm in this race, I need to keep moving'," she told the magazine.
Dr Meijen said research she had conducted alongside Paul Anstiss and Professor Samuele Marcora from the University of Kent found that some female endurance athletes mentioned previous experiences such as childbirth helped them during races.
"Some female participants said events such as childbirth had helped them to deal with the pain and meant they had more belief in themselves so that they could push through the pain," Dr Meijen said. "When you think about ultra-endurance, it is a very painful experience."
However she said there was very little research on female athletes versus male athletes as "a lot of research did not compare them".
There are not enough sample sizes to determine whether women are better ultra-endurance athletes than men, said Dr Bryce Carlson, an ultra-marathon runner and the first American to complete the 2,000-mile (3,218km) North Atlantic west-to-east-solo row.
"In some years, a woman can win outright," he said. "When that happens, it's a really small sample size, where you have an elite female runner who has trained really hard and well and has great skill in the sport, and the competition in the men's sport might not be that high."
The Marathon des Sables in one of the most famous endurance races where athletes run more than 156 miles (250km) in just six days
He said that ultra-endurance runner Ann Trason was breaking records and beating men in ultra-endurance marathons in the late 1980s until 2004.
She held the title of ultra-runner of the year for more than a decade and broke 20 world records in distances ranging from 40 to 100 miles. Her performance sparked debate on whether women would begin to consistently beat men in ultra-endurance sports.
Dr Carlson said: "There was a lot of discussion that time whether you did longer and longer distances, whether the female/male strength gap closes to the point where women and men are competing on an equal footing."
Thirty years on from that debate, he said, more and more women were competing in ultra-endurance events, but men still generally outperformed women.
Fiona Oakes, the ultra-endurance runner, noted that women "haven't been in these events for that long" but that nowadays women were "improving so much quicker than the men".
"When I did the Marathon de Sables, there weren't that many women even competing in the race, now they're getting up into the top 20 alongside the men in these ultra-endurance races.
"Women are actually going out there and beating the men. We're going to see it much more often. They're finding their feet with ultra-events and you will see many more women rising to the top."
https://www.bbc.com/news/world-49284389
------
URL: https://www.newageislam.com/islam-women-feminism/varanasi-muslim-women-send-rakhis/d/119447
New Age Islam, Islam Online, Islamic Website, African Muslim News, Arab World News, South Asia News, Indian Muslim News, World Muslim News, Women in Islam, Islamic Feminism, Arab Women, Women In Arab, Islamophobia in America, Muslim Women in West, Islam Women and Feminism