New Age Islam News Bureau
27 September 2023
· UN Rebukes France For Banning Hijab During The 2024 Paris Olympics
· Iran: Crackdown On Women's Rights Fuels Female Brain Drain
· Leah Sharibu Finally Accepts Islam, Remarries Another ISWAP Commander
· CAIR Urges State Dept. to Condemn French Court's Decision on Ban on Abayas in Schools, Hijab Ban at 2024 Paris Olympics
· Prioritizing Engagement Crucial For Reforming Taliban Policies On Women's Rights: Raza Outenbayeva, The UN Afghanistan Representative
· MP: Hindutva Men Assault Muslim Women Over Eid e Milad Decorations
Compiled by New Age Islam News Bureau
URL: https://newageislam.com/islam-women-feminism/un-france-banning-hijab-paris-olympics/d/130768
-------
UN Rebukes France For Banning Hijab During The 2024 Paris Olympics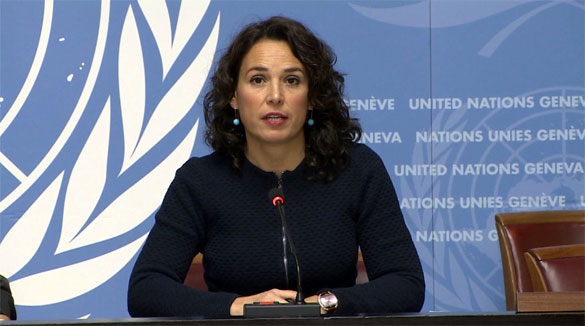 UN Human Rights Office spokesperson Marta Hurtado
----------
26 September 2023
The United Nations has rebuked France for banning the country's athletes from wearing headscarves during the 2024 Paris Games.
"No one should impose on a woman what she needs to wear or not wear," United Nations rights office spokeswoman Marta Hurtado told reporters in Geneva on Tuesday.
French Sports Minister Amelie Oudea-Castera had announced the ban on Sunday, alleging that observing the Islamic dress code during the games amounted to display of religious symbols and "proselytizing."
"Restrictions on expressions of religions or beliefs, such as attire choices, are only acceptable under really specific circumstances," she claimed, saying allowing the Muslim athletes to observe the dress code was tantamount to "discriminatory practice."
France outlawed full-face coverings in 2010.
In June, the country's Council of State upheld a ban on women footballers wearing the hijab.
And last month, France's education minister said the country was to ban wearing across the nation's schools of Abayas -- a simple, loose over-garment dress worn by many women across the Muslim world -- citing a violation of French "secular laws."
France is to ban wearing across the nation
Under France's laws on laïcité (secularism), it is also forbidden to wear the Islamic headscarf in government buildings, including schools.
Public officials such as teachers, firefighters, or police officers are banned from wearing the hijab while they are at work too.
The bans are usually spearheaded by the right and far-right political elite, despite an argument by the left asserting that they would encroach on individuals' religious freedoms and civil liberties.
Source: presstv.ir
https://www.presstv.ir/Detail/2023/09/26/711591/France-hijab-ban-Olympics-United-Nations
-------
Iran: Crackdown On Women's Rights Fuels Female Brain Drain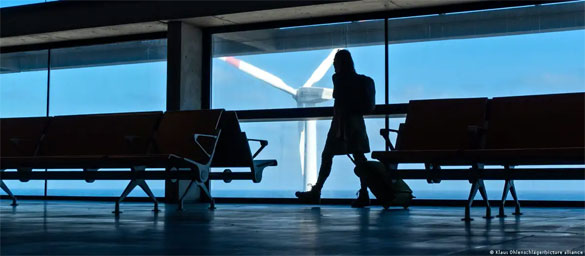 Intense scrutiny is prompting many highly educated Iranian women to go elsewhereImage: Klaus Ohlenschläger/picture allianc
----------------
Shabnam von Hein
27 September 2023
Mariam, who asked to be referred to by a pseudonym to protect her identity, arrived in Germany six months ago as a student. Back in her native Iran, the 39-year-old engineer had a fully independent life.
"Emigrating wasn't an option for me for a long time," she told DW.
"My whole life I worked hard and achieved a lot: a degree from a prestigious university, later a well-paid position at a construction company in Tehran," she said. "But in the end I felt it didn't matter how good I was and how hard I tried. I will never manage to get out of this swamp and feel free and happy."
Many of her female friends and acquaintances have either left the country or are looking for a way to do so, she said. Mariam herself started by looking for opportunities to study in Germany, where she has many friends. She quickly secured a spot in a master's course at a technical university in southern Germany, which opened the door to a visa.
Mariam doesn't want to talk much about politics. What she will say is that "every aspect of our lives in Iran is politicized. Even what I as a woman put on in the morning to leave to the house is a political statement. Every day we are under enormous pressure and stress. We cannot get away from it."
"The best experience in the past six months in Germany for me was the feeling of being free and undisturbed to wear what I want, and the conviction that I can build a better future if I make the effort," Mariam said.
'Emigrating to Germany'
Mariam is part of a group called 'Emigrating to Germany' with almost 40,000 members on the encrypted messaging app Telegram. People post job vacancies for foreign workers in Germany, possibilities to have Iranian degrees recognized and interesting further study programs. A lot of the posts relate to opportunities for medical personnel to emigrate.
In the medical sector alone, more than 10,000 workers have left Iran in the past two years, according to official figures. Many have gone to Arab countries, Iranian daily newspaper Shargh reported in May.
The country is hemorrhaging general medicine workers, the head of the parliamentary health commission, Hossein Ali Shahriari, has said. Those leaving include professors, doctors and nurses.
Overall, the Iran Migration Observatory at the Sharif University of Technology has recorded the departure of around 65,000 well-qualified and highly talented people from Iran each year over the past decade alone. Since the Islamic Revolution in 1979, millions of well-educated people have left, mostly due to the difficult economic situation but also due to political repression by the government.
The government has not talked publicly about plans on how to stop the wave of emigration.
An ever more female brain drain
This exodus, particularly of women academics, has intensified in recent years, Bahram Salavti warned already back in early 2022. The director of the Iran Migration Observatory in Tehran pointed to the high level of unemployment among women as the main driver.
Official figures show 60% of students in Iran are women, but that share drops to just 15% on the job market. Massive repression of nationwide protests late last year after the death of Jina Mahsa Amini, and a crackdown on women's rights have further fueled female brain drain.
"When protests don't lead to a solution and protesters don't see a way to change anything, when they have no prospects for the future, they resort to the strategy of emigration," sociologist MehrdadDarvishpour underlined. The professor at Mälardalen University in Sweden has been researching migration, including emigration from Iran, for years.
"We're seeing a phenomenon of female migration from Iran, even though a progressive feminist movement with worldwide resonance has sprung up there," Darvishpour said. "Iran's rulers have no interest in societal reconciliation. They rely on fear and oppression."
"The emigration of female academics will weaken society's capacity for democratic and secular demands. Therefore, those in power will do nothing about it. Their behavior resembles that of an occupying power that ignores the interests of citizens and national resources in favor of maintaining power," he said.
The Iranian parliament recently ramped up the pressure on women who defy national orders to cover their heads as instructed. After months of discussion, the legislature waved through a law allowing harsher penalties on women who break clothing regulations: up to ten years in prison.
The "Bill to Support the Family by Promoting the Culture of Chastity and Hijab" foresees prison sentences of between five and ten years for women who fail to wear a headscarf or dress "inappropriately" in collaboration with "foreign or hostile governments, media, groups or organizations."
The law also paves the way for fines for individuals who "promote nudity" or target the mandatory Islamic headscarf (hijab) in the media or on online networks. Business owners whose female employees violate the dress code may be banned from leaving the country in the future.
No wonder many Iranian women now sees things the same way as Mariam.
"Emigrating was no longer a choice for me," she said. "I was forced to do it."
This article was adapted from German.
Source: dw.com
https://www.dw.com/en/iran-crackdown-on-womens-rights-fuels-female-brain-drain/a-66932202
-----
Leah Sharibu Finally Accepts Islam, Remarries Another ISWAP Commander
Goodness Adaoyiche
September 27, 2023
After being held back by terrorists for refusing to denounce her Christian faith, abducted Dapchi schoolgirl, Leah Sharibu, has finally accepted Islam.
Politics Nigeria recalls that Leah was abducted alongside over 100 schoolmates from Government Girls Technical College, Dapchi, Yobe State on February 19, 2018.
While others regained their freedom, the terrorists refused to release Leah who according to her mates "refused to denounce her Christian faith".
There were reports that Leah had been married off to one of the Islamic State West Africa Province (ISWAP) commanders.
But emerging report says that Leah has divorced her first husband for another ISWAP commander.
"Leah was first married to Abdulrahman after she allegedly converted to Islam and they have two children, all boys that were named after two Boko Haram commanders that were killed," a source told DailyTrust.
"We don't know what transpired but Leah secured the divorce and married another commander, Ali Abdallah."
The source said after her abduction, Leah was "trained" on how to administer some medical services to injured Boko Haram fighters and women.
According to the source, one of the antics of terrorists in the north-east is forcing their captives with expertise in fields like medicine, nursing, engineering, among others to train their members on such areas.
"She was trained as a medical personnel and now leads the ISWAP medical team in the northern part of the Lake Chad area," the source said.
Another source said: "Ten days ago, Leah, her supposed husband and other fighters were sighted at Dogon Chukwunkangarwa.
"Her husband is a commander under ISWAP but they are facing persecution from a Boko Haram commander loyal to Shekau, Malam Bakura.
"As of today, we got a report that a large contingent of the ISWAP fighters has started migrating from the area through Guzamala forest.
"They were sighted on the route of Cross – Mosquito camp- Garin-giwa (where the Zulum's convoy was attacked) – Munguno – Gajiram with cache of dangerous arms," he said.
Source: politicsnigeria.com
https://politicsnigeria.com/leah-sharibu-finally-accepts-islam-remarries-another-iswap-commander/
--------
CAIR Urges State Dept. to Condemn French Court's Decision on Ban on Abayas in Schools, Hijab Ban at 2024 Paris Olympics
Ibrahim Hooper
September 26, 2023
(WASHINGTON, D.C., 9/26/23) – The Council on American-Islamic Relations (CAIR), the nation's largest Muslim civil rights and advocacy organization, today sent a letter Secretary of State Antony Blinken requesting the State Department condemn the French government's Council of State's recent decision to uphold the France's ban on abayas worn by some Muslim students in schools.
CAIR also urged Secretary Blinken to strongly condemn the French government for prohibiting its own citizens from wearing hijab, or Islamic head scarves, at the 2024 Paris Olympics.
CAIR's letter repeats the Muslim civil rights organization's call for the U.S. government to designate France as a "Country of Particular Concern" (CPC) for its violations of religious freedom and to initiate a U.S. backed United Nations investigation into France's recurrent breaches of fundamental religious freedoms.
CAIR noted in its letter that in response to France's Olympic sports hijab ban, United Nations spokesperson Marta Hurtado told reporters, "No one should dictate what a woman must or must not wear."
In a statement, CAIR Director of Government Affairs Department Robert S. McCaw said:
"France's flagrant intolerance toward religious freedom and its Muslim citizenry demands a forceful response from world leaders, including the U.S. government. Our nation should take the lead in compelling the international community to take decisive action against France's egregious religious freedom violations.
"By confronting France on the grave issue of Islamophobia and its assault on Muslim religious liberties, the United States can better champion a more inclusive and equitable French society that respects the rights and practices of all its citizens, including those with deeply-held religious convictions."
The United States International Religious Freedom Act (IRFA) characterizes severe violations of religious freedom as consistent, persistent, and extremely serious. CAIR contends that France's actions meet these criteria and thus warrant strong condemnation from the U.S. government.
CAIR's letter highlights the concerns surrounding France's treatment of its Muslim population, which accounts for 8% of the total population and is the second-largest religion in the country. The organization argues that discriminatory measures and restrictions on Muslim expressions of faith have led to widespread discrimination, employment disparities, negative public perception, and intrusive government actions, such as mosque surveillance and closures.
On August 28, CAIR condemned the French government's initial decision to ban Muslim students from wearing the abaya.
France's education minister announced the ban ahead of the resumption of classes in the country. "I have decided that the abaya could no longer be worn in schools," Education Minister Gabriel Attal said in an interview with TV channel TF1. "When you walk into a classroom, you shouldn't be able to identify the pupils' religion just by looking at them."
Religious symbols like crucifixes, kippahs, and Islamic headscarves are banned in French schools.
CAIR has previously called for France to be designated as a country as particular concern.
CAIR's mission is to protect civil rights, enhance understanding of Islam, promote justice, and empower American Muslims.
La misión de CAIR esproteger las libertadesciviles, mejorar la comprensión del Islam, promover la justicia, y empoderar a losmusulmanesenlosEstadosUnidos.
Source: cair.com/
https://www.cair.com/press_releases/cair-urges-state-dept-to-condemn-french-courts-decision-on-ban-on-abayas-in-schools-hijab-ban-at-2024-paris-olympics/
--------
Prioritizing Engagement Crucial For Reforming Taliban Policies On Women's Rights: Raza Outenbayeva, The UN Afghanistan Representative
Fidel Rahmati
September 27, 2023
The UN Special Representative for Afghanistan emphasized the importance of ongoing engagement with leaders of the Taliban in Afghanistan, even in the face of significant differences regarding their stance on women's rights and inclusive governance.
Simultaneously with the United Nations session on the situation in Afghanistan, the UN Secretary-General's Special Representative and the Deputy Chief of the United Nations Assistance Mission in Afghanistan stated that the interaction with the Taliban administration has been unproductive so far, but it is necessary to continue dialogue.
During this session held unexpectedly on Tuesday in New York City, United States, at the UN headquarters, Raza Outenbayeva, the UN Secretary-General's Special Envoy for Afghanistan, discussed the current situation in Afghanistan, mainly focusing on the status of women.
However, during this session, Ms. Outenbayeva mentioned that the Taliban has restricted women's participation in society by issuing more than 50 statements, causing no country to recognize them officially.
During the session, attended by UN officials and women's rights activists in the United States, discussions were held regarding the prohibition of education, schooling, and the right to work for women and girls.
She added, "Although the current rulers emphasize the pervasiveness of their institutions, the gap between their legitimacy and the people is widening. Lack of trust in rights, responsiveness, representation, and access to justice is a significant barrier to internal legitimacy.
International legitimacy does not come without domestic legitimacy. On the sidelines of this session, the UN Secretary-General also spoke about the increasing poverty and the severe drought's impact on the people of Afghanistan, mentioning that Afghan citizens live in a water scarcity crisis.
So far, the Taliban administration has not responded to the statements made during this session.
Source: khaama.com
https://www.khaama.com/prioritizing-engagement-crucial-for-reforming-taliban-policies-on-womens-rights-roza/
---------
MP: Hindutva men assault Muslim women over Eid e Milad decorations
September 27, 2023
Tensions flared when extremist Hindu right-wing men assaulted Muslim women for decorating a colony in Madhya Pradesh's Indore ahead of Eid-e-Milad Un Nabi.
Eyewitnesses on the scene recounted that the altercation ignited when members of the right-wing group voiced objections to the festive decorations that adorned Garib Nawaz Colony in honor of Eid-e-Milad Un Nabi.
This disagreement escalated into a violent confrontation as the Muslim women responsible for the decorations tried to prevent their removal.
Local authorities responded to the scene, deploying police officers to intervene in the escalating conflict. A police spokesperson confirmed, "We are actively investigating the matter."
Source: thekashmiriyat.co.uk
https://thekashmiriyat.co.uk/mp-hindutva-men-assault-muslim-women-over-eid-e-milad-decorations/
--------
URL: https://newageislam.com/islam-women-feminism/un-france-banning-hijab-paris-olympics/d/130768
New Age Islam, Islam Online, Islamic Website, African Muslim News, Arab World News, South Asia News, Indian Muslim News, World Muslim News, Women in Islam, Islamic Feminism, Arab Women, Women In Arab, Islamophobia in America, Muslim Women in West, Islam Women and Feminism