New Age Islam News Bureau
13 Jul 2013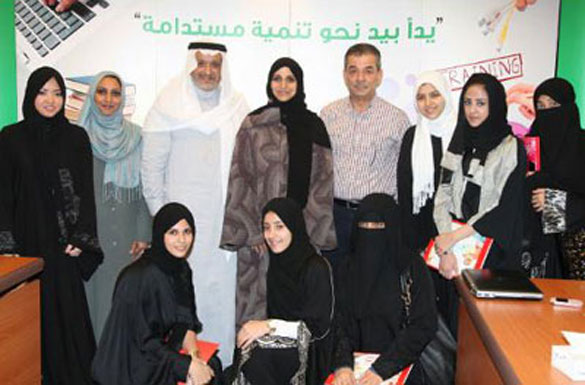 Photo: Dr. Faysal Alaquil (third from left), poses with a group of Saudi female students and their mentors, at the conclusion of the Summer Training Course 2013.
---------
• Three Christian women paraded naked in Pakistan, court orders probe
• Recruitment Firms Hire Psychologists to Evaluate Maids for Saudi Families
• More Saudi female students show interest in engineering
• Saudi Princess Bailed On Charge of Human Trafficking In California
• For Pakistani Girls, Just Going to Class Is a Risk
• In Aasia Bibi's Blasphemy Case, Plenty to Ponder for Appellate Court
• U.K's Report Looks into Why Female Professionals Are Still Sidelined
• Uganda Appeals to Muslims to Allow Girl Education
• Child Marriage Rate Remains High In Bangladesh
• Court Rules against School Ban on Islamic Veils
• Extremists Fear Education: Malala
• Nigeria: Early Pregnancy Stops Girls from Realising Potential
• Somali Imams Join Fight against Sex Trafficking In Minnesota
• Hina Jilani of Pakistan Appointed Member of the Elders at UN
Compiled by New Age Islam News Bureau
URL: https://newageislam.com/islam-women-feminism/un-education-award-india's-razia/d/12587
------------
UN Education Award for India's Razia Sultana on Malala Day
Rakhi Chakrabarty, TNN | Jul 13, 2013
NEW DELHI: Razia Sultana, a teenager from a village in Uttar Pradesh's Meerut, was awarded the United Nations' Special Envoy for Global Education's Youth Courage Award for Education on Friday. The award is in recognition of her efforts to help liberate 48 children from child labour bondage and motivate them to go to school. On Friday, the world learnt about Razia's struggle and courage as she recounted her tale to youth delegates from across the world in New York.
The day, too, has a special significance — it is observed by the UN as Malala Day to highlight and emulate Pakistani child activist Malala Yousafzai's fight for education. Malala turned 16 on Friday.
Razia, named after India's first woman ruler, too, has been fighting an uphill battle at her Nanglakhumba village in Meerut. School education for this class XII student would have remained a distant dream since she had begun working to help her family when she was only five.
Most households in Nanglakhumba village, where inhabitants are predominantly Muslims, eke out a living by stitching footballs. Malala, eldest of two sisters and two brothers, too, stitched footballs with rest of her family members to supplement her factory worker father's meagre income.
"Education was considered an unnecessary distraction that hurt the family's income," said Sher Khan, a Bachpan Bachao Andolan (BBA) activist from a neighbouring village.
In 2005, BBA activists initiated a programme to make the village child-friendly. "We would visit the villages and explain the importance of education and rights of a child," said Rakesh Senger of the BBA.
But, they met with huge protests. Parents refused to allow the children to give up football stitching and go to school instead. It was more difficult to convince parents about girls' education. Razia's father, who is now proud of his daughter, had also refused to send her to school on the same plea.
Gradually, with dogged determination and explaining the importance of education, some children could be weaned away from labouring away at football stitching. It took Razia two years to break the shackles of child labour. Later, a bal panchayat was formed in the village and Razia was elected its head. She went on to become a leader of the National Children's Parliament.
Little Razia began campaigning in the village for children's education and their rights. A flurry of complaints by villagers to her father followed. Villagers complained that Razia was a bad influence on their children.
But, the teenager was undeterred. "We were surprised by her indomitable spirit at such a young age," said Khan.
Her village had no toilets or water pumps. The school building was in shambles. When Razia was elected a panchayat head, she took up such problems with the village panchayat. They could not ignore her for long.
Razia wants to continue studying and fight for children's education. The UN award has lifted her spirits and boosted her confidence.
http://timesofindia.indiatimes.com/india/UN-education-award-for-UPs-Razia-Sultana-on-Malala-Day/articleshow/21047019.cms
------------
Three Christian women paraded naked in Pakistan, court orders probe
PTI | Jul 13, 2013
LAHORE: Over a month after a Muslim landlord allegedly paraded three Christian women naked in Pakistan's Punjab province, a court here has finally taken notice of the matter and directed a judge to investigate the incident.
The Lahore high court yesterday ordered the district and sessions judge, Kasur, to probe the matter and submit a report within two weeks.
The three Christian women were allegedly brutally beaten and then paraded naked by armed men of Muhammad Munir, a local landlord said to be having the backing of the ruling PML-N party, in Pattoki area of Kasur district, some 50 kilometres from here.
The incident took place in the first week of last month. The matter came to light a few days after the Asian Human Rights Commission (AHRC) issued a news release to the media.
According to the victim family's head Sadiq Masih, the male members of his family had gone out on their jobs when the attackers led by Munir entered his house.
Munir demanded Masih to produce his sons who earlier had a brawl with him over a cattle issue.
Failing to find them there, the attackers took the wives of Masih's three sons with them.
Munir and his armed men first disrobed the women and then forcibly paraded them naked in the streets.
As the women screamed and shouted for help, some elderly people of the village came out to their rescue. They put their turbans on the feet of the attackers, pleading them to leave the women.
After this, the attackers let the women go but warned the villagers and the victim family against reporting the matter to the police.
http://timesofindia.indiatimes.com/world/pakistan/Three-Christian-women-paraded-naked-in-Pakistan-court-orders-probe/articleshow/21052569.cms
----------
Recruitment Firms Hire Psychologists to Evaluate Maids for Saudi Families
13 July 2013
RIYADH – A number of recruitment companies have hired female psychologists to help them assess the psychological state of housemaids before the latter are sent to work for Saudi families, Al-Jazirah daily reported.
This move has come after many Saudi families have called upon recruitment companies to find a way to protect them against violence at the hands of housemaids. One of the psychologists hired by a recruitment agency told Al-Jazirah that the company she works for has been administering competency tests to every maid brought over to the Kingdom.
Over 2,900 housemaids have undergone different psychological tests by psychologists who recorded anything unusual about a housemaid's behavior.
Any domestic help who becomes hostile toward the family she works for will be deported immediately while those who lack certain social skills will be rehabilitated and trained for work.
The psychologist said some of the housemaids who underwent testing showed symptoms of severe depression while some displayed signs of violence and few were slow in understanding.
Mai Abdullah, who works for the public sector, said families should do their best to avoid confrontations and problems with their maids. "These confrontations usually result in catastrophes such as what happened to innocent children a while ago when they were murdered by none other than the housemaids that worked for their families," she said while adding that evaluating the psychological state of housemaids should solve many of the problems Saudi families have been facing.
Employee Somaya Abdulaziz supports the move for forming a special committee of psychologists and sociologists to study housemaids and decide if they are suitable for work. She said authorities should require all recruitment companies to conduct such tests on all recruited housemaids. She suggested that newly-recruited housemaids should be aware of the penalties applicable in the Kingdom for criminal activities.
Dr. Ibrahim Al-Obaidi, family counselor at King Saud University, agreed that such a move is positive and he even suggested setting up clinics to carry out the task. "It is very important that a recruitment company should be aware of the kind of life or environment the housemaid has been living in before coming to this country," Al-Obaidi noted.
"The tests should be simple, not complex ones. Moreover, the recruitment company should keep a file about a maid's work and behavior and constantly observe the maid's actions."
He also urged families to treat housemaids well and pay them their salaries on time.
http://www.saudigazette.com.sa/index.cfm?method=home.regcon&contentid=20130713173312
-----------
More Saudi female students show interest in engineering
Jul 13, 2013
JEDDAH – Construction Products Holding Company (CPC) recently held graduation day on the successful conclusion of its Summer Training Course 2013 for female students from King Abdulaziz University and Effat University in Jeddah.
The graduation ceremony was attended by Dr. Faysal Alaquil, CPC's Director of Business Development and Social Responsibility, as well as the training program staff. "The number of trainees has been increasing year after year since the start of the program," Alaquil noted.
The increasing demand for the training program confirms the company's concerted drive to provide the necessary training to qualify female students for the work market, which is in accordance with major studies, especially in the engineering and architectural fields, he said.
"CPC prepared the summer training program in realization of its important role as a major national company to upgrade the graduates and prepare them to meet the requirements of the work market in Saudi Arabia, as well as to handle modern technologies," he added.
"The training program was introduced first in collaboration with local universities in Jeddah," Alaquil said. "Training sessions are held in three places in Jeddah - the CPC headquarters on Andalus Street in Jeddah and the Data & Information Center at CPC's Industrial Park."
Mrs. Maie Omar Binladin, Deputy Director of CSR, said "the company's Saudization plan to train female students of engineering, architecture and other faculties is in line with government directives."
"This objective can only be achieved by qualifying female graduates to be able to fulfill the responsibilities of the positions they would assume in (CPC) and other companies," she added.
"We are happy with the keenness of the female students in wanting to be trained and learn about modern sciences and participate in helping develop the country and improving the life of citizens," she said.
"We will continue to implement our training plans to include as many new faculties as we can," Alaquil added.
http://www.saudigazette.com.sa/index.cfm?method=home.regcon&contentid=20130713173334
----------
Saudi princess bailed on charge of human trafficking in California
July 13, 2013
A Saudi princess charged in California with human trafficking has been freed after posting $5m (£3.3m) bail, but authorities imposed strict travel requirements and a GPS tag. Meshael Alayban, 42, who prosecutors said is one of the six wives of Prince Abdulrahman bin Nasser bin Abdulaziz al-Saud, was released a day after her arrest.
Earlier in the day she appeared in court wearing a dark blue jail jumpsuit to answer to one felony charge of human trafficking. She did not enter a plea. Her arraignment was postponed to 29 July.
Alayban was arrested after a Kenyan woman who worked for her as a maid alleged she was held against her will and forced to work long hours for meagre pay. The maid led police to a building in Irvine where Alayban's family was staying, authorities said.
The district attorney Tony Rackauckas said after court on Thursday that the woman had been subjected to "forced labour," and likened Alayban to a slave owner.
"It's been 150 years since the emancipation proclamation, and slavery has been unlawful in the United States, and certainly in California, all this time, and it's disappointing to see it in use here," said Rackauckas, who had requested that Alayban's bail be set at $20m.
Defence attorney Paul Meyer declined to comment on the case after Thursday's hearing but had previously said it was a dispute over domestic work hours.
Alayban is forbidden to have contact with the alleged victim, cannot leave Orange county without permission from the court, and has turned over her passport.
The Kenyan woman said her passport was taken from her when she left her country to work for Alayban, hoping to make enough money to cover her ailing seven-year-old daughter's medical bills.
The 30-year-old Kenyan woman, whose name has not been released, claims she was forced to work long hours and was paid only a fraction of what was promised.
Authorities said it wasn't until she travelled with the Saudi family on their vacation to the United States that she was able to escape, flag down a bus, and call police. Police found four other workers, from the Philippines, in the condo. The women left voluntarily with officers and told them they were interested in being free, police said. No charges have been filed related to those women and police said there were no signs any of the workers had been physically abused.
The women's passports had been held with the victim's documents in a safe deposit box, Rackauckas said.
The case is the first labour trafficking case prosecuted in Orange county since voters approved a law last year to stiffen the penalties for the crime. If convicted, Alayban faces a maximum sentence of 12 years, which is double the sentence she could have received a year ago, Rackauckas said.
The Saudi royal family is extensive, with thousands of princes and princesses, including some who have run into trouble with the law.
In 2002, the Saudi princess Buniah al-Saud, who was accused of pushing her maid down a flight of stairs, entered a no-contest plea in Florida and was fined $1,000. In 1995, another Saudi princess, Maha al-Sudairi, allegedly beat a servant in front of sheriff's deputies providing off-duty security. No charges were ever filed.
"These people have lots of money; they think they're above the law," said Ali AlAhmed, director of the Washington-based Institute for Gulf Affairs.
http://www.guardian.co.uk/world/2013/jul/12/saudi-princess-human-trafficking-california
------------
For Pakistani Girls, Just Going to Class Is a Risk
July 13, 2013
Shazia Ramzan was hurt in the same Taliban attack that critically wounded an outspoken teenage advocate of education rights, Malala Yousafzai, in October. Since then, the Taliban have continued their war against girls' education in northwestern Pakistan, bombing schools and terrifying pupils and parents.
http://www.nytimes.com/slideshow/2013/07/11/world/asia/20130711PAKISTAN.html
------------
In Aasia Bibi's Blasphemy Case, Plenty to Ponder for Appellate Court
July 13, 2013
LAHORE: Aasia Bibi's conviction for blasphemy is inconsistent with the evidence presented in the case and the appeal court will likely reduce her sentence, if not acquit her altogether, according to legal experts.
Bibi the Christian woman whose innocence was championed by Salmaan Taseer until his assassination in January 2011 has been in jail since June 2009. Her allegedly blasphemous utterances came after a quarrel with some Muslim neighbours who had refused to drink water from the same glass as her as she was a Christian.
A Nankana Sahib additional district and session's judge sentenced her to death on November 8, 2010, finding her guilty of uttering derogatory remarks about the Prophet Muhammad (peace be upon him). She was also fined Rs100, 000.
But the record of her trial shows that there were several holes in the prosecution's case, including an extrajudicial confession, inconsistencies in the testimony of prosecution witnesses, and procedural errors on the part of the police, The Express Tribune has learnt.
Confession and testimony
Full report at:
http://tribune.com.pk/story/575827/blasphemy-conviction-in-aasia-bibis-case-plenty-to-ponder-for-appellate-court/
------------
U.K's Report Looks into Why Female Professionals Are Still Sidelined
July 13, 2013
KARACHI: The media industry has come a long way from when the only place for women in the work field was at the post of a secretary or as arm candy smiling next to the male talk show host. But while the male journalists in Pakistan may have stopped referring to their female counterparts as 'lady reporters', female journalists still feel that professional roles are being defined according to gender.
According to a report by the Uks Research Centre and DANDIA (the Danish international development agency), the growth of women in media is mostly horizontal and not vertical – which means that they are growing in number but not reaching new professional heights. The report, titled 'Who's telling our stories? A situational analysis of women in media in Pakistan', documents a two-year project and was launched on Wednesday.
Full report at:
http://tribune.com.pk/story/575707/discourse-on-women-in-media-uks-report-looks-into-why-female-professionals-are-still-sidelined/
------------
Uganda Appeals to Muslims to Allow Girl Education
July 13, 2013
Child of Africa - Nsumba, UgandaUganda People's Congress (UPC) recently appealed to the Muslim community to educate girls. The president of UPC, Dr. Olara Otunnu, has called for support of girls' education.
Otunnu's words came during a fundraiser for Tawheed Islamic School at Muktar Mosque in Arua town. The fundraiser, initiated the previous year, is to support Islamic development projects through local funds. This would reduce dependency on Arab nations.
Full report at:
http://www.openequalfree.org/ed-news/14050/uganda-appealing-to-muslims-to-allow-girl-child-education
------------
Child marriage rate remains high in Bangladesh
July 12, 2013
DHAKA, Bangladesh – Health Minister A. F. M. Ruhal Haque told reporters Wednesday (July 10th) that 66% of young Bangladeshis are getting married before the age of 18, and that nearly 33% of them are becoming pregnant before reaching 19, which "often means an abrupt end of childhood", local media reported.
Beyond that, adolescent pregnancies threaten the life of both mother and child, as a teen's pelvis is not properly developed, raising the risk of complications, The Daily Star reported.
During the press conference, called to mark World Population Day, Haque stressed the need to stop early marriage, and said adolescents should receive "comprehensive sex education" to plan their lives, bdnews24.com reported.
The Dhaka Tribune reported that existing laws in Bangladesh prohibit the marriage of girls under 18, but huge numbers are forced into child marriages.
The UN Population Fund estimates worldwide, about 16 million adolescents give birth each year while another 3.2 million undergo unsafe abortions.
http://khabarsouthasia.com/en_GB/articles/apwi/articles/newsbriefs/2013/07/12/newsbrief-03
------------
Court Rules against School Ban on Islamic Veils
July 13, 2013
Two schoolgirls from Bürglen, in the canton of Thurgau, have been given the go-ahead to wear Islamic veils to school.
On Thursday, the Federal Tribunal in Lausanne backed a decision taken by the Administrative Court in Thurgau last year that ruled against the girls' school.
The school had said that the pupils couldn't wear veils.
However, the debate is likely to rumble on in the rest of the country as the ruling only applies to Bürglen.
According to federal judges, a ban on wearing the veil is interference in the religious freedom of the schoolgirls".
The ban has been in place in Thurgau for 15 years.
http://worldradio.ch/wrs/news/wrsnews/court-rules-against-ban-on-islamic-veils-in-school.shtml?36415
------------
Extremists fear education: Malala
July 12, 2013
Malala Yousafzai, who has been recovering from last year's attack in the UK, told the youth assembly there were millions who had been attacked or killed across the world because of the terrorists' fear of "books and pens".
She called on those present to take up "the weapon of knowledge" in their campaign for access to education for all children around the world.
Friday is Malala's 16th birthday - declared Malala Day - in what was the first public address by the teenager in front of more than 500 youth delegates at the UN headquarters in New York.
As she took to the dais, there was a standing ovation and cheers of delight for the young girl who cheated an assassin's bullet following an attack on her school bus in the Swat valley in north-western Pakistan last year.
Full report at:
http://www.express.co.uk/news/world/414258/Extremists-fear-education-Malala
------------
Nigeria: Early Pregnancy Stops Girls From Realising Potential
BY RUBY LEO, 12 JULY 2013
Adolescent pregnancy has been identified as one of the reasons why young females don't realise their full potential, even as experts have called for actions to improve adolescent sexual and reproductive health education.
The United Nations Secretary-General, Ban Ki-moon, in his message to commemorate this year's World Population Day expressed the need to devote attention and resources to the education, health and wellbeing of adolescent girls for sustainable positive change in society.
His words, "On this World Population Day, let us pledge to support adolescent girls to realize their potential and contribute to our shared future".
Full report at:
http://allafrica.com/stories/201307120466.html
------------
Somali Imams join fight against sex trafficking in Minnesota
By Phoebe Tollefson, TC Daily Planet
July 12, 2013
"Minnesota girls are being bought and sold for sex," says Dinah Swain, "and it's our responsibility as adults to stop it." While the issue is complicated, the sense of urgency it creates is not.
Dinah Swain and some of her colleagues in the 2012-2013 Policy Fellows program of the Humphrey School of Public Affairs looked for new ways to address the issue, and found allies in the Metro Transit system and Somali Imams.
Full disclosure: Phoebe Tollefson is a full-time staff member at the Humphrey School of Public Affairs.
Metro Transit
According to Swain, public transportation is a key point of contact for victim outreach. "Many travel to and from prostitution jobs on buses and light rail, or hang around transit stops to meet the clients," said Swain.
Full report at:
http://www.tcdailyplanet.net/news/2013/07/12/metro-transit-somali-imams-join-fight-against-sex-trafficking-minnesota
------------
Hina Jilani of Pakistan Appointed Member of the Elders at UN
By Haider Rizvi
July 13, 2013
UNITED NATIONS: Hina Jilani, a renowned Pakistani human rights activist, has been appointed member of The Elders, a highly respected group of former world leaders working for peace, justice and human rights.
Her appointment was announced on Thursday by Kofi Annan, the former UN secretary general who is also chair of the group founded by the South African leader Nelson Mandela in 2007.
In a statement, Annan said he was "very pleased that Hina Jilani and Ernesto Zedillo have agreed to join our group".
"Their wisdom and expertise will be precious assets for our future work. Their careers are models of ethical leadership and unwavering commitment to democratic values," he added.
As a Supreme Court lawyer, Jilani has conducted a number of landmark cases, setting new standards in Pakistan for the rights of women, minorities, children and prisoners. She created Pakistan's first all-women law firm and co-founded first legal aid centre in the country. She also founded the Human Rights Commission and Women Action Forum, a prominent women's rights group. She has also served as Special Representative of the UN Secretary General on Human Rights Defenders from 2000 to 2008.
Full report at:
http://www.dailytimes.com.pk/default.asp?page=2013\07\12\story_12-7-2013_pg4_11
------------
URL: https://newageislam.com/islam-women-feminism/un-education-award-india's-razia/d/12587