New Age Islam News Bureau
1 Nov 2016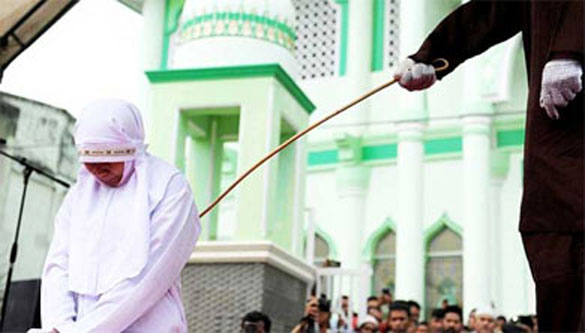 A young woman screamed in pain as she was caned Monday in front of a jeering crowd in Indonesia's Aceh
--------
• Woman Screams in Pain during Caning in Indonesia's Aceh
• France: Sarkozy Says Muslim Women Should Wear MINISKIRTS Instead Of BURQA
• HC Dismisses Plea by Muslim Woman against Divorce Based On 'Forged' Papers
• Maryam Aurangzeb Made Pakistan State Minister for Information
• Syrian Woman, Children Found Dead In Danish Freezer
• Malaysian Woman Nabbed With Liquid Meth in Mineral Bottle at Jakarta Airport
Compiled by New Age Islam News Bureau
URL: https://www.newageislam.com/islam,-women-and-feminism/new-age-islam-news-bureau/uk-muslim-women-complain-about-sharia-inquiries/d/108978
------
UK Muslim Women Complain About Sharia Inquiries
By Martin Bashir
November 1, 2016
The inquiries - one ordered by Theresa May when she was home secretary, and another by the home affairs select committee, are ongoing.
But some women have signed an open letter and said the inquiries aim to ban the tribunals, not to reform them.
The Muslim Women's Network UK said the inquiries risk treating the women like "political footballs".
The first evidence session on Sharia councils is due to be held by the home affairs committee on Tuesday.
But Shaista Gohir, the chair of Muslim Women's Network UK, said the inquiries could patronise women.
"Everyone wants to listen to Muslim women when highlighting their terrible experiences. However, when it comes to the solutions everyone thinks they know what is best for them," she said.
"I do feel that there are people who are anti-faith, particularly anti-Islam, who are using women's rights as a guise, wanting to abolish Sharia councils.
"If tomorrow or next year you shut down Sharia councils, what would result is Muslim women stuck in marriages, abusive marriages sometimes, and the Sharia divorce service would actually go underground.
"That would result in less transparency, higher prices and more discrimination," Ms Gohir added.
Sharia councils are tribunals which are often used to settle disputes within the Muslim community, and they seek to apply Islamic laws to everything from financial disputes to marital conflicts.
But they are unregulated and largely unknown to the wider public.
The precise number of these councils in the UK is not clear, although research by Reading University suggested the total is about 30.
However, crossbench peer Lady Cox, a longstanding critic of Sharia councils, says women are "suffering" under the system and has repeatedly tried to get legislation through Parliament to reform the councils.
"So many Muslim women come to me and tell me how desperately unhappy they are," she said.
"One lady came to me last week and had gone almost suicidal with the provisions of a Sharia council.
"So we need to look at the whole system and the way it operates," she said.
'A raw deal'
Lady Cox rejected the suggestion that critics were using the position of women in Islam to attack Sharia councils, and called it "absolute rubbish".
"A lot of the women who support me are Muslim women, who don't have a voice.
"Some of the strongest support for what I'm advocating comes from Muslim women themselves," she said.
Labour MP Naz Shah, who sits on the home affairs committee, said the councils could never be a replacement for the civil courts.
"I absolutely accept that there is discrimination and I absolutely accept that women given a raw deal.
"When there is discrimination the victims are, by and large, women.
"We will have a big conversation with Muslim women directly."
The Home Office declined a request for an interview.
bbc.com/news/uk-37830589
------
France: Sarkozy says Muslim women should wear MINISKIRTS instead of BURQA
November 1, 2016
Paris: Nicolas Sarkozy attacked Islamic values brutally vowing to put an end to religious extremism.
"I have nothing against Muslims and I have nothing against migrants.I want people of all faiths to live together in harmony. But I want everyone to be 'French', there can be no compromise on that principle." Sarkozy said in a live television interview.
He said: "Extremism must be eradicated; it's a matter of urgency. If we don't act now, if we turn a blind eye to Islamists, in 10 years, every single French Muslim woman will be forced to wear the Islamic face veil."
The hardline presidential candidate said the full-face Islamic veil should be "banned" from all French universities.
"I want Muslim women to be free. I want them to be able to choose their husband; I want them to be able to wear their hair loose and uncovered; and I want them to be able to wear miniskirts and tight jeans." Sarkozy said in an interview on BFM TV channel. Mr Sarkozy also said France's long-standing laws on secularism had to be respected: "We need rules. I don't want young Muslim women to wear the face veil because their tyrannical husband, father, or brother says they have to."
He also vowed to ban the burkini a body-covering Islamic swimsuit from all French beaches if he is re-elected president next spring.
"The burkini suggests that the female form is shameful and provocative, and is a symbol of Islamic extremism. In France, a woman's body is not the devil," he bragged.
Mr Sarkozy also spoke about the thorny issue of immigration, and said that sooner or later, migrants would head back to the 'Jungle' refugee camp in Calais, which is currently being dismantled.
He said: "It's not the end of the 'Jungle'.
"I don't understand what the government is doing. Asylum seekers must be given sanctuary, but immigrants who are not fleeing armed conflict of persecution must be sent home."
siasat.com/news/france-sarkozy-says-muslim-women-wear-miniskirts-instead-Burqa-1054584/
------------
HC dismisses plea by Muslim woman against divorce based on 'forged' papers
November 1, 2016
Making it clear that a court dealing with writ petitions can only decide on questions of law and not questions of facts, the Madras High Court dismissed a plea moved by a Muslim woman seeking to set aside a 'Khulanama' (a document expressing consent for divorce) allegedly obtained by her husband in a fraudulent manner.
According to S. Basheria, a mother of three, her husband T.C.A. Mohamed Yusuf had obtained divorce through an authoritative verdict (fatwa) from the Government Chief Kazi, by showing a fake 'Khulanama' dated June 9, 2006, allegedly written by her.
He subsequently married another woman.
In 2007, when Ms. Basheria approached the HC seeking to call for records from the Government Chief Kazi in connection with the divorce granted based on the 'Khulanama' and to pay a compensation of Rs. 7 lakh, a single judge of the court dismissed the plea pointing out that a case of forgery was pending before a trial court. Hence, the court was not inclined to entertain the writ petition. "The rights of the petitioner are relegated to be renewed after the conclusion of the criminal trial. At this stage, the writ petition is premature and no relief can be given to the petitioner," the single judge said.
Assailing the order, Ms. Basheria moved the present appeal. The appellant contended that the single judge had failed to take note of the life of the appellants, who had been stranded by the act of her husband.
She argued that the 'Khulanama' was a forged document and by virtue of the divorce certificate issued by the Government Chief Kazi, the appellant and her children were deprived of their rights. Denying her allegations, the Special Government Pleader submitted that as per Muslim law, the 'Khulanama' was valid if it contained a proposal and acceptance from the wife and the husband respectively.
Validity issues
He added that the Government Chief Kazi was not a competent person to declare Khulanama valid or forged.
Pointing out that allegations made by the appellants were disputed questions of fact, a Division Bench of Justices Huluvadi G. Ramesh and S. Vaidyanathan said: "It is well settled law that the disputed questions of fact cannot be gone into by this court under Article 226 of the Constitution."
Basheria had argued that the fake Khulanama deprived her and her children of their rights
thehindu.com/news/cities/chennai/hc-dismisses-plea-by-muslim-woman-against-divorce-based-on-forged-papers/article9289566.ece
------------
Maryam Aurangzeb Made Pakistan State Minister for Information
November 01, 2016
ISLAMABAD - Prime Minister Nawaz Sharif yesterday nominated Maryam Aurangzeb as minister of state for information and broadcasting; she will take oath today.
According to sources, names of Federal Railways Minister Khawaja Saad Rafique and Senator Mushidullah Khan were also considered for the job of federal minister for information. However, the appointment of Maryam is a clear indication that Pervaiz Rashid can resume the charge of the ministry if he gets the clean chit in the ongoing investigation into the leak of the controversial story, they added.
The PML-N leaders have welcomed the appointment of Maryam as a state minister. Previously, she was working as parliamentary secretary of the Interior Division.
Maryam was elected an MNA on a reserved seat for women. She belongs to a political family of Rawalpindi; her mother Tahira Aurangzeb is also a member of the National Assembly. Maryam's aunt Najma Hameed is a sitting senator of PML-N.
Maryam did her BA from Qauid-a-Azam University and completed her master degree in environmental development from Kings College England. She worked in WWF before joining PML-N. She is one of the close aides of Maryam Nawaz Sharif and was an active member of PML-N social media team.
Meanwhile, PML-N leader Maryam Nawaz Sharif, in a tweet, congratulated Maryam Aurangzeb and said she was one of the most dynamic and diligent team members of PML-N.
Meanwhile, in her first speech on PTV, Maryam said PTI's call to lockdown Islamabad was not against PML-N rather it was against the state. She said that Islamabad High Court had given detailed judgment on the matter while the Lahore High Court had also given its observation.
She said that now the matter was between the PTI and the state as it was responsibility of the state to protect life and property of its citizens.
She said there was no panic among residents of Islamabad on PTI's protest call as the city was open and functional today except for some specific spots.
The minister said, after the court orders if any untowards incident happened its responsibility would rest on PTI, however, the government was trying its best to avoid such a situation.
Maryam said the PML-N, being a political party, respected the judiciary and its orders and added law would take its course against the violators.
She said although Khyber Pakhtunkhwa was a unit of federation, its Chief Minister Pervez Khattak had been giving call for confrontation against the federal government, which did not show political maturity.
nation.com.pk/national/01-Nov-2016/maryam-aurangzeb-made-state-minister-for-information
------------
Syrian woman, children found dead in Danish freezer
November 01, 2016
COPENHAGEN:– Danish police said Monday they found the bodies of a slain Syrian refugee and her two young daughters in a freezer in their apartment, as they launched a manhunt for the girls' father.
The bodies of the 27-year-old mother and her seven and nine-year-old daughters were found inside a freezer in their apartment in the southern Danish town of Aabenraa after a concerned relative had not heard from them for days.
"Police went into the apartment and found the three bodies in a freezer," local police said in a statement.
"The victim's husband and the father of the two children was not in the apartment, and we are actively searching for him," the statement added.
The Syrian family arrived in Denmark in 2015 and were granted refugee status.
nation.com.pk/international/01-Nov-2016/syrian-woman-children-found-dead-in-danish-freezer
------------
Malaysian woman nabbed with liquid meth in mineral bottle at Jakarta airport
1 November 2016
JAKARTA: Indonesian police believe they have crippled an international syndicate that uses mineral water bottles to smuggle in drugs.
The modus operandi of the syndicate was uncovered following the arrest of five members of the syndicate, including a Malaysian woman, at Soekarno-Hatta International Airport on Oct 13 and 14.
Online media quoted Soekarno-Hatta International Airport deputy police chief Risnanto as saying that a Malaysian woman had been detained by Customs authorities on Oct 13. She was observed to be acting in a suspicious manner.
He said an inspection on the woman's baggage found two bottles of mineral water packed neatly in a box.
A test on the mineral water revealed that it contained 3.160kg of liquid methamphetamine.
The next day, police and Customs detained two Indonesian women who had just landed at the same airport from Hong Kong and seized 12 mineral bottles that were neatly packed in a box.
A test on the water in the 12 bottles found that it contained 18.9kg of liquid methamphetamine.
Each bottle could fill 1.5 litres of mineral water and if the liquid methamphetamine in all 14 bottles is heated, it can produce syabu powder weighing 22kg, according to Risnanto.
He said the two other syndicate members who police subsequently detained were a Pakistani and an Indonesian who acted as receiver and handler respectively, at the airport.
All five have been remanded pending prosecution under Indonesia's drug law which carries the death sentence.
On Friday, two Malaysians - a university student and a sports official were detained at Ngurah Rai Airport in Bali after being found with 100 pills of synthetic drug and more than 70g of cannabis.
The Indonesian government is going all out to combat the drug menace after President Joko Widodo declared the republic as in state of emergency against drugs. – Bernama
thestar.com.my/news/nation/2016/11/01/malaysian-woman-nabbed-at-jakarta-airport-with-liquid-meth-in-bottle/
------
URL: https://www.newageislam.com/islam,-women-and-feminism/new-age-islam-news-bureau/uk-muslim-women-complain-about-sharia-inquiries/d/108978
New Age Islam, Islam Online, Islamic Website, African Muslim News, Arab World News, South Asia News, Indian Muslim News, World Muslim News, Womens in Islam, Islamic Feminism, Arab Women, Womens In Arab, Islamphobia in America, Muslim Women in West, Islam Women and Feminism