New Age Islam News Bureau
21 Jun 2020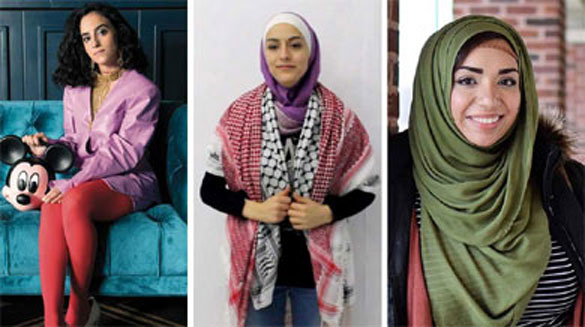 Nouri Flayhan, Lina Abojaradeh & Shirien Damra show their support for the Black Lives Matter
-----
• The Female Arab Artists Supporting the Black Lives Matter Movement
• Lagos PDP Mourns Women Leader
• Women Bear the Brunt of Virus Fallout in Workplace in UK and USA
• Family of Woman Who Portrayed Aunt Jemima Opposes Move to Change Brand
• How an All-Women Anti-Poaching Ranger Team is Changing a Whole Community
• Muslim Woman Arrested During A Black Lives Matter Protest in Miami Was Forced to Remove Her Hijab
• Pandemic Poses 'Triple Crisis' For Refugee Women and Girls
• Local African Woman Fundraising for Victims of Abuse, Trafficking
• Hapless Khan Sisters, Huma And Huzma, Withdraw ComplaintAgainst Aamna Usman
• The Rise and Fall of Saudi Men and Women's Fitness Centers
• Women's sports participation up 149%: Saudi Sports Minister
• Women Empowerment and Economic Growth
• Priyanka Chopra, Reese Witherspoon And Mindy Kaling Congratulate Malala Yousafzai As She Graduates from Oxford
Compiled By New Age Islam News Bureau
URL; https://www.newageislam.com/islam-women-feminism/the-female-arab-artists-supporting/d/122175
-------
The Female Arab Artists Supporting the Black Lives Matter Movement
June 21, 2020
Last month, the world was left stunned, appalled and enraged by the unlawful murder of George Floyd by Minneapolis police. Since then, people all over the world have taken to the streets to show their support for the Black Lives Matter movement, in solidarity with those protesting in America. With the movement becoming an important global social issue, the Arab world is also showing support and these three female Arab artists are doing it through the medium of their works of art…
Nouri Flayhan is a Lebanese artist who has been using her work to spark conversations about social injustices, whilst also conveying her own view points and opinions. Also using social media as a platform to speak out about social issues, she recently addressed the matter of racism on Instagram, captioning,
"Let's not pretend that racism doesn't exist in the Arab region. As we look and see what is happening around us, we are also looking within our own communities. We can all do better, we need to acknowledge the racism issues we have in the Arab region, have uncomfortable conversations about them. Reflect on how it affects the people in our region & try & create and be a positive change for our communities and region."
Also speaking out about the nuances in reference to race when it comes to the Arabic language, she also captions another post stating, "Let's not forget that the term 'abeed' which means slaves is still being used in Arab homes to refer to black people," she continued, "Make sure you have conversations about this amongst each other and call out this issue.
I grew up visiting Lebanon where a popular sweet with a chocolate coating and marshmallow insides was called 'ras el abed' head of the slave and only 10 years ago was changed to 'tarboosh.'"
Jordan based Palestinian artist, Lina Abojaradeh explores the commonality that exists between the social injustices of the African Americans and Native Americans in the US and the experience of Palestinians in Palestine in her most recent pieces of work.
Also using Instagram as a platform on which she can discuss and share her work, she captioned her piece, in which she depicts a police officer kneeling on the necks of people of color, "As an artist and activist, I had to draw something in response to the murder of George Floyd. I stayed up all night to finish this, and couldn't help but think of how connected different forms of oppression are. The black man choked to death, the Palestinian worshipper being beaten, the indigenous native women facing violence…
It is all rooted in the settler colonialism mentality, and in the deeply systematized belief of the supremacy of one race over another. I wanted this drawing to convey power, and so the fisted hands symbolize our fight for every single lost life in this war against oppression."
With first-hand experience of living in America, Shirien Damra is a Palestinian-American artist who expresses her opinions and through her graphic art and speaks out about the social injustices that people of color in America experience.
When she had heard about the murder of George Floyd, Damra spoke out on social media and called for racism to end, "Heartbroken, angry and disgusted. This must end. Much love and solidarity to Black communities grieving another beautiful life lost. May George Floyd Rest in Power." Not only addressing the race issues that surround her in America, she also addresses the Nakba.
The Nakba, which translates as "catastrophe," in English, is remembered every year on May 15th by Palestinians all over the world in reference to the ethnic cleansing of indigenous Palestine. The Nakba also destroyed Palestinian society in 1948 which wiped out over 750,000 Palestinian families and homes.
https://www.abouther.com/node/29906/people/leading-ladies/female-arab-artists-supporting-blm-movement
------
Lagos PDP mourns women leader
20 June 2020
The Lagos State chapter of the Peoples' Democratic Party (PDP) has described the demise of its Women Leader, Mrs Shola Oladehinbo, as devastating.
The Publicity Secretary of the party in the state, Mr Taofik Gani, in a statement on Saturday said the party was deeply shocked over her death.
Gani described the deceased as "a leader of leaders" and a loyal party woman, who did so much to add value to the party.
The publicity secretary said the party was with the family at their trying period and would do its best to support them.
He prayed for the peaceful repose of the deceased's soul while asking God to grant the family the fortitude to bear the loss.
"The PDP has again called on the Lagos State Government to improve health services in the state to curtail or stop deaths arising from treatable ailments,'' he said.
https://guardian.ng/news/lagos-pdp-mourns-women-leader/
------
Women Bear the Brunt of Virus Fallout in Workplace in UK and USA
21 JUN 2020
LONDON: The reverberating economic shock of the coronavirus crisis has delivered a massive setback for women because so many work in the badly exposed services sector, experts say.
The nature of the outbreak means women are more likely than men to lose or quit their jobs in vulnerable low-paying workplaces like bars, conference venues, hairdressing salons, hotels, pubs and restaurants, which faced extensive shutdowns.
School closures during lockdown have exacerbated the situation because more women than men tend to care for and teach their children, even while working from home.
The services sector, covering areas like hospitality and leisure, has been ravaged by lockdowns imposed by governments across the world trying to halt the spread of the disease.
"In the UK and the US, women more likely to lose their jobs because they are more likely to work in services," said Cambridge University economics lecturer Christopher Rauh.
As lockdowns ease and infection rates and deaths fall, the services sector is often the last to reopen because it tends to rely on large numbers of people in close contact.
In Britain, stay-at-home measures began to be relaxed earlier this month but pubs, bars and restaurants are expected to reopen only from July 4.
However, not all primary school children will return before the lengthy summer break that starts in mid-July and runs until the start of September.
Within family units, mothers have been 1.5 times more likely than fathers to lose or quit their jobs since the crisis began, according to think-tank the Institute of Fiscal Studies.
Women are also more likely than men to have been furloughed, or temporarily paid by the UK government's jobs retention scheme, it added.
Sarah, who works in London's film industry, stays up every day until 1am to meet deadlines, long after her son and daughter have gone to bed.
"At the start of lockdown it was atrocious," said a single mum working in the pharmaceutical sector in Paris who declined to give her name.
"I couldn't organise myself properly, juggling video conferences, distance learning, cooking meals and doing housework... and wondering what time to stop work in the evening," she told AFP.
"Among my single parent friends, it has been the mother who has taken care of children during lockdown. It feels like we are turning back the clock to 50 years ago," she said.
"Is the coronavirus crisis taking women back to the 1950s?" the daily business newspaper asked in a comment piece this month, citing unfair demands placed on female workers.
In contrast with the current health emergency, men were at the sharp end when the notorious 2008 global financial crisis sparked the previous global recession.
"During the 2008 recession... men were the first to be hit," said C. Nicole Mason, head of the US-based Institute for Women's Policy Research think tank.
"This time around, because women are over-represented in the service sector, they will experience disproportionately higher unemployment and job loss compared to men."
https://www.bangkokpost.com/world/1938560/women-bear-the-brunt-of-virus-fallout-in-workplace
-------
Family of woman who portrayed Aunt Jemima opposes move to change brand
20 Jun 2020
An East Texas family is not happy about the 'brand changing' of a popular pancake syrup: Aunt Jemima.
The iconic 'Aunt Jemima' has long standing ties with the city of Hawkins, and a goodwill ambassador named 'Lillian Richard.'
Living in Forney, Vera Harris is the family historian for the Richard family of Hawkins, and could hardly believe a big part of their family legacy, the 'Aunt Jemima' brand, was about to be erased from supermarket shelves.
"A lot of people want it removed. We want the world to know that our cousin Lillian was one of the Aunt Jemima's and she made an honest living. We would ask that you reconsider just wiping all that away. There wasn't a lot of jobs, especially for black women back in that time. She was discovered by Quaker Oats to be their brand person," Vera says.
In the Fouke community just outside Hawkins is a historic marker dedicated to Lillian Richard who's recognized as one of several women who portrayed Aunt Jemima.
"I wish we would take a breath, and not just get ride of everything. because good or bad , it is our history. Removing that wipes away a part of me. A part of each of us. We are proud of our cousin," Vera says.
Harris says herself and the Richards family are also against the renaming of military bases, as many of their relatives are veterans.
https://www.nbc15.com/content/news/Family-of-woman-who-portrayed-Aunt-Jemima-opposes-move-to-change-brand-571388961.html
------
How an All-Women Anti-Poaching Ranger Team is Changing a Whole Community
by Alex Reif
Jun 20, 2020
There was a special presentation at the virtual AFI Docs Film Festival this weekend to celebrate the National Geographic short film, Akashinga: The Brave Ones. This James Cameron produced short tells the story of an all-female anti-poaching team of rangers in Zimbabwe and the opportunities it presents for some of the country's most oppressed citizens. Joining the virtual panel were the organization's founder, Damien Mander, and one of the rangers, Nyaradzo Hoto.
"My history was working with special operations," Iraq War veteran Damien Mander explained about his work before joining anti-poaching forces. "Being part of a system that obliterated a country and a culture. Coming across and getting involved with conservation in what was becoming an increasingly militarized operation." When he joined the initiative, he saw the same mistakes made in Iraq being applied to the approach to saving animals. "Bigger fences and more guns are not going to solve the conservation problems. It's going to need a conversation."
Damien Mander knew that if he could get the entire community involved, they could make a real impact. One scene in the film even shows the rangers responding to a community tip, doing a raid on a private residence of a suspected poacher. Before his founding of the Akashinga troop, women weren't allowed to be rangers. Nyaradzo Hoto shared how much this opportunity has changed her life. "From this program, it has empowered women. And also, since the program, we have comprised of disadvantaged women… They have been through hard times and through our marriages and from that we have risen from the dust… We couldn't have believed before we could make it as conservation rangers."
Haunted by his war past, Damien shared his hope for the future. "The biggest thing I want in life is to be able to work so people like me are no longer needed to protect the natural world…. For me, the biggest reward is just seeing the impact these women have made." In the decade prior to Akashinga's founding, there was a 700% increase in armed conflict in Africa. Since founding the program, and throwing out the military mentality, Damien has learned a lot from the female rangers. "For me, I've just very much become the student in just sitting back and watching this model unfold."
"They're working in one of the harshest locations on the planet, one of the most remote locations doing one of the most demanding jobs… and they're thriving. They're doing it in such a manner that makes me so proud," Damien stated before sharing some incredible facts. Since founding Akashinga, the rangers have made over 100 arrests and the region has seen an 80% downturn in poaching. "They've shifted an entire focus of the community in terms of what's possible, this amazing way of social engineering. They've become rockstars in their local communities." Boys and girls look up to the Akashinga Rangers and heroes as they drive through town. "It's not just about going out and protecting the animals, but it's the example they set and they really make me proud of them."
Like something out of a Disney narrative, Damien also shared his approach to training new recruits. "When the women came to us, we didn't say here's a uniform, here's a rifle, go out there and protect the area. We said what are your dreams? What do you want to do? That's what this is about. Some of them wanted to finish high school, some wanted to go to university like Nyaradzo, some wanted to buy land. It's not about protecting land, it's about building communities and these women are a perfect example of that." As for Nyaradzo Hoto, she's about to earn her degree in wildlife conservation and Damien believes she could be president of Zimbabwe someday.
https://www.laughingplace.com/w/articles/2020/06/20/the-future-is-female-how-an-all-women-anti-poaching-ranger-team-is-changing-a-whole-community/
-----
Muslim woman arrested in Miami protest forced to remove hijab for booking photo
June 20, 2020
By Wilson Wong
A Muslim woman arrested during a Black Lives Matter protest in Miami was forced to remove her hijab for a booking photo, which a Muslim civil rights advocate called a "severe violation of religious freedoms."
It also prompted supporters to start an online petition demanding justice for Alaa Massri, 18, one of seven people arrested June 10 during a peaceful protest against racial injustice. The arrests occurred after demonstrators spray-painted the Christopher Columbus and Juan Ponce de León statues in Bayfront Park, the Miami Police Department said in a statement.
Protestors covered the face and hands of Columbus in red paint and spray-painted "BLM" and "George Floyd" at the base. The demonstrations turned chaotic when officers arrested the vandalism suspects. The police department said in a news release that some demonstrators assaulted officers and damaged a police vehicle.
"City of Miami, we support peaceful protests but there will be zero tolerance for those who hide behind the peaceful protestors to incite riots, damage property, and hurt members of the public or our officers," department officials said in a statement.
Massri did not immediately return a request for comment Friday, but a Change.org petition said the college student was aiding injured protesters before her arrest. The petition had received more than 45,000 signatures as of Friday afternoon.
Massri was arrested on suspicion of battery against a police officer, resisting an officer with violence, and disorderly conduct, according to her arrest report. At the Turner Guilford Knight Correctional Center in Miami, her booking photo was taken without her hijab, which was not returned to her for the seven hours she was held there, according to the petition.
But a spokesman for the Miami-Dade Corrections and Rehabilitation Department said Friday that policies are in place to accommodate people who wear head coverings for religious reasons.
"Arrestees, who claim or appear to be of a particular faith, are allowed to keep their head-covering once it has been searched for contraband and the booking photograph has been taken," said Juan Diasgranados, public affairs manager for the jail.
Omar Saleh, an attorney for the Council on American-Islamic Relations, a Muslim civil liberties and advocacy group, said that removing religious head coverings during booking procedures — whether a hijab, yumalke, or turban — is a "severe violation of religious freedoms."
Facilities enforce religious rights differently across Florida, Saleh said, adding "Miami does not have specific booking procedures relating to Muslim women wearing a hijab."
He said removing religious head coverings during booking procedures violates the Religious Land Use and Institutionalized Persons Act, a federal law that protects the religious rights of inmates, unless officials can demonstrate that removing them is necessary to achieve a compelling government interest.
"We are committed to ensuring that individual's faith-based beliefs and practices are respected and will review this incident to ensure compliance with our policies and this commitment," Diasgranados said.
"It's not isolated. We've heard it before, and there have been lawsuits filed across the nation to rule this practice as unconstitutional," Saleh said, citing a few jurisdictions in California and Portland, Maine.
In April, a Muslim woman filed a federal civil lawsuit in Yonkers, New York, claiming she was forced to remove her head covering before taking her booking photo last August. Ihsan Malkawai was arrested on "false allegations of abuse," which were later discovered to be unfounded, and was without her hijab for 36 hours until her husband bailed her out of jail, the lawsuit said.
"This isn't treatment that's unique to Muslims, but it's one where Muslim women who wear hijabs certainly bear the brunt of," Saleh said. "There needs to be change."
https://www.nbcnews.com/news/us-news/muslim-woman-arrested-miami-protest-forced-remove-hijab-booking-photo-n1231607
-----
Pandemic poses 'triple crisis' for refugee women and girls
June 20, 2020
TORONTO -- Advocates are calling for a tailored humanitarian response effort for refugee women and girls, who they say now face a "triple crisis": displacement, gender-based violence and COVID-19.
Since the global pandemic shuttered schools across many countries, more than eight million refugee children are facing an increased threat of infection and child labour out of the relative safety of the classroom.
Women and girls are especially vulnerable, said Tanjina Mirza, Plan International Canada's chief programs officer and interim co-CEO.
"A lot of girls may not pass through this," Mirza told CTV National News. "They may be married off because that's one less mouth to feed."
On Friday, Plan International Canada released a report on what it called the "layered crises and heightened risks" faced by refugee women and girls.
"This is a triple crisis: the crisis of displacement, the COVID-19 pandemic and the risks they experience simply because they are young and female," Mirza said in a Friday statement. "It's imperative that their unique needs and rights are addressed in global and local COVID-19 responses. In addition, we need to hear the voices and solutions of those impacted—nothing should be decided without them."
For an estimated 77 million refugees, crowded camps and close quarters are a starker reality amid the global pandemic, as is infection control when soap and fresh water are a scarce resource. In Syria, families weigh the risks of bombings against the coronavirus, which has infected close to 200 people there, according to official numbers. The country, where a nine-year civil war still rages, is home to more than 16 million people, most of whom live in poverty.
Food insecurity has spiked in many regions where refugee women are increasingly unable to cultivate land due to travel restrictions. Some 25 per cent of refugee women are the heads of households and depend on acquiring and farming land outside of their communities to feed their families, according to the Plan International Canada report. As is the case in many countries, the threat of domestic violence has also risen for refugee women and girls who are in crowded camps and homes more than before.
With travel restricted to contain the spread of COVID-19, countries that may have been a safe haven for displaced families have closed their borders to new arrivals. While more immigrants came to Canada in the first quarter of 2020 than the same period in 2019, the numbers dropped significantly in April, according to a new report by the Association for Canadian Studies. Since then, the Canadian government allocated some $86.5 million to support international partners, including the United Nations High Commissioner for Refugees.
"The response so far has been pretty low and slow and we really need to see an acceleration of this commitment," said Severine Meyer, a senior manager of emergencies and humanitarian assistance at Plan International Canada
https://www.ctvnews.ca/world/pandemic-poses-triple-crisis-for-refugee-women-and-girls-1.4992876
------
Local African Woman Fundraising for Victims of Abuse, Trafficking
by Caitlan Butler
June 20, 2020
Erin Graves considers herself blessed to have been able to travel the world. From Puerto Rico to Europe to Eswatini, formerly known as Swaziland, which is located in the southern part of Africa, she has ministered and worked with women who have been victims of abuse all around the globe.
Graves lives in El Dorado now, working for Murphy USA, but she is continuing the work she started in Sept. 2018 in Eswatini by fundraising for Hosea's Heart, a nonprofit centered on Christian faith, social justice and empowerment, which works to assist victims of sexual abuse and trafficking in Eswatini with education, safe housing and emotional restoration.
"Due to its gruesome nature, it is difficult for some to fathom that sex trafficking is a reality. … Thousands of adults and children are sold to the sex/pornography industry every day," Graves said. "No one can imagine the pain that reveals itself during recovery."
According to a 2016 report from the United Nations International Labor Organization, 4.8 million people, 9.67% of the estimated 24.9 million people in forced labor globally, are victims of sex trafficking; the report says women and girls are the primary victims of sex trafficking and forced labor more generally, making up 99% of sex trafficking victims and 58% of all forced labor victims.
Residents at an orphanage in Eswatini dance during an outreach event Erin Graves participated in as a volunteer for Hosea's Heart. (Contributed)
Hosea's Heart builds from the foundation of the Christian faith to help sex abuse victims in Eswatini "renew, rebuild and restore," Graves said. In addition to the organization's ministry, girls from eight to 18 are given physical security in safe housing, education based on curriculum used in the United States and the option of making goods that are sold through the organization to raise money to increase its scope.
"They make purses, paper beads and other items that can be found on the website for purchase," Graves said. "My main objective is to raise funds for their school building."
Hosea's Heart is currently working to raise about $89,000 to fund the construction of a school building that Graves said will include six classrooms, two bathrooms, a library, three staff offices and a storage room; it will also accommodate four girls in need of a safe haven, she said.
"About $10,000 has already been donated to cover one of the staff offices and the storage room, as well as waterproofing and glazing for the building," Graves said. "As a former teacher, I understand that this building is essential to not only their education but their livelihood. We teach U.S. curriculum which will allow them to complete state testing in the event that they have the funds to attend school in the U.S. Their education builds the foundation for them to be successful."
Graves said she is happy to give presentations on the subject of sex abuse and ways Hosea's Heart helps girls and young women to churches, businesses or other organizations interested in raising awareness on the issue and/or helping to fundraise. She can be reached at 870-315-1311 or erin.westberry1926@gmail.com.
"Once you experience life with these young women, you can never release them from your heart," Graves said. "I am just trying to do my part stateside to help them get the resources they need to succeed."
https://www.eldoradonews.com/news/2020/jun/20/local-woman-fundraising-victims-abuse-trafficking/
-----
Hapless Khan Sisters, Huma And Huzma, Withdraw Complaint Against Aamna Usman
By Gopal Misra
June 20, 2020
The two pretty Khan sisters, one actor and another model, Huma and Huzma, as predicted by a London-based journalist, Rashid Masud (RM), would have to withdraw their complaint against Aamna Usman, daughter of Malik Riaz, and her 12 security guards. His prediction proved correct, the innocent girls have withdrawn the criminal case.
RM, who is known for exposing the dirty games of the Pakistani establishment i.e. army and its sponsored politicians, had cautioned Huma and Huzma that in spite of the support they have received from the nephew of the Prime Minister Imran Khan, they would never get justice in the Islamic state of Pakistan. The tenets of Islam which stand for justice are being compromised under the much-trumpeted Riasat-e-Madina an euphuism for Ram Rajya for Hindus, but there is no justice for the hungry, impoverished people of the country. RM has regularly been telling Pakistanis that their country has been hijacked by the power-hungry men in uniform and the politicians and media is just their subservient. The intelligence agencies, especially Inter-Services Intelligence (I-SI), have learnt to control judiciary and media and how to use these democratic institutional, essentials of any democracy. The army uses its influence in maligning inconvenient politicians through its pro-army journalists and channels.
Malik Riaz, who was arrested by the British police for money laundering in London, was spared due to the intervention of the Pakistani High Commission in London. He was the conduit for siphoning off tainted money grabbed by generals and pro-army politicians. Therefore, he had to be spared and saved from any judicial trial or media attention.
The Imran Khan government has ordered to keep the Malik Riaz deal with the British government under wraps as the most confidential document. Malik Riaz owns huge properties, both personal and on behalf of the corrupt generals and politicians, in Britain and Europe, is considered one of the most influential person in the country. RM is not off the mark, when he stated that this businessman is much more powerful than the prime minister of Pakistan and chief justice of the Supreme Court.
Therefore, it is not surprising that Aamna Usman's attack at the residence of the Khan sisters, did not get any coverage in the mainstream media, newspapers and television channels, though the victims themselves recorded the attack and shared it on social media and had addressed a crowded pres-conference in Lahore.
It is not for the first time that women in the show-world of Lahore were victimized. The famous heroine of Lahore, Shabnam, earlier name Jharna Basak — a Bengali Hindu from East Pakistan now Bangladesh, too was harassed and goons related to the high and mighty of Pakistan even raped her. It had happened in 1976. Her husband and young son were tied up and the five goons raped her in front of them. The Pakistani condoned this ghastly crime as an expression of Pakistan's extension of war against Kefirs. However, due to the outcry of the Lahore film world, a military court sentenced them to death, but the then military dictator, Zia-ul-Haq, pardoned the criminals because it was a crime done against a Hindu woman! In spite of these overtone of Islamic assertions, Shabnam was honored in Lahore for her lifetime award.
During 2018, elections, Imran Khan's, Pakistani army supported political outfit, the Pakistan Tehreek-e-Insaf Party, gave party ticket to contest the National Assembly to one of Shabnam's rapists, Farooq Bandial. Khan gave him a warm hug at a public function while announcing Bandial's candidature. He, however, had to withdraw the party ticket to the rapist, following media exposure. In spite of these exposures, the attitude of the regime towards women continues to be the same. Khan refuses to acknowledge that daughters of poor Pakistanis are being trafficked to China.
http://tehelka.com/hapless-khan-sisters-withdraw-complaint/
------
The rise and fall of Saudi men and women's fitness centers
DR. RAZAN BAKER
June 21, 2020
Until recently gyms and fitness centers were one of the few entertainment options for men alongside shopping centers and restaurants. In other words, it was the healthy choice of entertainment. When Saudi Vision 2030 was launched, it offered a complete transformation and a facelift to entertainment in the country. That being said, the highlight was increasing participation in physical activities among both genders from 13 percent to 40 percent.
This led to change in some regulations, such as allowing women to run gyms and fitness centers for women. This helped in various areas and ticked many boxes. For example, it created new job opportunities for women as it increased awareness among a large segment in society about the importance of exercising.
It helped patients who needed to exercise and couldn't find a place with reasonable prices at the hospitals' gyms. And it encouraged women to enter the field of sports to learn and train professionally, and get certified with the help of Saudi universities and colleges physical education program. Now they can do something with their degree in the country.
And just as they say every rise has its fall, the COVID-19 global pandemic arrived and hit these businesses badly. Everyone was forced to shut down and wait until things improved.
Some stopped completely, while others kept offering classes for free through their online social network channels — and I do believe that is so brave and noble of them.
But because of the financial crisis, an alternative option was offered to pay a small monthly fee and subscribe online with your favorite trainer or coach. This was one of the options to help the business from failing completely and was adopted worldwide as well.
According to a recent workshop conducted with cooperation between the General Investment Administration and the Leaders Development Institute, which both run under the Ministry of Sports, gyms and fitness centers are considered one of the biggest contributors to the local sport field, reaching SR3.5 billion ($930 million) in 2018.
The workshop highlighted that male membership reached 900,000 (SR2.9 billion market value), while women members reached 200,000 (SR650 million market price). They also claim that an increase has been witnessed in men's gyms and fitness centers from 485,000 in 2012 to 890,000 in 2017.
The speakers noted that the women's gyms and fitness center market is expected to increase due to the approval of allowing licenses for women gyms and fitness centers. The variation, they said, is huge due to previous restrictions in the country.
However, they pointed out that due to the pandemic lockdown, people are getting used to home training, the convenience of practicing sports at ease considering social distancing, suffering from less income due to jobs being terminated or put on hold, and considering the health and safety measurements to prevent virus spread.
All this will make it hard and costly for the fitness market to get customers back. In addition, there will be other challenging costs, such as safety precautions, cleaning of equipment, rent, water and electricity to ensure everyone goes back to their normal lifestyle and business in a safe and comfortable manner.
It is a worldwide challenge to see these fitness centers back on track, yet at the end of the day it is also an individual preference to choose whether to play it safe and exercise at home, or to take the risk and hit the gym.
https://www.arabnews.com/node/1693006
-----
Women's sports participation up 149%: Saudi Sports Minister
June 21, 2020
Jeddah - Yasmine El Tohamy - RIYADH: Saudi women's participation in sports has increased 149 percent in the past five years, Sports Minister Prince Abdul Aziz bin Turki Al-Faisal said during a virtual symposium organized by the London Business School Alumni Association in Riyadh.
He added that Saudi sports play an important role in achieving Vision 2030, namely in terms of diversifying the economy and building a vibrant society.
This, he said, is evident in the achievements of the Kingdom's sports sector in the past few years, the Saudi Press Agency reported.
Twenty-two women's national teams in official regional championships in various sports have been established, in addition to the Women's Football League.
"We've started establishing academies for children in all cities of the Kingdom to encourage them to play sports and build a strong foundation from which they can start," the minister said. "After that, the process of exploring their potential begins."
He spoke about the Kingdom's hosting of international events and tournaments, and reiterated the importance of the private sector in the development of sports in Saudi Arabia.
These were the details of the news Women's sports participation up 149%: Saudi Sports Minister for this day. We hope that we have succeeded by giving you the full details and information. To follow all our news, you can subscribe to the alerts system or to one of our different systems to provide you with all that is new.
It is also worth noting that the original news has been published and is available at Arab News and the editorial team at AlKhaleej Today has confirmed it and it has been modified, and it may have been completely transferred or quoted from it and you can read and follow this news from its main source.
https://alkhaleejtoday.co/saudi-arabia/5009380/Women%E2%80%99s-sports-participation-up-149--Saudi-Sports-Minister.html
-----
Women Empowerment and Economic Growth
Saddam Hussein
June 21, 2020
Women make up almost half of the world's population, but their contribution to the measured economic activity, growth, and well-being is far below its actual potential, with grave macroeconomic repercussions. Despite the substantial progression in recent decades, labor markets throughout the world remain divided along gender lines, and progress toward gender equality appears to be very slow, if not hindered.
Evidence shows that female labor force participation has remained lower than male participation. Women account for most unpaid work; when women are employed in paid work, they are over-represented in the informal sector. They also face noteworthy wage differentials in comparison to their male counterparts. In many countries, distortions and discrimination in the labor market limit women's options for paid work, and female representation in senior positions and entrepreneurship consequently remains low.
It is now a known fact that the challenges of growth, creating employment opportunities, and inclusiveness are closely intertwined. Nonetheless, growth and stability are essential to give women the opportunities they need; in contrast, women's participation in the labor market is also a part of the growth and stability equation. To be specific, in rapidly aging economies, higher female labor force participation can enhance growth by addressing the impact of a shrinking workforce. Better opportunities for women can also contribute to broader economic development in developing economies, for instance through higher levels of school enrollment for girls.
If we investigate the social fabric of developing and least developed countries, we will find women among the vulnerable segments of society, calling for their political and economic empowerment. However, women's political empowerment is not a goal, but it is an instrument in stimulating the society for political and social empowerment on the aggregate level, which would further stimulate the overall development of society.
In this context, the concept of 'gender equality' has over time acquired central character in social sciences, as it considers a fundamental and strategic principle in any development policy. These policies stress the need to ensure equal opportunity in the progressions of human development as a fundamental element for realizing equitable and sustainable development, and growth for all. Gender equality refers to the equal rights, responsibilities and opportunities for women and men, girls and boys. Equality does not mean that women and men will become the same but that women's and men's rights, responsibilities and opportunities will not depend on their gender orientation. It implies that the interests, needs and priorities of both women and men are taken into consideration. Gender equality is not a women's issue but should concern and fully engage men too, alongside women. Equality between women and men is a precondition for, and indicator of, sustainable and inclusive development.
To realize gender equality, women's empowerment naturally comes into play. The question arises, whether the women empowerment actually means?
Their ability to influence the direction of social change to create more just social and economic order, nationally and internationally.
All the factors are interlinked, but the most important of these or the deriving factor is women's right to have access to opportunities and resources.
The Amartya Sen's 'Capability Approach' (a famous Development Economist from India) '' makes a clear distinction between 'achievement' and 'freedom' and outlines freedom as more significant than achievement. He opines that between 'freedom to choose' and bringing about the 'achievements'; one has 'reason to value' in the former, and in the latter approach a person realizes one's own goals and values and opts for 'the reason to pursue'. He also explains the idea of well-being in the same pattern. According to Sen well-being is not the quality of the life an individual is living based on the interrelated beings and doings one realizes, but the freedom to achieve the beings and doings constitutive of one's well-being. The implicit message this approach sketch is that control over resources is more important than access to resources. Basically, 'control freedom' can achieve objectives by making influential decisions and directly controlling the levers of change, is the most robust form of freedom.
For example, a woman who lives in a nice house with plenty to eat and nice clothes to wear may not be free to choose how to dress or to invite others to her home for a meal. She may even deny access to these resources upon the death of her husband. Such a woman has (some) access to resources, but not control over them. The concept can also explain 'ability to function'. Sen argues that having a bicycle may be important, but knowing how to ride a bicycle is much more important. Bottom line is that women get lesser chances for the conversion of resources into capabilities to function effectively.
Hence, the connection between women's economic empowerment has been proven to be critical to economic growth and stability, but the share of women in the labor force has stagnated for two decades and significant structural and cultural barriers continue to inhibit women's participation in the economy. The issue was on the policy radar for long, but the governments started to become more interested in this issue until recently, only when the characterization of women's labor force participation started to be rightly portrayed as a driver of growth.
However, in Pakistan, where women are almost half the population, women's inclusion in the economic domain is still a challenge. The sixth Population and Housing Census held in 2017 reveal Pakistan's population has increased by 57 percent, from 132.3 million in 1998 to 207.7 million. The Census also shows that women make up 49 percent of the total population.
The country has also adopted a number of key international commitments to gender equality and women's human rights – the Universal Declaration of Human Rights, Beijing Platform for Action, the Convention on the Elimination of all forms of Discrimination Against Women, and the Sustainable Development Goals. Despite these commitments, Pakistan's ranking for gender equality remains one of the lowest in the world.
According to the World Bank data for 2019, only 24% of Pakistani women above the age of 15 are actively involved in the labor force. In contrast, the figure for men in Pakistan stands at 81%. Even those parts of the labor force are largely in the informal sector, receiving low pay and with few legal protections.
Globally, Pakistan is ahead of only 15 countries female labor force participation rate. The deeper underlying causes of this phenomenon can attribute to the cultural norms that we do not challenge daily. Although women bear the brunt of these norms in their daily lives and accept them, it is hard to quantify their real cost to our society.
Given the circumstances and the road-blocks due to structural issues and exogenous factors for economic revival, we need to imagine innovative ideas for economic stimulation. The easiest one seems to put half of the population – the women – to work and increase productivity factor. This would result in real economic growth instead of a bubble economy. The road ahead is bumpy, though we have to start somewhere.
http://expertlegalreview.com/women-empowerment-economic-growth/
-----
Priyanka Chopra, Reese Witherspoon and Mindy Kaling congratulate Malala Yousafzai as she graduates from Oxford
Sophie Prideaux
June 21, 2020
Stars have rushed to congratulate Malala Yousafzai as she completes her studies at one of the world's most prestigious universities.
The Pakistani activist for female education and founder of the non-profit Malala Fund has completed her degree in Philosophy, Politics and Economics from the University of Oxford, eight years after being shot in the head by the Taliban in the Swat District of Pakistan for speaking out about girls' education.
Sharing the happy news on social media, Yousafzai said that she didn't know what the future held for her, but she knew how she would be celebrating in the meantime.
"Hard to express my joy and gratitude right now as I completed my Philosophy, Politics and Economics degree at Oxford," read the post. "I don't know what's ahead. For now, it will be Netflix, reading and sleep."
Hard to express my joy and gratitude right now as I completed my Philosophy, Politics and Economics degree at Oxford. I don't know what's ahead. For now, it will be Netflix, reading and sleep. 😴
The post was accompanied by two photos of Yousafzai celebrating. In one, she is seen covered in confetti and cake, a tradition known as 'trashing', which is carried out by Oxford students once exams are completed. In another photo, she is seen enjoying a celebratory cake alongside her proud family.
Yousafzai asked her 1.4 million Instagram followers for Netflix recommendations, before adding that she planned to "sleep for days".
Sadiq Khan, mayor of London, also extended his congratulations. "Congratulations Malala. You continue to inspire and empower the next generation of young women and girls to know that there is no limits to their aspirations," he wrote on Twitter.
In 2014, Yousafzai became the youngest person ever to win the Nobel Peace Prize at the age of 17. Three years later, she accepted a place to study at Lady Margaret Hall at Oxford.
At the start of her degree, she tweeted to say: "Five years ago, I was shot in an attempt to stop me from speaking out for girls' education. Today, I attend my first lectures at Oxford."
Alongside her studies, Yousafzai has been busy working with the Malala Fund, which helps supports the work of education champions in developing countries and speeds up progress towards girls' secondary education around the world.
https://www.thenational.ae/arts-culture/priyanka-chopra-reese-witherspoon-and-mindy-kaling-congratulate-malala-yousafzai-as-she-graduates-from-oxford-1.1036614
------
URL: https://www.newageislam.com/islam-women-feminism/the-female-arab-artists-supporting/d/122175
New Age Islam, Islam Online, Islamic Website, African Muslim News, Arab World News, South Asia News, Indian Muslim News, World Muslim News, Women in Islam, Islamic Feminism, Arab Women, Women In Arab, Islamophobia in America, Muslim Women in West, Islam Women and Feminism