New Age Islam News Bureau
30 September 2021
• Pak Must Ensure Women's Rights Protected In Afghanistan: Malala Yousafzai
• Expo 2020 Dubai to Showcase Women's Achievements and Highlight Women Empowerment
• Taliban Disperse Women Protesters with Gunfire in Kabul
• Israel Officers Kill Woman In Jerusalem After Alleged Stabbing Attempt
• Muslim Women More Likely Than Men to Experience Islamophobia in the United States, Survey Finds
Compiled by New Age Islam News Bureau
URL: https://www.newageislam.com/islam-women-feminism/saudi-arabia-skydivers-female-/d/125478
--------
Sky's The Limit for Saudi Arabia's First All-Female Team of Professional Skydivers
September 29, 2021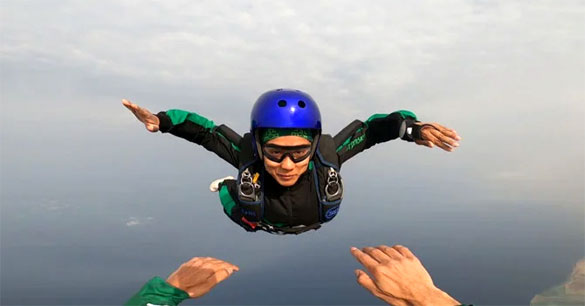 Three women trained at King Abdullah Economic City and were granted pro licenses by US Parachute Association. (Supplied)
------
JEDDAH: The sky's the limit for three Saudi female thrill-seekers after qualifying as professional skydivers.
Spectators recently watched Alaa Dhafer, Maram Al-Eid, and Razan Al-Ghufaili make their official debut as the Saudi Arabian Extreme Sports Federation's first all-female team of skydivers by jumping from a Black Hawk helicopter at 12,000 feet.
The trio took part in the third skydiving camp to be held at King Abdullah Economic City and SAESF executive director, Abdulmajeed Al-Mutairi, told Arab News: "The introduction of the female component of this sport is a message to all that Saudi women are present in this extreme sport in the Kingdom as partners for men in all sports.
"We were delighted with the graduation of the first batch of women who have received their training here at home (in Saudi Arabia). They completed the training program well and eventually obtained skydiving licenses as the first Saudi female parachutists to be trained inside the Kingdom," he said.
The women were granted their pro licenses by the US Parachute Association, one of the world's leading bodies for the discipline.
Al-Eid, a freelance personal trainer and skating coach in Riyadh, told Arab News: "I'm not sure if I can call myself an adventurist, but I'm a person that loves to face her fears and push her limits.
"Of course, safety measures have to be taken into consideration. I chose this sport because I've always had a thing for wings and flying and being able to literally freely fly is something I would never miss out on.
"I'm not going to lie, I was so excited but so scared at the same time, however after the third jump I became less fearful, and the feeling was like no other. I don't think I'll be able to stop."
The 27-year-old hopes to perform with the skydiving formation team at next year's Saudi National Day. "I didn't participate in the show this year because I have only just passed my course but our goal as ladies is to have a skydiving team to participate next year."
Dhafer, from Makkah, said: "Skydiving is an experience that cannot be replaced by any other. It is special and close to my heart. I have dreamed of flying ever since I was a child, and now my dream has come true, and I still can't believe it.
"Being one of the first female skydivers in the Kingdom is considered as an achievement for our great country, and my teammates and I feel very proud. My mother is my biggest fan and was very supportive while I was trying to pass the necessary stages."
And she urged other women to have a try. "Skydiving is so much fun, and if it's something you're attracted to and something you'd like to do, go for it."
Al-Ghufaili said skydiving had changed her whole outlook on life. "Jumping from the sky is all I want to do, and I am going to improve my skills. It is a very nice feeling and a new experience that has changed many things in me. Skydiving has given me the motivation to fly more, and train better until I reach the highest level."
She noted that being an adventurous person was great but not easy. "There is a constant inner struggle and challenge facing your fears," she added.
Al-Mutairi said he had been impressed by the determination and courage of the three women.
"Their passion for jumping led them to where they are now, and I hope they become an inspiration for youngsters and girls.
"There is no doubt that the introduction of parachute jumping as a sporting activity in the Kingdom was not accessible because it's linked to several military and civil bodies.
"We have noticed that requests to take part have increased after each event organized by the federation. But it is worth noting that the training of parachutists requires the presence of clubs that work on that basis, and this is what the federation seeks to find.
"The federation's work is currently limited to developing the skills of paratroopers and enacting regulations and mechanisms that in turn allow for clubs to work and train," Al-Mutairi added.
Source: Arab News
https://www.arabnews.com/node/1938226/saudi-arabia
--------
Pak Must Ensure Women's Rights Protected In Afghanistan: Malala Yousafzai
September 24, 2021
New Delhi: Nobel laureate and Pakistani rights activist Malala Yousafzai today asked Pakistan to show "bold and strong commitment" to protect women's rights in Afghanistan. Ms Yousafzai, who is also the UN Messenger of Peace, made the remarks during a virtual session on "Supporting a future for girls' education in Afghanistan" as part of the UN General Assembly.
On being asked at the session about whether Pakistan could put pressure on the Taliban about girls' right to continue education, Ms Yousafzai said, "Pakistan is the neighbouring country of Afghanistan and we know that terrorism and extremism in Afghanistan reaches to the border of Pakistan as well and it impacts girls and women and communities in Pakistan and women's rights there as well."
"Pakistan should see the situation in Afghanistan not just has an issue of peace and security there alone, but as a peace and security issue for the whole region including Pakistan, peace in Afghanistan means peace in Pakistan," she said.
In 2012, Ms Yousafzai was shot at by Taliban terrorists in Pakistan in an assassination attempt, in retaliation for her activism on girls' right to education. Nine months after being shot, on her 16th birthday, she delivered a speech at the UN headquarters on women's right to education.
"So far we have heard some statements from the Prime Minister of Pakistan that women's rights must be protected and girls' education must be protected, but I hope that Pakistan can show a bold and strong commitment towards the protection of human rights in Afghanistan because we know that such ideologies can harm the whole region," Ms Yousafzai said.
She expressed hope that the Prime Minister of Pakistan will open the borders to the "people of Afghanistan who need to seek safety for their protection and for their families".
"So far Pakistan has welcomed thousands of people but we need to be more open to welcoming people who are under risk. Pakistan needs to ensure that it gets into a conversation and negotiation with Taliban to ensure protection of human rights," she said.
Source: ND TV
https://www.ndtv.com/world-news/pakistan-must-ensure-womens-rights-protected-in-afghanistan-says-malala-yousafzai-2552816
--------
Expo 2020 Dubai To Showcase Women's Achievements and Highlight Women Empowerment
Sep 29, 2021
The mega show of the world – Expo 2020 – would take off to a colorful start in a couple of days. The greatest show on earth happening in Dubai would see the participation of over 190 countries including India and the world is curious to see the latest in technology that the show would feature.
That aside, what would make EXPO 2020 special is the first pavilion solely dedicated to women entrepreneurs. No world expo, since 1900, had this ingredient that turns the spotlight on issues relating to gender parity and women empowerment.
So, Dubai can take the credit for this because it has shown its determination to smash stereotypes related to women. And, it has begun well by putting women at the driver seat of Expo 2020.
This was recently confirmed by Ms. Maha Al Gergawi, Senior Vice President, Political Affairs, Expo 2020 who said the expo is literally run by women under the dynamic leadership of Her Excellency Reem Al Hashimy, the UAE Minister of State for International Affairs and Expo 2020 Managing Director.
"Over 50 per cent of the workforce at Expo 2020 is women and over 60 per cent Emirati women are in leadership positions," Ms. Al Gergawi noted. She was confident that Expo 2020 would be an opportunity to clear the misconceptions about women's competencies and capabilities.
Interestingly, the UAE Gender Balance Council and Expo 2020 Dubai have signed a Memorandum of Understanding (MoU) to strengthen the engagement on gender balance and women empowerment at the upcoming show.
The idea, according to HE Reem Al Hashimy, is to show the world and participating countries, the UAE's achievements and future goals in promoting gender balance worldwide using Expo 2020 as a solid launch-pad.
Meanwhile, Ms. Hind Alowais, Vice President, Expo 2020 Participant Management opines, Expo 2020 cannot be imagined without paying tribute to women who have played a key role in nation-building. "No country has achieved the goal of addressing the issue of inequality," she said.
Ms. Alowais agrees that women's equality is still very much at the centre of development issues. Expo 2020, she feels, would create a space and bring in countries, thought leaders, NGOs, public and private entities to further the agenda.
Expo 2020, it is learnt, will also have a huge exhibition titled 'New Perspectives: When Woman Thrives Humanity Thrives' besides Women's Majlis where the role of women in Arabia, Islam, Sustainability and Sports among other areas would be discussed.
Ms. Alisha Moopen, Deputy Managing Director, Aster DM Healthcare says women entrepreneurs from the UAE are already leading global brands. "They are changing the global perception about Arab women," Alisha said.
EXPO 2020, she said, would showcase this to a great extent, and also open up new opportunities for them to promote their businesses, collaborate and grow. Ms. Alisha believes that women entrepreneurs from India can make the most in Dubai.
"We already have Indian women entrepreneurs who are at the helm of the most trusted brands in the UAE and they are leading in healthcare, retail and lifestyle," she said adding, "there are opportunities for more women in areas like hospitality, fashion, F&B and education among others.
That puts in perspective the proactive role being played by women in holding the grandest of all shows. In other words, it also forces one to take a fresh look at women – the modern women who refuse to get stereo-typed. They have already arrived, and you could see them at EXPO 2020!
Source: Times of India
https://timesofindia.indiatimes.com/business/international-business/expo-2020-dubai-to-showcase-womens-achievements-and-highlight-women-empowerment/articleshow/86615554.cms
--------
Taliban disperse women protesters with gunfire in Kabul
September 30, 2021
The Taliban on Thursday violently cracked down on a small women's rights demonstration, firing shots into the air and pushing back protesters, AFP journalists witnessed.
A group of six women gathered outside a high school in eastern Kabul, demanding the right for girls to return to secondary school after the group excluded them from classes earlier this month.
The women unfurled a banner that read "Don't break our pens, don't burn our books, don't close our schools", before Taliban guards snatched it from them.
They pushed back the women protesters as they tried to continue with the demonstration, while a foreign journalist was hit with a rifle and blocked from filming.
A Taliban fighter also released a brief burst of gunfire into the air with his automatic weapon, AFP journalists saw.
The demonstrators — from a group called the "Spontaneous Movement of Afghan Women Activists" — took refuge inside the school.
Taliban guard Mawlawi Nasratullah, who led the group and identified himself as the head of special forces in Kabul, said the demonstrators "did not coordinate with security authorities regarding their protest".
"They have the right to protest in our country like every other country. But they must inform the security institutes before," he said.
Isolated rallies with women at the forefront were staged in cities around the country after the Taliban seized power, including in the western city of Herat where two people were shot dead.
But protests have dwindled since the government issued an order that unsanctioned demonstrations and warned of "severe legal action" for violators.
It has been almost two weeks since girls were prevented from going to secondary school.
The Taliban follow a strict interpretation of sharia law that segregates men and women and have also slashed women's access to work.
They have said they need to establish the right conditions before girls can return to the classroom, but many Afghans are sceptical.
Source: Dawn
https://www.dawn.com/news/1649315/taliban-disperse-women-protesters-with-gunfire-in-kabul
--------
Israel officers kill woman in Jerusalem after alleged stabbing attempt
September 30, 2021
Israeli police fatally shot a Palestinian woman who allegedly tried to stab officers in Jerusalem's Old City on Thursday, police said.
And in the northern West Bank, Israeli forces shot dead a male who purportedly opened fire on them during clashes prompted by an overnight arrest operation, police said.
According to a police statement, the woman in Jerusalem tried to stab police in one of the streets leading to Al Aqsa mosque.
An AFP journalist heard gunshots and saw the body of a woman on the ground, later draped in a survival blanket.
Israeli police "opened fire" at the assailant and "medical forces who arrived at the scene determined her death," police said, adding that the attempted attack did not result in any casualties.
The 30-year-old deceased woman, from Qabatiya in the north of the occupied West Bank, was leaving the Al Aqsa compound, Islam's third holiest site, when she approached officers, police claimed.
In the village of Burqin, also in the northern West Bank near Jenin, Israeli troops and border police were conducting an operation "to arrest suspects and locate weapons," a police statement said.
"During the operation an armed [male] fired at the forces who were operating in the village during a riot," police said.
"Border police forces responded with gunfire ... and neutralised him," police said, with a spokesman confirming his death to AFP.
Palestinian group Islamic Jihad said the man killed was a member of its military wing. No Israeli forces were wounded in the incident, police said.
In Jerusalem, Israeli security forces are stationed at each entrance to the Al Aqsa compound, known to Jews as the Temple Mount, the holiest site in Judaism.
The compound lies in east Jerusalem, the Palestinian sector of the city which Israel occupied in 1967 and later annexed in a move never recognised by the international community.
Five Palestinians were killed on Sunday after an Israeli raid in the occupied West Bank sparked gunbattles with Hamas fighters, two of them in Burqin, officials said.
Source: Dawn
https://www.dawn.com/news/1649304/israel-officers-kill-woman-in-jerusalem-after-alleged-stabbing-attempt
--------
Muslim Women More Likely Than Men To Experience Islamophobia In The United States, Survey Finds
September 29, 2021
By Alejandra Molina
(RNS) — A survey exploring the lives of Muslims in the United States found that Muslim women were more likely than men to have personally experienced Islamophobia, that younger Muslims were more likely to try to conceal their religious identities and that many Muslims self-censor themselves out of fear of how others may react to them.
The report, "Islamophobia through the Eyes of Muslims," was released Wednesday (Sept. 29) by the Othering & Belonging Institute at UC Berkeley. A total of 1,123 Muslims in the U.S. participated in the 2020 survey that was virtually conducted between Oct. 14 and Nov. 2.
The goal of the survey, according to the report, "was to ask US Muslims to assess the impacts of the othering and discrimination they face because of their religious affiliation."
The report is described as groundbreaking in that it focuses "on the people living with Islamophobia, documenting their collective experiences and registering their voices," instead of solely analyzing media coverage or documenting negative statements about Muslims.
Basima Sisemore, a researcher for the Global Justice Program at the Othering & Belonging Institute, told Religion News Service that with this survey, they are "centering and uplifting the voices of Muslim Americans."
Sisemore said the survey also highlights the diversity of the U.S. Muslim population.
Participants identified as South Asian (35.6%), Arab (25.2%), African American/Black and Afro-Arab heritage (8.8%), white or of European descent (7%), Central and East Asian (6.9%), multiracial (1.2%), Hispanic or Latino (1.1%) and other (14.2%).
More than two-thirds of respondents were under 50 years old — about half between the ages of 30 and 49 (48.8%), and one-fifth between 18 and 29 (19.9%).
Most (90.7%) are college graduates and 92.4% were either native English speakers or speak English very well, according to the report, while 83.5% of respondents spoke another language besides English at home. A majority of participants (61.2%) were foreign-born, while 38.8% were born in the U.S.
Participants were asked a range of questions, including who they believed was most at risk of experiencing Islamophobia and if and how often they've experienced it, whether they believed Islamic values were consistent with U.S. values, how often they socialized with non-Muslim groups, how Islamophobia has affected their mental well-being and if they've ever tried to hide their religious identity.
Nearly 75% of the participants believe women are more at risk of experiencing Islamophobia, according to the report. The survey found 60.6% of respondents believe Islamophobia to be a "very big problem in the U.S."
More than two-thirds who participated in the survey (67.5%) have personally experienced Islamophobia, and women (76.7%) were more likely than men (58.6%) to have had a personal encounter with Islamophobia. Nearly all respondents (93.7%) said Islamophobia affects their emotional and mental well-being, according to the report.
"This may suggest that even if a Muslim is not directly targeted by an Islamophobic act, the ubiquity of Islamophobia in our media and culture after 9/11 has created an atmosphere in which Muslims feel they are being monitored, judged, or excluded in some form," Elsadig Elsheikh, the director of the Institute's Global Justice program, said in a statement.
The survey found that more than 32.9% of participants at some point in their lives have hid or tried to hide their religious identity, with 88.2% saying they censor their speech or actions due to fear of how people might react. Younger people, ages 18-29 (44.6%), were more likely than any other age group to have attempted to conceal their religious identity.
Meanwhile, most respondents (79.4%) agreed Islamic values were consistent with U.S. values. Nearly all participants (99.1%) agreed — with 91.9% strongly agreeing — it is a good thing that U.S. society is made up of people from different cultures.
To Sisemore, one of the report's authors, it's important to quantify the impacts of Islamophobia, especially since nearly all participants (97.8%) said they believe Islamophobia exists in the U.S.
"That's significant," Sisemore said. "It exists and it's an issue."
As part of the survey, 62.7% of respondents said they personally, or family members, friends or people in their community, have been affected by federal and/or state policies that disproportionately discriminate against Muslims. Only 12.5% of participants have reported
an incident to authorities, according to the report.
And, more than half (53.3%) said they have been treated unfairly by a law enforcement officer because of their religious identity. Despite this, many (85.6%) feel comfortable calling law enforcement for help or protection.
Sisemore said these findings "spotlight the impacts of institutionalized Islamophobia."
In an online panel on Wednesday, Sisemore said it was also important to highlight the study's positive findings.
Many Muslim Americans, she said, believe and support diversity in the U.S. She highlighted the study's findings showing that nearly all participants (99%) agreed that all races and ethnicities of people should be treated equally.
More than half of respondents (52%) identify themselves in everyday encounters as Muslim American, Sisemore said. "It goes to speak to the sense of belonging that Muslim Americans feel and have in being in the United States."
"They have a strong desire for their children to have a sense of belonging and to feel part of U.S. society and that they have a place here," she said.
Source: Religion News
https://religionnews.com/2021/09/29/muslim-women-more-likely-than-men-to-experience-islamophobia-survey-finds/
--------
URL: https://www.newageislam.com/islam-women-feminism/saudi-arabia-skydivers-female-/d/125478
New ge Islam, Islam Online, Islamic Website, African Muslim News, Arab World News, South Asia News, Indian Muslim News, World Muslim News, Women in Islam, Islamic Feminism, Arab Women, Women In Arab, Islamophobia in America, Muslim Women in West, Islam Women and Feminism