New Age Islam News Bureau
21 Nov 2018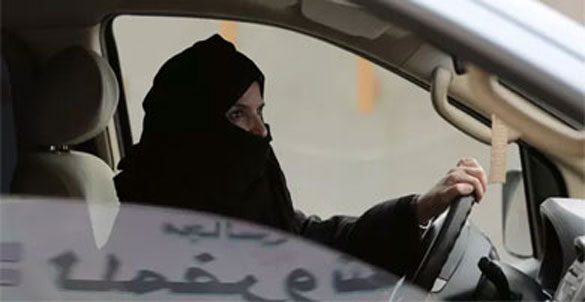 Saudi activist Aziza al-Yousef drives a car on a highway in Riyadh. She is among those who were detained. Photograph: Hasan Jamali/AP
----
• Seven Women Drivers Signed Up For Formula E's Saudi Test
• Women Actively and Widely Took Part in Protests across Iran
• Baha'i Women Arrested or Imprisoned For Their Faith in Iran
• Fewer Afghan Girls Get Education In Pakistan
• Political Prisoner Atena Daemi Refuses To Appear Before Prosecutor
Compiled by New Age Islam News Bureau
URL: https://www.newageislam.com/islam-women-feminism/saudi-arabia-tortured-female-right/d/116940
--------
Saudi Arabia Tortured Female Right-To-Drive Activists, Says Amnesty
21 Nov 2018
Several activists imprisoned in Saudi Arabia since May, including women who campaigned for the right to drive, have been beaten and tortured during interrogation, Amnesty International has said.
Saudi Arabia has detained at least 10 women and seven men on vague national security allegations related to their human rights work, the organisation said on Tuesday. Those detained include Loujain al-Hathloul, Eman al-Nafjan and Aziza al-Yousef, who had campaigned for the right to drive before the decades-long ban was lifted in June.
Amnesty said that according to three testimonies it obtained, some of the activists were repeatedly given electric shocks and flogged, leaving some unable to walk or stand properly. In one instance, an activist was hung from the ceiling. Another testimony said one of the detained women was subjected to sexual harassment by interrogators wearing face masks.
The kingdom is at the centre of an international firestorm after the killing of Saudi journalist Jamal Khashoggi, who had written critically about Crown Prince Mohammed bin Salman's crackdown on dissent, including the arrests of the women activists. Khashoggi was killed and then dismembered by Saudi agents in the kingdom's consulate in Istanbul on 2 October.
Lynn Maalouf, Amnesty's Middle East research director, said: "Only a few weeks after the ruthless killing of Jamal Khashoggi, these shocking reports of torture, sexual harassment and other forms of ill-treatment, if verified, expose further outrageous human rights violations by the Saudi authorities."
Some of the imprisoned activists had uncontrolled shaking of the hands and marks on their bodies. One of the activists reportedly attempted repeatedly to take her own life inside the prison, Amnesty said.
Al-Hathloul, an activist in her late 20s, was held in solitary confinement for about three months after her arrest in May, a person close to her told the Associated Press.
She was forcibly returned to Saudi Arabia this year from the United Arab Emirates, where she was pursuing a master's in Abu Dhabi. Her husband was pressured into divorcing her after he too was forcibly returned to Saudi Arabia from Jordan, where he was working, according to the individual, who spoke on condition of anonymity for fear of repercussions.
Some of the men detained in that sweep include Mohammad al-Rabea, a writer and activist, and Ibrahim al-Modeimigh, a human rights lawyer who defended al-Hathloul in court when she was arrested in 2014 and held for more than 70 days for attempting to drive from the UAE to Saudi Arabia.
Also imprisoned is Samar Badawi, whose brother Raif Badawi is serving 10 years in prison and was publicly flogged in 2015 on charges related to blog posts criticising the kingdom's clerics. Others detained include Nassima al-Sada, a rights activist from the Eastern Province, and Hatoon al-Fassi, a professor of Gulf history who was recently announced as the recipient of the Academic Freedom Award by the Arizona-based Middle East Studies Association.
A few of those initially detained were in their 70s and have since been released. Dana Ahmed, a researcher at Amnesty, said Saudi authorities had yet to charge any of those detained.
https://www.theguardian.com/world/2018/nov/21/saudi-arabia-tortured-female-right-to-drive-activists-says-amnesty
--------
Seven Women Drivers Signed Up For Formula E's Saudi Test
21 Nov 2018
LONDON: At least seven female racing drivers will take part in a Formula E test in Saudi Arabia after the country hosts the season-opening race next month, the all-electric series said on Tuesday.
The test, involving all the teams, will be a day after the Dec. 15 race on the streets of Ad Diriyah, near Riyadh.
Saudi Arabia lifted a ban on women drivers last June and organisers said the local promoter had wanted female participation at the test.
The race, starting season five, will be the first involving Formula E's 'next generation' cars and marks the series' debut in the Middle East.
The women racers confirmed for the test include Amna al Qubaisi of the United Arab Emirates, who started karting at 13 and has competed internationally in Formula Four.
Her father Khaled was the first Emirati to compete in the Le Mans 24 Hours race.
"I'm very proud to be representing women in general and Arabian women in particular. This test drive is another stepping-stone towards my dream of a professional career in motorsports," she said in a statement.
Colombian Tatiana Calderon, an official test driver for the Sauber Formula One team, will turn out for the DS Techeetah team.
Dutch driver Beitske Visser will be with the BMWi Andretti Motorsport outfit, with Britons Katherine Legge and Jamie Chadwick testing for the Mahindra and NIO teams respectively.
Experienced Swiss racer Simona de Silvestro tests for Venturi and Spaniard Carmen Jorda for the Nissan e.dams team.
Jorda, a former Lotus and Renault F1 development driver, caused some controversy in March when she said women might be better-suited to Formula E than Formula One because the all-electric cars were physically less challenging.
That idea was challenged by other women racers, notably Britain's Pippa Mann who has competed in the Indianapolis 500 and had success in America in cars without power steering.
Formula One has not had a woman driver compete in a grand prix since 1976, but De Silvestro raced in Formula E two years ago.
https://www.channelnewsasia.com/news/sport/seven-women-drivers-signed-up-for-formula-e-s-saudi-test-10952086
--------
Women Actively and Widely Took Part in Protests across Iran
20 November 2018
Women actively and widely participated in the protests by various social sectors in recent days.
women actively participated in protest against Caspian On Tuesday, November 20, 2018, the defrauded clients of the IRGC-backed Caspian Credit Institute gathered in front of its Soroush Branch in Mashhad and Sarparasti Branch in Rasht. Women actively participated in these protests, particularly in Rasht where most participants were women.
On Monday, November 19, 2018, a large group of men and women plundered by the Caspian Credit Institutes gathered outside the Judiciary building in Tehran.
Some 200 workers of the Hospital of Karaj held yet another protest on the main street across from the hospital on Monday, November 19, 2018, demanding their overdue salaries of a whole year and determination of the status of the hospital. Women actively took part in this protest.
In another act of protest on Monday, young women and men in the city of Khoy, in West Azerbaijan Province, protested the presence of Hassan Rouhani in their city and hurled stones at his car.
https://women.ncr-iran.org/iran-women-news/5587-women-actively-and-widely-took-part-in-protests-across-iran
--------
Baha'i Women Arrested or Imprisoned For Their Faith in Iran
20 November 2018
Five Baha'i women were recently arrested or imprisoned for their faith in the cities of Mashhad, Isfahan and Tabriz.
Baha'i women, Monica Alizadeh (Aghdassi) in Tabriz, and Nasrin Khajeh and Mojgan Khoshhal in Isfahan were arrested by intelligence forces.
Mrs. May Kholousi and her daughter, Saghi Fadaii, were also taken to jail to serve their prison sentences.
Monica Alizadeh was arrested in Tabriz on Sunday, November 18, 2018, and taken to an unknown location.
In a wave of persecution of Baha'is in Iran, the regime's troops raided the house of Ms. Mojgan Khoshhal in Isfahan on Thursday, November 15, 2018, arresting 18 Baha'i citizens including two Baha'i women, Nasrin Khajeh and Mojgan Khoshhal.
Earlier, two Baha'i women residing in Mashhad, Mrs. May Kholousi and her daughter, Saghi Fadaii, had been taken to the Prison of Mashhad on October 31, 2018, to serve their sentences.
The two Baha'i women had been ordered in March to spend one year in prison by the 3rd Branch of the Revolutionary Court of Mashhad for disseminating propaganda against the state. The Revision Court upheld this verdict on August 26, 2018, and the two Baha'i women were finally transferred to the Prison of Mashhad.
Three Baha'i women - Bahareh Zaini (Sobhanian), Sepideh Rouhani, and Foujan Rashidi - were also among some 40 Baha'i citizens who were arrested and jailed in Shiraz in October.
Baha'i women are subject to intimidation, harassment, and dismissal from work and school. Azita Rafizadeh, a Baha'i woman, is serving her years in Evin Prison just for teaching in a college whose Baha'i students have been deprived of education in other universities. Her husband, Payman Kushkbaghi, is also imprisoned on the same charge in Gohardasht Prison. The couple have a 7-year-old son.
Baha'i women and citizens are systematically deprived of their human rights while according to article 18 of the Universal Declaration of Human Rights and article 18 of the International Covenant on Civil and Political Rights, "everyone shall have the right to freedom of thought, conscience and religion. This right shall include freedom to have or to adopt a religion or belief of his choice, and freedom, either individually or in community with others and in public or private, to manifest his religion or belief in worship, observance, practice and teaching."
https://women.ncr-iran.org/iran-women-news/5575-baha-i-women-arrested-imprisoned
--------
Fewer Afghan Girls Get Education In Pakistan
November 21, 2018
Even though Pakistanis view their educated neighbours more favourably, a low inclusion of concepts regarding global citizenship in national curricula and ambivalent attitudes towards their inclusion corresponds with lower education rates amongst Afghan refugees.
The issue is exacerbated amongst Afghan refugee girls and the disabled, with the former enjoying lower education rate than in their home country and prompting international concerns.
These concerns were expressed by the United Nations Educational, Scientific and Cultural Organisation (UNESCO) as it released its latest Global Education Monitoring (GEM) Report 2019 on migration, displacement and education: "Building bridges not walls"
The report draws attention to the plight of Afghan refugees in Pakistan, many of whom have been residents in the country for four decades.
It compares the progress for Afghan refugees in the country with their compatriots in neighbouring Iran — where one in four refugee children and undocumented Afghan children are out of school, compared to three out of four among those in Pakistan.
In Pakistan, thus, the overall primary enrollment rate of Afghan refugees was 29 per cent — a far cry from the national average of 71 per cent.
The situation for Afghan refugee girls and women is particularly stark. In Pakistan, only 18 per cent of Afghan refugee girls are enrolled in school, which is half the enrolment rate of boys (39 per cent) and less than half the rate for girls in Afghanistan.
While in Iran, 64 per cent of female Afghan refugees over the age of 15 are literate, among returnees surveyed from Nangarhar province in Pakistan, only seven per cent were literate.
Moreover, the report notes that one issue is the availability of female teachers to teach girls — seen as a requirement in light of cultural sensitivities. But with Pakistan amongst the countries where educational institutions have been targeted in violent activities, female teachers displaced by violence were hesitant to return to work, fearing for their security. This gives rise to a vicious circle where sociocultural traditions demand that adolescent girls can be taught only by women, but few female teachers are available. Hence contributing to lower enrolment rates.
Differently abled
With many Afghan refugees fleeing violence and one of the highest mined regions in the world, a number of Afghan refugee children are differently abled. However, the type of their different-ability also affected their school attendance.
The report noted that those with difficulty seeing were most likely to attend school (52 per cent attendance), while those with self-care difficulties were the least likely (7.5 per cent attendance).
In between were those with difficulty speaking (31 per cent) or walking (27 per cent), trauma‑originating depression or confusion (23 per cent) and cognitive difficulties (21 per cent).
Inclusion
The global report shows that eight out of the 10 top refugee-hosting countries include them in their national education systems.
While countries like Iran strived for greater inclusion of refugees — documented or not —there were some countries which practice exclusionary policies, such as Bangladesh and Thailand.
In Pakistan, refugee schools used the Afghan curriculum in preparation for their return and reintegration into the Afghan education system, despite the fact that the majority of Afghan refugees have never been to Afghanistan.
Most attend schools outside the public sector – private schools; madrassas, which are free and provide food and boarding facilities; community-based schools; and non-formal schools. The report noted that Pakistan's overall attitude towards Afghan refugees was ambivalent, Balochistan included them in its education plan at the provincial level.
"A glimmer of hope appeared in September when Prime Minister Imran Khan appeared to commit to a radical change in policy which would award citizenship to all Afghan refugees, but this disappeared, along with the policy, a few days later," noted the report's director Manos Antoninis.
"It is true that geography, history, resource availability and system capacity all affect the evolving nature of inclusion. But our report shows the benefits to refugees but also to host countries when they include refugees in national education systems." Antoninis pointed out that given how some countries had successfully included refugees in the education systems, Pakistan could do better.
One place to start would be to sign the Convention and Protocol Relating to the Status of Refugees, like Iran.
https://tribune.com.pk/story/1851649/1-fewer-afghan-girls-get-education-pakistan/
--------
Political Prisoner Atena Daemi Refuses To Appear Before Prosecutor
20 November 2018
Reacting to an oral short notice by prison authorities, political prisoner Atena Daemi refused to appear before the 5th Branch of the Prosecutor's Office of Evin.
Atena Daemi who is detained at the women's ward of Evin Prison was verbally notified on Tuesday, November 13, 2018, by the prison authorities that she had been summoned to the Branch 5 of Evin Prosecutor's Office on November 14, 2018.
Political prisoner Atena Daemi did not appear at the Prosecutor's Office due to the short notice for the next day, and also because she had not received any writ of subpoena.
In similar cases, such summons has ended up turning into false allegations filed against political prisoners by prison authorities or intelligence agencies. It is unclear why political prisoner Atena Daemi since she has been in jail for four years serving her 15-year sentence.
Political prisoner Atena Daemi along with two of her cellmates, Golrokh Iraee and Maryam Akbari Monfared, were deprived of family visits for three weeks upon an oral notice by the head of the women's ward. Prison agents argued that the reason for this illegal measure was the prisoners' verbal conflict, shouting slogans in the meeting hall. The three women political prisoners requested to see the writ of the verdict and the charges stated therein, but the head of the women's ward said the order had been verbally communicated by Chaharmahali, the prison warden and the prosecutor's office, and no written document was available.
Political prisoner Atena Daemi has repeatedly proclaimed her positions against the death penalty and the regime's suppressive measures on various occasions. In a letter dated May 25, 2018, addressing the regime's officials she wrote, "Yes gentlemen, know that however much you resort to violence and oppression, there are many who prefer to die rather than submit to oppression."
https://women.ncr-iran.org/iran-women-news/5576-political-prisoner-atena-daemi-refuses-to-appear-before-prosecutor
--------
URL: https://www.newageislam.com/islam-women-feminism/saudi-arabia-tortured-female-right/d/116940
New Age Islam, Islam Online, Islamic Website, African Muslim News, Arab World News, South Asia News, Indian Muslim News, World Muslim News, Women in Islam, Islamic Feminism, Arab Women, Women In Arab, Islamophobia in America, Muslim Women in West, Islam Women and Feminism