New Age Islam News Bureau
26 Sept 2017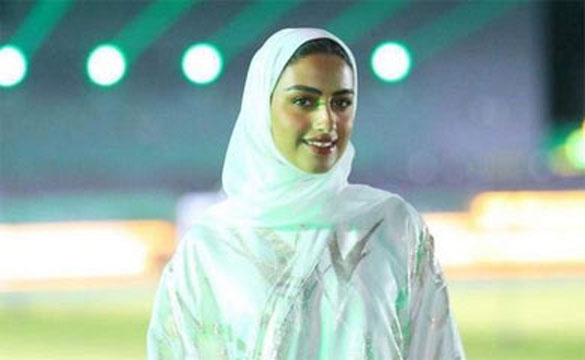 Mariam Al Jaber (Al Arabiya), She took part in an operatta at the stadium
-----
• Yara Al-Namla: First to Represent Women during Saudi National Day Celebrations
• In Kerala, Hindu Woman Alleges Torture for Marrying Christian Man
• Tool of Terror: Myanmar Military Gang Raped Rohingya Muslim Women
• Iran: Over 12,000 women registered as victims of violence
• Over 159,000 Saudi Women Employed In Wholesale and Retail Sector In 2016
• Women Prison Chief Sees More Progress, Development in KSA
Compiled by New Age Islam News Bureau
URL: https://www.newageislam.com/islam-women-feminism/saudi-arabia-backlash-after-women/d/112665
--------
Saudi Arabia: Backlash after women celebrate National Day
25 September 2017
The Saudi government is facing a backlash on social media after allowing women to participate in its National Day celebrations for the first time.
The festivities included fireworks, light shows and a concert in King Fahd International Stadium in the capital, Riyadh, on Saturday evening.
Women were allowed in the stadium in a specific section for families.
The staunchly conservative Islamic kingdom is known for its strict gender segregation rules.
Saudi Arabia is marking the 87th anniversary of its founding, an event instituted by the late King Abdullah as a national holiday in 2005.
This year's celebrations are part of Crown Prince Mohammed bin Salman's Vision 2030 plan, which aims to reduce the kingdom's dependence on oil and promote domestic industry and tourism.
Organised by the newly established Entertainment Authority, celebrations also featured street rallies, singing and dancing.
Under Saudi law, which enforces a strict form of Sunni Islam known as Wahhabism, women must wear loose-fitting, full-length robes known as "abayas" in public, as well as a headscarf if they are Muslim.
Saudi women respond to cleric's advice on acceptable attire
They are also banned from driving, must not associate with unrelated men and must be accompanied by or receive written permission from a male guardian - usually a father, husband or brother - if they want to travel, work or access healthcare.
'Patriotism does not mean sin'
Although the events were heavily promoted by state media, social media reaction was more polarised.
Despite thousands of messages in support of the national show of patriotism, critics condemned the involvement of women.
"Patriotism does not mean sin. Of course, what is happening does not please God and his prophet. Patriotism is not dancing, free mixing, losing decency and playing music. What strange times," tweeted one user.
The tweet promoted others to use the hashtag "patriotism does not mean sin" to echo a similar message.
Some users called for the return of religious police - commonly known as the Haia - which has not been allowed to arrest citizens since its power was curbed in 2016.
A video of a man telling celebrating crowds "[You have] no shame, no religion, no tribe" was widely shared on social media.
"The Commission for the Promotion of Virtue and Prevention of Vice should be reinstated and the Entertainment Authority disbanded. The first specialises in enforcement, the other will lead to a disaster," said one person on Twitter.
The Arabic hashtag "the people demand the return of the Haia" has since been used nearly 200,000 times.
But many users disagreed with some of the overtly conservative sentiments.
"They are modest, respectful and mannered. Our men are polite and respectful as you can see in the pictures. We are not sheep as you portray us and they are not wolves as you portray them," wrote one person about women in the King Fahd Stadium.
Another user tweeted: "I was at the national day celebration in Al-Tahlia Street. It was a different atmosphere, reminding me of celebrations abroad. Keep going forward my country."
http://www.bbc.com/news/world-middle-east-41387229
--------
Yara al-Namla: First to represent women during Saudi National Day celebrations
25 September 2017
For the first time at Jeddah's al-Jawhara Stadium, Yara Ibrahim al-Namla represented the Saudi women in celebrating the kingdom's National Day by taking part in an operetta.
Regarding her role, al-Namla, 18, said she was nominated by the operetta's director Munir Al Qahtani and was finally chosen by the Chairman of Saudi Arabia's General Authority for Entertainment Ahmed Al-Khatib.
The Saudi national, currently studying architecture at Prince Sultan University, said she was selected according to features representing the successful enlightened Saudi woman "who has a common role with her male compatriot in establishing the achievement and keeping pace with the development," she added.
She clarified that they were trained for the celebration for eight hours per day for a whole week, highlighting that participating in that festivities made her enthusiastic on her role as an MC to represent her country in any possible future national festivals, both locally and internationally.
"I felt responsible and happy at the same time and the most important success factor was fear… A huge audience has its own prestige, especially during a national occasion, which makes us responsible to look better and more powerful, to reflect the real meaning of the message," al-Namla told Al Arabiya.
She stressed that she had her family's support throughout and that it had a great role in her success. She highlighted that her main supporter has been Saudi Crown prince Mohamed Bin Salman and Chairman of the General Authority for Entertainment Ahmed al-Khatib.
https://english.alarabiya.net/en/life-style/art-and-culture/2017/09/25/Yara-al-Namla-First-to-represent-women-during-Saudi-National-Day-celebrations.html
--------
In Kerala, Hindu woman alleges torture for marrying Christian man
Sep 25, 2017
Police in Kochi have registered a case against five people including the director of a Hindu charitable trust after a 26-year-old woman filed a complaint on Monday alleging that she was forcibly detained at the centre and physically and mentally tortured for marrying a Christian man.
The incident comes two days after a 22-year-old woman hailing from north Kerala claimed to have returned to Hinduism after having converted to Islam.
In the latest case, the woman named Shweta said she was forcibly taken to the centre by her parents who conspired with the man running the Arsha Vidya Samajam - its director Guruji Manoj - and tried to force her to marry a Hindu man. She also alleged that at least 65 other women and girls were detained at the centre. She also claimed that she escaped from the centre on August 21 and went back to stay with her husband.
Following her complaint police registered a case against Guruji Manoj and four others. By Monday evening Shweta told local television channels that she married her husband Rinto Thomas in a court and there was no question religious conversion.
"There were such 65 girls illegally detained at the centre and many complained that they were physically and mentally tortured. I was forced to attend classes where only evils of other religions were taught," she said in her complaint. A senior police officer of Kochi said police have launched investigation into her complaint.
The woman's allegations have surfaced at a time when the state women commission decided to move the Supreme Court seeking its permission to meet Akhila Ashokan alias Hadiya Jahan who is reportedly confined to her home. Her marriage with a Muslim youth Shafin Jahan was annulled by the Kerala high court in May and later Supreme Court ordered the NIA to probe circumstances that led to their marriage.
Many activists have alleged that Akhila was confined illegally and undergoing serious rights violations at home. Her husband had also moved the apex court recently with a plea to stop the NIA investigation. Her marriage was annulled after her father claimed that she would be sent to a war-torn area like the 21 young men and women who have gone missing from the state.
Two days ago Athira (22), who left her home in July to convert to Islam, held a press conference in Kochi claiming that she returned to Hindu fold. She said she was influenced by the speeches of Muslim cleric Zakir Naik and some activists of the Popular Front of India, a fundamentalist outfit, supported her. She claimed that she happened to learn more about Hinduism at Arsha Vidya Samajam. The Hindu charitable trust recently claimed that it brought back at least 2000 Hindu girls who converted to other religions in four years.
http://www.hindustantimes.com/india-news/in-kerala-hindu-woman-alleges-torture-for-marrying-christian-man/story-4alVoUb6DvVMCZiaesqX6O.html
--------
Tool of Terror: Myanmar military gang raped Rohingya Muslim women
Sep 26, 2017
UNITED NATIONS – Scores of Rohingya women who were aggressively sexually assaulted while fleeing Myanmar's violence-wracked Rakhine State are being treated for injuries consistent with horrific sex attacks, according to UN medics.
A total of eight medical professionals working in Bangladesh reported treating 25 women between them since late August after they were brought to them with physical injuries that were consistent with violent attacks.
The injuries include bite marks, vaginal tearing and "signs that a firearm was used to penetrate women", according to Tasunba Nourin, a doctor with the International Organisation for Migration (IOM).
Pramila Patten, the UN's Special Representative on Sexual Violence, has said she is "gravely concerned" about security operations in Rakhine that the UN has described as "textbook ethnic cleansing".
She recalls survivors describing sexual violence being used as a "calculated tool of terror to force targeted populations to flee".
Almost all the victims told UN doctors that the perpetrators were men in uniform and identified them as as Myanmar soldiers.
One woman said she was raped by five soldiers while others looked on.
It is rare for UN doctors and aid agencies to accuse a state's armed forces of alleged rape, given the sensitivity of the matter.
Zaw Htay, spokesman for Burma's de-facto leader Aung San Suu Kyi, said the authorities would investigate any claims of rape.
"Those rape victim women should come to us," he said. "We will give full security to them. We will investigate and we will take action."
Suu Kyi, a Nobel laureate widely condemned for failing to speak-up for more than one million Rohingya, promised last week that any perpetrators of abuse in Rakhine would face the full force of the law. But her government has refused to allow a UN fact-finding mission to go to Rakhine that was set up to investigate what a UN report in February said amounted to a "calculated policy of terror" under the guise of a military lockdown of Rohingya villages months earlier.
A report by UN investigators, who recently arrived in the Bangladesh camps to investigate the atrocities, including sexual attacks, has described how soldiers raped women, stomped on the stomach of a woman in labour and slit the throat of an eight-month-old baby when he started crying while his mother was being raped.
The Myanmar government, having been accused of ethnic cleansing by the United Nations, has denied any claims of aggression and said it has been targeting terrorists.
Around 429,000 Rohingya have fled Burma, where many of their families lived for generations. Most refugees are living in overcrowded refugee camps in Bangladesh, living off small aid packages from sympathetic locals and aid agencies.
Meanwhile, Bangladesh has complained to the UN that Myanmar soldiers have been laying internationally banned anti-personnel landmines across the border, the Press TV reported.
Dhaka has also banned telecommunication companies from selling mobile phone connections to the Rohingya refugees, imposing a communication blackout on the persecuted community.
Bangladesh's four mobile phone providers were threatened with fines if they provide any of the nearly 430,000 newly-arrived refugees from Myanmar with SIM cards while the ban is in force.
The persecution of the Rohingya Muslims, a stateless minority of about one million people that mostly lived in the Rakhine state in western Burma, comes after alleged attacked by Rohingya on government forces last October and in August this year, sparking a strong crackdown.
Since the most recent escalation, more than 1,000 people have died and hundreds of thousands have been displaced.
As thousands of people arrive each day from restive Rakhine state to the refugee camps, Unicef estimates that 50,000 of the new arrivals are pregnant women.
The United Nations has described the practices against the Rohingya Muslims in Buddhist-majority Myanmar as "ethnic cleansing."–Agencies
https://en.dailypakistan.com.pk/headline/tool-of-terror-un-says-myanmar-military-gang-raping-attacks-on-rohingya-women/
--------
Iran: Over 12,000 women registered as victims of violence
25 September 2017
The Coroner's Office of Tehran, capital of Iran, declared that it has registered the names of 12,159 women as victims of violence in four months.
The public relations of the General Department of the Coroner's Office of Tehran Province announced that in the four months since the beginning of the Persian New Year (March 21, 2017) until July 21, 2017, it has registered the names of 33,362 people, 12,159 of them women, who had referred to the forensic centers of Tehran province due to injuries they suffered in physical fights. (The state-run Mehr news agency – September 23, 2017)
http://women.ncr-iran.org/iran-women-news/4327-iran-over-12-000-women-registered-as-victims-of-violence
--------
Over 159,000 Saudi women employed in wholesale and retail sector in 2016
Arab News
26 September 2017
RIYADH: The number of female Saudi employees in the wholesale and retail sector in private sector companies stood at 159,588 by the end of 2016, local media said, quoting figures released by the Ministry of Labor and Social Development.
Riyadh region topped other regions in employing female workers in private sector firms, which employed 28 percent of the total throughout the Kingdom, the report said.
On the other hand, 2016 registered a growth of 8 percent in the employment of Saudi female staff in the finance and real estate sectors, compared to figures of 2015, with 147,398 female employees.
Earlier, the ministry identified 19 professions which should be occupied by Saudi nationals including senior human resources managers in government and private firms; heads of personnel sections; heads of labor and workers affairs; heads of personnel affairs; specialist in personnel affairs; clerk (personnel affairs); clerk (employment); clerk (employee affairs); clerk (timekeeping); clerk (general reception); clerk (hotel reception); clerk ( patient reception); clerk (grievances); treasurer; security guard (special); clerk (government relations); typewriter key repair; customer clearance; and female workers in women's requirement shops.
Meanwhile, the ministry suspended renewal of work permits of expatriates occupying jobs to be filled by Saudi nationals and ordered companies not to transfer services of foreigners to them. It said penalties will be levied against companies employing expat workers in jobs limited to Saudi nationals. The ministry also ordered that work and jobs in closed shopping malls be limited to Saudi male and female employees.
Ministry spokesman Khalid Aba Al-Khail said the above Saudization decision contains a time frame for application and locations to be determined by the Minister of Labor and Social Development in accordance with labor market requirements and data of work applicants.
http://www.arabnews.com/node/1167556/saudi-arabia
--------
Women prison chief sees more progress, development in KSA
Sep 26, 2017
MAKKAH – Women Prison Director Nouf Al-Otaibi has wished Custodian of the Two Holy Mosques King Salman and Crown Prince Muhammad Bin Salman, deputy premier and minister of defense a happy National Day and hoped that the Kingdom will see more progress and development.
"As we celebrate the 87th National Day, we have seen a lot of progress and development, thanks to the government's persevering efforts, political acumen, strong leadership and wise foresight. Late King Abdulaziz, the founder of the country, laid strong foundations for the Kingdom. His sons have followed in his footsteps and put the Kingdom in the group of advanced countries in a short time. Saudis enjoy security, safety and stability and are happy to see their country make these huge achievements on the national and international levels," she said.
Al-Otaibi urged all prison employees and inmates to raise the Saudi flag on all cells and rooms. Gifts were distributed to inmates at the behest of Director General of Prisons Maj. Gen. Ibrahim Muhammad Al-Hamzi, in order to enhance the love of t he country and loyalty to the leadership in the minds of inmates.
"Celebrating the National Day at the prison reflects the supreme meaning of loyalty and unity as well as love for the country. The prison directorate aims to correct the behavior of inmates and transform them into better persons who have deep love and loyalty for their country," she said. The prison also allows inmates to spend few days with their families in special rooms.
http://saudigazette.com.sa/article/518003/SAUDI-ARABIA/Women-prison-chief-sees-moreprogress-development-in-KSA
--------
URL: https://www.newageislam.com/islam-women-feminism/saudi-arabia-backlash-after-women/d/112665
New Age Islam, Islam Online, Islamic Website, African Muslim News, Arab World News, South Asia News, Indian Muslim News, World Muslim News, Women in Islam, Islamic Feminism, Arab Women, Women In Arab, Islamophobia in America, Muslim Women in West, Islam Women and Feminism