New Age Islam News Bureau
8 Dec 2013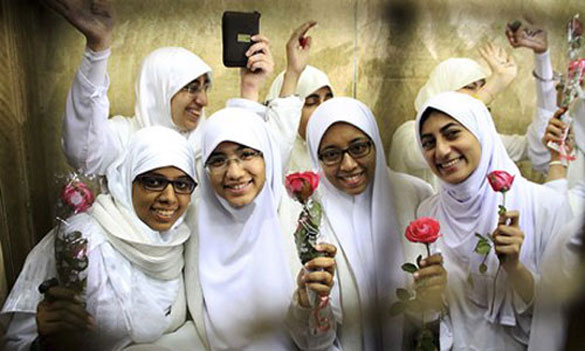 Protesters celebrate following the court decision to set women and girls free. Photograph: HAZEM GOUDA/ALMASRY ALYOUM/EPA
------------
• Seventh Man Jailed Over 'Honour Killing' Of Banaz Mahmod
• Egypt Lets 21 Women, Girl Protesters Go Free after international outcry
• Saudi Girl Graduates from Dubai Police Academy
• UN Says Afghanistan Slow In Enforcing 4-Year-Old Law Protecting Women
• Controversy Surrounds Face Veil Ban in Sri Lankan University
• Balochistan LG Polls: Civil Society Condemns Bars on Women Voting
• Fatima Bhutto: 'Pakistan Produces Women with Extraordinary Spirit'
• Saudi Woman Wins Global Business Award
• Tabuk Girl Crowned Mental Math Champion
• Require Mandatory Counselling for Those Contemplating Divorce
• Hadaf: 600% Increase In Women's Employment
Compiled by New Age Islam News Bureau
URL: https://newageislam.com/islam-women-feminism/palestinian-entrepreneur-hopes-sex-shop/d/34766
------------
Palestinian Entrepreneur Hopes Sex Shop Will Help Married Couples Connect
7 December 2013
In a Ramallah mosque, Ashraf Alkiswani sat before three sheikhs, elders with authority on matters of Islam, to ask for approval for his latest business project.
It is unusual for Palestinian entrepreneurs to seek religious authorisation for new ventures. But Alkiswani was not planning a plush restaurant in downtown Ramallah, or a coffee shop elsewhere in the West Bank; he was launching Palestine's first online sex shop.
"It's not about just sex. It's about love and the joy of expressing that love," he said. "It's about trying to build bridges across gaps that separate the husband from the wife by improving sexual harmony, which will in turn will lead to happier marriages, less divorce and less infidelity. In that sense, it is a social project."
The newly refurbished online store, Karaz, which means cherries in Arabic, went live this week, selling items such as candy nipple tassels, "sexual enhancement products", lubricants and bedroom games, and offering sex advice for married couples. Alkiswani hopes to attract customers across the Arab world.
The website says: "Our aim is to provide a range of tasteful products to help rekindle the purity and passion between married couples. Karaz is proud to help foster healthy relationships and open communication by offering a wide spectrum of marital aids that help husbands and wives achieve and maintain an intimate lifestyle."
It adds: "Pornography and raunchy schematics are not used to sell our products."
As an unmarried 30-year-old Palestinian-American businessman operating within a culture where sex is reserved for the sanctity of marriage, Alkiswani was a little nervous about asking the sheikhs for their approval.
"I told them the two stories that compelled me to begin this business. Two stories of embarrassing moments that were so embarrassing they were sad," he said. "I told them of the couple on their wedding night, the woman nervous and the man so eager to begin his sexual journey he didn't even think, or even know, to use foreplay. With her nervousness teamed with his eagerness, she ended up in hospital with bleeding for three days.
"There was also the woman who, at 25 with five children, had no idea about condoms. After she was shown how to use one, using her fingers as an example, she had sex with the condom on her fingers."
The sheikhs were in unanimous agreement. Alkiswani left the mosque with a fatwa – a legal judgment based upon Islamic law – approving of the venture.
As with most religions, marriage is one of the most important pillars of Islamic society. "Islam promotes sexual intimacy between husband and wife, yet in society it is taboo to talk of it. So people shy away from asking questions," Alkiswani said.
Contrary to the common perception of many non-Muslims, the teachings of Islam encourage sexual intimacy and connectedness within a marriage, not just for procreation.
According to Islamic law, women are permitted to divorce their husband on the grounds of lack of sexual fulfilment. The husband's "wajib", or obligation, to have sexual relations with his wife as least once every four months is a conjugal right of the wife.
The husband's failure to fulfil this obligation means the woman is permitted to seek a divorce.
According to Mufti Saleh M'yttan, an Islamic scholar who runs a daily radio programme in Palestine giving advice based upon the teachings of Islam: "The west looks at Islam with misconceptions, from sexual relations to the place of women. Islam as a religion respects women. Islam also supports anything that helps the married couple to connect."
According to Alkiswani: "There's a hadith [a pronouncement from Muhammad] that says: 'Not one of you should fall upon his wife like an animal; but let there first be a messenger between you.' And what is that messenger? Kisses and words.
"Here there is a clear promotion of sensuality, of taking time to make love to your wife."
In the streets of Ramallah, Alkiswani's business venture got a cautious reception. Saed, a married cafe owner, said: "It's needed, but whether it will be accepted I don't know."
Inas, a young, single woman, said: "Marriage is considered a lifetime commitment. Surely in that lifetime a husband and wife should be able to find new ways to enjoy each other."
Palestinian society is not yet ready for Alkiswani's sex shop to take a physical form. For now, his website will be delivering plain brown paper packages to married couples across the Middle East.
http://www.theguardian.com/world/2013/dec/06/palestinian-sex-shop-help-married-couples-karaz
------------
Seventh Man Jailed Over 'Honour Killing' Of Banaz Mahmod
Dec 08 2013
A seventh man has been jailed in connection with the murder of Banaz Mahmod, 20, who was strangled in January 2006 and her body stored in a suitcase before being driven out of London towards Birmingham, where she was intended to be hidden in a shallow grave. Dana Amin, 33, was convicted at Southwark crown court of perverting the course of justice and preventing the victim's lawful and decent burial, and was jailed for eight years.
The court heard that Amin's car, a black Lexus, was used to transport Mahmod's body to the Midlands, where it was discovered in a 6ft grave seven years ago.
Her killers, Mahmod Babakir Mahmod, 58, and Ari Mahmod, 57, who were her father and uncle, were jailed for life in July 2007.
DCI Glen Lloyd, of the Met's Homicide and Major Crime Command, said: "This has been an incredibly complex and lengthy inquiry which has spanned over seven years. We have always been absolutely determined to bring everyone involved in Banaz Mahmod's murder to justice.
"Following the conviction of her father and uncle back in 2007 and the two cousins, Ali and Hussain, we knew that Dana Amin believed he had evaded capture.
"We were determined not to rest until each and every person responsible for this horrendous crime had been apprehended and held to account.
"There is no such thing as 'honour' in any killing and the men involved in Banaz's murder are no more than cowards.
"Banaz was a loving, caring, young woman whose life was brutally cut short by the very people who should have loved and protected her - in any terms the ultimate betrayal."
http://www.theguardian.com/uk-news/2013/dec/06/man-jailed-banaz-mahmod-honour-killing
------------
Egypt Lets 21 Women, Girl Protesters Go Free After International Outcry
Dec 08 2013
CAIRO – Egypt appeals courts on Saturday ordered 14 women jailed after a protest to be freed, reducing 11-year prison terms to one-year suspended sentences, as seven girls were also ordered released.
The women's supporters in the Alexandria courtroom chanted "God is great" as the judge pronounced the ruling.
The girls, who had initially been sentenced to juvenile detention, were ordered freed by a separate court but placed on three-month probation.
The 21 were all convicted last month of taking part in a violent protest demanding Islamist president Mohamed Morsi's reinstatement following his overthrow by the army in July.
Fourteen women previously sentenced to 11 years in jail were ushered into the cage in the courtroom as the appeal by the seven girls was heard in an adjacent juvenile court.
The prosecutor general's office charged that the women fought with knives and threw rocks during clashes that erupted during the protest in Egypt's second city.
Six men said to be Muslim Brotherhood leaders were tried in absentia in the same case and sentenced to 15 years. They were found guilty of inciting the women to cut key roads in the city during the clashes.
There was a heavy police presence outside the court complex in the coastal city, where Morsi's Islamist supporters have repeatedly clashed with opponents and security forces.
The jail terms, coming in the same week as a restrictive new protest law, re-energized Islamist opposition to the interim government and drew criticism even from its secular supporters.
Hamdeen Sabbahi, a former presidential candidate and a leading dissident under Morsi, called on the interim president to pardon the girls and repeal the new law governing protests.
The military-installed government has pressed a crackdown on Morsi's Muslim Brotherhood movement that has killed more than 1,000 people and imprisoned thousands.
Much of the Brotherhood's leadership, including Morsi, is on trial on various charges of inciting violence.
http://www.saudigazette.com.sa/index.cfm?method=home.regcon&contentid=20131208188861
------------
Saudi Girl Graduates from Dubai Police Academy
Dec 08 2013
JEDDAH — Ayaat Osama Bakhraibah has become the first Saudi woman to graduate from the Dubai police academy. She has obtained her master's degree with excellent grade from the academy, an autonomous institution that offers degrees like universities.
Bakhraibah chose the academy for her master's research to make a difference.
Speaking about her decision to join the institution, Bakhraibah, who studied law, said: "Some people wrongly believe that police work is just carrying a pistol and doing field duty. Women can fill a void that their male counterparts cannot, that is protecting other women's rights in personal or financial affairs."
Her thesis titled "Child rights in Saudi law versus international law" was rated among the best and most distinctive research papers.
Bakhraibah said she was preparing to publish her work and sell it in international book fairs, Al-Madinah newspaper reported Saturday.
She hoped that the authorities would open the way for Saudi women to work in the police force.
"This will be another step toward the advancement and effective participation of women in Saudi society," Bakhraibah said.
http://www.saudigazette.com.sa/index.cfm?method=home.regcon&contentid=20131208188888
------------
UN says Afghanistan slow in enforcing 4-year-old law protecting women
Dec 08 2013
KABUL, AFGHANISTAN – The United Nations says that Afghan authorities have been slow in enforcing a law protecting women against forced marriages, domestic violence and rape.
An annual report issued by the U.N. mission in Afghanistan on Sunday found that although Afghan authorities registered more reports of violence against women under the four-year-old law, prosecutions and convictions remained low.
Afghanistan enacted its Elimination of Violence Against Women law in August 2009. It criminalizes child marriage, selling and buying women to settle disputes, assault and more than a dozen other acts of violence and abuse against women.
http://www.foxnews.com/world/2013/12/08/un-says-afghanistan-slow-in-enforcing-4-year-old-law-protecting-women/
------------
Controversy Surrounds Face Veil Ban in Sri Lankan University
Dec 08 2013
The decision of the University of Moratuwa to ban the face veil worn by female Muslim students within the university premises has brought a sensitive issue to the fore. The veil worn by Muslim women has been a controversial issue on which many countries have been unable to hold their ground. Especially with reference to Burqa and Niqab, countries across Europe have made various gestures to address their concerns in the recent past.
In the South Asian region, there is a huge variation of religious identities with multiple customs and practices among the same religious groups. Traditional dress and practices adhered by one group often vary from the other. Catholic nuns wear headdresses or veils, Buddhist monks wear saffron robes and Sikhs wear turbans as a marker of their religious faith that is symbolic of their commitment. Likewise, some Muslim groups consider burqa or niqab as a display of religious faith and cultural identity of Islamic women.
Oppressive perception
While many feminists see Islamic women's full-face veil as a symbol of cultural oppression of women, Muslim women uphold it as their religious and cultural identity and personal conviction. There are other concerns among the community who see it as a security threat with rising terrorist and criminal activities in many countries.
France, with the largest Muslim minority in Western Europe, was the first European country to ban the full-face Islamic veil in public spaces. The decision was followed by Belgium. However, human rights activists have raised their concern over banning religious or cultural practices, as it is a violation of fundamental human rights of an individual's right to practice a religion of their choice.
Fundamental right
Speaking to The Sunday Leader, Dr Prathiba Mahanamahewa attorney-at-law and Commissioner of Sri Lanka Human Rights Commission said, "Article 10 of the Sri Lankan constitution places no limitations to religious practises and clearly states the freedom to have or to adopt a religion or belief of anybody's choice. In fact, there are Supreme Court judgements given against banning the face veil of Islamic women in Sri Lanka." Dr Mahanamahewa reiterated that the face-veil of Muslim women had been a practice that had been among the Muslim community over many years. With reference to the University's decision, he added that those Muslim girls could fill an application and lodge a complaint with the Sri Lanka Human Rights Commission if they were forced to remove their face-veil against their will. However, he added, "There are some criminalists who use these religious practices for their advantage to be in hiding and to carry out their misdoings."
Vice Chancellor of the University of Moratuwa Prof A.K.W. Jayawardane said, "Sometime back, three Muslim girls made a request asking permission for them to wear the face veil in the university. We referred the issue to the Board of Residence and Discipline, and the board unanimously came to a decision." According to Prof Jayawardane, this was the first time they had to face a problem of this nature, as there was nobody in the history of the university who had worn a face veil within the university premises. "We have had Muslim students and staff in the university. Yet, there had never been any issues or concerns related to this matter previously. Two of the girls who made the request accepted our decision while the other girl appealed. However, she later agreed to act in accordance with the decision. The university is a place that facilitates religious, cultural and ethnic harmony parallel to education. Each student has to be identified within the campus. The decision had to be made for security purposes," Prof Jayawardene said.
Common understanding
President of the Muslim Council of Sri Lanka N M Ameen said, "There are certain religious groups within Muslims who strictly adopt certain customs slightly different from the others. All the Muslims believe that Muslim women must wear Hijab, but Niqab that covers the whole body including the face has caused controversy. Currently, the Muslim community in Sri Lanka is carrying out discussions to come to a common understanding and to address the security concerns raised due to the face veil worn by a certain group of Islamic women in the public domain." According to him, the university, as an education institution, has the right to take some decisions on security grounds and to maintain uniformity within the system.
Convener of Inter University Students Federation (IUSF) Sanjeewa Bandara said that nobody has the right to violate someone else's religious freedom. "It is a different story whether they accept the philosophies behind the customs practiced by other religions or not. Based on those philosophical differences, nobody can force anybody to abandon their religious or cultural practices and discriminate their rights."
Complications within the system
Azad Sally, the leader of Muslim Tamil National Alliance stated that they had directed this issue to the All Ceylon Jamiyyathul Ulema, the apex religious body of Islamic Theologians that provides religious and community leadership to the Muslim community in Sri Lanka. While security concerns are valid, he added that they fear it could be an initiative to more prohibitions against their religious practices. He elaborated, "The decision taken by the university might influence other institutions in the country to act in the same way. Muslims are a part of the Sri Lankan community and our traditions need to be accepted. However, an education institution, like a university where there are several hundred students, may have to put certain regulations to avoid complications within the system."
Expressing his views, President of the Federation of University Teachers' Associations Dr Nirmal Ranjith Dewasiri added, "There is no legal barrier in Sri Lanka banning the face veil of Muslim women in the country and, therefore, they have the legitimate right to wear their traditional dress anywhere in the country. However, there are practical problems related to identification during examinations and related matters that need to be addressed by the education institutions. There is a chance that some will abuse these religious practices for wrong purposes that may cause injustices to other students."
He also pointed out how these small incidents could be manipulated by certain religious extremists to provoke ethnic hatred among the community. Therefore, he emphasised the importance of addressing these issues with cultural sensitivity to avoid politics related to divisive opinions that may cause unnecessary conflicts.
http://www.thesundayleader.lk/2013/12/08/controversy-surrounds-face-veil-ban/
------------
Balochistan LG polls: Civil society condemns bars on women voting
December 8, 2013
ISLAMABAD: Civil society representatives and human rights activists in the federal capital have condemned reports that women in many areas of Balochistan were prevented from voting during the local government elections on Saturday.
They demanded that the Election Commission of Pakistan (ECP) take note of issue and void election results wherever women were barred from voting.
"The ECP should set a date for fresh elections in polling stations where women's fundamental rights were usurped," they said in a statement issued on Saturday.
Civil society representatives said that according to reports, women were prevented from voting in Noshki (Ward-3), Quetta (Kharotabad, Ward-7), Mastung, Chaman and Chaghi.
They said that absence of women staff at women polling stations, lack of security, fake identity cards and fraudulent voters' lists were some of the reasons women were discouraged from stepping out of their houses to vote.
Peace activist Tahira Abdullah said that she has also emailed a copy of the statement highlighting the civil society's concerns to Acting Chief Election Commissioner Justice Nasirul Mulk to take note of the issue.
http://tribune.com.pk/story/642661/balochistan-lg-polls-civil-society-condemns-bars-on-women-voting/
----------
Fatima Bhutto: 'Pakistan produces women with extraordinary spirit'
December 8, 2013
The author Fatima Bhutto has had a lifetime of being asked about her surname. She comes from the "cursed" political dynasty in Pakistan: her grandfather, the former president Zulfikar Ali Bhutto was executed in 1979, three years before Fatima was born; her father, the radical politician Murtaza Bhutto, was shot dead by police in 1996; and her aunt, the former prime minister Benazir Bhutto, was killed in a bombing in 2007.
Not surprisingly, Fatima has no desire to enter the political arena. "No," she says, "I always wanted to be a writer. I was very lucky to have a father who was a feminist and as a child I was always told I could do what I wanted to do and I loved to write. I'm doing my dream job! There's no way I'd surrender it."
At 31, Bhutto has just published her first novel. The Shadow of the Crescent Moon is set over the course of one morning in a small town in Pakistan's tribal regions, close to the border with Afghanistan. It follows the story of three brothers who are forced to make difficult choices against a backdrop of continuous war. But the heart of the novel, for Bhutto, lies in the female characters.
"In my mind, it was this story of three brothers and then these women took over, just like Pakistani women do," she laughs. "There is such a singular view of Pakistani women and it's such a shallow and very unfair view. There's an impression of how differently we do things, how downtrodden we are. Millions of women suffer but they [also] struggle, they resist and fight. It's a harsh country, an unfair country, but it also produces women with extraordinary spirit."
In fact, it produces women such as Bhutto herself, who lost her father when she was 14. She was convinced that her aunt, who had fallen out with Murtaza and was prime minister at the time, was responsible. Bhutto wrote about Pakistani state-sanctioned violence in her memoir, Songs of Blood and Sword, which was published in 2010 and became a bestseller in her home country.
When I ask how she feels about her aunt's legacy now, she politely declines to expand. "The nice thing about doing fiction is that I don't feel I have to answer all these heavy political questions."
Could Benazir have done more to empower ordinary women when she was in power? "The only safety that women have in this country is with each other," Bhutto replies. "They've never had it from power."
At one point in her novel, Bhutto writes of a character feeling trapped by "the ghosts of history". Does she feel the same? "I don't think it's just me," she says. "This is a very young country – only 67 years old. With any country negotiating the future against a very turbulent past, you can't escape your heritage. Those ghosts of history are everywhere."
http://www.theguardian.com/books/2013/dec/08/fatima-bhutto-shadow-crescent-moon
----------
Saudi woman wins global business award
Dec 08 2013
A Saudi woman has won one of the top positions for business inventions in a recent global contest held in Copenhagen, Denmark.
Lutfiya Al-Waalan was in 5th position in the final round along with contestants from Croatia, Germany, Denmark and Italy.
She also won the first position in the contest for business inventions conducted in the Kingdom earlier this year. Her invention is a machine which can make Arabian coffee in record time. She calls it Yatuq.
http://www.arabnews.com/news/489276
------------
Tabuk girl crowned mental math champion
Dec 08 2013
Shahad Al-Ahmadi, a 12-year-old girl from Tabuk, has won the grand champion award at the international Universal Concepts of Mental Arithmetic Systems (UCMAS) competition held in Malaysia. More than 6,000 children aged 4-12 from all over the world took part in the competition from Nov. 27 to Dec. 3. Al-Ahmadi said she was proud to carry the Saudi flag while receiving the award.
http://www.saudigazette.com.sa/index.cfm?method=home.regcon&contentid=20131208188894
------------
Require mandatory counselling for those contemplating divorce
Dec 08 2013
With regard to the article "Like Saher, impose a fine to prevent divorce" (Dec. 6), a fine imposed upon a marriage partner initiating divorce may prohibit those who truly need the separation.
Instead, why not consider mandated marital counseling for a certain period of time for those contemplating divorce with mandatory attendance required? That way the couple can explore issues and perhaps reach solutions that would keep them together.
http://www.saudigazette.com.sa/index.cfm?method=home.regcon&contentid=20131208188848
------------
Hadaf: 600% increase in women's employment
Dec 08 2013
DAMMAM — The employment of women in the private sector has increased by 600 percent, according to the deputy director general for special programs at the Human Resources Development Fund (Hadaf).
Fahd Al-Tekhaifi said this follows reports that the rate of unemployment among women rose to 35.9 percent in 2011 compared to 28.4 percent in 2009.
He attributed the increased presence of women in the Saudi job market to their keenness to find employment and royal decrees that opened the way for female workers to join many fields other than healthcare and education.
He said the percentage of female job seekers in Hafiz program rose to 77 percent, which means there are now about 1 million Saudi women who are actively searching for jobs.
"The rise in the number of female job seekers is a big challenge that must be dealt with. Finding job opportunities for women is a joint responsibility of the government and the private sector as well as the training and education authorities," he said.
Al-Tekhaifi said the third stage of feminization of shops that sell women's clothing and accessories will begin soon. The Ministry of Labor is planning to replace salesmen with saleswomen in all shops that sell women's clothes and accessories over the next three years.
"The increase in the number of females working in production lines is another good indication that both the private and government sectors are finding ways to employ women. Also, statistics show that shops are complying with the feminization decision," he added.
According to Al-Tekhaifi, the government is trying to solve the issue of late working hours, something which has prevented many women from joining sectors that require employees to work evening shifts.
The issue will be looked into by the Shoura Council and Hadaf is following a new approach in financing projects for women's transportation and children's nurseries.
Director general of the General Administration for Social Dialogue Khulood Al-Qahtani said a recommendation to specify working hours in the private sector has been submitted to Minister of Labor Adel Fakieh who has in turn referred it for royal approval.
http://www.saudigazette.com.sa/index.cfm?method=home.regcon&contentid=20131208188893
------------
URL: https://newageislam.com/islam-women-feminism/palestinian-entrepreneur-hopes-sex-shop/d/34766