New Age Islam News Bureau
09 January 2021
• First Saudi Female Skating Team Aiming For International Glory
• US Religious Watchdog Appeals Pakistan to Set Free Ramazan Bibi Jailed On Blasphemy Charges
• Twitter Urged to Act on China's 'Violent Propaganda' About Uyghur Muslim Women
• HC Issues Notice to Punjab In Triple Talaq Case
• A Lebanese Non-profit Strives To Give Women A Stronger Voice
• Abu Dhabi WTA Women's Tennis Open: Ons Jabeur Reaches out to Help Arab Women's Tennis
Compiled by New Age Islam News Bureau
UURL: https://www.newageislam.com/islam-women-feminism/pakistani-actress-zara-albalushi-granted/d/124030
--------
Pakistani Actress, Zara Albalushi, Granted Permanent Residency In Saudi Arabia
January 01, 2021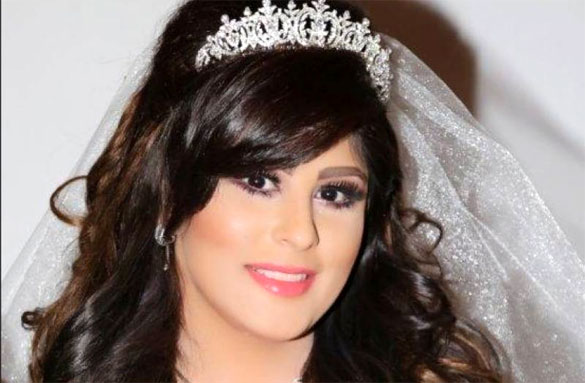 Pakistani actress Zara Albalushi,
------
RAWALPINDI, Pakistan: Pakistani actress Zara Albalushi, who was born and raised in Saudi Arabia and recently obtained permanent residency, has said she can now finally call the Kingdom "forever home."
Riyadh-born Albalushi, 39, who attended Saudi schools and speaks fluent Arabic, posted a photo of her Premium Residency Card (PRC) on her social media accounts on Dec. 14.
The actress received the residency permit through a program launched by the Kingdom in 2019 under which eligible expats can now apply for residency without being sponsored by a Saudi national, as was the previous rule.
In a tweet, Albalushi, who has been acting in Saudi Arabia since 2010, said: "Thanks for the trust and for granting me a distinguished residence. My happiness is beyond description. Living and investment in Saudi Arabia; I want to live and die in it."
On Wednesday, she told Arab News of her gratitude toward the Kingdom and said she hoped to be a "worthy addition" to the Saudi arts and cinema scene.
Albalushi, who has starred in a number of Saudi and Gulf network television dramas since 2019 including "Al-Mirath" and "Hello, Hi," added that she was overjoyed at now being able to travel in and out of Saudi Arabia without restriction or the need for a visa.
"I have derived all my talent from the country and now today, and with the continuous developments in Saudi Arabia ... under the leadership of the young prince, His Royal Highness Crown Prince Mohammed bin Salman — may God protect him — I can say it is my home forever," she said.
https://www.arabnews.com/node/1785611/saudi-arabia
--------
First Saudi Female Skating Team Aiming For International Glory
January 08, 2021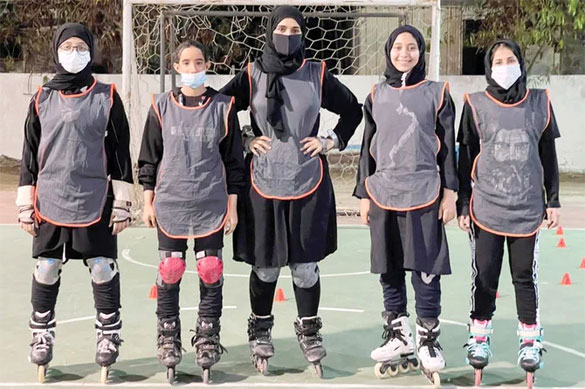 The Saudi Skating League had organized more than 60 local female tournaments. The players are aged between 13 and 35. The national team has 32 members. (Supplied)
------
MAKKAH: The first Saudi female rollerblading team is preparing for its debut international tournaments.
Hajar Mohammed, 13, said skating is "one of the most beautiful and pleasurable sports for girls. It is full of fun, challenge, and competition, and it boosts fitness."
Hajar, who has been practicing for four years, said that her family's support was her primary motive. "This sport highly depends on concentration, which requires a clear mind as we need synchronization of both nerves and muscles," she said.
She added that the support of the Saudi Skating League was the turning point for her. "These elites worked with efficiency and dedication to establish a strong Saudi team with a good reputation at the regional level, to prepare it to reach international levels."
She hopes that there will be a special location for skating that could host all big competitions, especially as it is an entertainment sport, which boasts a huge number of fans worldwide.
"I hope that this sport spreads throughout the Kingdom, for it is worth being practiced, has big benefits on the fitness, skills, and psychological levels, and is considered as an aerobic sport," she added.
She said that skating could be practiced in parks away from streets or cars like in Western countries, adding: "We are on our way to reach a secure competitive environment, where everyone can practice this sport with passion and assurance."
Aljawhara Minwer, the team's media and public relations officer, said that the female skating team was the first to be founded by the end of 2018 by the Saudi Skating League under the management of Zaher Al-Asiri, Raeah Al-Attas, and coach Abdul Aziz Al-Qahtani.
"After launching the first female team, the league formed the first female skating national team," she said. "The team is preparing to represent the Kingdom in international competitions."
Minwer said the Saudi Skating League had organized more than 60 local female tournaments, adding that the players are aged between 13 and 35. The national team has 32 members.
"A special academy was founded to teach women this sport. Competitions are divided into various categories like speed skating, marathons, and more. There are also individual challenges," she added.
Zaher Al-Asiri, president of the Saudi Skating League, said the league will develop skating talents, and establish a national team capable of competing in international tournaments and "organize educational seminars and workshops, and local competitions for all age groups to increase the number of those who practice this sport."
https://www.arabnews.com/node/1789481/saudi-arabia
--------
US Religious Watchdog Appeals Pakistan to Set Free Ramazan Bibi Jailed On Blasphemy Charges
08 January 2021
The US religious watchdog appealed Friday for the rights of a Pakistani woman from the country's minority Ahmadis who has been jailed on blasphemy charges, declaring her a prisoner of conscience and urging Prime Minister Imran Khan's government to immediately set her free.
The statement by the US Commission on International Religious Freedom said 55-year-old Ramazan Bibi was jailed last April under Pakistan's draconian blasphemy law that carries the death penalty.
Under the law, anyone accused of insulting Islam can be sentenced to death if found guilty. While authorities have yet to carry out a death sentence for blasphemy, just the accusation of blasphemy can incite mobs in Pakistan.
"The Pakistani government must immediately release Ramzan Bibi, and all others detained for blasphemy," said commission head James W. Carr.
Domestic and international human rights groups say blasphemy allegations have often been used to intimidate religious minorities in Pakistan and to settle personal scores.
"Authorities allowing these laws to be used for personal gain or vendetta are only enabling systematic discrimination based on religious belief," Carr added.
The Ahmadi faith was established on the Indian subcontinent in the 19th century by Mirza Ghulam Ahmad, whose followers believe he was the messiah that was promised by the Prophet Muhammad. Pakistan's parliament declared Ahmadis non-Muslims in 1974. Since then, they have repeatedly been targeted by extremists in the Muslim-majority nation.
Bibi was jailed after a dispute over a donation she tried to make to a non-Ahmadi mosque in her village in Punjab province. The donation was rejected and when she sought an explanation from her non-Ahmadi relatives, a quarrel erupted followed by an assault on Bibi, according to members of her community.
Mainstream Muslim clerics later alleged she was blasphemous and brought out an alleged witness to corroborate their allegations.
"She is facing imprisonment simply because of her Ahmadi faith," said the US commission.
The Pakistani prime minister's special adviser on religious affairs and religious harmony, Maulana Tahir Ashrafi, said he was not aware of the case but would investigate and promised "justice" for the woman.
"No Muslims will be allowed to hurt the sentiments of people belonging to other religions and no non-Muslim should insult Islam," said Ashrafi.
Blasphemy has been a contentious issue in Pakistan. A Punjab governor was killed by his own guard in 2011 after he defended a Christian woman, Aasia Bibi, who was accused of blasphemy. She was acquitted after spending eight years on death row and later left Pakistan for Canada to join her family after receiving threats.
In just the last year, more than 24 Ahmadis, including their senior leadership have been charged with blasphemy and for referring to themselves as Muslims. Scores of Ahmadis are in jail simply for reciting Islamic prayers or greeting others with a traditional Muslim greeting.
Last year, five Ahmadis were killed in targeted killings in Pakistan, according to an Ahmadi official who spoke on condition of anonymity, fearing for his life.
According to a report last month by the US Commission for International Religious Freedoms, Pakistan recorded the most cases of blasphemy in the world, even though 84 countries have criminal blasphemy laws.
On Friday, an anti-terrorism court in Islamabad sentenced three people — two Sunni Muslims and an Ahmadi — to death in connection with charges that they shared blasphemous content on social media in 2017. A fourth man, a Shiite Muslim college professor, was sentenced to 10 years in prison for insulting God during a college lecture.
The US commission described the conditions for religious freedoms in Pakistan as continuing to "trend negatively" and urged the government to repeal the blasphemy law.
Pakistan has rejected the commission's assessment.
https://english.alarabiya.net/en/News/world/2021/01/08/US-group-appeals-for-Pakistani-woman-jailed-on-blasphemy
--------
Twitter Urged to Act on China's 'Violent Propaganda' About Uyghur Muslim Women
January 8, 2021
Community leaders and leading MPs have urged Twitter to take action against Chinese government accounts, spreading "violent propaganda" about the sterilisation of Uyghur Muslim women.
Its Embassy to the United States shared an article from China Daily, state-run media, claiming the "eradication of extremism" in Xinjiang, an area of China with a large Uyghur population, has given women "more autonomy".
It said: "Study shows that in the process of eradicating extremism, the minds of Uyghur women in Xinjiang were emancipated and gender equality and reproductive health were promoted, making them no longer baby-making machines. They are more confident and independent."
This comes after Jewish News led a campaign to highlight to MPs the similarities between the Jewish experience of persecution and China's repression of its Uyghur minority – including sterilisation of the community's women.
This included images of shaved heads, crammed cells and names replaced by numbers in vast 're-education' camps, which have been met by communal outcry. Up to one million Uyghur Muslims thought to be detained, with concern raised last year after hair, forcibly removed Uyghur Muslim women, was found in the United Sates.
Conservative MP Nus Ghani responded to the article, calling on Twitter's CEO Jack Dorsey to take action. She said the article is "blatant fake news & violent propaganda against millions of Uyghur women & children. Block this site – just as you banned Trump. Block it-stop the abuse."
Last year, she hand-delivered a letter to Downing Street, organised with Jewish News, urging the UK to put pressure on China to end persecution.
MP Tom Tugendhat agreed with Ghani, saying: "Claiming that ethnic cleansing is a form of gender equality is horrific."
Joining the chorus of condemnation was Board of Deputies Vice President Edwin Shuker, who said: "The attempt by the Chinese Embassy in the US to present an alleged programme of forced sterilisation of Uyghur women as a humanitarian measure is both outrageous and disgusting The persecution of the Uyghurs for their faith must stop immediately and the International community must be given access to verify "
Mia Hasenson-Gross Executive Director of Jewish human rights groups Rene Cassin said: "The forced steralisaltion, forced coupling and physical and sexual abuse that Uyghur women are experiencing is very real and goes against any value of humanity and dignity, as well as international human rights law.
"The genocidal acts committed against the Uyghur people are real and must end now! The Jewish community has been at the forefront on speaking out against what is happening to the Uyghurs and should continue to do so in any instance.
The Chinese government strongly denies claims about persecution, insisting it is a 're-education' programme against extremist views.
https://jewishnews.timesofisrael.com/twitter-urged-to-act-on-chinas-violent-propaganda-about-uyghur-muslim-women/
--------
HC Issues Notice to Punjab In Triple Talaq Case
Jan 07, 2021
Saurabh Malik
In, perhaps, the first case here after the Muslim Women (Protection of Rights on Marriage) Act, criminalising triple talaq came into force, a Muslim woman has moved the Punjab and Haryana High Court alleging non-registration of an FIR against her husband for the offence.
Taking up the petition through videoconferencing, the High Court today put the State of Punjab and other respondents on notice after taking note of the allegations that the husband gave 'triple talaq' on WhatsApp, which was illegal and an offence under Act. Justice Arun Kumar Tyagi also fixed the case for further hearing on March 5.
Her counsel Ferry Sofat submitted that the husband on June 20, last year, sent three messages of "talaq, talaq, talaq" to the petitioner and also forwarded photographs with his new wife, along with the marriage certificate.
Subsequently, the petitioner's father forwarded a complaint regarding the offence under the Act to the Sangrur Senior Superintendent of Police. Her daughter too filed a representation before the Director-General of Police. But action was not taken. Sofat added the husband was "very influential" having good links with the police authorities, anti-social elements and politicians.
https://www.tribuneindia.com/news/punjab/hc-issues-notice-to-punjab-in-triple-talaq-case-195113
--------
A Lebanese Non-profit Strives To Give Women A Stronger Voice
January 08, 2021
BEIRUT: Lebanese women have long fought against gender discrimination in the system. While activists have made great strides this year in terms of political and social awareness, national legal protections from domestic violence and sexual assault remain inadequate. The country also has a weak framework for basic women's rights, especially in matters such as divorce, property rights and responsibility for children after divorce.
Rawan Yaghi, a former teacher based in Lebanon's northeastern region of Baalbek, set up social enterprise USPEaK in 2009 with the aim of giving the country's citizens a voice, particularly its women. The organization's main objective is to create a democratic community that engages citizens through education.
"In my earlier career as a teacher, I was very active in social activism," said Yaghi. "I was invited to International Women's Day in Washington. I saw women being celebrated and honored for the enterprises they had started and thought, 'oh, I can do that.'"
Yaghi registered USPEaK as an NGO in 2015. Since then, 2,600 women have been taught English and 1,200 have been taught about entrepreneurship. She has also overseen the education of about 10,000 Lebanese 7th and 8th grade students, who are taught a set curriculum based on themes such as citizenship and democracy.
One of the main areas that USPEaK focuses on is teaching English. Yaghi believes the English language is one of the most important tools Lebanese women can have when seeking employment.
"It's like a passport. When they learn English, they're able to access information that they are not usually exposed to," she said. "They can know more about the media and the social work of others and they can get inspired by different ideas."
Yaghi used her savings and a bank loan to launch USPEaK. Around a decade later, her civil rights work is gaining recognition on a global scale, receiving funds and grants from Germany, the UK and the US among others.
"Many of our funds come from the US Embassy, especially for education — teaching English and (hosting) spelling bee projects," said Yaghi. "We have other donors through UK Aid and ActionAid where we're working on social cohesion."
Besides promoting democratic engagement, USPEaK is also focused on helping women reach positions of power in government. The enterprise has worked with 57 potential female candidates with the ambition that women will eventually make up a sizable proportion of elected representatives.
"We have supported independents in running for office," said Yaghi. "I was training potential women candidates in many different places in Lebanon. We support all of our social work through low-cost English courses. We work on many different things related to women candidates — this is where you can speak up, raise your voice, and express yourself."
USPEaK currently employs 10 full-time staff alongside four part-timers and 80 contractors. The mission is not only to increase general political awareness, but also to shed light on more serious subjects, such as preventing violent extremism, the role of women in raising their children to be non-violent citizens, anti-sectarianism, and preventing child abuse.
Reshaping the political landscape is a tall order for Yaghi and her team, but she believes a positive mindset is crucial for any social enterprise that wishes to achieve its goals.
"If you feel like you are a successful person, you will be a successful person," she said. "If you have an inspiring idea, believe that it will be good; it will get money and be funded.
"Get the ideas, get the business plan, believe in yourself and go for it."
https://www.arabnews.com/node/1789456/middle-east
--------
Abu Dhabi WTA Women's Tennis Open: Ons Jabeur Reaches out to Help Arab Women's Tennis
January 09, 2021
Alaric Gomes
Dubai: Ons Jabeur feels she has an obligation and a duty at least towards tennis when she reflects on what she's got to do to ramp things up for the region.
The highest-ranked player Arab ever in the history of women's tennis, Jabeur also became the first Arab woman to reach the quarter-finals of a Grand Slam when she made it to the last eight in the Australian Open.
The 26-year-old Tunisian — currently coached by UAE-based former Davis Cup player Issam Jellali and long-time trainer Bertrand Perret — is right now peaked at No. 31 on the WTA Tour Rankings with a win percentage of 62.3. However, despite collecting 11 titles on the ITF Tour, the Tunisian is yet to win a single crown on the WTA Tour.
"Yes, I would definitely like to see many other players from the region at the top of women's tennis. I like to inspire others, and seeing more Arab women would give me tremendous joy," Jabeur told media at the Abu Dhabi WTA Women's Tennis Open following her Friday's win in straight sets over Ukrainian qualifier, Kateryna Bondarenko. "My one hope is that there should be another generation that will follow players like and my example of being among the top of the game in women's tennis. But this new generation ought to be stronger and I would like to help others get there. I believe that there are players in this region who can be up there in the top-10 or top-20 or top-30, and I would do anything to assist and help them out whenever needed."
As a tennis player, Jabeur started young. Born and brought up in Sousse, 140km from the Tunisian capital, she moved to Tunis and stayed at the Lycee Sportif El Menzah sports academy there when she was just 12.
She then moved forward on to training stints in Belgium and France and that helped Jabeur go on to shatter a multitude of records for Arab tennis.
As a teenager, Jabeur won the 2011 Roland Garros junior title, becoming the first-ever Arab female to lift a Grand Slam singles champion's trophy and the first Arab to do so since Egypt's Ismail El Shafei captured the boys' title at Wimbledon in 1964.
By 2017, she became the first Arab woman to reach a Grand Slam third round — in the ladies' event this time — when she claimed her maiden top 10 victory in the French Open against Dominika Cibulkova. That helped her better her compatriot Selima Sfar — who had peaked at No. 75 in the world back in 2001 — and who had been the sole female from the region to crack the top-100 before Jabeur came along.
Her transition from the juniors to the women's circuit was not as smooth as she had hoped. Early success in tennis always comes with its own set of complications and she felt that she lacked the guidance she needed to develop from teen wonder to competitive pro.
"I am very much around and I am convinced that there is loads of talent in this region. We are no different from the rest of the world," Jabeur said. "We can have young Arab players making it to the top of this sport, but there has to be a of of hard work as well."
At the moment, Jabeur stands out as the only representative from Africa, and the Arab world, among the best in tennis. And this may well improve when fresh rankings are announced on Monday. Not only is it an astounding achievement and a considerable responsibility, Jabeur also knows that every time she steps on court she is representing more than just herself. "I belong to this region and I feel I ought to do something special," she said.
Jabeur's next opponent in Abu Dhabi in Sunday's Round of 16 will be fourth-seeded Aryna Sabalenka of Belarus. "She is a good player. It is fun to play her. Last time we played, it was a lot of fun and it will be a really nice show and a really great match. Both of us will be hitting winners from both ends. I like how she reacts on court," Jabeur said.
"I feel really good. I don't feel any stress. I am happy. I see the results and I feel the results. The most important thing for me right now is to continue on this path. I need to maintain the level, and in my mind I need to work very hard through the season. I think I am ready for all this. The mentality for me this season is to move forward and not look back. I am more than happy to take this step forward and this mentality will help me be where I want to be."
https://gulfnews.com/sport/uae-sport/abu-dhabi-wta-womens-tennis-open-ons-jabeur-reaches-out-to-help-arab-womens-tennis-1.76375517
--------
URL: https://www.newageislam.com/islam-women-feminism/pakistani-actress-zara-albalushi-granted/d/124030
New Age Islam, Islam Online, Islamic Website, African Muslim News, Arab World News, South Asia News, Indian Muslim News, World Muslim News, Women in Islam, Islamic Feminism, Arab Women, Women In Arab, Islamophobia in America, Muslim Women in West, Islam Women and Feminism