New Age Islam News Bureau
12 Aug 2014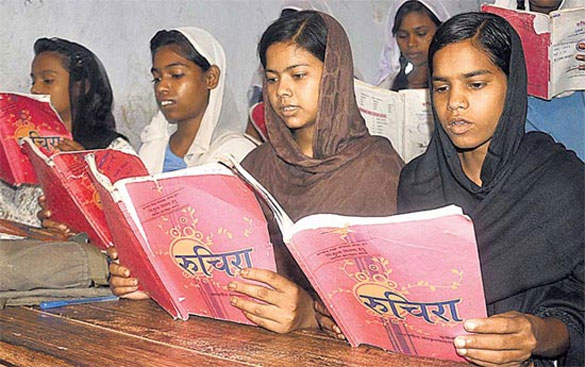 Muslim girls recite a Sanskrit couplet in class on Saturday. (Bijay/HT Photo)
---------
• Erdogan Brands Female Journalist, A "Shameless Woman"
• In Delhi Muslim Women Held Demo against Israel
• Pakistan: More Women Eligible to Apply To Medical Colleges This Year
• Bradford's Muslim women boxers enter the ring
• Saudi Justice Ministry Seeks Help from Women Consultants
• Manal Al-Dabbagh – A Saudi Woman with Many Firsts
Compiled by New Age Islam News Bureau
URL: https://www.newageislam.com/islam,-women-and-feminism/new-age-islam-news-bureau/muslim-girls-in-jharkhand,-india,-shatter-sanskrit-stereotypes/d/98537
--------
Muslim Girls in Jharkhand, India, Shatter Sanskrit Stereotypes
August 12, 2014
Pankaj Kumar
It's a language traditionally associated with sacred Hindu texts. But about 100 Muslim girls in two Jharkhand schools have shattered the stereotype about Sanskrit, choosing the classical language over Urdu and Persian, saying it is much easier to learn and score good marks in.
Dozens of these girls in customary headscarves chanting Sanskrit hymns from the Vedas, Upanishads and Bhagwad Gita is a common sight at the schools in Gomoh, a sleepy hamlet in Jharkhand.
So, do the parents object? "No, not at all," said Shalu Nisha, who is preparing for her class X examinations at the Government Girls High School. "In fact, they insisted that I take up Sanskrit instead of Urdu for my matriculation," she added.
Only a few thousand people in India now speak Sanskrit, the standardised dialect of old Indo-Aryan languages like Hindustani, Punjabi, Bengali, Gujarati, Marathi, etc.
Shiv Shankar Poddar, the school principal who also teaches Sanskrit to class IX and X students, said he is inspired by the love his pupils, especially the Muslim girls, have for the subject.
"It's completely voluntary. There is no pressure on them to opt for Sanskrit and chant the shlokas (couplets)," he said, adding, "It's the simplicity of the language that is drawing more and more students, irrespective of their mother tongue and religion, towards Sanskrit."
Poddar said the Muslim girls studying Sanskrit are faring very well in exams, scoring as high as 80-90% marks in the subject.
Anjan Minz, principal of Gomoh's Azad Hind High School — the other institute with several Sanskrit enthusiasts from the Muslim community — said the school has a permanent Urdu teacher. "But if the students opt for Sanskrit, we cannot stop them."
Shammal Alam, a former Government Girls High School student who aspires to become a teacher, said, "I can proudly proclaim that I have great command over Sanskrit and it will fetch me a job."
In India, where over 1,500 mother tongues are spoken, language has always been a hot-button issue.
The central government's decision to celebrate a 'Sanskrit week' — that began on August 7 — was opposed by several politicians from southern India, especially Tamil Nadu CM Jayalalithaa, who called it an attempt to impose the culture of one group of Indians on others.
http://www.hindustantimes.com/india-news/muslim-girls-in-jharkhand-shatter-stereotypes-on-sanskrit/article1-1250978.aspx
-------------
Erdogan Brands Female Journalist, A "Shameless Woman"
By Maria Khan
August 9, 2014
Thursday (7 August), after he branded the reputed journalist of The Economist, Amberin Zaman, a "shameless woman" and told her "to know her place".
Speaking at an election campaign rally in southern Turkey on Thursday (7 August), Erdogan indirectly shamed Zaman by labelling her as a militant.
"A militant in the guise of a journalist, a shameless woman," said Erdogan before adding, "They gave you a pen and you are writing a column in a newspaper... and you insult a society that is 99 percent Muslim."
His comments were in direct response to Zaman's remarks on a television debate earlier this week where she had questioned the leader of the main opposition in Turkey, Kemal Kiliçdaroglu, asking him whether a "Muslim society is able to question" its authorities.
Since then, Zaman's remarks have been condemned on social media by pro-government supporters as "insulting to Islam and Muslims".
Zaman's husband, Joseph Pennington, expressed his disbelief at Erdogan's mockery of his wife.
A statement from The Economist read:
"Ms Zaman has been The Economist's correspondent in Turkey for 15 years and is widely respected; we stand firmly by her and her reporting. The intimidation of journalists has no place in a democracy. Under Mr Erdogan, Turkey has become an increasingly difficult place for independent journalism."
Zaman also came to her defence by responding to Erdogan in her column, in the Taraf newspaper, where she said: "Be a human first! You are lynching a Muslim woman who described what you are doing. Because women are sitting targets, aren't they?"
Zaman further claimed being the target of a pro-government media campaign that has branded her a "Jewish bitch" who should become a "concubine" of Islamic jihadists in Iraq, as reported by The Daily News.
Meanwhile, the Organization for Security and Co-operation in Europe (OSCE)'s Representative on Freedom of the Media, Dunja Mijatovic, expressed her concerns over the targeting of the prominent Turkish journalist.
"I am alarmed by the latest example of intimidation of and threats towards journalists in Turkey. Critical ideas are indispensable elements of democratic debates, and they need to be safeguarded and not attacked by the authorities," said Mijatovic.
The news comes a day before the first round of Presidential elections in Turkey, with Erdogan being a clear favourite to win.
Journalists have repeatedly come under scrutiny in Turkey with 70 journalists reportedly being persecuted in the country at present. New York based media watchdog, Freedom House, has also recently downgraded Turkey's status from "partially free" to "not free".
In earlier reports, Turkey's Deputy Prime Minister, Bülent Arinc, made headlines on 29 July after his sexist rant declaring that women should not laugh loudly in public.
http://www.ibtimes.co.uk/turkish-prime-minister-erdogan-tells-female-journalist-know-your-place-1460508
-------------
In Delhi Muslim Women Held Demo against Israel
August 11, 2014
New Delhi: Hundreds of Muslim women held a protest demonstration on Sunday at Delhi's Jantar Mantra area against the Israel's continued barbarity. The Demo was organized by the ex-councilor Mrs. Azhar Shagufa, who is also secretary of Delhi Pradesh congress committee. The protestors raised slogans against Israel and US and asked the Indian government to respect the sentiments of the Indian Muslims by severing all ties with Israel. Shagufa said India always raised its voice against atrocities and it should not ignore Palestinian people who are facing worst kind of atrocities at hand of Israel.
page_7_largeOld Delhi MLA Shoeb Iqbal has organized a public meeting on Saturday evening at Jama Masjid to condemn Israel and US, before the meeting a protest march also took out in lanes and bye-lanes of Old city. Speakers asked the people to boycott American and Israeli products and condemned world community for their criminal silence over the killing of innocents in Gaza. Shoeb Iqbal said the Indian government and the world community should take measures to taming Israel. It is appalling that the new government under Prime Minister Narendra Modi has no courage to condemn Israel.
Meanwhile, Delhi IIT Professor Deenkumar Tirpathi sat on Sunday one day hunger-strike against the killing of innocents in Gaza at Jantar Mantra. He condemned Israel and US saying it is worst kind of barbarity. Expressing solidarity with Palestinians, he said he was shaken by the killing of children. He also expressed disappointment over Indian government's stand. He was joined by many of his colleagues and academicians.
http://muslimmirror.com/eng/muslim-women-held-demo-against-israel/
-------------
Pakistan: More Women Eligible to Apply To Medical Colleges This Year
By Noman Ahmed / PHOTO: Mohammad Noman
August 12, 2014
KARACHI: The pre-medical college results announced on Monday by the Board of Intermediate Education, Karachi (BIEK), reasserted the alarming trend of growing gender disparity in the healthcare professions. This year, only 1,603 male students will be eligible to apply to medical colleges as compared to 9,203 females this year.
According to the results announced by the education board's examinations controller, Imran Khan Chishti, a total of 19,902 students sat for the pre-medical exams, of which nearly 75% were girls. Those who managed to pass the exams were 10,833, or 54%. However, this percentage was skewed in favour of the girls since 58% of them passed the exams as compared to merely 40% of the boys. Nearly seven per cent of all students got through with A-1 grades, 16% with As, 15% with Bs, 12% with Cs and four per cent with D grades.
BIEK chairperson Anwar Ahmed Zai, while talking to The Express Tribune, expressed his concerns over the increasing ratio of girls getting into pre-medical education as compared to boys. "This gender disparity persists even when these students join healthcare facilities after studying medicine from universities," said Prof Ahmed Zai. "The situation will pose serious issues for the country's healthcare system in the next few years."
Meanwhile, the statistics issued by the Pakistan Medical Association corroborate the concerns posed by Prof Ahmed Zai. Around three quarters of the female students of medicine abandon the field right after graduating or after marriage.
Prof Ahmed Zai hoped that the authorities, including the education board, will soon be able to devise a system for intermediate level admissions, which may help reduce this gender disparity.
Prof Ghulam Asghar Channa, the vice-chancellor at Shaheed Mohtarma Benazir Bhutto Medical University in Larkana, argued, however, that the trend simply cannot be reversed by increasing the quota for male students in medical colleges. "The compromise on merit will further deteriorate the quality of medical education and will also lead to gender bias," he added.
While explaining the reasons for the waning fascination of male students with the medical profession, Prof Channa said that a medical graduate with his one-year house job is kind of a 'double graduate'. "However, he has to compete in the market with the simple graduates of arts, science and commerce for the salary and allowances which are much little compared to his qualifications and time spent in education."
For the post-graduate qualification, added Prof Channa, the courses are expensive and span usually over six to eight years, during which the friends and acquaintances of the age-group are well-settled with relatively less efforts put.
Pre-medical results
Though the result-day was unquestionably a festive occasion for around 4,490 pre-medical students who managed to secure the highest 'A-1' or 'A' grades, they were quite aware of the tough competition looming ahead on the limited number of admission seats at the medical colleges.
Bhawna Bai of the Government College for Women, Sharae Liaquat shared the first position with Mehreen Umer Zubair of the Liaquat College of Management and Sciences by scoring 90.82% marks out of the total of 1,200. Syed Faizan Ali of Adamjee Government Science College closely followed them by securing the second position with a difference of one mark (90.73%).
The third position was also shared by Khushbakht Karrar of St Lawrence Government Girls Degree College and Sidra Muhammad Hussain of BAMM PECHS Government College for Women, both of whom scored 89.18% marks.
http://tribune.com.pk/story/747361/tilting-gender-dynamics-more-women-eligible-to-apply-to-medical-colleges-this-year/
-------------
Bradford's Muslim women boxers enter the ring
Harriet Gibsone
12 August 2014
I have come to an amateur boxing club based in Sandy's community centre in Craigmillar to smack a battered punchbag with British student boxing champion Saira Tabasum. Next week Tabasum will take a starring role in No Guts, No Heart, No Glory, a play developed by former UK female boxing champion Ambreen Sadiq and theatre company Common Wealth. Via monologues set in a ring, the site-specific show tells the stories of teenage Muslim women from Bradford: young, fearless women who obliterate convention by boxing.
"Someone said why don't you do a play about FGM or honour killings, but in a way we actually are," says No Guts' director and producer Evie Manning. "We're tackling the issue before it happens. It's about having the confidence to follow your dream."
The play focuses on those who have challenged their premeditated futures, its writers crafting characters far removed from the submissive stereotypes of Muslim women found in mainstream culture. "There's a massive invisibility of Muslim women in the media. So this play gives them a wider platform for their voice."
Unlike Common Wealth's last run at the fringe – Our Glass House, created from testimonies of real-life domestic abuse cases – this aims to glorify rather than lament: "We're kind of celebrating," says Manning. "We don't really linger on oppression for very long. It gets a mention but we didn't want to do the typical Asian storylines where you have someone struggling against the hijab – we're not interested in that. We just want to show five very confident women onstage and we don't need to show all the bullshit that goes with that."
As I stand at a 45-degree angle with my fists raised, the smell of stale sweat wafting through the air with every swipe of the glove, I grit my teeth. "You don't have hate for the other person," Tabasum assures me, quashing my preconception about the bravado of boxing in one blow. "You see people hugging it out after a fight. In minutes you can be finished and thanking someone for the experience."
After its week in Edinburgh the show will transfer to Huggy's boxing gym in Bradford and Moss Side fire station boxing gym in Manchester. Inspiring, but without the weight of worthiness, it is well worth leaving the pleasantries of the theatre for.
• No Guts, No Heart, No Glory, Sandy's boxing gym, Edinburgh, 18-25 August. edfringe.com
http://www.theguardian.com/stage/2014/aug/12/edinburgh-festival-fight-club-muslim-women
-------------
Saudi Justice Ministry Seeks Help from Women Consultants
August 11, 2014
DAMMAM — The Ministry of Justice has sought the help of a number of female consultants in the field of social service to work as volunteers in personal status courts.
According to statistics issued by the Ministry of Civil Service several months ago, the female consultants are full-time employees at charities in the city and not the Ministry of Justice as it does not employ women. This is despite the issuance of directives from higher authorities to all ministries and government departments to employ women.
Earlier, the Ministry of Justice had requested the employment of 350 to 400 women in its facilities. However, its request was not approved by the Ministry of Civil Service, Al-Hayat daily reported.
In a statement, the spokesman of the Ministry of Justice Fahd Al-Bakran said the ministry has sought the help of female consultants to work in personal status courts in Riyadh, Jeddah, Makkah and other regions.
He added that the ministry sought the help of female consultants belonging to Mawaddah Charitable Society six months ago.
Al-Bakran did not disclose any further details on cooperation between the Ministry of Justice and Mawaddah Charitable Society during the past six months.
However, he said Mawaddah achieved great success in providing advice and guidance and dealing with many marital issues.
"These services include providing consultations to women requesting services and help them in presenting their case, completing court procedures, providing family counseling and finding solutions for marital problems before they are decided on in court by the judge," Al-Bakran said.
He said female volunteers will follow up divorce, alimony and custody cases and provide social, psychological and legal consultations to women litigants.
"These services in courts have helped in decreasing divorce cases during the first half of this year," he said while adding the ministry is working on establishing a long-term strategy including social programs for the beneficiaries from these services, especially divorcees, widows, physically-challenged women, the elderly, children and victims of family disputes.
http://www.saudigazette.com.sa/index.cfm?method=home.regcon&contentid=20140812214483
-------------
Manal Al-Dabbagh – A Saudi woman with many firsts
August 12, 2014
JEDDAH — Manal Al-Dabbagh has a number of firsts to her name. She is the first Saudi and Arab sports photographer to enter and take pictures in stadiums. She is also the first Saudi female lenswoman who has participated in a Football World Cup, while clicking her way to glory.
She has some of the most intriguing and beautiful action pictures of football in Saudi Arabia and many other countries of the world to prove that one's passion can eventually be translated into one's career.
It was her hope that she would one day storm into the male dominated bastion of sports photography, and with determination and honing of her photography skills she has achieved her aspiration.
Speaking to Al-Madinah newspaper, Al-Dabbagh said she, like every student, obtained a secondary school certificate and then she studied psychology. But while studying, she practiced photography and earned certificates from the Philippines, Egypt and the UAE.
What was just a passion now became my passionate career, as she became a professional sports photographer and she reached a pinnacle of her career when she took part in some of the world's most important sports events, including the 2010 Mundial in South Africa.
She said: "I chose photography because I love photography and sports. I had the yen to get in the midst of action and capture it for the world to see, and this was triggered by the fact that I watched sports events regularly on TV."
Al-Dabbagh said she did not face any difficulties in her career. She added: "All cooperated with me since my first job in the stadium in Bahrain. My presence was welcomed by all in Abha, including the players.
"All the Saudi football players welcomed me, especially captain Sami Al-Jaber, as did the other star Yasser Al-Qahtani, who said: 'I'm pleased by your determination and ambition in this field. Continue and Allah will grant you success'."
As to Saudi women storming the field of photography, especially sports photography, she said: "Gulf and Arab women can achieve a lot as long as there is honest competition among them. The future is for all. There is no difference between man and woman. Women only need self-confidence to prove themselves in this field."
As to the reason for not participating in the Brazil Mundial despite participating in South Africa in 2010 and winning several prizes, Al-Dabbagh said: "It was a journey of accomplishment and pride (in South Africa).
I got the world's attention with my presence there. It was a pride for me and my country. As for Brazil 2014, despite getting the approval for participation in it, I did not make it because there were fears for security reasons."
http://www.saudigazette.com.sa/index.cfm?method=home.regcon&contentid=20140812214381
-------------
URL: https://www.newageislam.com/islam,-women-and-feminism/new-age-islam-news-bureau/muslim-girls-in-jharkhand,-india,-shatter-sanskrit-stereotypes/d/98537