New Age Islam News Bureau
23 September 2023
· Muslim Girl Turned Away from School in France for Wearing Hijab Files Complaint With UN
· Swiss Parliament Approves Ban on Burqas, Sets Fine for Violators
· UN Calls Upon Iran to Drop 'Demeaning' Law on Hijab
· Muslim Personal Law Board Launches Campaign on Women's Inheritance Rights
· 'I Want to Inspire Other Muslim Women To Run': Hibak Musa of Wales' First-Ever Running Club For Muslim Women
· L'Oréal-UNESCO Celebrates Decade Recognizing Pioneering Arab Female Scientists
Compiled by New Age Islam News Bureau
URL: https://newageislam.com/islam-women-feminism/muslim-girl-hijab-france-un/d/130745
------
Muslim Girl Turned Away From School In France For Wearing Hijab Files Complaint With UN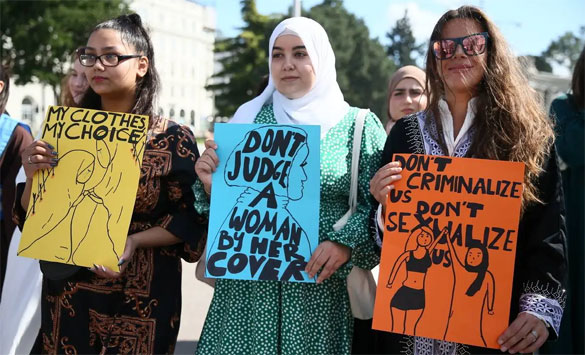 A group gathered in front of the French Embassy protests against the ban on abaya (long dress) in schools in France in Vienna, Austria on September 16, 2023 [Aşkın Kıyağan/Anadolu Agency]
-----
Esra Taskin and Feiza Ben Mohamed
22.09.2023
A Muslim student, who had been turned away from school for wearing a kimono, a Japanese garment, in France, has filed a complaint with the UN over being "discriminated against" due to her religious affiliation.
The controversy over the French government's stance against hijab in schools continues with many students being turned away for wearing loose over-garments.
The 15-year-old girl, living in the French city of Lyon, has sent a complaint to Ashwini K.P, special rapporteur on contemporary forms of racism, racial discrimination, xenophobia, and related intolerance, over "discrimination she faced on the grounds of her religious affiliation."
On Sept. 5, she was sent home for wearing a kimono.
Her complaint has been sent to the UN via her lawyer Nabil Boudi who released a statement on Friday.
Criticizing the abaya ban introduced by French Education Minister Gabriel Attal, the complainant said they think that the French government has not taken the necessary steps to prevent all kinds of discrimination against women.
Earlier, the female student also filed a complaint with the Lyon Public Prosecutor's Office on the grounds that she was "discriminated against due to her religious affiliation."
Earlier this month, the Council of State upheld the government's abaya ban, declaring it legal.
The court's ruling came after Vincent Brengarth, a lawyer for the Muslim Rights Action (ADM), filed an appeal on Aug. 31 with the Council of State to seek the suspension of the ban on the abaya, which he said, violated "several fundamental freedoms."
The controversial move sparked a backlash against the government, which has been criticized in recent years for targeting Muslims with statements and policies, including raids on mosques and charitable foundations, and an "anti-separatism" law that imposes broad restrictions on the community.
Source: aa.com.tr
https://www.aa.com.tr/en/europe/muslim-girl-turned-away-from-school-in-france-for-wearing-hijab-files-complaint-with-un/2999040
-------
Swiss Parliament Approves Ban on Burqas, Sets Fine for Violators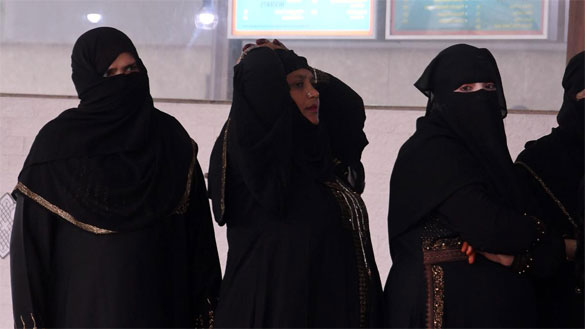 File image used for representational purpose only. | Photo Credit: The Hindu
-----
TIMES OF INDIA.COM / Sep 21, 2023
Switzerland's lower house of parliament has passed a ban on face coverings, including burqas, with fines of up to 1,000 Swiss francs for violators. The legislation had already been approved by the upper house and is now federal law. The ban applies to both public spaces and private buildings accessible to the public, with some exceptions allowed.Read More
Swiss parliament approves ban on burqas, sets fine for violators
Representative picture: This is the second measure in Switzerland that appears to target the Muslim community, following a ban on constructing new minarets.
The lower house of Switzerland's parliament voted on Wednesday to pass a ban on face coverings, including burqas worn by some Muslim women. The legislation, which had already been approved by the upper house, was championed by the right-wing populist Swiss People's Party. It received significant support with a vote of 151-29 in favor, despite reservations expressed by centrists and the Greens.
This move comes after a nationwide referendum two years ago in which Swiss voters narrowly, 51%, endorsed a ban on niqabs (face veils with eye slits), burqas, as well as ski masks and bandannas worn by some protesters. With the lower house's approval, the ban has now become federal law, accompanied by fines of up to 1,000 Swiss francs (around $1,100) for violators.
The campaign to prohibit face coverings faced criticism from Muslim groups during the referendum. Ines El-Shikh, a spokesperson for the Purple Headscarves, a Muslim women's group, told AFP news agency that "there are only 30 women in burqas in Switzerland." Meanwhile, Switzerland's Islamic Central Council pointed out that the vote reflected the spread of anti-Muslim sentiments throughout the country.
The ban prohibits the covering of the nose, mouth, and eyes in both public spaces and private buildings accessible to the public, with some exceptions allowed. While full face coverings like burqas are not commonly worn in Switzerland, this legislation brings the country in line with others like Belgium and France that have implemented similar measures.
This marks the second legislative measure in the country that seems to focus on the Muslim community, following Switzerland's prohibition of constructing new minarets in 2009, spurred by a campaign led by right-wing parties.
(With inputs from agencies)
Source: timesofindia.indiatimes.com
https://timesofindia.indiatimes.com/world/europe/swiss-parliament-approves-ban-on-burqas-sets-fine-for-violators/articleshow/103824210.cms?from=mdr
-----
UN calls upon Iran to drop 'demeaning' law on Hijab
September 23, 2023
GENEVA: The UN called upon Iranian authorities on Friday to scrap a new law that dramatically increases penalties for women who flout strict Islamic dress code, describing it as "repressive and demeaning".
The United Nations rights office said it deeply regretted the passage of the Chastity and Hijab Bill, which threatens Iranian women who flout the strict Islamic dress code mandating head coverings and modest clothing with up to 10 years behind bars.
The law "vastly increases jail terms and provides for crushing fines on women and girls who do not obey the compulsory dress code", spokeswoman Ravina Sham­dasani told reporters in Geneva. In addition to long jail sentences and heavy fines, those found in breach could under the same bill be flogged and face travel restrictions.
UN rights chief Volker Turk reiterates that this draconian bill flagrantly flies in the face of international law, and that it must be shelved", Shamdasani said.
The push in Iran to step up penalties comes a year after a wave of protests sparked by the death of 22-year-old Mahsa Amini, who had been arrested for allegedly breaching the rules.
Since then, a growing number of Iranian women have been seen in public without hijab head scarves or observing the rules against clothes that are deemed too tight-fitting or otherwise revealing.
Source: dawn.com
https://www.dawn.com/news/1777370/un-calls-upon-iran-to-drop-demeaning-law-on-hijab
--------
Muslim Personal Law Board launches campaign on women's inheritance rights
September 23, 2023
ZIYA US SALAM
The All India Muslim Personal Law Board has launched a countrywide campaign to ensure that women must get their due share in inheritance. The Board's working committee made a plea to give the women the rights bestowed upon them by religion. They felt that though the Shariah law gives the daughters a fixed share in their father's inheritance, in many cases the daughters don't get their share. Similarly, the mothers often fail to get their due in the offspring's property and widows do not always get their share in their late husband's wealth. The Board's move comes against the background of the Law Commission seeking suggestions on the possibility of a Uniform Civil Code (UCC) for the nation. Noises have also been made in political circles for giving equal share to men and women in property. This is seen by some Muslim leaders as a direct infringement of Islamic law which gives a daughter one-third of the property share, leaving two-third to the son after mother's share and other liabilities have been met.
The Board's move is aimed at restoring women's inheritance rights which are not always granted in some sections of the society. Highlighting the decisions of the working committee, Dr. S.Q.R. Ilyas, spokesman of the Board told the media, "The Board realises that women of the country are facing many social problems such as female foeticide, dowry, exploitation at the work place and domestic violence, etc. It was decided to initiate reform within the Muslim society. For the purpose of social reform, the country was divided into three parts and three secretaries, namely Maulana S. Ahmad Faisal Rahmani, Maulana Mohammed UmrainMahfooz Rahmani and Maulana Yasin Ali Usmani were made responsible each region. Apart from this, a committee was formed to prepare the plan of the entire work."
The Board also expressed concern over the government's crackdown on the alleged Waqf properties and petitions filed against the Waqf Act in various high courts of the country. It is to be noted that the Centre has staked claim to 123 properties, including mosques, dargahs and cemeteries in Delhi. The Centre's move has been contested by the Delhi Waqf Board which has filed a case in Delhi High Court claiming rights over the properties. The Board also decided to organise Waqf conferences in five major cities of the country on the Shariah status of the Waqf, the threats to their properties, and possible remedial measures.
The working committee reviewed too the various aspects of the new Mediation Act. The meeting was attended by most members of the Board, including Sadatullah Husaini, president, Jamaat-e-Islami Hind and Arshad Madani, president, Jamiat Ulama-i-Hind.
Source: thehindu.com
https://www.thehindu.com/news/national/muslim-personal-law-board-launches-campaign-on-womens-inheritance-rights/article67335268.ece
--------
'I Want to Inspire Other Muslim Women To Run': Hibak Musa of Wales'First-Ever Running Club For Muslim Women
23 SEP 2023
Having helped set up Wales' first-ever running club for Muslim women, Hibak Musa is hoping that crossing the finish line of the Cardiff Half Marathon will inspire more women to take it up. The club only started five months ago but already has nearly 120 members across Cardiff.
They see new faces every week and Hibak hopes that by taking part in the city's showcase running event on Sunday (October 1), even more will be encouraged. Thousands of runners will be taking part in the event that will take over the streets of the capital next weekend.
The 27-year-old, from Cardiff, says: "We've found that some Muslim women can feel intimidated running by themselves or as part of a traditional mixed run club." And that's why Hibak - along with Lena, Bea, Layla and Hana – decided to do something about it. And the Mwslima Run Club was born.
Explaining why they set up the group, Hibak says: "We wanted to create a safe space where like-minded women who share similar beliefs and values can run, in a comfortable and nurturing space. Muslim women come knowing that no explanation is needed for how they choose to dress, and they come trusting that their modesty is respected and protected in this space.
"This means that we see Muslim women coming in their hijab (headscarf), in their jilbabs and abayas (long skirts/dresses) as well as women who attend in activewear. As a Muslim-run club, we also prioritise Salah (prayer) above all things and that's why we offer flexibility with our run club timings, ensuring women can be home in time for daily prayers".
It started five months ago and word has spread fast across Cardiff. Now, Hibak says more than 115 Muslim women have joined their club, and the group sees high turnouts for its sessions which take place in different parts of Cardiff each week
"It's forever growing, we see new faces every week as well as our very regular participants. We have reached out to student groups and local mosques, and we've shared posters in shops around Cardiff. Word of mouth has also led to more women joining. We started with just one run a week but due to growth and demand, we've increased that significantly," she says.
"It's a non-judgmental environment – the idea is that you can walk, jog or run but our main goal is that members come and commit to improving their fitness. We do this by holding each other accountable and doing weekly check-ins to see each other's progress".
And Hibak says she feels it was important to sign up for the Cardiff Half this year: "There are three of us from the club running and it feels very empowering as a Muslim woman to take part. Some of the girls are coming to cheer me on but I've told them that I want at least ten of them running alongside me next year!
"I think it's also important in terms of representation. The Cardiff Half Marathon showcases what is so brilliant about our city so it's important we are part of that to show that Cardiff is diverse and inclusive, especially as we are home to one of the UK's oldest, most established Muslim communities."
Hibak and the team now have big plans to extend the Mwslima Run Club to other cities and towns across Wales since the demand has become so high. They have also approached Run 4 Wales' charitable foundation for funding. Run 4 Wales is a not-for-profit which ploughs any surpluses back into community projects.
Matt Newman, Run 4 Wales CEO, says: "We're thrilled to be able to help Hibak and the Mwslima Run Clun get up and running. A key objective of our charitable foundation is to transform participation across our portfolio of events so that they are more inclusive and reflective of Wales' ethnic diversity.
"The 20th anniversary of the Principality Cardiff Half Marathon is a real celebration of the diversity and inclusion of running in Wales and we look forward to welcoming Hibak to the start-line." To get involved and stay updated with all events organised by Mwslima Run Club give them a follow on Instagram @mwslimarunclub.
Source: walesonline.co.uk
https://www.walesonline.co.uk/news/wales-news/why-want-inspire-muslim-women-27767461
--------
L'Oréal-UNESCO celebrates decade recognizing pioneering Arab female scientists
September 22, 2023
DUBAI: While only 33 percent of global researchers are women, in the Gulf Cooperation Council region, countries like the UAE boast a notable 61 percent of female university STEM students.
This trend extends to Saudi Arabia, where 60 percent of science graduates are women.
On its 10-year anniversary, the L'Oréal-UNESCO for Women in Science Middle East Regional Young Talents Program, in partnership with Khalifa University of Science and Technology, celebrates female Arab scientists changing the landscape of scientific research in the region.
"The extraordinary accomplishments and dedication of women scientists in the region have paved the way for progress in various fields, influencing everything from healthcare and technology to environment sustainability and space exploration," said Sarah Al-Amiri, UAE minister of state for public education and advanced technology and chair of the UAE Space Agency.
This year's award ceremony marks a decade of supporting the research efforts of 51 female Arab scientists from the GCC with endowments totalling 3.4 million dirhams ($924,695).
Investing in and increasing the visibility of women scientists contributes to advancing research and addressing the region's pressing challenges.
"My research is highly translational, driven by real-world problems affecting people's health and wellness both locally and globally … enabling greater accessibility to high-quality minimally invasive healthcare tools for cancer diagnosis and precision medicine," said Dr. Dana Alsulaiman, Saudi post-doctorate researcher and L'Oréal-UNESCO award winner.
According to Alsulaiman, miniaturized and cost-effective diagnostic tools developed at the King Abdullah University of Science and Technology could transform the field of healthcare, and clinical decision making like early diagnosis, and effective therapy selection.
In August 2023, Crown Prince Mohammed bin Salman launched a new strategy for KAUST, focusing on turning research into economically beneficial innovations, including environmental sustainability research.
For Lila Ali Aldakheel, a Saudi doctoral student and L'Oréal-UNESCO award winner, whose research focuses on identifying sustainable solutions for plastic pollution, waste management and reduction of the environmental impact, "there is a noticeable deficiency in research concerning the examination of micro-plastic pollution in Middle Eastern oceans and mangrove soil, as well as its repercussions on the environment and human well-being."
The L'Oréal-UNESCO Young Talents Program's objective is to build a diverse and inclusive ecosystem enabling and celebrating research and scientific advancement. This year's award ceremony recognized the achievements of women in science, from Saudi Arabia, the UAE, Qatar, Oman and Kuwait.
The program holds a unique position in the GCC. "While the program's foundation remains the same globally, it is the distinct advancements of the GCC region concerning women in STEM that sets it apart," declared Laurent Duffier, managing director of L'Oréal Middle East.
"The outstanding research quality and pioneering contributions of these women amplify the GCC's leading stance. Instead of simply bridging the gender gap, the region, with the aid of our program, is setting a global benchmark for empowering women in science," he added.
The GCC is home to what the award winners collectively highlight as key for success: access to adequate support, recognition, and the availability of opportunities to take their research beyond the lab stage.
"I'm grateful to work in a country and a region that celebrates and promotes women in sciences, particularly with Saudi Arabia's Vision 2030 emphasizing the importance of STEM in driving innovative solutions to global problems like cancer, diabetes, and neurodegenerative diseases," Alsulaiman told Arab News enfranҫais.
The program is essential to addressing systemic gender bias by raising the profile of women scientists and supporting the growth of their careers, by providing access to resources, network, and mentorship.
"Equal representation matters because it brings diversity of perspectives, fairness and equity to the field, all of which are necessary to create a robust scientific community that can further innovation to counter societal challenges," declared Dr. Tamara Elzein, the program's jury president, and the secretary-general of the National Council for Scientific Research in Lebanon.
Associated to the program for the fifth consecutive year, the Khalifa University of Science and Technology underlines the essential role women play in driving scientific progress, technological innovation, and societal development.
"We need to continue creating such avenues of growth and support for (female scientists), which will lead to the long-term prosperity, security, and wellbeing in the region," said Dr. Arif Sultan Al-Hammadi executive vice president of KU.
The program reflects the change in the regional landscape, the untapped potential of its human capital, and is an indicator of countries' commitments to education.
"It is heartening to see the growing talent pool in the region, where women in many countries are graduating with STEM degrees at rates surpassing their US and European counterparts. We are looking to create a ripple effect, ensuring that the next decade and those beyond witness an even stronger wave of Middle Eastern women leading, innovating, and setting global standards in science," added Duffier.
Source: arabnews.com
https://www.arabnews.com/node/2378686/middle-east
-------
URL: https://newageislam.com/islam-women-feminism/muslim-girl-hijab-france-un/d/130745
New Age Islam, Islam Online, Islamic Website, African Muslim News, Arab World News, South Asia News, Indian Muslim News, World Muslim News, Women in Islam, Islamic Feminism, Arab Women, Women In Arab, Islamophobia in America, Muslim Women in West, Islam Women and Feminism