New Age Islam News Bureau
25 Jan 2017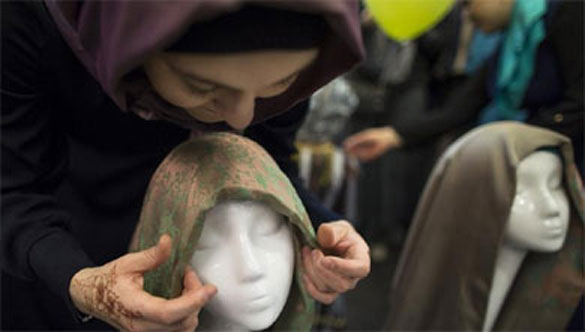 A 4-year-old Muslim girl in the UK has been banned from wearing a hijab by a Roman Catholic school under a strict uniform policy, sparking a massive row on social media.(Representational Photo)
-----
• Only Woman Member Quits French Muslim Council
• ECP Writes To Party Chiefs to Ensure Full Participation of Female Voters
• SA For Spreading Awareness about Women Registration in Census
• Hadara, Kayan Pact to Promote Muslim Women's Advancement
• Boko Haram 'Abducts Many Women, Kills 3' In Borno Village
• Deep and Lasting Friendships Form In Jewish-Muslim Women's Group
• USAID Supports Women's Participation in Pak Trade Policy
Compiled by New Age Islam News Bureau
URL: https://newageislam.com/islam-women-feminism/muslim-girl,-4,-banned-wearing/d/109847
-------
Muslim girl, 4, banned from wearing hijab by UK school
January 24, 2017
London, Jan 24 (PTI) A 4-year-old Muslim girl in the UK has been banned from wearing a hijab by a Roman Catholic school under a strict uniform policy, sparking a massive row on social media.
The unnamed child was told by staff at St Clare's School in Handsworth, Birmingham, that she should not wear her hijab to lessons.
The school has a strict uniform policy, including no headwear or scarf and asked parents of the girl to respect it.
The girl's father called on Birmingham City Council's Labour cabinet member for equalities Waseem Zaffar to intervene causing the row to erupt.
The row has now divided senior councillors and women's rights activists who have been locked in a feud over facebook and twitter, the Birmingham Mail reported.
Zaffar wrote that he had met with the head teacher and told her the ban on the scarf was against the equalities act.
"I'm insisting this matter is addressed asap with a change of policy," he said.
However, his cabinet colleague Majid Mahmood countered that as a faith school St Clare's is "maybe within its rights to insist upon a particular dress code," just as a Muslim faith school "may require girls to wear headscarves".
Mashuq Ally, a former head of equalities for Birmingham City Council, agreed saying there is no religious requirement for girls of infant school age to wear the hijab.
He also pointed out that a faith school is allowed to set its own uniform policy and exempt from discrimination legislation.
Where there are demographic changes which lead to a significant number of Muslim children attending a Christian school, then the parents should ask the school governors to consider changing the uniform policy, he said.
Campaigner Gina Khan attacked Zaffar on twitter, accusing him of backing parents who enforce the hijab on little girls as a means of control.
Councillor Brigid Jones, cabinet member for children, families and schools, was quoted as saying, "Each school's governing body is responsible for the creation and implementation of its own uniform policy. However, the local authority is supporting the school to ensure its policy is appropriate, in line with legal requirements, and we are engaging with all schools to remind them of their responsibilities when it comes to setting school uniform policies."
http://www.india.com/news/world/muslim-girl-4-banned-from-wearing-hijab-by-uk-school-1779481/
-------
Only woman member quits French Muslim council
January 06, 2005
The only woman member of France's official Muslim council has resigned, saying the board meant to represent the country's second religion wastes its time with power struggles and procedural questions. Anthropologist Dounia Bouzar, an expert on French-born Muslims, said in an interview published on Wednesday that the French Council of the Muslim Faith (CFCM) did nothing to tackle the discrimination these young Muslims faced here.
CFCM President Dalil Boubakeur, rector of the Grand Mosque of Paris, regretted her decision and defended his focus over the past two years on keeping the fragile new council from collapse.
"There was never any discussion of the problems faced by French of immigrant origin," said Bouzar, who was born in France to a mixed French-North African family. France has five million Muslims, about half of whom were born there.
"At the CFCM, they only talk about procedures, about posts for this person or that person and about the modalities of the elections in June," she told the daily Le Parisien.
France launched the CFCM two years amid concern over growing Islamist influence here. It was conceived as the official body to represent Islam and mediate issues causing friction between the minority and the strictly secular state.
But it has long teetered on the brink of collapse. It overcame internal tensions last September to lobby for the release of two kidnapped French journalists in Iraq, only to resume squabbling over preparations for its next election.
Bouzar was one of several independent experts on the 17-seat CFCM board dominated by rival associations backed by Algeria, Morocco or groups close to the Muslim Brotherhood. They were supposed to represent civil society but have had little impact.
She said the fact that immigrants ran the CFCM meant that young Muslims felt un-represented there and got no guidance on how to live as Muslims in a secular western state.
"As long as there is not a majority of French-born Muslims on the board, the CFCM will suffer from rivalries that divide its members according to their countries of origin," she said.
She accused the Interior Ministry of playing on these rivalries according to its own political priorities.
The Interior Ministry recently proposed measures to control contributions from Muslim countries - a key source of funding for fundamentalist groups - and include non-religious Muslims in dealings with the state as a counterweight to the CFCM.
http://www.brecorder.com/money-a-banking/198/132508/
-------
ECP writes to party chiefs to ensure full participation of female voters
IFTIKHAR A. KHAN
January 25th, 2017
ISLAMABAD: The Election Commission of Pakistan (ECP) has sought the help of political parties to bridge the gender gap by ensuring that the maximum number of women participate in the 2018 polls.
The commission, in a letter it wrote to 16 political parties, pointed out that there was a huge gap of 12 million between men and women registered as voters.
An updated electoral roll showed 42.4 million females against 54.5m males out of approximately 97m registered as voters.
"As head of a political party you are requested to help ECP in bridging this gap by asking your workers and supporters to encourage women, religious minorities, disabled persons and other marginalised segments of society to get registered as voters and use their right to franchise in the ensuing elections," reads the letter, a copy of which Dawn has.
It noted that a failure to this effect would make doubtful the transparency of general elections while recalling that it was the ECP's constitutional obligation to ensure equal and just participation of all in an electoral exercise and to conduct free and impartial elections.
Article 25 grants each and every citizen equal right and equal participation in the election process.
The 2nd Five-Year Plan suggested formation of a gender wing in the ECP as part of enshrined goals, the letter says.
Recipient of letters are Pakistan Muslim League-Nawaz president and Prime Minister Nawaz Sharif, Pakistan Peoples Party chairman Bilawal Bhutto-Zardari, Pakistan Tehreek-i-Insaf chairman Imran Khan, Muttahida Qaumi Movement deputy convener Dr Farooq Sattar, PML-Quaid president Chaudhry Shujaat Husasain, Awami National Party president Asfandyar Wali Khan, Jamiat Ulema-i-Islam-Fazl chief Maulana Fazlur Rehman, Jamaat-i-Islami emir Senator Sirajul Haq, National Party president Dr Abdul Malik Baloch, National Peoples Party president Ghulam Murtaza Jatoi, PML-Functional president Pir Sibghatullah Shah Pir Pagara, Awami Muslim League president Sheikh Rasheed Ahmad, Pakhtunkhwa Milli Awami Party chairman Mehmood Khan Achakzai, Qaumi Watan Party president Aftab Ahmad Khan Sherpao and PML-Zia president Ijazul Haq.
Published in Dawn January 25th, 2017
http://www.dawn.com/news/1310629/ecp-writes-to-party-chiefs-to-ensure-full-participation-of-female-voters
-------
SA for spreading awareness about women registration in census
January 25, 2017
KARACHI - Senior Sindh Minister for Parliamentary Affairs Nisar Ahmed Khuhro has said that the forthcoming census is significant for the province, and it is the responsibility of every political party to cooperate with the government to make the exercise successful. While speaking on a private resolution, moved by MQM female member Naheed Begum on Tuesday, Khuhro added that Sindh government was aware of its responsibilities.
He protested that injustice was done to Sindh in the previous census, and despite the fact that it should be held after every 10 years, the last census was held in 1998. He said the forthcoming census was only going to become a reality because of the Supreme Court, which, in its order, had bound the federal government to carry out this exercise.
The minister informed the House that in the first phase, census would be held in six districts of Karachi, Hyderabad and Ghotki, while the second phase would start in April. He elaborated that prior to the census, houses would be counted. Khuhro made it clear that CNIC was mandatory for registration, but it was a fact that 30 percent people of Sindh were without CNICs. The mover, in her resolution, underscored the need for launching a campaign to create awareness about registration of women in the census. She said that census would be a big challenge for the Sindh government because of the element of transparency involved in it.
She brought home the fact that despite the fact that women were 50 percent of the total population of the country, but 11 million of them were still deprived of their voting rights.
PML-F member Nusrat Sehar Abbasi, PPP member Khairunnisa Mughal and MQM member Faisal Sabzwari, while speaking on the resolution, said that every citizen had the right to get registered in the census. They demanded that census should be held under the supervision of army, so that a transparent and comprehensive data could be gathered to help in equitable resource distribution under the NFC Award. The House unanimously adopted five resolutions, tabled by MQM, PTI and PPPP. The adopted resolutions were about launching an awareness campaign for registration of women in the census, controlling illegal manufacturing, sale, purchase and smuggling of weapons, issuing orders for installation of fare meters in rickshaws and taxis in the province, seeking actions against child begging.
, child labour and stopping sea intrusion along Sindh coastline.
Earlier, Sindh Minister for Transport Syed Nasir Hussain Shah said that the government was taking steps to provide better travel facilities to the people of Karachi and other parts of the province.
Responding to a question of PML-F member Nusrat Shehar Abbasi, the minister informed the House that Sindh Road Transport Corporation had been shut down in 1999 when PPP was not in power.
He said that, after a thorough study of transport system of the world, it emerged that only out of source transportation system would be successful.
He said that the chief minister was taking personal interest in the revival of Karachi Circular Railway (KCR) as the project was also included in the CEPEC.
Deputy Speaker Shehla Raza set in motion the business at 1130 hours beyond the scheduled time of 1000 hours.
The House rejected the private bill, Etihad University Bill, 2017.
After completion of agenda, the chair adjourned the session till Wednesday morning.
http://nation.com.pk/karachi/25-Jan-2017/sa-for-spreading-awareness-about-women-registration-in-census
-------
Hadara, Kayan pact to promote Muslim women's advancement
January 24 2017
Abdullah Abdul Ghani Foundation for Cross-Cultural Understanding (Hadara) and Global League of Islamic Women Organisations (Kayan) have signed a partnership agreement to address key issues and concerns faced by Muslim families, particularly women and children, in various countries.
The agreement was signed earlier this week at the Hadara Foundation office in Al Wakrah.
Hadara is a private institution that supports projects related to culture and education, among others, while Kayan is a non-profit Islamic association working to protect and promote the advancement of women.
Founded in 2013 in Britain, Kayan is now working with 77 women organisations from 26 countries in Africa, Asia, Europe, and the Arab world.
Speaking at the press conference, Hadara board of trustees chairman Salman Abdulla Abdul Ghani stressed the importance of their partnership with Kayan, "which is dedicated to take care of Muslim women in all respects".
Hadara board of directors chairwoman Buthaina Abdulla Abdul Ghani echoed the statement of Salman citing the need to intensify and redouble efforts to achieve the objectives and goals of the agreement.
The partnership seeks to "activate the role of the family at all levels to effectuate its structural and productive role", and focus "on scientific research and field studies in the intellectual sphere and community development", according to Hadara.
Hadara also cited the need for an "effective co-ordination and constructive co-operation between the Islamic women's organisations in the world" in addressing family and women's issues.
Apart from the launch of Kayan's media identity at the event, Hadara said it will also start managing the association's executive office "in its new phase" as part of the partnership. The move aims to push for close co-operation and integration to achieve common goals.
Kayan board of directors chairwoman Dr Noura Khaleed al-Saad expressed confidence that the partnership will contribute in building an "intellectual system and knowledge derived from our Islamic values and to promote the positive presence of Islamic approach on women's issues in the local, regional and international forums.
"This partnership will also help unify efforts in resolving contemporary problems of women, and protects children and families from deviant and anti-Islamic ideas," she said.
The event last Sunday was attended by a group of scientists, academics, and representatives from different institutions locally and abroad who are interested in community work related to family and women's issues.
Among the attendees were Dr Ali Mohiuddin Qara Daghi, secretary-general of the International Union for Muslim Scholars; Dr Adel Hassan Hamad, adviser on women's and family issues, Dr Rashid al-Hajri, principal of Gulf Academy, and Sheikh Ahmed al-Buainain, secretary-general of the World Federation of Islamic Preachers, as well as women prominent in the field of family and community work in and outside Qatar.
http://www.gulf-times.com/story/530351/Hadara-Kayan-pact-to-promote-Muslim-women-s-advanc
-------
Boko Haram 'abducts many women, kills 3' in Borno village
January 25th, 2017
An unspecified number of women have been abducted in Ndagu village, Askira-Uba local government area of Borno state.
Quoting a security source, The Nation said the fresh Boko Haram attack happened on Sunday.
"The insurgents came in their numbers and set the entire village ablaze," the source said.
"At least three people were killed in the attack."
Ibrahim Askira, a resident of the village, reportedly said residents of the community are now at the mercy of the insurgents because of inadequate security for people in the area.
"As I speak with you now, many people who fled to the bush have not returned. We are not sure what has happened to them. They took away many women that we are not yet sure of the number," Aminu, a local hunter, said.
"The people in this village are completely traumatized due to this attack. We cannot be sure of our next sleep. I call on the security to be more proactive in dealing with these Boko Haram boys. If the security agents leave us like this, they will finish us."
https://www.thecable.ng/boko-haram-abducts-many-women-kills-3-in-borno-village
-------
Deep and lasting friendships form in Jewish-Muslim women's group
Jan 24, 2017
WASHINGTON TWP. – Some wear the traditional Muslim hijab headscarfs and others have the Hebrew Star of David hanging from their necklaces.
The group of 18 Muslim and Jewish women get together monthly at their homes in Long Valley and elsewhere in the area. But there is no discussion of the two-state solution, the Gaza Strip, the plight of the Palestinians or President Donald Trump's plan to relocate the Israeli capitol to Jerusalem.
Rather, the talk is about the latest trouble with in-laws, whether their children should play football or how to bake the traditional Jewish bread, challah, or Aish, a traditional Egyptian pocket bread. They also study and discuss holy texts of both religions including the Torah and the Quran and traditions and rituals.
"We sit around a table, share food and see our points of commonality," said Rabbi Debra Smith, who with a Muslim woman, Shabiah Sheik, a pharmacist from Edison, lead the Northern N.J. chapter of the Sisterhood of Salaam Shalom.
"We laugh," Smith said. "No matter what culture you're from, you're dealing with the same stuff."
The group occasionally steps into politics, as with their agreement to all register as Muslims if a national Muslim registry is created.
"We have come to see the "other" as the same as us," Smith said. "When you look into the eyes of the other, you see yourself. We're all the other."
National Group
They are members of one of 50 chapters around the country of the Sisterhood of Salaam Shalom, a grassroots group formed in 2014 to bring Muslim and Jewish women together in friendship. The first chapter was created by Sheryl Olitzky of North Brunswick, after she visited Poland in the summer of 2010 and was shocked at the level of hatred of Muslims and Jews that she saw.
"I was not prepared for the impact that this trip would have on my emotions," Olitzky writes in her blog. "Nor was I prepared for the enormity of the planned hate and destruction that I saw. I left Poland knowing that I had to do my part to stop hate and negative stereotypes."
Olitzky's husband is Rabbi Kerry Olitzky, director of Big Tent Judaism, an organization dedicated to bringing Judaism to interfaith families and the unaffiliated.
The Northern N.J. chapter, with members from Morris and Somerset counties, was organized and is led by Smith, the spiritual leader of the Or Ha Lev Jewish Renewal congregation. The first meeting was at Smith's Long Valley home and the group has grown to 18 members including Jews and Muslims whose roots go back to Egypt, Pakistan and elsewhere in the Muslim world.
"We've really bonded," Smith said. "These are my closest friends now."
They are so close, that the women of Sisterhood of Salaam Shalom attended a celebration of Smith's rabbinical ordination last year.
Before she was ordained, Smith worked as a social worker and family therapist with a focus on multicultural issues. The experiences and her work as a rabbi fueled a commitment to build bridges between Jews and others.
The goal of the chapter was always social and not political. In early get-togethers, members broke the ice by talking about their heritage and how they were named. Smith said she was named for her grandmother's mother, a practice with roots in Judaism.
They shared cultural foods and talked about holiday traditions like the Jewish Rosh Hashanah and the Muslim holiday of Eid Al-Fitr which is celebrated at the end of Ramadan, a month of fasting. Usually, it's all adults but children were invited to a multi-cultural Thanksgiving dinner last year.
The group also has been involved with social actions activities. This year, they knitted 100 scarves and hats and distributed them to the Roxbury social services department. They have collected donations for a women's shelter and Or Ha Lev hosts an interfaith Passover seder for Jewish, Christian and Muslim visitors.
The northern N.J. chapter is closed to 18 members, an intimate number, but people can form new chapters.
The third annual conference of the Sisterhood of Salaam Shalom was held on Dec. 4 at Drew University in Madison. Nearly 500 Muslim and Jewish women attended, compared with the first conference that attracted just 100 people.
Smith will be speaking at the Fourth Annual Interfaith Abraham Luncheon, sponsored by the Peace Islands Institute from noon to 1:30 p.m., Tuesday, Jan. 31, at Chatham United Methodist, 460 Main St., Chatham.
The topic for discussion is: "Moving toward healing and wholeness in community from Jewish, Christian and Muslim perspectives."
http://www.newjerseyhills.com/observer-tribune/news/deep-and-lasting-friendships-form-in-jewish-muslim-women-s/article_d3f832e0-03b8-5ffc-ab52-b076f1685e53.html
-------
USAID supports women's participation in Pak Trade Policy
January 25th, 2017
United States Agency for International Development (USAID)'s project Pakistan Regional Economic Integration Activity (PREIA) hosted a roundtable discussion on women's participation and gender inclusion in Pakistan's trade policy.
A US Consulate statement on Tuesday said that women from public and corporate sectors, academia and think tanks participated in the discussion and covered various topics related to gender inclusion in Pakistan's trade policy.
USAID Provincial Director for Sindh and Balochistan Denise A Herbol was also present and emphasized, 'Women require access to market intelligence and must be given the ability to organize resources effectively to meet market demand, scale-up and respond to trade opportunities. We recognize the need for women to have managerial and organizational resources and skills to develop business and export readiness and to manage as well expand their businesses efficiently.'
Members of the roundtable shared views on trade policy formulation and advocacy specifically aimed at promoting the participation of women.
Over the course of the event, multiple sessions were facilitated by experts including Roubina Taufiq, former Director General of Pakistan's Trade Dispute Resolution Office.
Similar roundtable discussions were recently held in other cities where participants from Islamabad, Rawalpindi, Kashmir, and Peshawar, were in attendance. The USAID PREIA is a five-year initiative furthering the development of Pakistan's trade sector.
Under this project this series of roundtable discussions is being conducted as part of the Women Leadership Development Program (WLDP) in collaboration with the USAID Training for Pakistan Project.
The WLDP seeks to support women from various trade sectors, such as the government, corporate, business and academia, and equip them with the necessary training to further their inclusion in the economic sector.
http://www.pakistantoday.com.pk/2017/01/24/usaid-supports-womens-participation-in-pak-trade-policy/
-------
URL: https://newageislam.com/islam-women-feminism/muslim-girl,-4,-banned-wearing/d/109847
New Age Islam, Islam Online, Islamic Website, African Muslim News, Arab World News, South Asia News, Indian Muslim News, World Muslim News, Womens in Islam, Islamic Feminism, Arab Women, Womens In Arab, Islamphobia in America, Muslim Women in West, Islam Women and Feminism, Moderate Islam, Moderate Muslims, Progressive Islam, Progressive Muslims, Liberal Islam