New Age Islam News Bureau
21 Jun 2017
• Afghan Women to Get A Voice Through New Magazine And TV Channel
• Muslim Women in Nottingham Avoid Public Transport after Terror Attacks
• Turkish Woman Files Petition for Re-Arrest of Released Assailant
• This Indian Woman Wrote a Heart-Warming Facebook Post Praising Pakistan's Cricket Team
• Ex-Pakistan Chief Justice Calls Triple Talaq 'Invalid In Islam' and 'Unacceptable'
• Islamic Community Provides Women's Self Defence Classes
Compiled by New Age Islam News Bureau
URL: https://www.newageislam.com/islam-women-feminism/meet-ummul-kher-battled-bone/d/111624
-------
Meet Ummul Kher who battled bone disorder, unsupportive parents, lived in a slum and cracked UPSC exam
Jun 11, 2017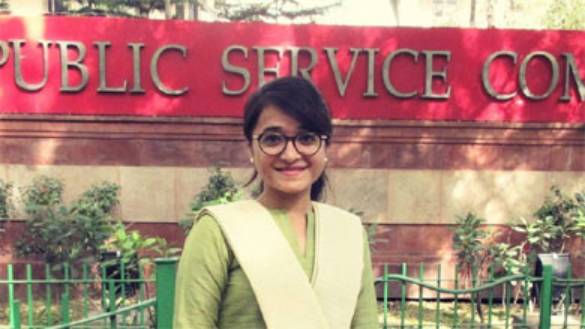 Ummul Kher, 28, got All India Rank 420, and hopes to get IAS under disability quota.(Photo: Sourced)
-----
As someone living with fragile bone disorder since she was a kid, odds were always against Ummul Kher. When she was 14, her parents disowned her because she wanted to study beyond Class 8. What took her ahead was sheer merit and determination as she went on to get admission in a prestigious Delhi University college and later entered JNU for her master's. This week she cracked the civil services exam in her first attempt.
Ummul Kher, 28, got all India rank 420. She now hopes to get IAS under disability quota.
Kher, who has received 16 fractures and eight surgeries due to her disease, came to Delhi from Rajasthan when she was around five years old. Her father then worked as street vendor selling clothes near Hazrat Nizamuddin while the family lived in a nearby slum.
Kher took admission in Pt Deendayal Upadhyaya Institute for The Physically Handicapped, where she studies till Class 5. She later went to Amar Jyoti Charitable Trust where she studied till Class 8.
"It was a charitable organisation run by the government and I didn't have to pay anything. Though getting one square meal was difficult, I was satisfied that I could at least study," she said.
Life was difficult, but what came after that was "both difficult and painful" as Kher puts it.
"I wanted to study at Arwachin Bharti Bhawan senior secondary school as it had better infrastructure and I had got a scholarship," she said. But her parents were against it. They said that if she studied any further they will sever ties with her. "I was abused. My intentions were questioned because I wanted to study. It was the worst time. They said you have now got more education than a girl should," she said.
She left home and took up a place in Jhuggi Jhopri (JJ) Cluster, Trilokpuri, for which she paid out of the money she earned from tuitions — a decision she feels was more difficult than cracking the civil services exam.
"I had started taking tuitions but living independently meant I had to earn more money. From few children the tuitions expanded to four batches — 3pm to 5pm, then from 5pm to 7pm, 7pm to 9pm and 9pm to 11 in the night. These were mostly children from slum areas and I got between Rs 50-100 from each student. I couldn't have expected more as these were children of labourers, iron smith, rickshaw-pullers etc," she added.
"Besides, for a girl to live alone in a jhuggi was sometimes traumatic. It was never safe but I had no choice," she said.
Sehnag Begum, who lives in Trilokpuri where Kher lived for around three years said, "She is a brave child. She lived alone but my daughter used to sleep with her because it is not safe for a girl to live alone." In return, Kher gave her free tuitions, Begum said.
After Class 8, Kher's education was backed by Amar Jyoti Charitable Trust. They helped her as and when required and also financed her tuition for Class 9 and 10.
Kher scored 91% in Class 12 and got admission in Gargi College where she continued to fund her education through tuitions. Kher's friend from DU, Abhishek Ranjan, recalls her difficult college days, "She funded her education through the money she won at debates in DU colleges. You can earn decent money as the prize amount is high in some of the college festivals. But here too, she could not participate in debates that were organised in evening as she had to take tuitions," he said.
In 2012, she met a small accident and was confined to a wheelchair for a year due to her bone disorder.
After finishing her graduation, Kher cleared JNU entrance exam for master's in International Studies. She was now getting Rs 2,000 means-cum-merit scholarship and did not have to give tuitions. In 2013, she cracked the Junior Research Fellowship (JRF) under which she started getting Rs 25,000 per month.
Archna Upadhyay, a faculty member at JNU's School of International Studies said the result was not surprising. "Despite her physical challenges she was always at a par with other students and excelled in both academics and extracurricular activities," Upadhyay said.
Will she forgive her family for leaving her midway? "I don't blame them. They were brought up in an environment that shaped their thinking. It is not their fault," she said. "In the past two years, my relations with my family have improved. I will visit them soon."
Her parents are now back in Rajasthan where her brother runs a small bangle shop.
http://www.hindustantimes.com/delhi-news/parents-disowned-disabled-girl-for-studying-after-class-8-she-cracked-civil-services-exam/story-vouuuC5Q7r3rzt1ItM4jLI.html?li_source=LI&li_medium=recommended-for-you
--------
Afghan women to get a voice through new magazine and TV channel
June 21, 2017
Afghan women are redrawing the media landscape in the deeply conservative country with the launch of a new magazine and a television channel, risking the anger of extremists by giving their gender a glamorous voice.
The teams behind the two privately-run projects have bold ambitions to use their mass media platforms to change attitudes and inform Afghans of their rights.
But they know full well the dangers of such trailblazing ventures in a war-torn nation where many still believe that a woman does not belong outside the home.
"(The) lack of participation of women in life has made this country very violent," said Sandjar Sohail, head of the Hasht press group behind the launch of "Gelara" magazine."I am sure we'll get some reaction, some complaints. We are expecting that," he conceded.
The glossy monthly run by a team of women in their 20s proclaims itself proudly as "Afghanistan's first fashion magazine". It is also a 100 percent Afghan project.
Beauty, cooking, health, literature: the magazine succumbs to feminine tropes, but also dives into issues such as family law reform, which has stalled in the Afghan parliament since 2008.
"This family law is so unfair for women... once they get married they have no rights. You have to push for women's rights," insists the editor-in-chief, 24-year-old Fatana Hassanazada, who heads a team of 14 young women.
Gelara's first cover featured singer Mozhdah Jamalzadah, who posed bareheaded, her bold gaze staring directly into the camera.
In an interview, the artist discusses criticism she has received for wearing costumes judged too tight. Afghan pop star and women's rights activist Aryana Saeed underwent a similar deluge after a recent concert in Paris.
"Yes it's risky. It's always risky" in Afghanistan to fight conservatism and extremism, said Sohail, who also runs the country's most popular newspaper, 8-Subh (8-Hours).
"This is a life and death conflict," he explained, adding they have no choice but to fight. "If not, the conservatives will bring us back, to a primitive life."
Gelara, which sells for 100 afghanis ($1.30) in the street, is provocative -- but only to a point. Though some heads remain unveiled, women's bare legs and arms are rarely pictured.
"Zan TV", or "Women's TV", will also aim to challenge traditional expectations of the female role in Afghanistan, when it begins broadcasting in the near future.
Women are already on the air in Afghanistan and regularly present the news. But at Zan TV they will have power.
Mehria Afzal, 25, the head of the political service, expects to be "the voice of Afghan women". "In the provinces, girls are exchanged like animals. It is forbidden, but they do not know their rights," she asserts.
"This is the first time that we have launched a television project dealing with the issues of Afghan women, covering all subjects, allowing women to express themselves whether it is politics or religion," says Malalai Zikria, the channel's editorial advisor.
"Every woman or girl who has something to say will be welcome," she promises. Rape, harassment, contraception -- all will be discussed, even the very sensitive question of virginity, she says.
But the presenters will wear their headscarfs, she says, underscoring the caution with which they are attempting to move forward. "We are in an Islamic country, we must respect the laws. We can be veiled and fight for his rights."
"We need to be cautious and calculating (in) the steps we take not to hurt or confront the culture or tradition of Afghanistan," said Hamid Samar, founder and director of Zan TV, who focuses on the urban audience.
Digital technology provides coverage throughout the country for the channel, which employs 70 people -- an all-woman editorial staff, aged between 22 and 30, and a camera woman.
The technical staff of 16 people is all male, said Samar, explaining that there is a lack of women trained in such areas.
But he hopes that will change, adding that the company policy is still that "all the staff should be women".
He also wants to reach a male audience, but to make a difference as they do so. "Hopefully husbands and wives will watch us together, but the women will actually (have) control of the remote control."
http://nation.com.pk/international/20-Jun-2017/afghan-women-to-get-a-voice-through-new-magazine-and-tv-channel
--------
Muslim women in Nottingham avoid public transport after terror attacks
June 20, 2017
Muslim women living in Nottingham say they 'avoid public transport and the city centre' after a terror attack due to fear of abuse or an attack.
Zaynab Asghar, 38, who works for the Nottingham Muslim Women's Network, told the Post that some Muslim women will not even leave the house for days.
The organisation, which supports around 80 Muslim women in the community, lifted the lid on life as a Muslin woman in Nottingham at a meeting held in the wake of the recent terrorist attack in Finsbury Park.
Nottinghamshire Police chief constable Craig Guildford and Police and Crime Commissioner Paddy Tipping met faith leaders and worshippers at Bobbersmill Community Centre today where the resounding message was to stand strong as a community.
Nottinghamshire Police re-assured the Muslim community it will be increasing patrols around mosques and other places of worship in the wake of the Finsbury attack on Monday, where a van was driven into a crowd of Muslim worshippers.
Mrs Asghar told the Post: "When something happens (a terrorist attack) as a Muslim woman we try and change our daily routine so it minimises us being a soft target.
"We do not use public transport, we would not go into the city centre. I was at a doctor's surgery straight after Brexit and an old man just shouted at me 'go home'.
"Another lady who lived in Arnold was wearing her headscarf and sat upstairs on the top of the bus when three or four youths started calling her names. They then urinated on her head from behind and were laughing about it.
"The most recent was a woman was attacked outside TK Maxx; they hit her, but bystanders did not do anything because they thought it was a terrorist attack.
"Some women will not leave the house for three or four days, only in an emergency."
Rifet Mirza, 55, who lives in Hyson Green, said she will no longer go out for walks on her own.
She stressed: "All these attacks that have happened – we don't agree with and are totally against."
Mr Tipping said there had been an increase in hate crime being reported following the EU referendum.
He said recent events included men trying to snatch head scarves off women and women being shouted at in the street.
He said: "I think the Muslim community is really anxious at the moment. This city belongs to all of us – we have got to stand together and work together."
Mr Guildford said that there would be increased patrols around mosques to offer "re-assurance" following the Finsbury Park attack and that recruitment could strengthen bonds between the police and communities.
He said: "I am keen to make sure opportunities are given from all communities to join the local police and that will go a long way to building further bonds with communities."
Talking about hate crime, he said: "I want you to feel confident that we will act. Hate crime will not be tolerated. The most important thing is to ring us when it happens, after the event is harder."
http://www.nottinghampost.com/muslim-women-in-nottingham-avoid-public-transport-after-terror-attacks/story-30400839-detail/story.html
--------
Turkish woman files petition for re-arrest of released assailant
June/20/2017
A 21-year-old woman who was attacked by a man in Istanbul on the grounds of "wearing a mini skirt during Ramadan" has applied to the prosecutor's office for her assailant to be re-arrested, after he was released following his testimony at the police station.
On June 14, university student Melisa Sağlam was attacked by a man identified only as Ercan K. as she was getting off a minibus in Istanbul's Pendik district. The suspect allegedly asked her, "Are you not ashamed to dress this way during Ramadan?" before punching her. After Sağlam fell in the street the assailant continued his journey on the minibus.
Following the incident, Sağlam filed a complaint against her assailant, upon which he was detained three days later on June 17. However, after giving his testimony at the police station Ercan K. was released pending investigation on the same day.
On June 19, Sağlam submitted a petition to the prosecutor's office condemning the release of her assailant.
"We are not the kind of people who want to discredit Ramadan, Islam or defame religion. This person attacked me, harassed me and hit me. Everyone on the minibus watched, including the driver, but no one intervened in the incident," Sağlam told daily Hürriyet.
"My only wish from the justice system is that an appropriate, dissuasive punishment is given to the assailant. I do not want him to walk around freely because I cannot anymore. I could until now, but since being assaulted I have been unable to go anywhere without my mother. I cannot even get on public transportation," she added.
"We should protect each other on public transport and on the streets. That does not mean sharing [posts] on Facebook and Twitter taking a stand for someone. It does not mean marching or sending a wreath to a funeral after someone dies. It means taking a stand against attackers from the first assault, before someone dies. Let us stand tall, stand with each other," she said.
Sağlam's lawyer, Nuriye Alsancak, told daily Hürriyet that the incident could not be viewed as an "ordinary" event.
"There is a mentality that criticizes pregnant women for being outside, and that allocates special buses or carriages for women. This incident is a reflection of the same mentality on the streets. Unless we say 'stop' to this and raise our voices, there will not be an end to it," Alsancak said.
http://www.hurriyetdailynews.com/turkish-woman-files-petition-for-re-arrest-of-released-assailant-.aspx?pageID=238&nID=114549&NewsCatID=33
--------
This Indian Woman Wrote a Heart-Warming Facebook Post Praising Pakistan's Cricket Team
Jun 20, 2017
NEW DELHI: Amid ugly pre-final gloating and post-final recriminations from both sides of the border on social media, over the Champions Trophy final, an Indian woman's heart-warming Facebook message to Pakistan is going viral there for all the right reasons.
Archana Mohan began her Facebook message on Monday by thanking the Pakistan cricket team for its thumping win against India in the final of the cricket tournament
Mohan admitted she wanted to "bury myself in a hole and keep newspapers at bay" the morning after the match, so she didn't have to read about it and thus relive it. But then she went on to say that Pakistan's win was an "inspiration" for all sports fans and Pakistani bowler Mohammad Amir's redemption was the stuff of legend.
"Irrespective of the result, I am sure, we will always remember this unbelievable comeback from the team that was expected to crash out in the first round itself," Mohan wrote.
She then related how her mother-in-law "waxed eloquent" about Amir.
"God works in mysterious ways...The boy who made a mistake in his youth has grabbed his second chance. What a great redemption!", Mohan relates her mother-in-law as saying.
Seven years ago, Amir was banned from international cricket for five years for spot-fixing matches. In Sunday's final, Amir was the man responsible for sending three men from India's top order packing.
Mohan's husband was equally thrilled about Pakistan's win, she said.
"I wish we had players like theirs", he said, according to Mohan. "From the by lanes (sic) of Peshawar to an ICC event, they are cricketers in the purest sense", Mohan recounts him saying "dreamily".
Mohan even mentions the change of heart her colleague from work had. The same colleague "who had only a day earlier tweeted a crude slur on Pakistan", she said. The man apparently confessed he had watched everything there was on YouTube about Pakistan captain Sarfraz Ahmed.
http://timesofindia.indiatimes.com/india/this-indian-woman-wrote-a-heart-warming-facebook-post-praising-pakistans-cricket-team/articleshow/59234167.cms
--------
Ex-Pakistan Chief Justice Calls Triple Talaq 'Invalid In Islam' and 'Unacceptable'
Jun, 21 2017
The concept of triple talaq has divided opinions around the country. The matter has made its way to the Supreme Court which heard the arguments for six days and reserved its verdict. The judgment is expected to come out in July.
In the midst of it all, India's secular nature was debated heavily. Questions from what a secular nation would do to whether we actually are secular at all were discussed throughout the country. An obvious point of comparison is then to other countries and how they deal with the situation. And this is where India fares poorly as even Pakistan has a more progressive law in place.
News18 has quoted former Chief Justice of Pakistan Justice Jawwad S Khawaja as saying that "triple talaq was never a part of pure Islamic history and was not considered valid as per Islamic law." He further added that, "Instant talaq or triple talaq has not been considered valid in Islam and it is not considered to be the best form of divorce under Islamic law. If you look at what jurists have opined in the 1,000-year old history that it was never acceptable and it has never been the most accepted of talaq in any era of Islamic history,"
The report further goes into the details on the Pakistani law on divorce and points out a three month cooling-off period built into the process.
Justice Khawaja also said that "Even traditional Islamic jurists had never considered or accepted the practice of instant triple talaq as a part of the pure Islamic law. In Pakistan we have a statutory enactment and the statute was based on what the Islamic jurists had spoken of and who had stated that this gap of three months was the best and also served as a cooling-off period between the couple."
Muslim law in India comes from The Muslim Personal Law (Shariat) Application Act, 1937 which says that in so far as matters concerning marriage, divorce, inheritance and other personal matters, the law governing Muslims in India shall be the Muslim personal law or the Shariat.
Under Shariat, as applied to India, only a man can initiate divorce — under the Dissolution of Muslim Marriages Act, 1937 a woman may also initiate the divorce — the only difference being that under the former, the husband does not need to show cause, while under the latter, the wife must show cause.
The present case has been filed by Shayara Bano. After being married for 15 years, Bano's husband gave her triple talaq in October 2015. She approached the Supreme Court in 2016, challenging the validity of arbitrary practices against women followed by Muslims. Her petition asks the Supreme Court to declare talaq-e-bidat, polygamy and nikah halala illegal and unconstitutional on the grounds that they violate the rights guaranteed by the Constitution under Articles 14, 15, 21 and 25.
The case was heard by a five-member bench of the Supreme Court. The bench was a unique one as it comprised judges belonging to five different religions.
During the hearing, the All India Muslim Personal Law Board (AIMPLB) told the Supreme Court that it would issue an advisory to qazis to tell bridegrooms that they will not resort to triple talaq to annul their marriage. This move was called a "mere eyewash" by Attorney General Mukul Rohatgi who said it was an attempt to gain "legal sanctity among the community".
After the Supreme Court reserved its verdict, union minister M Venkaiah Naidu said that the NDA government was ready to bring a law to stop the triple talaq in the Muslim community, if necessary. "Our government has made its stand very clear on triple talaq. If necessary, it will bring a legislation against it.. after allowing the community to reach a consensus through deliberations," Naidu has said.
Zakia Soman and Noorjehan Niaz while writing for Firstpost had argued that the abolition of triple talaq is long overdue in independent India. They called it a unilateral and arbitrary practice which results in women being thrown out of homes and rendered destitute in an instant. The women in this case are seeking justice which they are entitled to as citizens in a democracy as they knock at the doors of the courts and the parliament.
http://www.firstpost.com/india/former-pakistan-chief-justice-jawwad-khawaja-calls-triple-talaq-invalid-in-islam-and-unacceptable-3729881.html
--------
Islamic Community Provides Women's Self Defence Classes
June 20, 2017
Citing an increase in the number of attacks against young Muslim women wearing the Hijab, the local Islamic community is providing self-defence classes for women.
Local Council on Islamic/American Relations Executive Director Faizan Syed says they're not trying to turn them into Jackie Chan, but teaching them how to de-escalate situations or, if necessary, protect themselves.
"We're hoping that these classes will at least give Muslim women particularly, even all women, but particularly Muslim women, the ability to know that if something like this ever does happen, how you respond to it in a way that you get out with the least amount of harm as humanly possible," he says.
Syad says the first class, taught by a former female police officer, was full. The second one is almost completely booked.
http://stlouis.cbslocal.com/2017/06/20/islamic-community-provides-womens-self-defense-classes/
--------
URL: https://www.newageislam.com/islam-women-feminism/meet-ummul-kher-battled-bone/d/111624
New Age Islam, Islam Online, Islamic Website, African Muslim News, Arab World News, South Asia News, Indian Muslim News, World Muslim News, Women in Islam, Islamic Feminism, Arab Women, Women In Arab, Islamophobia in America, Muslim Women in West, Islam Women and Feminism