New Age Islam News Bureau
30 Sept 2013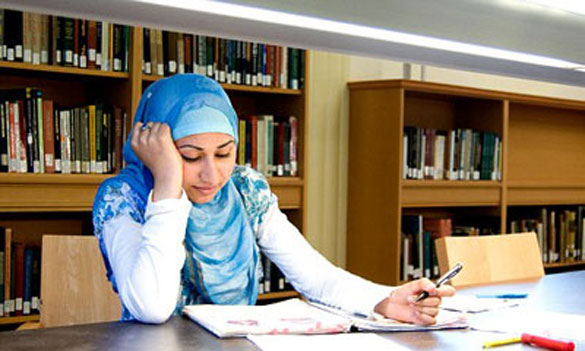 Pupils at School in BlackburnPosed by model File photo
------------
• 35% of Gaza Brides Are Under 17
• Refugee School Girls in Jordan Sing Lyrics of Loss
• Saudi-American Woman Detained For Robbing Five Banks
• The State School Where Girls Are Forced To Wear Hijabs In and Outside School
• Despite Constraints, Saudi Women Upbeat about Empowerment
Compiled by New Age Islam News Bureau
URL: https://newageislam.com/islam-women-feminism/medina-court-upholds-whatsapp-divorce/d/13755
----------
Medina Court Upholds WhatsApp Divorce
September 30, 2013
MADINAH — The General Court in Madinah has approved a WhatsApp message to end a 10-month marriage. The message, in which the husband repeated the phrase "You are divorced" three times, was sent to the woman's mobile. The woman approached the court asking to enforce the divorce.
The court then summoned the husband who confirmed that he sent the message. The man claimed that he did not mean to completely finish his marriage relationship with his wife, but the judge considered the divorce binding and issued a divorce certificate to the woman.
http://www.saudigazette.com.sa/index.cfm?method=home.regcon&contentid=20130930182070
----------
A Muslim Prosecutor in Britain, Fighting Forced Marriages and Honour Crimes
By KATRIN BENNHOLD
30 September 2013
LONDON — NAZIR AFZAL'S enemies are a diverse lot.
Some, like him, are Muslim men who were born in Britain but have roots in Pakistan or other South Asian countries and cannot understand how Mr. Afzal would be critical of forced marriages and honor crimes and give "racists another stick to beat us with."
Others are from Britain's far-right fringe and cannot accept that a Muslim is chief prosecutor for "their" queen and "their" country. They once wrote a letter to Prime Minister David Cameron, demanding that he fire and deport Mr. Afzal, who chuckled before responding, "I was born in Birmingham, England, and I'm not going back there."
One of 13 chief crown prosecutors in Britain, he oversees more than 100,000 prosecutions a year and manages 800 lawyers and paralegals in England's Northwest, the largest region after London. The first Muslim chief prosecutor ever appointed, he remains the nation's most senior Muslim lawyer.
Mr. Afzal, 51, has prosecuted white-collar criminals and hooligans. But this fast-talking man with spiky salt-and-pepper hair and a slightly restless manner is also Britain's go-to prosecutor on violence against women. And while most of his cases involve white perpetrators — he prosecuted a stalker of Princess Diana in 1996 and this year brought the former BBC presenter Stuart Hall to justice for sexually abusing minors — perhaps his biggest mark has been his aggressive pursuit of cases involving crimes against women in minority communities.
Before Mr. Afzal, few in multicultural Britain talked openly about the 10,000 girls, most from South Asia and two-thirds of them Muslims, who are married off against their will every year in Britain, much less the dozen or so killed each year in the name of family honor.
Mr. Afzal helped set up a national hot line for women at risk of forced marriage — something the United States government is talking to him about duplicating — and he is working with the Home Office to criminalize the practice. (A bill in Parliament that would do just that is expected to be passed next spring.)
Last year, he successfully prosecuted eight British men of Pakistani origin and an Afghan man for raping and trafficking white girls in Rochdale, a former mill town near Manchester, in the Northwest, in a high-profile case that was branded a "wake-up call" by many South Asians. The ringleader was sentenced to 19 years in prison, the other eight from 12 to 16 years.
Mr. Afzal does not mince words when he speaks about the "hundreds of young British girls who have their clitoris cut off in genital mutilation every year." He is adamant that human rights must always trump cultural rights. "There are problems in minority communities that can't be taboo," he said. "No community should be allowed to give refuge to men who commit crimes against women."
BEING a man, a practicing Muslim and the son of immigrants from the conservative tribal area in northwestern Pakistan might make Mr. Afzal an unlikely feminist in the eyes of some. But that is how he describes himself — and his gender, he said, is by far his biggest asset.
"Women have been talking about these issues for a long time," he said. "I'm not the first person to take up this fight in this country, I'm just the first man, and that makes it a lot easier."
"I come from these communities. I understand their patriarchal nature. I can challenge them," he continued. "And because I am a man, the men in the community are more likely to listen to me."
Women's rights campaigners have welcomed Mr. Afzal into their sisterhood. Efua Dorkenoo, advocacy director on female genital mutilation for Equality Now, said male allies were "critical" for the success of gender equality campaigns, especially when rights abuses are cloaked in cultural terms.
"When men like Afzal speak up about violence against women, it has much more resonance in Asian and African communities," she said. "When we women speak up, we are often dismissed as westernized and no longer speaking for the community."
It was in 2004 that Mr. Afzal, a father of one daughter and three sons, had his own wake-up call when a group of women came to see him. One told of a girl who had burned herself to death to avoid a forced marriage. She had been 17, the same age his daughter is now. Another recounted the story of a woman who had been on the run from her family for more than eight years after refusing to marry a man she did not know. His visitors pressed Mr. Afzal to use his office to bring honor crimes and forced marriages out of the shadows and into the courtroom.
"I didn't know this was happening in this country," he said. But the stories shook him, and that same year he organized a conference in London to learn more. Shortly after, he sat down with the police to pull together a national database on honor crimes. "Before I knew it, we had dozens and dozens of cases," he said.
TWO years later he successfully prosecuted the cousin and the brother of a young woman, Samaira Nazir, for her murder. Ms. Nazir had wanted to marry someone to whom her family objected, a desire for which she was stabbed 18 times in front of two infant nieces who were splattered with her blood. Her father was charged with arranging the stabbing, but he died before the trial. It was one of the first times an honor killing had drawn public attention in Britain.
Mr. Afzal's crusade for women's rights is a personal one. Born a "brown boy" in middle England a year after his parents arrived from Peshawar in 1961, he also bears the scars of inequality. He tells of being bullied and beaten at school, and of his father, a caterer for the British Army, telling him simply, "Get used to it." And he did.
"I thought this was how it was, and I put up with it," he said, "and I think a lot of women feel the same about the abuse they suffer." The first in his family not only to go to college but also to attend high school, Mr. Afzal grows angry when he sees Muslim families take their daughters out of school.
His work on gender equality often intersects with his efforts to be a bridge between white Britons and the country's South Asians, particularly since the 2005 suicide bombings on London buses and subway trains that killed 52 and injured nearly 800. Mr. Afzal remembers speaking at London City Hall a few weeks later. Islamophobia was on the rise. Then deputy chief prosecutor in London, Mr. Afzal had been asked to help engage the Muslim community, but his comments on gender-based violence irked some in the audience. A man stood up and said, "Nazir, why are you giving these racists another stick to beat us with?" His response, "The community should carry their own stick."
He stopped posting on Twitter because, he said, the abuse got to be too much. After last year's case verdict in Rochdale, a police guard was placed outside his house.
But Mr. Afzal is not one to lose his spirit or his sense of humor. "I've done my bit for multifaith engagement," he likes to point out. "As a good Muslim boy, I've been married three times. First to an Irish Catholic, then to an Indian Hindu and then to a British Sikh."
http://www.nytimes.com/2013/09/28/world/europe/a-muslim-prosecutor-in-britain-fighting-forced-marriages-and-honor-crimes.html?pagewanted=all&_r=0
---------
Using Women to Win in Syria
30 September 2013
Before the Syrian revolution, Layla, who requested that her real name remain confidential, was a university student in a rebel-held district of Aleppo. But in January 2013, after witnessing a bombing at her campus that killed 82 people, including some of her classmates, she now carries a Kalashnikov rifle and supports the Free Syrian Army (FSA) at a checkpoint positioned at the northeast end of the city.
According to the Syrian Observatory for Human Rights, a Britain-based, pro-opposition monitoring group, some 5,000 women in Syria are currently engaged in military combat and logistics. AFP reported that one in five fighters is female in the Kurdish People's Protection Units (YPG), the armed wing of the Kurdish Democratic Union Party. In Arabic, they are called muqatilat, meaning women fighters, and they have formed female battalions throughout the country. Muqatilat are small in number in comparison to the male mujahedeen fighters, and even though they carry weapons, they don't call the shots in the rebel command. Nevertheless, they can be found alongside male fighters on the frontlines — often in defiance of traditional gender roles.
Syrian activists on the ground provide different explanations for why female battalions emerged. Some say that the first battalions were formed in May 2012, shortly after forces loyal to Syrian President Bashar al-Assad massacred 108 civilians — including 34 women and 49 children — in the city of Homs. Other female brigades formed out of necessity soon after that. The Daughters of al-Walid, for instance, announced on YouTube that it arms and trains women to defend themselves. And self-defense is much needed: According to the International Rescue Committee, violence against women, especially rape, is the main motivation for flight among Syrian refugees in Jordan and Lebanon — more than shelling and air raids.
Other activists say that female battalions are more a front in the psychological war than the physical battlefield. Some of these battalions may be a sectarian response to the regime recruiting its own muqatilat. Assad has recruited up to 500 women for a paramilitary force called the Lionesses for National Defense, a subsidiary of the National Defense Force (NDF), the regime's key counterinsurgency arm. A Syrian journalist and activist living in Lebanon told me that the symbolism of NDF women reflects Syria's growing sectarian divide. Recruited from Assad's Alawite sect, they try to transmit a liberal and empowered image by dressing in camouflage and operating checkpoints.
The opposition had to up the ante by creating its own female battalions — both on the battlefield and in cyberspace. The Sumayyah bint Khayyat, based 50 miles from Damascus in al-Nabk, posted an image on its Facebook page of armed muqatilat beside a written vow to oppose all enemies of Islam: Jews, Russian Communists, rawafid (literally "rejectionists," a derogatory term for Shiite Muslims) and other kufar, or infidels. But aside from its sectarian slogans and support for grieving families, activists cannot confirm its presence on the frontlines.
There is evidence that Aleppo's Our Mother Aisha Brigade provides more active support for the FSA. Zahra, one of the brigade's muqatilat, told the independent Syria Al Ghad TV channel that she joined to "uphold the world of God on earth and to be helpful and supportive to [her] mujahedeen brothers in the FSA." Our Mother Aisha Brigade is also sectarian and takes its name from one of the Prophet Muhammad's wives who is revered in Sunni Islam but viewed unfavorably in Shiism (and its Alawite offshoot). But whether Zahra and other muqatilat confer a military advantage is unclear.
Full Report at:
http://www.al-monitor.com/pulse/originals/2013/09/women-fighters-syria-rebels-regime.html#ixzz2gO0ehRNH
---------
Marriage Age: A Big 'No' From Keralite Muslim Girls
30th September 2013
Even as prominent Muslim religious body Samastha Kerala Jamiyyathul Ulama is hell-bent on lifting the restrictions on marriage age of Muslim girls, a survey conducted by the Muslim Education Society (MES) among Muslim students of its educational institutions in Kozhikode and Malappuram districts has revealed a totally different story.
According to the MES, nearly 99 per cent of the students said 'no' to the attempts to lower marriage age. Of the 5,139 Muslim girls who took part in the survey from 16 institutions, all except 67 maintained that the marriage age should be at least 18 years. All the girl students belonging to Muslim community at MES Raja School, Pavangad; MES Raja School, Chathamangalam; B Arch College, Kakkodi; MES Women's College, Nadakkavu, and MES Arts and Science College, Chathamangalam, were against the move of the religious outfits. "Out of 432 students of MES Arts and Science College, Villiapally, 31 did not object to lowering the age limit," MES district president C T Zakir Hussain said.
http://newindianexpress.com/states/kerala/Marriage-age-A-big-no-from-Muslim-girls/2013/09/30/article1810692.ece
---------
Turkey Lifts Ban on Headscarves in Public Institutions
30 September 2013
AFP, Ankara
Turkish Prime Minister Recep Tayyip Erdogan on Monday announced that his government would lift a ban on wearing headscarves in public institutions as part of reforms to boost rights.
"We are lifting the ban in public institutions," said the prime minister.
Erdogan also announced democratic reforms seen as key to the stalled peace process with the country's Kurdish minority.
He said rules preventing pro-Kurdish and other smaller parties from entering parliament would be changed, while Kurdish-language education would be permitted in private schools.
"This is a historic moment, an important stage," Erdogan said at a press conference.
Kurdish names can be restored to towns in Turkey and a ban on Kurdish letters will be lifted, he said.
The reforms are designed to address the grievances of Turkey's minority groups, in particular the Kurds, after a peace process with the banned Kurdistan Workers' Party (PKK) stalled.
In March the PKK's jailed leader Abdullah Ocalan declared a historic ceasefire after months of clandestine negotiations with the Turkish secret service.
In return for withdrawing its fighters, the PKK demanded amendments to the penal code and electoral laws as well as the right to education in the Kurdish language and a degree of regional autonomy.
The move raised hopes of an end to a nearly three-decade Kurdish insurgency in Turkey's southeast that has claimed more than 40,000 lives.
But earlier this month the rebels announced they were suspending withdrawal of their fighters, accusing Ankara of failing to deliver the promised reforms.
Erdogan indicated Monday a 10 percent threshold required to secure seats in Turkey's parliament will be scrapped, saying it was not introduced by his Islamic-rooted Justice and Development Party (AKP).
Private schools will offer education in the Kurdish language, which has long been banned, Erdogan said.
The PKK is classified as a terrorist organization by Turkey and many other countries.
http://english.alarabiya.net/en/News/world/2013/09/30/Turkey-lifts-ban-on-headscarves-in-public-institutions-.html
---------
Tear Gas Fired At Sudan Women's University Protest
30 September 2013
Sudanese police fired tear gas Monday into a university campus where female students were protesting, the university head said on the eighth day of demonstrations sparked by rising fuel prices.
Between 150 and 200 Ahfad University for Women students were demonstrating "against the government and things like that," university president Gasim Badri told AFP.
He said police did not enter the campus in Khartoum's twin city Omdurman but fired tear gas from outside.
There were no injuries and the demonstration had already finished, Badri said.
Late Sunday about 1,000 people marched in Khartoum calling for the government's overthrow after a ceremony mourning those gunned down last week during fuel price protests, witnesses said.
The rally began in the wealthy Mansheeya neighbourhood, which was home to Salah Mudathir, 28, a pharmacologist shot dead during a protest on Friday.
"Freedom! Freedom!" they shouted, according to the witnesses.
"A million Salah for a new dawn!" they called in a reference to the dead man.
They also demanded the fall of the regime, echoing calls made by demonstrators during the Arab Spring revolts of 2011 which toppled a succession of veteran regional leaders.
Authorities say 33 people have died since petrol and diesel prices jumped one week ago, sparking the worst protests in the history of President Omar al-Bashir's two-decade rule.
Activists and international human rights groups say at least 50 people have been gunned down, most of them in the greater Khartoum area.
The real toll is difficult to determine but "could be as much as 200," a foreign diplomat told AFP Sunday on condition of anonymity.
http://english.ahram.org.eg/NewsContent/2/8/82848/World/Region/Tear-gas-fired-at-Sudan-womens-university-protest.aspx
---------
'Pakistan's Britney Spears' Seeks Fame In UK, But Won't Twerk
30 Sep, 2013
The Independent
Every little girl has a dream of how her wedding night will be," says Annie Khalid, the singer described as "Pakistan's Britney Spears", whose corkscrew curls adorn billboards across the Indian subcontinent. "I thought that Imight at least be conscious."
A disastrous wedding celebration, ending in police arrests, unleashed a sequence of events which resulted in Khalid, Pakistan's biggest pop star, whose music soundtracks hit Bollywood movies, fleeing to Essex to escape a husband she accuses of physical abuse.
An outspoken artist (her Tweets criticise the Pakistan government's treatment of non-Muslims), Khalid, 26, is launching a new musical career in Britain, with a single Boom Boom, featuring dancehall star Beenie Man, released on Monday.
A staunch defender of Muslim women's right to wear the Niqab in public, whilst starring in glossy, westernised pop videos, the Lahore-born Khalid will present a documentary in which she travels the world to reveal the changing face of Pakistani women.
The BBC is in discussions to screen it. But first she must come to terms with the marriage, now annulled, which threatened to halt the career of the face of major brands such as Pepsi and Lebara in Pakistan, where Annie sold five million records.
Last year Khalid, who made her breakthrough with a 2006 album called Princess, married playboy Pakistani businessmen, Malik Noreed Awan. During the event, a brawl broke out between police and residents due to the celebration running late into the night. Police arrested 15 members of Khalid's family and friends. She was taken to hospital suffering from shock.
"Being hospitalised for two days was the last thing I expected to happen at my wedding," Khalid told The Independent. "I didn't even get to attend the ceremony. But it happened and I can't let it define me." The marriage swiftly deteriorated with Khalid escaping to Essex, where she had family and once lived as a teenager.
She accused Awan of kicking and punching her and forcing her to submit to murga, a ritual punishment in which the victim is forced into a painful squatting position. Khalid says she feared for her life.
Awan, who says the abuse accusations are baseless, accused her of stealing money and jewellery from him before she left for England. Awan, who took a Pakistani actress as his new wife in February, was arrested by police following a fraud investigation into his business operation.
"The whole thing was like a really bad dream," Khalid says. "His accusations are laughable and he is in jail now which says it all. He told me I couldn't continue with music after I was married. I'd worked so hard to build up this huge following who were expecting new music and videos. Now there is no-one to hold me back or stop me."
Now focussed on resuming her pop career, Khalid believes she can project the glamorous image which the western music industry demands of female singers whilst staying true to her Muslim roots. "I pray five times a day, but I don't need to prove to anyone that I'm a good Muslim. I won't be twerking because I don't think that's cool, but if that's what Miley Cyrus wants to do, that's great."
She wants to collaborate with Ellie Goulding and the similarly outspoken M.I.A. and reels off a list of territories she now plans to conquer — "India and Pakistan take you to Bangladesh, Sri Lanka, then the Maldives and Mauritius — it's great to be an Asian musician right now because there are massive markets out there."
After a turbulent year, Khalid has found new satisfaction living in Essex, where she spent her formative teenage years and is keen to sing live once again. "Most of my songs now are about being happy and grateful for being alive," she concludes.
http://economictimes.indiatimes.com/news/news-by-industry/et-cetera/pakistans-britney-spears-seeks-fame-in-uk-but-wont-twerk/articleshow/23277963.cms
---------
35% of Gaza Brides Are Under 17
September 30, 2013
Marriages between teenagers are common in Gaza.
Of the 17,000 weddings registered in the courts last year, around 35 per cent involved brides who were under 17 years of age, according to Al-Monitor.
In some cases where families are particularly poor, they will seize the chance to arrange a contract and marry off their daughters to relieve them of the financial burden of costs like tuition fees and health expenses.
Many parents believe that young girls are more likely to adapt to the husband and his family at that age.
http://www.dailymail.co.uk/news/article-2435072/The-teen-bride-groom-Palestine-Boy-15-girl-14-pictured-wedding-day-town-near-border-Israel.html#ixzz2gMr4cHKs
----------
Refugee School Girls in Jordan Sing Lyrics of Loss
September 30, 2013
AMMAN/ZAATARI, Jordan (WOMENSENEWS)-- Children across the region have been gradually returning to school throughout September after their summer breaks. But the vast majority of Syrian students, whether inside or outside the country, do not have that luxury.
Four Syrian refugee girls in that category can be found here in Salahiyet al-Abed, an area on the outskirts of Amman, playing in a shadeless street, chatting and singing songs in a breezy stairwell. They are among the three-quarters of the 150,000 Syrian school-aged children in Jordan who are unable to attend school.
Nuran, a 12-year-old from the cradle of the 2011 revolt against Syrian President Bashar al-Assad, from the Syrian town of Daraa, says she spends a large chunk of the day sitting inside with her mother and father because they couldn't afford to send her to school.
She hopes to become a lawyer to "help release those who have been jailed unjustly."
Her older sister, Gufran, wants to be a surgeon. Because of the conflict back home, which displaced their family several times within Syria before they traveled to Jordan, the two sisters have lost more than two years of education.
The last day that Nuran and Gufran attended school in 2011, in the outskirts of Damascus, an explosion blew out the windows of their classrooms, recalls their mother, Iman, who asked that her last name not be used to protect the family's privacy.
"My girls stopped going to school after that," she says. "They are dying to go back to school, but even if they want to go, I must be reassured of their safety. There is no bus here. It's a back road and anybody could snatch them. How can we be sure of their safety?"
Two other sisters--Noor and Manar--from the neighborhood of Khalidiya in the city of Homs, tell Women's eNews that if there were a bus, their parents would probably let them go.
"We miss school but not as much as Syria," chimes 11-year-old Manar, who sports a bright blue hijab and a Hello Kitty T-shirt.
The four girls are friends and live in blocks of beige buildings in the outskirts of Amman along with dozens of Syrian families displaced by a conflict that has claimed more than 110,000 lives since its outbreak in March 2011, according to the Britain-based Syrian Observatory for Human Rights.
Makeshift Schools
In the basement of one of those buildings, two Syrian women Yusra and Arwa, who declined to give their last names due to security concerns for relatives back home, are doing what they can to keep their young charges focused on the alphabet. With only a few teaching props, such as crayons and markers, it's no easy task. Like the children, the two women are refugees and are contending with trauma.
"The children are slowly overcoming it," says Arwa, referring to trauma. "They are moving forward. In the beginning, if they heard an airplane they would all hide under the desks. In the beginning, I couldn't stand in front of windows, because I still was scared of coming under sniper fire."
The pair has no formal background in education and volunteered to run this makeshift kindergarten and primary school because half of the children in their immediate community -- more than 60 families living in the two beige concrete buildings – are not registered in school.
"From about 100 kids, 50 are registered in school," says Ibrahim Abu Omar, the manager of the complex funded by Kuwait and administered by an Amman-based Islamic charity. "We've created something that resembles a school to fill the gap."
More than half a million Syrian refugees live in Jordan, concentrated in major cities such as Amman, Irbid and Mafraq.
One dimension of that crisis is the huge population of children going without school.
In Jordan, the numbers of unschooled children have surpassed 100,000 and UNICEF estimates that more than 3,000 schools in Syria have been damaged or destroyed since the start of the Syrian conflict and another 900 have been turned into shelters. Almost 2 million Syrian children have dropped out of school since last fall.
"For a country that was close to achieving universal primary education before the conflict started, the numbers are staggering," said Maria Calivis, UNICEF's regional director for the Middle East and North Africa, in a press statement.
Three Obstacles
Poverty, lack of transportation and safety are the three major obstacles cited in recent interviews by parents who have moved to Jordan and wish to send their students back to school but can't.
Boys often become breadwinners while girls are told to stay home for their safety or to help their mothers with child care.
"I want to register my kids in school but I don't even have money to dress them," sighs Noora Hussein, a refugee from Syria's Idlib province. She lives in a Bedouin tent in the village of Zaatari with her six children and school is well beyond her means. She depends on her two eldest sons to eke a living selling vegetables and leans on her daughter to take care of the youngest siblings.
In the nearby Zaatari refugee camp, which is the largest Syrian refugee camp in Jordan and considered the second largest in the world, there are 30,000 school-age students and three schools that are only capable of enrolling a total of 15,000 students.
Of those registered in the camp, UNICEF says 53 percent are girls and 47 are boys.
To help keep children busy, UNICEF and other organizations have created child-friendly spaces in the Zataari refugee camp, where kids can play, socialize and get emotional support. About 2,800 children visit these 35 child-friendly spaces in the camp daily, according to UNICEF.
Some Turned Away
Outside the camp, the Jordanian Ministry of Education estimates that some 60,000 Syrian students are registered in public schools. This academic year, 40 public schools are accepting Syrian students, with a double-shift system introduced to cope with the load.
But many Syrian parents interviewed by Women's eNews said they were turned away because schools are full, while others reported being too poor to take advantage of that offer or lacking the right papers to do so.
Two government schools a few miles away from the basement school run by the Islamic charity illustrate why.
Even though tuition is free, costs such as clothing, school supplies and transportation are too much, says Abu Faris, a native of the embattled Syrian town of Qussayr and the father of three children.
"The process of registration is easy but the majority of families can't send their children to school because they don't have the money to pay for notebooks. Aside from distance [to the schools], the main issue is cost."
For girls, there's also the problem of safety. To reach the nearest public schools, the refugee children living in Salahiyet al-Abed have to travel by foot up a winding rough road during the hottest hours of the day since the Syrian students' shifts are in the afternoon.
"People are scared for the safety of their daughters, the hill is high and the road is rough," says Arwa. "The lessons are scheduled when the sun strikes hardest. If adults struggle on that road, how are the little ones going to cope?"
Yusra says families are particularly protective of their little girls because they are "in a foreign country so they are extra cautious."
Additional reporting for this article was provided by Juhie Bhatia in New York City.
Dominique Soguel, a journalist focused on the Middle East, is Women's eNews' Arabic site editor and head of a special Women's eNews team reporting on female refugees in Jordan for the series Collateral Damage Syria: Women and Girls Fleeing Violence.
http://www.trust.org/item/20130930095157-qljrq/
----------
Saudi-American woman detained for robbing five banks
September 30, 2013
WASHINGTON — An American judge has decided to deny bail to a 23-year-old woman holding a Saudi and American passport and keep her in the prison where she is being held since Sept. 10 under charges of robbing five banks, Al-Hayat Arabic daily reported Sunday.
The judge claimed that there were risks she would flee to Saudi Arabia before her trial. The US Magistrate Judge Steven Rau said Rana, the defendant, admitted during investigations of robbing five banks.
She said that she heard voices in her head and she thinks of harming herself. The Star Tribune that publishes in Minnesota State said on Friday that Rana who lives in Roseville city is charged of robbing five banks. She was arrested while she was shopping in one of the Roseville malls on Sept. 10.
The daily said the Judge Rau agrees with the prosecution that Rana is a flight risk if released. Rau said someone connected to Rana had telephoned the latter's mother and asked of the possibility of her daughter coming to Saudi Arabia so as to "make this all go away." Rau issued his decision on Rana last Thursday. Newspapers in Minnesota and Wisconsin states published a picture of Rana in black sunglasses from surveillance cameras. She covered her head while robbing the banks.
The FBI believes Rana robbed Klein Bank in Cologne, Minnesota State on Aug. 15, TCF Bank in Forest Lake on Sept. 1, and First State Bank and Trust in Hudson in Wisconsin State on Sept. 5. It is also believed that she robbed Nearest State Bank of Wyoming in Sticy city in Minnesota on Aug. 23. The next day after committing the crime, she celebrated her 23rd birthday. She robbed Dairy State Bank in Menomonie in Wisconsin State last Monday.
Rana completed her high school education in 2008 in Roseville High School. Associated Press mentioned on Friday that federal agents said she used the last amount she robbed to purchase a laptop from Roseville Mall. Rana is being detained in Ramsey County jail, which is a federal penal institution. — Agencies
http://www.saudigazette.com.sa/index.cfm?method=home.regcon&contentid=20130930182079
----------
The State School Where Girls Are Forced To Wear Hijabs In and Outside School
September 30, 2013
Pupils have to wear Hijabs in and OUT of class for the first time at a state-backed school in Blackburn.
The cover-up was ordered at the 800-pupil Tauheed ul Islam Girls' High School where students already have to dress in long purple tunics over black trousers to ensure flesh is not seen.
Under the rules, pupils must 'wear the Hijab outside the school and home, recite the Quran at a least once a week' and not have stationery which shows 'un-Islamic images' like pictures of pop stars.
Ten per cent of the students in the sixth-form wear the Niqab veil which covers the face except the eyes.
The voluntary-aided school is the flagship of the Tauheed ul charitable trust which wants to open 12 Muslim free schools across the country.
Three have been approved so far with one in Hackney opening this month, despite concerns raised by a former government advisor on the prevention of terrorism.
Haris Rafiq told the Sunday Times: 'I think it threatens to create young British Muslims who are not able to integrate in the wider society, who are living in isolation and outside the wider community.'
In a statement on the school website headmaster Hamid Patel said: 'This story is wrong. It is totally incorrect to say that pupils are 'forced' to wear Hijab outside of school.
'We are extremely sorry that despite repeated attempts by us to make sure the Sunday Times got their facts right, this newspaper chose to willfully misrepresent our school.'
Meanwhile, David Cameron said today the state should back institutions such as schools, courthouses and immigration centres which require individuals to remove face-covering veils.
Mr Cameron said he did not believe there should be a ban on wearing the Niqab - which conceals the whole face - in the streets.
But he made clear he was 'happy' to look at the issue of whether the state needed to do more to back up institutions which choose to implement a ban.
Mr Cameron told BBC1's Andrew Marr Show: 'We are a free country and people should be free to wear whatever clothes they like in public or in private.
'But we should support those institutions that need to put in place rules so that those institutions can work properly.
'So for instance in a school, if they want that particular dress code, I believe the Government should back them. The same for courts, the same for immigration.
'I think we should back those institutions that want to have sensible policies that actually have a particular purpose.'
Asked if he would respond to a judge's suggestion that there should be national guidelines on the wearing of the Niqab in court, Mr Cameron said: 'I'm very happy to look at that.
'Obviously, in court the jury needs to be able to look at someone's face. I've sat on a jury, that's part of what you do.
'When someone is coming into the country, an immigration officer needs to see someone's face.
'In a school, it's very difficult to teach unless you can look at your pupils in the eye.
'It's a free country and I think a free country should have free and independent institutions. No plans for anything on the street, but if the Government needs to do more to back up institutions, then I would be happy to look at that.'
http://www.dailymail.co.uk/news/article-2437198/Wear-hijabs-class-Pupils-state-Islam-school-forced-cover-Muslim-headscarf.html#ixzz2gMpulhPh
----------
Despite Constraints, Saudi Women Upbeat about Empowerment
September 30, 2013
Despite a recent World Bank report saying that Saudi Arabia tops the list of countries for laws that limit women's economic potential, Saudi women are optimistic that empowerment among them is growing.
The World Bank report notes that nearly 90 percent of the 143 countries surveyed have at least one law on the books that ban women from certain jobs, making independent decisions, opening a bank account or accessing money.
In Saudi Arabia, the era of being limited to work in certain job categories, such as schools and kitchens, has jeopardized the earning prospects for many Saudi women.
Yet several Saudi businesswomen have made it to the world's most influential women's list. They have also taken steps to own businesses and be part of the Kingdom's highest legislative body — the Shoura Council.
In fact, Saudi women are one of the most economically powerful women in the Middle East.
According to a study by the Sayyida Khadija bint Khuwaylid Center of the Jeddah Chamber of Commerce, Saudi businesswomen possess bank savings worth more than SR45 billion and SR8 billion in investment funds. Moreover, women's real estate investments amount to nearly SR120 billion. The report also notes that Saudi women own 40 percent of the family-run companies in the country.
"King Abdullah has a strong desire to see women advance in Saudi Arabia," said Fawzia Al-Bakr, Saudi academic and author, in a March interview with TIME magazine.
"He wants them to work, he has given them scholarships (to Western universities), and now, with the Shoura Council, he is tackling the most difficult issue in our society today: segregation. If you can get rid of segregation, then most of our problems will be solved," said Al-Bakr.
Early this year, Newsweek magazine named Al-Bakr among 125 women to have significantly and visibly influenced their societies.
In the steadfast campaign for social and economic change in the Kingdom, women are gradually progressing from merely dependent roles to superior positions.
"The businesses we have here for Saudi women are minor businesses," said Rania Salama, chairperson of the Young Businesswomen Committee at the Jeddah Chamber of Commerce and Industry (JCCI).
"Maybe we need to think big to keep in line with international businesswomen. We need to help them be more competitive, to have a competitive advantage in their businesses and generate more creative ideas. We have so many clones of the same businesses; they are either Abaya designers or cupcake makers," said Salama, adding that women's businesses have a few unique expertise.
"At the Young Businesswomen Committee at the JCCI, we have witnessed some good examples of young and successful businesswomen who have taken the challenge and the initiative to start their own businesses in different fields," Salama said. "So, there are successful stories but we have to work on helping them think in a different way and start taking risks."
Salama added that if the thought process is altered, 100 Abaya designers could merge their businesses together to form companies instead of just running small home-based businesses. "If they change the way they think about their businesses, they will be able to get funds from banks and help from other places," Salama said.
In May, Saudi women's rights activist Sohaila Zain Al-Abedeen Hammad was nominated for the medal of excellence for the most influential figure in the world by Waldenburg International College and the International Council for Human Rights, Arbitration, Political and Strategic Studies.
"We worked on a program called the Jeddah Entrepreneurs Meet, where we took a number of young businesswomen, trained them, provided them with funds and gave them internships to help them start their own businesses and expand," said Salama. "We concentrated on the competitive advantage, so they can build a stronger business here."
Salama indicated that there are many existing businesses that need to be developed and expanded. "We want to feel that they are strong businesses that can recruit more people and compete in the market."
"Regarding reaching an international level, Saudi businesswomen have to go a long way to keep in line," said Salama.
In a recent report, Fahd Al-Tukhaifi, assistant undersecretary at the Ministry of Labor, emphasized the ministry's plan to expand job opportunities for women to cut down unemployment among them. "The government decision aims at creating a suitable working atmosphere for Saudi women," he said.
http://www.arabnews.com/news/466163
----------
URL: https://newageislam.com/islam-women-feminism/medina-court-upholds-whatsapp-divorce/d/13755