New Age Islam News Bureau
8 Jul 2018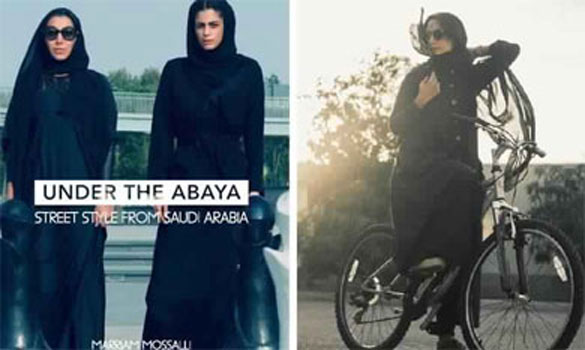 Mossalli — founder of fashion website ShoesandDrama.com, as well as luxury consultancy firm Niche Arabia — recently added 'author' to her resumé. (Photo supplied)
----
• 'Under The Abaya' — Changing the Perception Of Saudi Arabian Women
• Belgium: Prosecutors Probe Violent Islamophobic Attack On Muslim Teen Girl
• Women 20 Holds Roundtable on Financial Inclusion in Saudi Arabia
• Woman Alleges 'Love Jihad', Says Husband Hid the Fact He Is Muslim
• Egypt Sentences Lebanese Female to Eight Years Jail for Facebook Post
Compiled by New Age Islam News Bureau
URL: https://www.newageislam.com/islam-women-feminism/me-hijab-5-montreal-muslim/d/115764
--------
Me and My Hijab: 5 Montreal Muslim Women Speak For Themselves
July 7, 2018
They aren't usually given a voice, but it's not because they have nothing to say.
They are regularly spoken about rather than being asked to speak for themselves.
They are dismissed as oppressed and submissive when, more often than not, they are strong and accomplished.
Muslim women in Quebec are sadly inured to being maligned, marginalized and misrepresented. And as provincial party leaders prepare to head out on the campaign trail in preparation for the October election, they are bracing to once again become lightning rods.
For more than a decade now, Quebec has been locked in a struggle over the reasonable accommodation of minorities — a debate is that is frequently anything but, and tends to intensify come election time.
Muslim women, particularly those who wear the hijab as a visible marker of their faith, have born the brunt of the sometimes ugly identity politics that tend to arise as a result. Whether it's the Parti Québécois's Charter of Values, which would have prevented everyone from doctors to bureaucrats from wearing headscarves, turbans or kippahs, or the Liberal government's Bill 62, which restricts anyone with a covered face from giving or receiving public services, these laws seem aimed at dictating what Muslim women wear in the name of secularism and equality.
But missing from the debate are Muslim women. They are often discussed, but not as often invited into the discussion. Talk to them, however, and they are eager to speak for themselves. Get to know Muslim women and they will defy the one-dimensional stereotypes perpetuated about them. Give them a say and they will dispel the myths that they are helpless victims of a paternalistic religion or that their faith is incompatible with feminism and equality.
Studies demonstrate that Muslim women are among the most highly educated minority groups in Canada, with 56 per cent possessing post-secondary degrees in 2011. Not all wear the veil. A 2016 Environics poll of Canadian Muslims found 48 per cent of female respondents (and of that, 60 per cent of those age 18 to 34) wear the hijab, while just two per cent wear the niqab, or full face veil. Of those who wear any head-covering at all, another study shows it is overwhelmingly a matter of choice and conviction. The Environics poll also indicates that those who are veiled are more likely to be singled out for discrimination or insults.
The Montreal Gazette recently spoke to a teacher, a journalist, a candidate for the provincial election, an activist and an aspiring police officer — all Muslim women who wear the hijab proudly and have much to say and contribute.
Nadia Naqvi, a Grade 9 science teacher at Beaconsfield High School, is a natural authority figure who is bubbling with energy. She strives to be a role model for students in her classroom and has also given talks about hate and Islamophobia since the shooting at a Quebec City mosque in 2017, where six worshippers were killed and scores injured.
Fariha Naqvi-Mohamed, her cousin, launched her journalism career with an impassioned open letter to then-premier Pauline Marois at the height of the Charter of Values debate that ended up going viral. She loves poutine and hockey. She is a diversity marketing specialist, writes a blog called CanadianMomEh, and now has a column in the Montreal Gazette.
Aziza Dini is the first hijab-wearing Muslim woman to officially launch a bid to seek provincial office — something that wasn't even possible until Elections Quebec changed an arcane rule that required candidates to show their heads, shoulders and necks in campaign photos. Dini will run for the Quebec Green Party, which was instrumental in pushing for an update to the regulations. She will face off against Health Minister Gaétan Barrette in La Pinière riding.
Razia Hamidi is an activist and community organizer who has often served as a spokesperson on Muslim issues.
Sondos Lamrhari, 18, is a student in police sciences at Collège Ahuntsic. Her goal to be a police officer became front-page news and a hot-button topic of debate in the National Assembly in April.
It happened shortly after Montreal Mayor Valérie Plante weighed in on the question of whether officers should be allowed to incorporate religious symbols into their uniforms. Plante said she was favourable, but would let the Montreal Police determine its own policy. The force said the issue was purely theoretical, since there'd never been a request. So a reporter from Le Journal the Montréal called around to all the police tech programs in Quebec to see if there were any students with religious garb coming up through the ranks. She eventually found out about Lamrhari, who agreed to give her an interview.
Reaction to news of Lamrhari and her goal was swift, furious — and predictable. Poll-topping Coalition Avenir Québec leader François Legault even vowed to meet Lamrhari face-to-face to tell her why he would never allow her to wear her hijab as a police officer if he becomes Quebec's next premier.
The bright, articulate, athletic student didn't set out to be a barrier breaker, she said recently. When she enrolled in her police tech program a year ago, she figured she was a rarity and would end up being a pioneer of sorts. She only realized from that news report that she might end up being a first.
Whether she intended to become a trail-blazer or not, Larmhari may inevitably become a test case for the province's willingness to accommodate her career ambitions and identity.
Quebec's police academy in Nicolet is in the process of determining its policy on training future officers who wear religious insignia, which will affect Lamrhari's application after she finishes her college program in three years. But Lamrhari's fate may also become a barometer of Quebec's tolerance — if whichever party wins the next election decides to toughen restrictions on religious dress.
Lamrhari said she remains committed to pursuing her path, even if she finds her way barred.
"I can only respond by saying that if it comes to that, it will be too bad," she said. "It's my identity to wear the hijab. And it's my dream to be a police officer. Those are things that aren't ever going to change."
Lamrhari and other Muslim women are ready to challenge prejudices and a status quo that underestimates what they have to offer — if we just, as Naqvi-Mohamed said, pass them the mic.
https://montrealgazette.com/news/local-news/me-and-my-hijab-5-montreal-muslim-women-speak-for-themselves
--------
'Under The Abaya' — Changing the Perception Of Saudi Arabian Women
July 07, 2018
DUBAI: When it comes to Saudi Arabian women and their fashion sense, there's one preconception that particularly grates on Marriam Mossalli.
"That we eat, pray, sleep and bathe in our black abayas!" she says with a laugh. "They actually come off — and underneath, you will find the latest trends in fashion just like any other highly fashion-conscious society."
That's one of the main reasons the Jeddah-based entrepreneur, journalist and fashion consultant decided to use her platforms to change perceptions of women in her homeland, and to support local industry in the Kingdom.
Mossalli — founder of fashion website ShoesandDrama.com, as well as luxury consultancy firm Niche Arabia — recently added 'author' to her resumé with the release of her book "Under the Abaya: Street Style from Saudi Arabia."
Released earlier this year, the publication explores "the Saudi female's unique versatility" through a series of curated photographs — images as compelling as they are eccentric.
"Having worked in the fashion industry for over a decade, I always wanted to do something to highlight the diverse and insanely up-to-trend fashion scene in Saudi Arabia; but I also knew I wanted to do something for female empowerment even more," Mossalli says. "So, when (Jeddah-based) Misk Art Institute invited me to participate in the first Art Books Fair (which took place in February), I felt it was as good a time as any to try to break the stereotypes of Saudi females often portrayed in Western media." It all started when the 32-year-old posted to her tens of thousands of Instagram followers about the project, inviting women to submit pictures representing their style.
"We had over 1,000 submissions within a week from a single social media post. The response has been truly overwhelming," she says. "I shot my own images myself but the rest of the book was all submitted by doctors, yoga instructors, photographers, and fashionistas. We are currently open for submissions for the second edition."
While the first publication was released in the Kingdom, the second is going global — it will launch on the sidelines of the Contemporary Muslim Fashion exhibition at the de Young Museum in San Francisco in September. A smart move, given the current political climate.
"I want to show the world that Saudi women are more than these muted, black figures you see on Fox News walking five feet behind her 'mahram,'" Mossalli says. "We have opinions and ideas, and are making changes accordingly."
The book, she adds, complements the online platform undertheabayaksa.com.
"(The website) is inspired by 'Humans of New York,' where people submit their own pictures and tell us who they are, what they do… their story. Our hope is to create positive connotations around Saudi women and Saudi Arabia."
Proceeds from the book, which is produced by Niche Arabia, will be used toward scholarships for aspiring fashion design students.
Asked whether she has faced any criticism for the project, the fashionista says it has been the "complete opposite."
"A few years ago, I had mentioned possibly doing a street-style book, and many women said they would participate but with cropped-out faces." Now, however, it's a different story, with 99% of those featured having no issue with showing their faces.
"In fact, many wanted to put their Instagram handles next to their names," Mossalli explains. "It was honestly shocking for me to see the shift in societal taboos that has happened within a mere two years."
It's apparent that promoting Saudi, no matter the venture, is important to Mossalli.
"Since I moved back to Saudi after graduating from George Washington University, I have always been a champion of Saudi talent," she says. "All my endeavors seem to be quite nationalistic.
"I entered adulthood in a post-911 world, where the media's portrayal of Saudi Arabia was very one-dimensional. I believe I've been trying to counteract those depictions ever since my first job as a novice journalist."
Recently, Mossalli and her Niche Arabia team were at the Cannes Film Festival: "We saw Saudi haute couture brand Ashi Studio dressing many celebrities on the red carpet. Niche Arabia was responsible for dressing Alessandra Ambrosio in Saudi fine jewelry brand — Nadine Jewellery — as well as styling Razan Alazzouni," she says. "Alessandra said she got so many compliments from her Chopard-clad celebrity friends, and that she was so in love with the SAR 1 million multi-colored stone set she wished she could keep it. I told her, 'Don't we all?' and carefully slipped it back into its case."
Protecting million-riyal items aside, Mossalli now wants to focus on a few passion projects, including a graphic novel based in NEOM, the "transnational" city slated for construction in Tabuk, Saudi Arabia, with a Saudi female protagonist; launching another philanthropic venture with L'Azurde jewelry; and creating female-license-plate gold bracelets, the funds from which will go toward putting underprivileged women through driving school.
"I've also teamed up with Saudi designer Eman Joharjy and Emirati designer Fatma Al-Mulla to create active-wear abayas to reflect the busy lifestyles of Saudi women," she adds.
So, she's certainly keeping busy. And one thing is for certain: Saudi women will always be at the heart of whatever she does.
"We've always been ambitious achievers," she says. "The only difference now is that we have our government and society championing us to go out there and be seen for who we are and what we do.
"What I hope to see is a future where Saudi women doing things isn't labeled 'a first,' but rather that our participation is normalized. It will no longer be news, but the norm," she continues. "Then we can stop being the first, and start being the best." http://www.arabnews.com/node/1334836/lifestyle
--------
Belgium: Prosecutors Probe Violent Islamophobic Attack On Muslim Teen Girl
5th Jul 2018
By Serife Cetin
BRUSSELS (AA): Belgian prosecutors will decide on Wednesday evening if Monday's attack against a young Muslim girl was carried out due to Islamophobia or not.
On Monday night, two assailants attacked a 19-year-old Muslim teen in Anderlues municipality of the country, reportedly tearing off her clothes, leaving her with deep marks across her bare chest, legs and stomach inflicted by a sharp object.
The Inter-federal Centre for Equal Opportunities (UNIA) spokesman Bram Sebrechts told Anadolu Agency the attack was motivated by Islamophobia in his opinion.
However, the Charleroi Prosecutor's Office will make a ruling on the nature of the attack, Sebrechts said, adding the office would later contact the victim following the confirmation.
He said Muslims were increasingly becoming targets of anti-Muslim attacks, the spokesperson said.
Islamophobic attacks are gradually evolving and need to be averted, he added.
Belgian parliamentarian of Turkish origin Mahinur Ozdemir said the young woman was out at night searching for her cat when she came under attack.
Ozdemir said the victim could have been murdered.
"If measures are not taken it will be unfortunately impossible to prevent such attacks," he warned.
The EU has lately witnessed growing Islamophobia and hatred of migrants in recent years triggered by propaganda from far-right and populist parties, which have exploited fears over the refugee crisis and terrorism.
http://muslimnews.co.uk/news/islamophobia/belgium-prosecutors-probe-violent-islamophobic-attack-muslim-teen-girl/
--------
Women 20 Holds Roundtable on Financial Inclusion in Saudi Arabia
Jul 08, 2018
RIYADH — Women 20 held its third roundtable with more than 40 people, including delegates, experts and special guests, who addressed the main topics of the agenda of financial inclusion for women.
The activity, supported by the British Bank of Saudi Arabia (SABB), was carried out in Riyadh where the key points of the financial inclusion agenda were addressed: access to financing for women-owned and women-led companies, financial products with a gender perspective, digital opportunities for the financial industry and the lack of databases disaggregated by gender. The meeting took place as part of the meetings and forum of the Global Partnership for Financial Inclusion of the G20 Finance Track.
Susana Balbo, Chair of the W20, stressed the importance of ensuring access to financial products: "having access to opportunities and bank and financial services is crucial in all sectors to enable women to grow their businesses and grant them economic autonomy. Thus, women can be economically independent."
In addition, Dr Khalid Alyahya, Deputy Secretary General for the Saudi Secretariat of the G20 and Sous-Sherpa, opened the meeting: "The Women 20 roundtable is a valuable opportunity to hear about the challenges and opportunities for access to financial services by women. Here in Saudi Arabia, we recognize the contributions women make to society and our Vision 2030 focuses on empowering women to realize their full potential." The Saudi authority also thanked Argentina for the great work done in highlighting the importance of women in economic development.
The meeting continued with the technical presentation and discussion of the participants. The four central points had to do with the main barriers to women's financial inclusion. In addition, the under-representation of women in the financial industry was one of the topics addressed. In this regard, Dr. Alfred Hannig, of the Alliance for Financial Inclusion, warned that only 8 of the 104 institutions they work with have a woman leading the government's financial agency.
The W20 calls on the G20 Member States to take coordinated action to increase the participation of women in the financial sector. The 4 main recommendations that were agreed in the roundtable today will be published in a Communiqué next week which will then be presented to the G20 leaders at the W20 Summit in October. Renu Koli, delegate of the W20 for India, highlighted the work carried out: "the lead taken by W20 Argentina with Saudi Arabian W20 support will with not doubt boost G20's gender-inclusion actions".
The main objective of Women20 is to promote the economic empowerment of women as an integral part of the G20 process. By means of dialogues conducted virtually, expert meetings, roundtables and the final W20 Summit, the W20 works to jointly produce concrete recommendations and advance gender equality in G20 negotiations. — SG
http://saudigazette.com.sa/article/538467/BUSINESS/Women-20-holds-roundtable-on-financial-inclusion-in-Saudi-Arabia
--------
Woman Alleges 'Love Jihad', Says Husband Hid the Fact He Is Muslim
Jul 08, 2018
Meerut: A case of love jihad has emerged in Uttar Pradesh' Meerut where a woman has accused her husband of marital rape and forceful conversion to Islam from Hinduism.
The woman, who hails from Kolkata, alleged that her husband married her on the pretext of being a Hindu. "He used to visit my village for work during which my father developed a friendship with his uncle." The victim added that her mother was not keeping well for some time and hence her family decided to marry her off to the man.
The woman claimed that after staying for a while in Kolkata, her husband brought her to Sardhana in Meerut.
"10 years back I married my husband knowing that he was a Hindu, but after I moved to my in-laws' house in Meerut, I found out that my husband was a Muslim. He also tried to convert me to Islam," she said.
She further alleged that her in-laws forced her to remarry her husband as per and kept her confined for almost 10 years in Sardhana. During this time, she was reportedly assaulted several times by her husband's family members who tried to kill her.
She also accused her brother-in-law of rape attempt to which she resisted following which her in-laws dumped her in a nearby jungle in the area.
On Saturday, the woman, accompanied with several Bajrang Dal members, approached the Senior Superintendent of Police and requested him to give her justice. "It has been 10 years, now this allegation has come. This could also be a result of a domestic dispute. An investigation will bring out the truth," said Meerut SSP Rajesh Pandey.
A probe has been launched into the matter.
http://zeenews.india.com/uttar-pradesh/woman-alleges-love-jihad-says-husband-hid-the-fact-he-is-muslim-2123034.html
--------
Egypt Sentences Lebanese Female to Eight Years Jail for Facebook Post
7 July 2018
A Lebanese tourist who was arrested last month for posting a video on Facebook complaining of sexual harassment and conditions in Egypt was sentenced to eight years in prison by a Cairo court on Saturday, her lawyer told Reuters.
Mona al-Mazboh was arrested at Cairo airport at the end of her stay in Egypt after a 10-minute video in which she called Egypt a "son of a b**** country" went viral on social media.
The 24-year-old al-Mazboh complains of being sexually harassed by taxi drivers and young men in the street, as well as poor restaurant service during the holy month of Ramadan and an incident in which money was stolen from her during a previous stay.
A Cairo court found her guilty of deliberately spreading false rumors that would harm society, attacking religion, and public indecency, judicial sources said.
An appeal court will now hear the case on July 29, according to al-Mazboh's lawyer, Emad Kamal.
"Of course, God willing, the verdict will change. With all due respect to the judiciary, this is a severe ruling. It is in the context of the law, but the court was applying the maximum penalty," he said.
Kamal said a surgery al-Mazboh underwent in 2006 to remove a brain clot has impaired her ability to control anger, a condition documented in a medical report he submitted to the court. She also suffers from depression, he said.
https://english.alarabiya.net/en/News/middle-east/2018/07/07/Egypt-sentences-Lebanese-female-to-eight-years-jail-for-Facebook-post-.html
--------
URL: https://www.newageislam.com/islam-women-feminism/me-hijab-5-montreal-muslim/d/115764
New Age Islam, Islam Online, Islamic Website, African Muslim News, Arab World News, South Asia News, Indian Muslim News, World Muslim News, Women in Islam, Islamic Feminism, Arab Women, Women In Arab, Islamophobia in America, Muslim Women in West, Islam Women and Feminism