New Age Islam News Bureau
06 August 2022
• Australian Tina Rahimi, First Hijabi Boxer at the 2022 Commonwealth Games Wins Medal
• FB Photos, Music in Nikah: Girls Who've Faced Deoband Ulema's' Ire
• Turkish Woman Wins UK Reality Show 'Love Island'
• 31 Saudi Women to Drive High-Speed Trains Soon
• Tanzanian Women Small Business Entrepreneurs Face Challenges
• Maliyekkal Mariyumma, First Muslim Woman in Kerala To Learn English No More
Compiled by New Age Islam News Bureau
URL: https://newageislam.com/islam-women-feminism/makkah-prophet-mosque-madinah-female/d/127660
--------
Makkah Grand Mosque, Prophet's Mosque in Madinah Assigned Female Undersecretaries to the Presidency for the First Time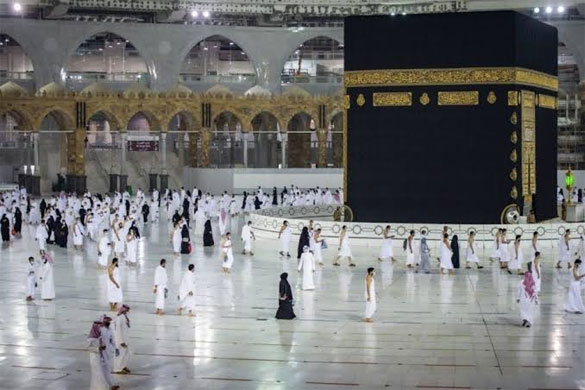 Photo: Kashmir Photo
----
July 31, 2022
JEDDAH: For the first time since its establishment, the General Presidency for the Affairs of the Grand Mosque and the Prophet's Mosque has recently assigned women to the roles of female undersecretaries and assistant undersecretaries.
Sheikh Dr. Abdulrahman Al-Sudais, head of the authority, issued a decision assigning several female undersecretaries and assistant undersecretaries to the presidency.
The decision is part of a series of administrative initiatives aimed at upgrading the work system, empowering women and qualified national cadres, humanizing services and developing the work environment and governance of the presidency.
The undersecretaries of the General President for Women's Affairs include Undersecretary-General for Women's Affairs at the Grand Mosque Dr. Noura Al-Thuwaibi; Undersecretary-General for Libraries and Cultural Affairs Dr. Kamelia Al-Daadi; and Undersecretary-General for the Empowerment of Women, Initiatives and Vision Achievements Dr. Maram bint Abdulkarim Al-Maatani.
Last year, the presidency announced that it had trained around 600 female employees of its agencies.
The Women's Development Affairs Agency, led by Deputy President Al-Anoud Al-Aboud, employs 310 of those women.
Around 200 women work for the Agency for Women's Scientific, Intellectual and Guidance Affairs, previously led by Al-Thuwaibi.
The rest of the trained women work at the Agency for Women's Administrative and Service Affairs, under the leadership of Al-Daadi.
Source: Arab News
https://www.arabnews.com/node/2133201/saudi-arabia
--------
Australian Tina Rahimi, First Hijabi Boxer at the 2022 Commonwealth Games Wins Medal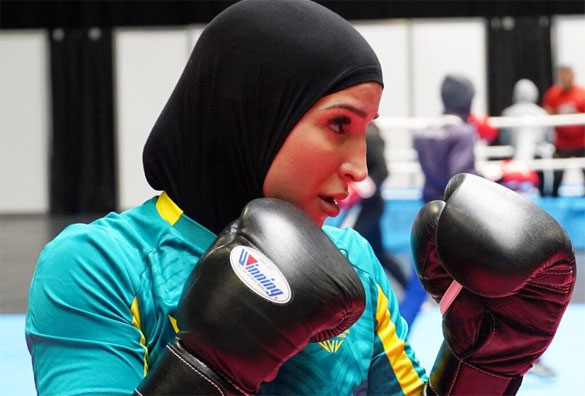 Tina Rahimi
----
Maisah
AUGUST 5, 2022
Tina Rahimi caught public attention after she became the first female Muslim boxer to represent Australia at the Commonwealth Games that started last week in Birmingham, England.
Originally from Bass Hill, Sydney, Tina will compete in the 57 Kg divisions. She will be one of eight boxers representing Australia for the first time in an international match.
The 26-year-old hijab-wearing boxer was called up to join the Australian Boxing Team just four years after her first fight. Tina is known to have only started boxing in the past few years, and she previously worked as a make-up artist.
Tina was allowed into the ring on Friday morning to compete at the 57kg featherweight despite her absence from the team Games camp in Sheffield earlier this year when she and fellow Muslim teammate Taha Ahmad celebrated Ramadan under the coach's blessing.
Tina admits that training in Ramadan is challenging, considering that she carries out her duty as a Muslim to pray five times a day and observes Ramadan fasting from dawn to dusk, must combine her daily routine with heavy boxing training and weight requirements.
Tina, an Australian-born Muslim with Iranian parents, usually competes wearing long sleeves, tight pants, and a hijab. She said faith is a part of her, forming an essential part of her pre-fight routine. While most boxers will listen to kinds of music before a fight, she has a habit of praying before starting the fight.
She hopes that being the first Muslim woman to represent Australia in boxing can inspire other women from all walks of life to enter the sport. Tina, who first joined the ring in Sydney west of Sydney in 2017, has a record match of 15 defeats and two wins.
Not only Tina but many other Muslim boxers have joined the sport since the International Boxing Association (IBA) changed the rules to allow Muslim fighters to wear the hijab and cover the whole body in the ring in 2019.
In May 2021, Haseebah Abdullah was recognized as a "Hometown Heros" by the Birmingham 2022 Commonwealth Games for her significant role in making boxing more inclusive as Britain's first hijabi boxing coach.
Source: The Islamic Information
https://theislamicinformation.com/news/tina-rahimi-first-hijabi-boxer-2022-commonwealth-games-wins-medal/
--------
FB Photos, Music in Nikah: Girls Who've Faced Deoband Ulema's' Ire
AUGUST 03, 2022
Former 'Indian Idol' contestant Farmani Naaz's devotional song on the theme of Kanwar Yatra has run into a controversy, with a Deoband cleric terming it "un-Islamic" and "haram" (forbidden).
The singer, on August 1, defended herself saying artistes do not have a religion and that she has not erred.
Naaz, a resident of Muzaffarnagar, had a few days ago lent her voice to 'Har Har Shambhu Shiva Mahadev' based on the theme of the ongoing Kanwar Yatra and the song garnered appreciation from the public.
Darul Uloom Deoband is an Islamic seminary (Darul Uloom) in India that is the birthplace of the Sunni Deobandi Islamic movement. It is situated in Deoband, a town in Uttar Pradesh's Saharanpur district.
This is not the first time Uttar Pradesh's Deoband cleric, and clerics of other Muslim boards, have issued controversial fatwas.
'No Music in Nikah'
Islamic scholars in Jammu and Kashmir's Poonch in January issued a fatwa against playing music, DJs and beating drums during marriage functions. The announcement was made in Mankote, with clerics warning that Nikah or Namaz-e-Janaza would not be performed if any family played music during weddings.
Islamic authorities stated that if the groom requested dowry from the bride's family, the wedding festivities would also be restricted, including playing music or using fireworks during the wedding ceremony.
Fatwa Prohibiting Photos on Facebook, WhatsApp
The Darul Uloom Deoband issued a fatwa prohibiting Muslim men and women from posting photographs of themselves and their families on social media sites.
In the fatwa issued on October 18, Darul Uloom Deoband, one of the largest Islamic seminaries in India, has said that posting photos of self or family on social media sites such as Facebook, WhatsApp is not allowed in Islam.
Mufti Tariq Qasmi, an Islamic scholar associated with a madrasa here, said that when clicking pictures unnecessarily is not allowed in Islam how posting photos on social can media be allowed.
Alleged Fatwa, Death Threat against Doctor
A cleric was on April 5 arrested for allegedly issuing a death fatwa against a doctor who had recently showered flower petals on Rashtriya Swayamsevak Sangh (RSS) members in Moradabad's Mahmudpur village.
Hafiz Imran Warsi, who was arrested on Tuesday night, had announced a reward of Rs 1 lakh to anyone who killed Nizam Bharti or drove him out of the village, the complainant alleged in his FIR against him. According to police, Nizam claimed that the fatwa also banned his entry into mosques.
Warsi, however, refuted the allegations and said he has not issued any fatwa. "I am not a mufti and I cannot issue a fatwa. This doctor has lodged a false case against me as I am opposed to his illegal activities," he told the media while in custody.
'Necktie Emblem of Christians; Haram'
The website of Darul Uloom Deoband frequently posts answers to queries of its Muslim followers related to family, health, and other subjects. When a student of class 8 asked if the tie is haram or halal as it was compulsory in the school, the Darul website categorically called the practice of wearing a tie 'haram' for Muslim students. It said tie is an emblem of Christians and so, Muslim students should not adopt it as it is unlawful and against the Islamic spirit.
Fatwa to Divorce 2nd Husband, Remarry 1st
This bizarre fatwa was issued last year in Bangladesh, where a court in Panchagarh issued arrest warrants for nine people allegedly involved in issuing a fatwa for 'halala' marriage that led to a middle-aged couple being isolated for four months in their village.
Aynal Haque, 52, and his wife Jamiran, 42, were targeted by a radical Islamist leader's 'fatwa' (religious edict) calling on Jamiran to marry another man, get divorce from him, and then remarry Aynal. As the couple ignored the diktat, the Islamist leader asked everyone in the neighbourhood in Salimnagar village to isolate the couple as a punishment.
Source: News18
https://www.news18.com/news/india/as-muslim-singer-draws-ire-of-deoband-uloom-over-bhajans-a-look-at-fatwas-against-facebook-photos-music-in-nikkah-and-more-5679613.html
--------
Turkish woman wins UK reality show 'Love Island'
August 04 2022
Ekin-Su Cülcüloğlu, a Turkish-English actress and model, has been crowned the winner of "Love Island," a U.K. reality show, with her Italian partner, Davide Sanclimenti, winning the show's $61,000 prize money.
The pair, both 27, said they "could not believe" they won at the end of the ITV2 dating show's final stage on late Aug. 2.
The couple described their time on the show as a "dream."
Cülcüloğlu, who has more than 1 million followers on Instagram, has been bombarded by sponsorship offers from world-famous fashion labels after the result of the show.
"Apart from the prize money, Cülcüloğlu is expected to be the highest earning 'Love Island' contestant with the money flowing from the sponsors," daily Milliyet reported on Aug. 3.
The total earnings the show will bring to Cülcüloğlu is expected to be more than $1.2 million.
Cülcüloğlu named Sanclimenti, a business owner from Rome, Italy, a "man of dreams" in her interview after the show.
"It feels so surreal, finding the man of your dreams and just growing, I'm lost for words," she said, describing their relationship as "absolutely bonkers, crazy, romantic and fun."
Cülcüloğlu, who was born in 1994 in London, split her time between the U.K. and Türkiye. On 2020, she portrayed a photographer in a Turkish TV series and a serial killer in a Turkish soap opera.
Source: Hurriyet Daily News
https://www.hurriyetdailynews.com/turkish-woman-wins-uk-reality-show-love-island-175838
--------
31 Saudi women to drive high-speed trains soon
August 5, 2022
Thirty-one Saudi women have completed their training to drive high-speed trains in Saudi Arabia, after passing the first stage of the theoretical training that began last January.
The trainees entered the second phase, which will last for about five months. The trainees will attend the practical training in the cockpit in the presence of professional drivers.
Training is expected to end in December so that female drivers will start to drive trains between Saudi cities.
The Saudi trainees have passed many theoretical tests, including tests for traffic and safety systems, work hazards, firefighting, technical aspects related to train infrastructure.
In the coming stages, the number of Saudi men and women drivers will be increased, as it is expected that the demand will grow significantly during the next few years for travel by train, especially during the Hajj and Umrah seasons.
Source: Egypt Independent
https://egyptindependent.com/31-saudi-women-to-drive-high-speed-trains-soon/
--------
Tanzanian women small business entrepreneurs face challenges
Kizito Makoye
06.08.2022
DAR ES SALAAM, Tanzania
For Zuwena Seif, transforming her shabby hair salon in the Tanzanian port city of Dar es Salaam into a larger main street enterprise was a challenging task.
"Without enough capital, this was my biggest challenge," she told Anadolu Agency.
The 44-year-old mother of four repeatedly applied for a bank loan, but her applications were rejected as she lacked a fixed asset to serve as collateral.
Sub-Saharan Africa has one of the highest rates of entrepreneurship in the world, with approximately 42% of the non-agricultural labor force classified as self-employed or employers.
However, analysts say most entrepreneurs are unable to expand their businesses beyond small-scale subsistence operations, impeding their contribution to poverty reduction and shared prosperity.
Although Seif had already found a niche for her salon that helped her attract a loyal clientele, the lack of a strong business plan and preparation made her business venture less profitable.
"I couldn't employ skilled hairdressers because I couldn't afford to pay them on a regular basis," she explained.
After a long battle for a loan, Seif eventually gave up and shut the salon down.
She has since switched over to the consumer goods business, which she says is more profitable.
She is among many women entrepreneurs who are struggling to eke out a living in a low-profit sector.
While owning a business in the lucrative beauty industry is a pretty safe bet, many women entrepreneurs are unable to capitalize on the opportunity.
"Running a hair salon pays well depending on the location and the facilities you have to attract customers," Seif said.
Hurdles to growth
Like elsewhere in Africa, Tanzania's entrepreneurs often face barriers to accessing desperately needed funds or feeling respected as business owners with a strong support system.
"Working as an entrepreneur isn't easy. Women particularly face many challenges, including cashflow problems and poor marketing skills," said Jane Magigita, founder and executive director of Equality for Growth, a local charity that supports women in the informal sector.
Most women entrepreneurs face a serious lack of business knowledge, she told Anadolu Agency, adding that "starting your own business can be a hard process that requires patience and know-how."
Apart from the typical entrepreneurial pitfalls, women who spoke with Anadolu Agency mentioned several challenges, including getting funding and the fear of failure.
Magdalena Kimboi, a market trader in the city, urged Tanzania's government to create a conducive environment for small-scale traders. "My business can only grow if I get support from the government. They must empower women to be more independent," she told Anadolu Agency.
Supplementing family income
In the smoldering heat of Tegeta, a bustling neighborhood in Dar es Salaam, Elizabeth Kasala is busy cooking maize meals, popularly known as ugali, plus fish stew and vegetables.
"Doing something is better than sitting idle because I get something to feed my children," she told Anadolu Agency.
Kasala, engulfed in smoke, grabs a handful of maize flour from a bag and sprinkles it in boiling water to make a thick consistency. "I cook ugali because the flour is cheap. If I had more money, I would cook rice and meat too," she said.
Kasala works seven hours a day and earns about 35,000 Tanzanian shillings (roughly $15) to supplement her family's income.
"When I told my husband about starting this business, he was skeptical, but now he's very happy," she said.
However, unlike other licensed traders who display their wares in wooden stalls, Kasala cooks in the open air and says she is often harassed by the city municipality.
"We always play hide-and-seek with the city administration, who frequently seize our utensils," she complained.
Source: Anadolu Agency
https://www.aa.com.tr/en/africa/tanzanian-women-small-business-entrepreneurs-face-challenges/2654924
--------
Maliyekkal Mariyumma, first Muslim woman in Kerala to learn English no more
06th August 2022
KOZHIKODE: Maliyekkal Mariyumma, who had dared the orthodox sections in the community by deciding to learn English in the 1930s, died at her native place in Thalassery in Kannur district on Friday evening. She was 97.
Mariyumma was the icon of progressive Muslims in Malabar, who narrated her inspiring story to the next generations. Her father O V Abdulla (senior) was a scholar in religion, who was proficient in six languages. It was her father and her grandmother Puthiyamaliyekkal Kunhachumma who gave the girl the courage to pursue studies in the face of stiff opposition from society.
Mariyumma was the lone Muslim girl in her class at the Sacred Heart High School (Convent school) in Thalassery during 1938-43. In her numerous interviews, Mariyumma had narrated the harrowing experience she suffered from the conservatives in the community, who could not think of a Muslim girl opting English education.
Those who were on either side of the road used to heckle the student when she was on her way to the school and back. Her father made arrangements for food and prayers at the school itself to avoid the insults. She passed the fifth forum in 1943. From her younger days itself, Mariyumma was active in public life. Her 'Tharavadu' was the hub of social activities and was constantly visited by stalwarts like K P Kesava Menon, Panampilly Govinda Menon and A V Kuttimalu Amma.
Mariyumma had addressed a public meeting in English at Mananchira in Kozhikode in the presence of Sheikh Abdulla. In his message, Chief Minister Pinarayi Vijayan said Mariyumma was a fighter who fought for the rights of girls. "She always stood with the progressive forces and became a symbol of secularism," he said.
Source: New Indian Express
https://www.newindianexpress.com/states/kerala/2022/aug/06/maliyekkal-mariyumma-first-muslim-woman-in-kerala-to-learn-english-no-more-2484548.html
--------
URL: https://newageislam.com/islam-women-feminism/makkah-prophet-mosque-madinah-female/d/127660
New Age Islam, Islam Online, Islamic Website, African Muslim News, Arab World News, South Asia News, Indian Muslim News, World Muslim News, Women in Islam, Islamic Feminism, Arab Women, Women In Arab, Islamophobia in America, Muslim Women in West, Islam Women and Feminism