New Age Islam News Bureau
11 October 2021
• Gender Equality: Women are at the Heart of UAE's Remarkable Success, Says Envoy
• Woman Offers Puja at Temple Built By Muslim Husband And Handed Over To Hindus In Karnataka
• Former Pakistan Women's Basketball Captain Empowers Girls with Training Camp
• Iran's Women's Football Team to Hold Camp in Belgium
Compiled by New Age Islam News Bureau
URL: https://www.newageislam.com/islam-women-feminism/rights-activist-tanzania-marriage/d/125554
--------
Girls' Rights Activists Demand Review of Tanzania's Marriage Law That Gives Parents the Right to Marry Underage Girls
Kizito Makoye
10.10.2021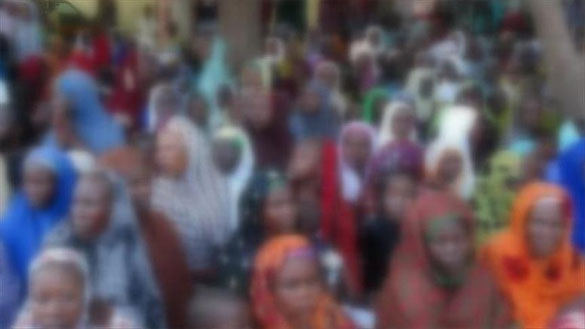 (Photo courtesy: aa.com)
------
DAR ES SALAAM, Tanzania
On the International Day of the Girl Child, activists in Tanzania strongly criticize the government for embracing a half-century-old marriage law that gives parents the right to marry underage girls.
Campaigners say it denies girls the right to an education while crushing their future dreams.
Tanzania's Marriage Act of 1971, sets the marriage age for boys at 18 while allowing girls as young as 14 to get married with a court or parental consent.
But campaigners oppose the law because they say it violates girls' right to education given that at that age girls are not biologically ready to conceive, give birth and face the challenges of raising a child.
Jean-Paul Murunga, a campaigner with Equality Now, a global charity working to defend young girls' rights, said Tanzania's vague and contradictory laws have failed to define who is a child.
"The Tanzanian government has yet to review the Marriage Act to provide protection against child marriage," Murunga told Anadolu Agency.
Age of consent
Murunga, who leads the charity's End Sexual Violence Team, said although the age of consent to matrimonial affairs in Tanzania is 18, there's no stated limit for males, consequently, child brides are denied the right to consent and are frequently subjected to statutory rape, which often results in early, unwanted and forced pregnancy.
"Girls who are wed are often given little choice in when their marriage will take place or who their husband will be, and it is common for the groom to be older, sometimes substantially older," he said
Child marriage is a serious public health problem in Africa. In Tanzania, the prevalence of child marriage is estimated at 37% with the majority of victims in rural areas.
The problem is often fueled by gender inequality and marriage-related social norms, pregnancy during adolescence, and poverty.
Almost one in three girls in Tanzania marry before they reach 18 and most have to drop out of school, according to Tamwa, a local charity tracking girls' rights.
Experts believe there is a strong correlation between child marriage, school dropout rates, early pregnancy, and HIV/AIDS.
Girl brides often experience a violent future as wives before they are physically and emotionally ready for sexual relations or become mothers.
Girls who are married before 18 are more likely to experience a range of other human rights violations, including physical and emotional violence, coercion, discrimination, and subordination in decision making, said Murunga.
He said that by having conflicting laws that permit girls to marry at 14 with a court's permission and 15 with parental consent, the Tanzanian government is exacerbating the denial of education to girls.
"Child marriages contribute to teenage pregnancy, which ultimately leads to girls being kicked out of school due to the government's discriminatory policy of permanently expelling pregnant girls from school and banning adolescent mothers from returning to school after giving birth," he said.
Tamwa and its Tanzanian partners have filed a joint case at the African Court on Human and Peoples' Rights against Tanzania, seeking to overturn the discriminatory ban.
Activists believe that preventing pregnant girls and adolescent mothers from attending public school denies them access to education and keep many ensnared in a cycle of poverty, exposing them to further abuses, including female genital mutilation and sexual and labor exploitation.
The country's controversial law on child marriage and the ban on teen mothers and pregnant schoolgirls, has denied many the opportunity to gain the skills and knowledge needed to succeed in life, said Murunga.
"They are prevented from securing the types of jobs that would enable them to raise themselves and their family out of poverty and contribute to their country's economic development and prosperity," he said.
Move to law review
Campaigners are pushing for a repeal of the controversial laws permitting child marriage.
"We have supported local civil society organizations to draft amendments and share these with members of parliament for their input and validation before tabling such amendments for parliament to debate and pass," he said
However, the government has been dallying dilly to implement the recent Court of Appeal judgment outlawing child marriage, on the pretext that consultations need to be done in the whole country, despite the existence of a court order mandating the amendments and repeal.
The East African country enacted several laws to protect women's and children's rights.
The Sexual Offences Special Provisions Act of 1998, which was enacted to protect women and children from sexual violence has virtually failed to address young girls' vulnerability to rape, leaving them exposed to violent acts.
Girls who are married at young ages believe the culture of silence and family taboos were responsible for their predicament.
"The whole society feels that it is right for a young girl to be married, that's why fighting underage marriage becomes difficult," said Saida Abdul, who got pregnant and escaped a forced marriage.
Source: Anadolu Agency
https://www.aa.com.tr/en/africa/girls-rights-activists-demand-review-of-tanzania-s-marriage-law/2387837
--------
Gender Equality: Women are at the Heart of UAE's Remarkable Success, Says Envoy
October 09, 2021
NEW YORK: Gender equality lies at the heart of the UAE's success, according to Lana Nusseibeh, the country's permanent representative to the UN.
In a mere 50 years, the small Gulf nation has gone from having to borrow educational curricula to set up its first school, to a mission to Mars and collecting data on the origins of the universe. Women have been instrumental to this rapid development, the envoy said.
Gender equality is "a central pillar of our foreign policy and a key reason for our success," she added.
"We guarantee women's equal rights under the law. We protect the rights of women in the workplace. We ensure equal pay for equal work and I think we're one of the only countries in the world that enshrine that in our legislation.
"The empowerment and equality of women in your society really defines whether you are a successful nation or not."
The members of the UAE's UN delegation — 70 percent of whom are female, "not by choice but by meritocracy," the envoy said — are busy preparing for its two-year stint as a non-permanent member of the Security Council, which begins on Jan. 1.
In an exclusive interview with Arab News, Nusseibeh set out her vision for how best to tackle some of the toughest and most pressing regional and international issues on the council's agenda, including climate change, women's rights and counterterrorism.
"If the tensions of the past decade or two, since (9/11), have shown us anything (it's) that we're interconnected, that we can't all be islands, that an isolationist approach will never work in international relations — that our fates are connected," she said.
The UAE will take its seat on the Security Council at a particularly challenging time for the region. More than 100 Security Council meetings about Syria have failed to end the decade-long civil war that has killed hundreds of thousands of people and displaced half of the population. Neither have regular meetings about the situation in Yemen made any headway in a country experiencing the worst humanitarian crisis in the world.
The fragile ceasefire in Libya continues to hold but the country is teetering on the brink of uncertainty as it prepares for national elections in December that might or might not happen. The Palestinian question remains unresolved, and Lebanon continues its free fall into an abyss amid the collapse of its economy, security and political system.
"We don't have a silver bullet for issues that have been on the international agenda for a number of years now," said Nusseibeh.
"But we do come with the belief that stability in these countries is really vital for the entire region. You can't just be a successful country in and of yourself. These issues cross borders. If the region (is) doing well, then the UAE continues to do well."
This shared destiny is actually the light at the end of the tunnel, she said, and keeps hope alive that the world will continue to work to find solutions to these crises. It is a hope "very much grounded in realpolitik," she added.
"The international community is engaged because the fate of what happens in Lebanon, in Yemen, in Syria, affects all of us," Nusseibeh said. "So, it's also in our national self-interest, as countries, that for us to survive and continue to build on the decades of work we've already achieved, we need stable, secure societies around us.
"It is in all of our national interests (that) we don't push ourselves into a cycle again of just managing it through humanitarian aid and short-term solutions. We need to manage it through a bigger perspective (based) around political dialogue and longer-term solutions."
Nusseibeh describes the UN as "the convening tent that we all step into" and called for the organization's existing processes to be strengthened instead of reinventing its mechanisms and devising new initiatives.
"Let's not reinvent the wheel," she said. "Let's inject (these processes) with some urgency toward conflict resolution rather than the more traditional conflict management, (where complex issues) are managed 'as best we can' and we kick the can down the road for a generation, 10 or 20 years from now. I think that's unfair. It's our responsibility to do better on these issues."
Hope also lies in the promise and potential of youth, Nusseibeh believes.
"What gives me hope is the generations coming up always do better than the generations before them," she said.
"Youth everywhere in our region deserves to live safely, with a secure, dignified and prosperous future ahead of them. And I think that, frankly, they will make demands of their governments, and those governments will have to respond around the world to that youth question.
"I am amazed by how the youth have moved the dial on climate, just to give you a non-political example."
For millions of young people in Arab countries, the stellar success of the UAE has earned it a reputation as a "model nation" and "a beacon of hope."
Surveys conducted over the past nine years have shown that the majority of 200 million Arab youths now give the UAE as their top choice of country in which to live, work and build a family, replacing the US, Canada, and Germany.
The majority of young Arabs in troubled nations also say they want their "corrupt" governments to "emulate the UAE." But is this possible? Can the successful Emirati model be applied to other countries in the region?
Every nation must chart its own path and choose its own model, Nusseibeh said, because attempts to impose models based on external examples always fail. However, she added that there are some key takeaways from the UAE success story that are applicable not only in the Arab world but universally, as they have proven to be prerequisites for the success of any nation.
"That women are at the table when decisions are being taken, and involved in all elements of society, whether it is the judiciary, the military, the private sector or the government; that has been one of the core pillars of our success that we've embraced and that is applicable in a regional model," Nusseibeh said.
The COVID-19 pandemic has made it abundantly clear just how interconnected and interdependent nations are on each other, but it is not the only global challenge in recent years to reveal how the entire world is increasingly linked. As a result, the Security Council finds itself facing new challenges.
The effects of climate-related threats — water scarcity, deforestation and the displacement of populations, for example — are often more profound on women and girls. UN data shows that about 80 percent of people displaced by climate change are women.
"So of course (in) the climate action that we undertake we have to tailor our response to that understanding. Climate-risk analysis has to be gender sensitive," said Nusseibeh.
"This is part of our broader objective to strengthen women's participation in all aspects of society, but also in the response to these challenges. They should not just be this nameless data point; they need to be part of the tailored response to this.
"So we want to bring this perspective to the Security Council and encourage fellow members to address the security impact of climate change in this holistic manner."
Although countries sit on a differing sides of the spectrum in their attitudes to climate change, the UAE believes the gaps can be narrowed.
"It's not polarization, grandstanding or big initiatives," said Nusseibeh. "It's how we nudge the dial in a direction that we believe to be right (for) the evolution of our collective societies."
On Thursday, at Expo 2020 in Dubai, the UAE became the first country in the Gulf to announce its commitment to achieving net-zero carbon emissions by 2050. Sheikh Mohammed bin Rashid Al-Maktoum, the country's vice president, prime minister and ruler of Dubai, said the country will invest $163.4 billion in renewable energy.
"The fact that we are preparing for a post-oil revolution is smart foreign policy but it also sets us in the group of countries that are preparing for an energy revolution that is necessary for the protection of our planet and for future generations," said Nusseibeh.
The UAE has been at the forefront of renewable-energy efforts. It hosts the International Renewable Energy Agency in Abu Dhabi, and has put itself forward as a candidate to host the UN Climate Change Conference, COP28, in 2023.
"We've really diversified our energy portfolio with clean energy, nuclear clean energy, renewable energy and solar, and of course the mix includes hydrocarbon," said Nusseibeh. "That is something that we think is applicable internationally."
A strategy of "nudging the dial in the right direction" also applies to the central issue in the Arab world: the Middle East peace process.
According to Nusseibeh, although the Abraham Accords — the recent agreements between Israel and a number of Arab nations, including the UAE, to normalize relations — did not in themselves resolve the Palestinian-Israeli conflict, they represent a step in the right direction as they have resulted, for example, in the inclusion of Jewish communities in the social fabric of the UAE.
"What was exciting for the UAE was seeing the Jewish community able to establish itself and emerge for the first time in hundreds of years in the Arabian Peninsula," she said.
"When we don't have fear of other faiths and religions, when we try to do everything we can to improve interfaith dialogue and moderation, I think these are all steps in the right direction as well."
Such peaceful co-existence is also the single most efficient weapon against the scourge of terrorism which, at its heart, feeds on and spreads sectarian fear, allowing the extremist ideologies that promote hate-driven violence to thrive.
As global efforts continue to tackle the effects of the pandemic and return to normal life, misinformation is another major pandemic the world is facing, Nusseibeh said.
"Unless we focus on stopping (extremist ideology) in its tracks (we) are going to see an increase in the ability, and the rapid pace because of technological advances, of groups and people who promote violence and hate, including Islamophobia," she added. As a country where people of 200 nationalities "live, work and worship side by side," the UAE prides itself on its diversity, Nusseibeh said. It represents a positive model not only for the region but also globally, she believes. This is exemplified, she added, by the Abrahamic Family House Initiative, a complex on Saadiyat Island, the cultural heart of Abu Dhabi, that houses a church, a mosque, a synagogue and an educational center.
"The model in a difficult region that the UAE embodies is a model that offers hope (that) we can in fact create a modern Islamic country that also fully embraces the concept of diversity, tolerance and peaceful coexistence," said Nusseibeh.
"It sounds so simple in, terms of it being a low bar, when you put it like that but, actually, when we look around the world it's clearly not a bar that enough countries and communities have reached. It's something that we keep striving for.
"There are many pressing challenges that we face as an international community, and getting pulled down in ideological warfare will hold all of us back. (So will) getting pulled down through debates about whether women are an equal part of your society or not."
Source: Arab News
https://www.arabnews.com/node/1944151/middle-east
--------
Woman Offers Puja At Temple Built By Muslim Husband And Handed Over To Hindus In Karnataka
By Sakina Fatima
11th October 2021
Shivamogga: Ahead of the Dussehra festival, a Muslim woman offered special puja at a temple built by her late husband in Sagar town of Shivamogga in Karnataka which was then handed over to the Hindu community.
Bhagavati Amma temple was constructed nearly 50 years ago by a railway employee Ibrahim Sharif.
"My husband, a railway employee, had built this Bhagawati Amma temple and handed it over to Hindu community 50 years ago," Famida told ANI.
MS Education Academy
She further said that her husband died two years ago but his family members and other relatives continue to offer special puja during Hindu festivals.
Disclosing the idea behind the construction of the temple by her husband, she said, "The Goddess was appearing in my husband's dreams. He consulted seer Sridhar and constructed a small temple. Ibrahim had been doing namaz and puja at home and at the temple, respectively."
She said the railway department had provided a piece of land to build the temple.
Source: Siasat Daily
https://www.siasat.com/muslim-woman-offers-puja-at-temple-built-by-her-husband-and-handed-over-to-hindus-2206103/
--------
Former Pakistan women's basketball captain empowers girls with training camp
Faizan Lakhani
Sep 28 2021
KARACHI: It was just another day for Sana Mahmud — the former captain of the Pakistan women's basketball team and project officer at Right to Play — at work as she was facilitating a sports-based girls empowerment camp in Islamabad.
But a small and unplanned activity on the sidelines of the project has highlighted how sports can become the greatest hope for underprivileged children.
The project was a three-day basketball training camp at one of the local public courts in Islamabad focusing to work with children to allow them to experience the joy of sports and the multiple life and leadership lessons one can learn from it.
While 15 school girls, from various privately run charity schools located on the outskirts of Islamabad, were busy in training, Mahmud noticed two out-of-school girls lingering around the basketball court.
"We didn't get a chance to interact much, as they mostly kept to themselves but seemed very curious about our equipment and what we seemed to be doing there," she said, narrating the story.
The next day, she noticed five out-of-school children sitting on the side and watching others play.
"When asked if they wanted to play with us, they eagerly nodded and three of them — two girls and a little boy — joined us on the court," she recalled.
"Given that they were far younger and shorter than the teenagers who were part of the training camp, I had them play separately for a bit and then got them together with the larger gang. Their athletic ability was amazing," Mahmud said, while noting that perhaps surviving on the streets probably would have taught them to run, jump, and throw like they did while playing.
It didn't end there. The next day Mahmud met more out-of-school but enthusiast children, eager to participate in the sporting activity.
"As I parked my car, I was surrounded by 10 children, excitedly waiting to be invited to play and when I asked if they wanted to play, they all eagerly ran behind me to enter the park.
"It was utter chaos. Each kid attacked a basketball, wanting to grab it and keep it for themselves, and started dribbling across the court. Though we didn't speak the same language I was able to help them understand the rules of the game."
"Barefoot, without access to the best of nutrition, and probably with a looming responsibility of having to collect and sell garbage/scraps to meet the daily quota, yet these kids had an electric energy," she recalled.
Mahmud said the eagerness of the kids made her decide to extend her camp for another day.
The former captain of the Pakistan basketball team highlighted that it is important for society to capitalise on the interest displayed by these out-of-school children, who have zero opportunities for them.
"If [they are given] even an hour every morning the joy of their childhood, the innocence and care-freeness that play offers, we think it can make a difference," she said.
"I am grateful and humbled to be a part of their lives if even for three days and I pray we give them something that children on the streets often leave behind — hope. This is the power of basketball. This is the power of sports," she stressed.
Source: Geo Tv
https://www.geo.tv/latest/372786-sports-can-become-the-greatest-hope-for-underprivileged-children
--------
Iran's women's football team to hold camp in Belgium
October 9, 2021
Iranian women football team made history in late September by booking a place at the 2022 AFC Women's Asian Cup for the first time ever.
The competition will be held from Jan. 20 to Feb. 6 in India.
"The women's football team will travel to Belgium to hold a training camp in the European country. Our team will also play two friendly matches with Charleroi football club in their training," Azizi Khadem said.
Azizi Khadem didn't talk about the exact time of the training.
Source: Tehran Times
https://www.tehrantimes.com/news/465814/Iran-s-women-s-football-team-to-hold-camp-in-Belgium
--------
URL: https://www.newageislam.com/islam-women-feminism/rights-activist-tanzania-marriage/d/125554
New Age Islam, Islam Online, Islamic Website, African Muslim News, Arab World News, South Asia News, Indian Muslim News, World Muslim News, Women in Islam, Islamic Feminism, Arab Women, Women In Arab, Islamophobia in America, Muslim Women in West, Islam Women and Feminis